Art can be inspiring and empowering — or simply bring a smile when it's needed most. In the best of circumstances, it manages to do all three. It also carries a more weighty task: conveying the emotions someone is feeling but is unable to put into words.
Illustrator Charly Clements knows firsthand the challenges of creating art that truly matters. For her, the art that resonates the most with others are the pieces that come from her moments of self-care and prioritizing mental health. That self-care can come in a wide variety of forms, from being kind to yourself during a creative block to surrounding yourself with positive people.
A freelance illustrator currently working out of Thailand, Clements has spent the past few years traveling the world with her iPad in hand. In recognition of National Art Day, she is sharing a free, downloadable illustration, which you can find below. For more tips on creativity and self-care, be sure to read our interview with artist Melissa Mary Jenkins.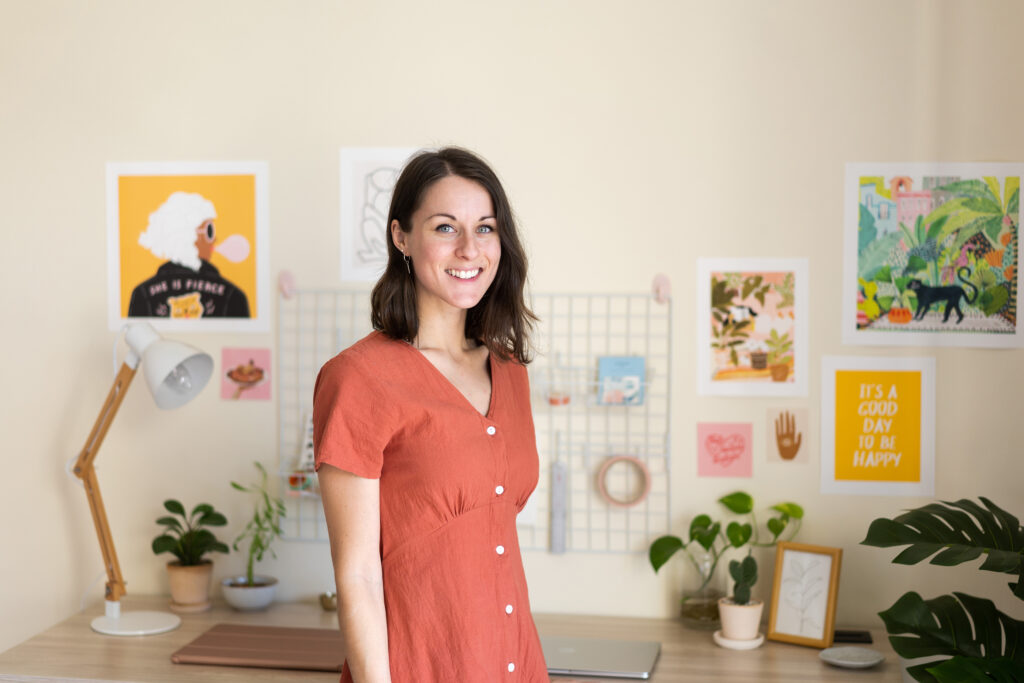 As a freelance illustrator, your work must vary from day to day. What does your creative process look like?
I structure my day quite loosely. It's not like I work during the week and then I have the weekends off. I try and work a lot, but then I'll go on a holiday for a few weeks.
I used to draw everything by hand, scan it, then color it in on Photoshop. I went fully digital about four years ago. I decided it was time to invest in an iPad Pro — and in myself. I wanted to go traveling and still work on my art. Since then, my workflow has become much more efficient. I've been able to run my creative business on the road for the last three years.
Are there any artists or topics that inspire your work?
I love celebrating the strength of females. That's been a big part of my artwork at the moment.
I get inspiration from so many other business owners who are female, so I'll draw them and talk about them. I love books as well.
I'm also a big advocate of prioritizing your well-being and taking care of your mind. I think, especially as an illustrator and creative, working on your own can make the world feel like a very lonely place.
I'm pretty open about my mental health issues on my social platforms. I think it's important to be honest and share more than just the highlights or final pieces online. We all have our own insecurities and problems. If I can help at least one person, then I'll have done my job.
What types of self-care practices do you recommend for creatives?
Nobody really talks about comparing yourself to other artists. It can feel very discouraging — especially now, having your portfolio on Instagram. So I just try and encourage people to check in with themselves.
Remember why you fell in love with making art. This is your journey. Don't compare yourself to anyone. If you're getting better every single day, then you're on the right track.
How do you balance creating for yourself and creating for work?
This can be especially hard for anyone working in a creative field. Our creative outlet is our source of income and our hobby, so there's always a crossover.
Rather than create work you think is going to make other people happy, create personal work you're interested in, and that brings you joy. Oftentimes, the work you do for yourself is what resonates most with others. It can be tricky because I'll create something personal, just for me, and then I'll think about sharing it with my followers. That's where it gets blurry.
I think if I wasn't on Instagram or I didn't have a business, I would still be illustrating all the time. So I'm just lucky that my passion has become my full-time business.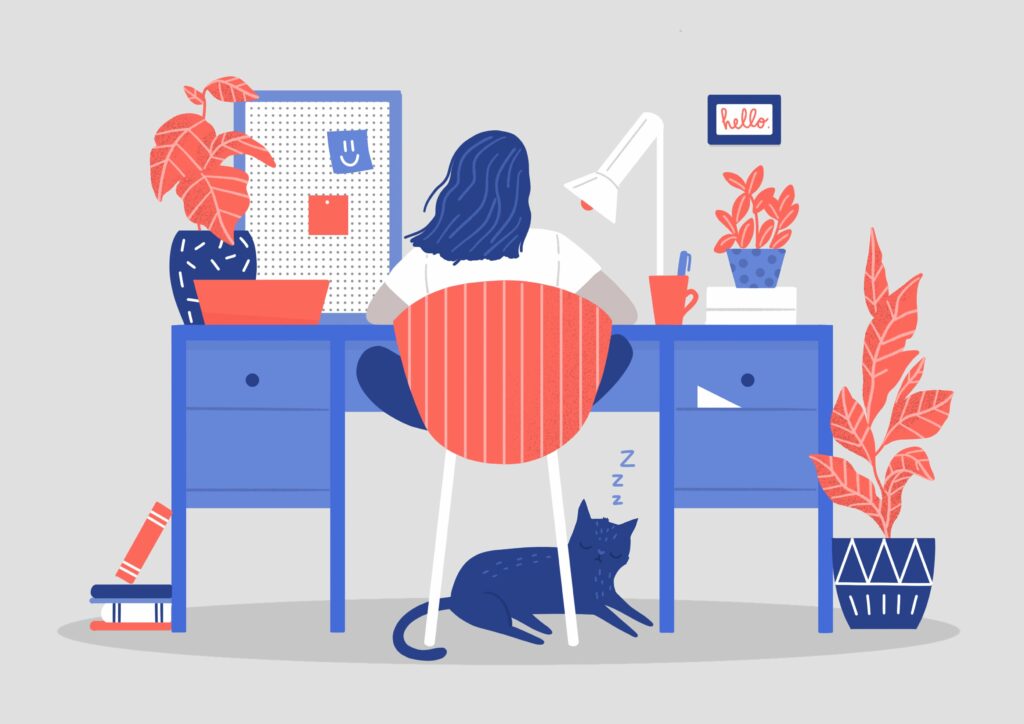 Tell us about your workspace. How does your studio's composition affect your state of mind?
I love working in open spaces that have natural light. My studio is filled with things that I love and inspire me. I put up a lot of artwork of my favorite illustrators. I also like having a physical space where you can see the direction you want your work to go.
Working and living in the same space can be a challenge. How do you manage to stay focused and filter out distractions?
At the moment, my bed is actually in my studio. This has been something I've battled with. I've started making my bed in the mornings so I don't have the urge to get back in. I also start the day with a cup of tea outside of my studio and then come back in and get to work. Small decisions like these in the mornings have been very helpful.
My main thing is to treat working for myself as a business and as a job rather than a hobby. Over five years of working on my own, I've learned that the only person I'm affecting is myself.
I'll sit down and set goals for myself. I always say if you write a goal and you don't actually write a system of how you're going to get to that goal, it's just a dream. It's not a goal.
How do you overcome creative blocks?
We all go through creative blocks, right? I've learned to be kind to myself. I'll take one or two days off rather than force anything. Sometimes that can put you in a worse state or make it last longer. I just remind myself that the creativity will come back even stronger if I take those days off for myself.
You can also do something you enjoy that doesn't work those creative muscles. Or do personal work that you won't be sharing with anyone. That helps take the pressure off of things.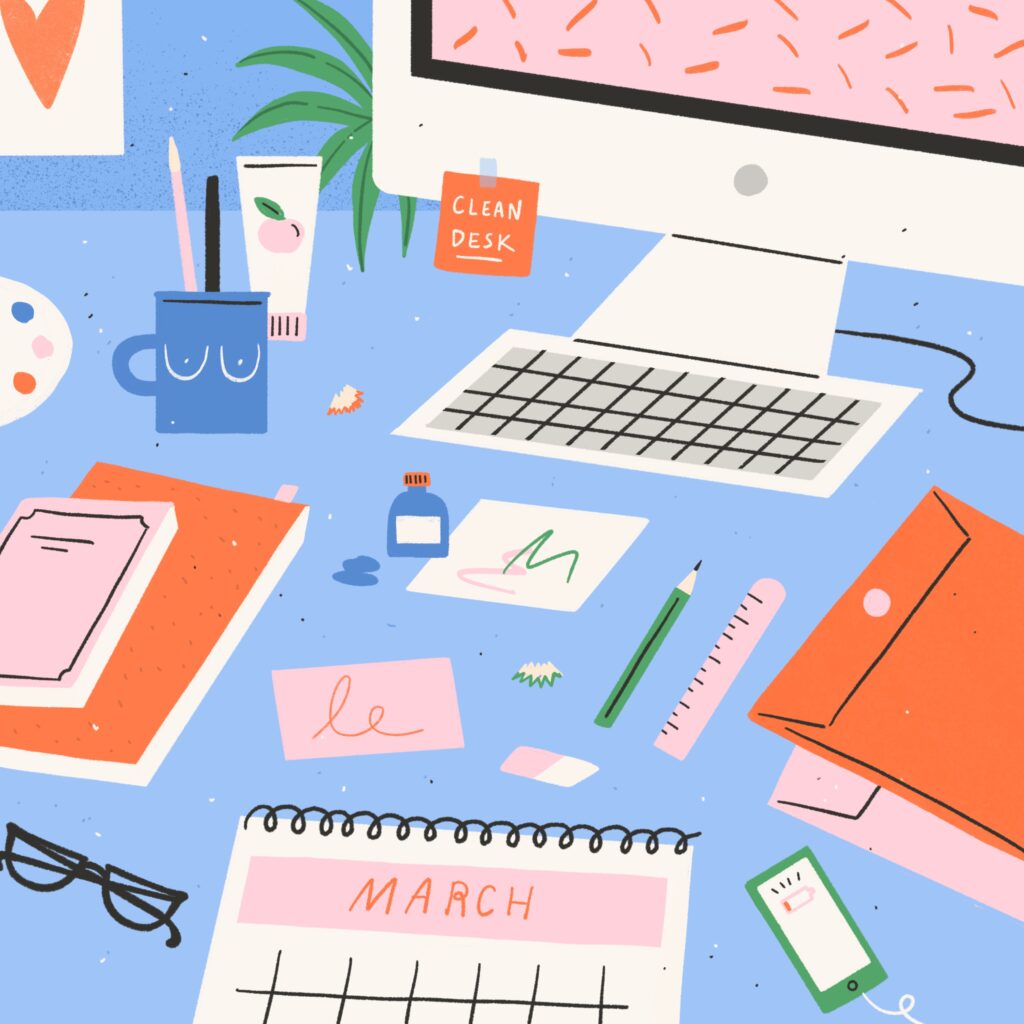 Do you have any tips on staying creative and finding sources of inspiration during stressful times?
The best advice I can give is to be open to adapting. It's important to remember that we can't change the things around us, but we can change the way we react or behave. I've seen a lot of people struggle, but on the flip side, I've seen a lot of people who have worked their whole life and now they're open to this idea reevaluating their passions and dreams.
There are so many resources online now, around whatever skill you're looking into.There's a wide variety of creative videos and tutorials out there. I always advocate being open to learning new skills and viewing it as an exciting opportunity.
How do you hope your art impacts the people who see it?
Art has been such a therapy for me. I want others to get that same pleasure that I get from art. I make it a point to share not just my finished artwork, but how I got there. I'll share my process and a look behind the scenes. Sharing a perfect final product can make things feel intimidating. But, as long as they enjoy creating and putting in the work, they just need to remember they can get there, too.
I started creating art just for me. If I was feeling sad, it would always make me happy. So I always wanted to create that same feeling for others. Just something to brighten up their day or make them laugh or share a quote that would resonate with them. That's the power of art. I love that.
Are there any relationships that influence your creative work?
My boyfriend has been a big inspiration. For over four years he and his partner ran a digital painting school. I've been able to see firsthand how many people's lives they've changed, just by teaching them illustration and helping them get their first commissions. It's a good reminder to surround yourself with positive people who are working to make themselves and their business better on a daily basis.
It also inspired me to do more with my work. I've started teaching Procreate on Skillshare. This has been my biggest transition — going from just a freelance artist to helping teach and change people's lives. It's been so much fun to share not only my process, but also inspire others through my art. I want others to know they can create art and travel and live out their dreams.