There's a real power in community. For recent newlyweds Kelsey Swails and Brian Lovering, no sentiment rang truer on their wedding day this past April. As the nation started quarantining and sheltering-in-place, their original venues and vendors started announcing their temporary closures as well. Kelsey and Brian quickly came to the realization that they'd have to postpone their wedding or plan the entire wedding all over again — in just two weeks.
Months of planning and preparation were set aside and with the help of friends and family, they started the process of replanning their wedding. The first step? Finding a venue that was open and allowed for social distancing.
Their friend Jake said, "You can use my dock on Merritt's Mill Pond." And from there, plans began falling into place.
A Wedding at Merritt's Mill Pond
"A year of planning for a very traditional wedding in a Catholic church turned into two weeks of replanning for the most non-traditional yet perfect wedding at Merritt's Mill Pond," said Kelsey.
If replanning a wedding wasn't stressful enough, there was the fact that her carefully chosen accents and details — from wedding favors to a personalized guestbook — would no longer be part of her big day. However, as plans for their Merritt's Mill Pond wedding started coming together, other moments that highlighted their love story started to shine through.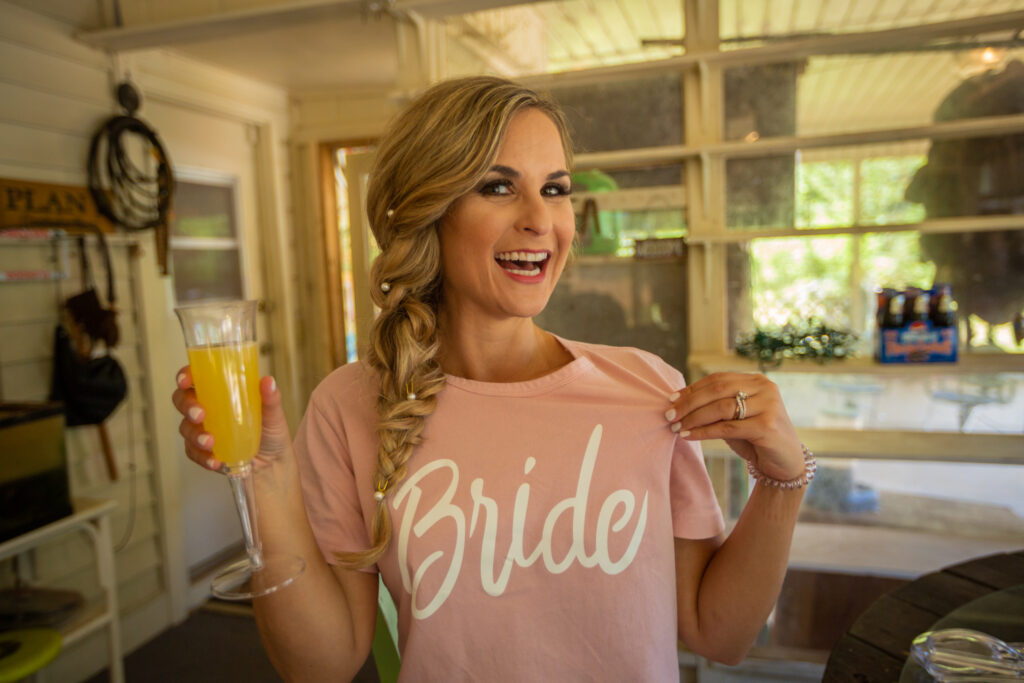 Even Merritt's Mill Pond itself held a lot of significance. Both Kelsey and Brian are avid water enthusiasts. Kelsey spent her childhood summers at Jackson Blue Springs Park, which feeds into the Mill Pond. And countless dates were spent kayaking together at the Mill Pond, with Kelsey on a purple kayak Brian bought her.
For a couple that spends all their free time in the water — kayaking together, freediving and swimming for Kelsey, then fishing and boating for Brian — this venue was a fitting alternative.
With the help of friends and family, they were able to find, buy, or craft everything needed for their wedding on the water. Friends designed the bouquets from magnolia leaves, blossoms, and sago palms found in their yards. The dock was decorated in string lights and tiki torches, the handrails were adorned with flower arrangements, and magnolia blossoms were placed in the water around the dock. Kelsey's friend Heather, a pastry chef at We Take the Cake, also sent them several cakes to serve at their reception.
When Brian arrived home from his job in Texas one week before their wedding, plans were coming together more smoothly than they ever could have imagined. Everything about their wedding had changed: the location, the attire, the wedding cake and topper, the getaway vehicle, and even the attendants. They also rounded up an item they hadn't originally planned on: bride and groom face masks.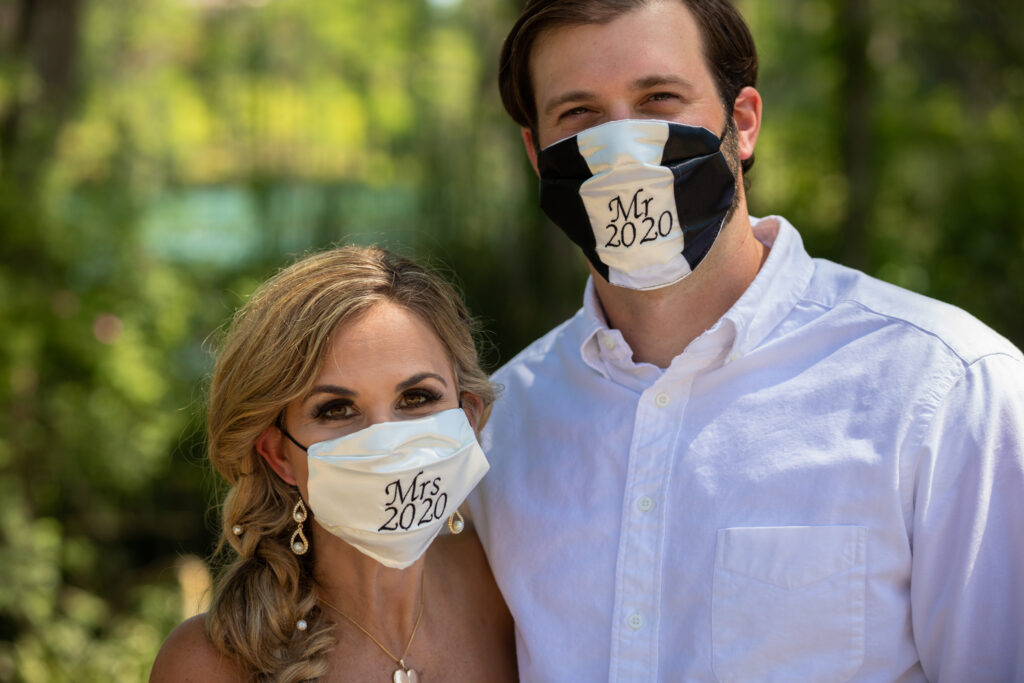 Personal touches from their church wedding were also combined into their new wedding plans. Kelsey wore her Granny's locket — a fourth-generation necklace that had been passed down — and a piece of her late PawPaw's blue plaid shirt had been cut into a heart and sewn on the inside of her new wedding dress. Brian wore his late grandfather's handkerchief in his pocket. And while the reception was different than the one they'd originally planned, there was still cake and wine from Still Pond Vineyard — the same wine Kelsey and Brian had sipped on their first date.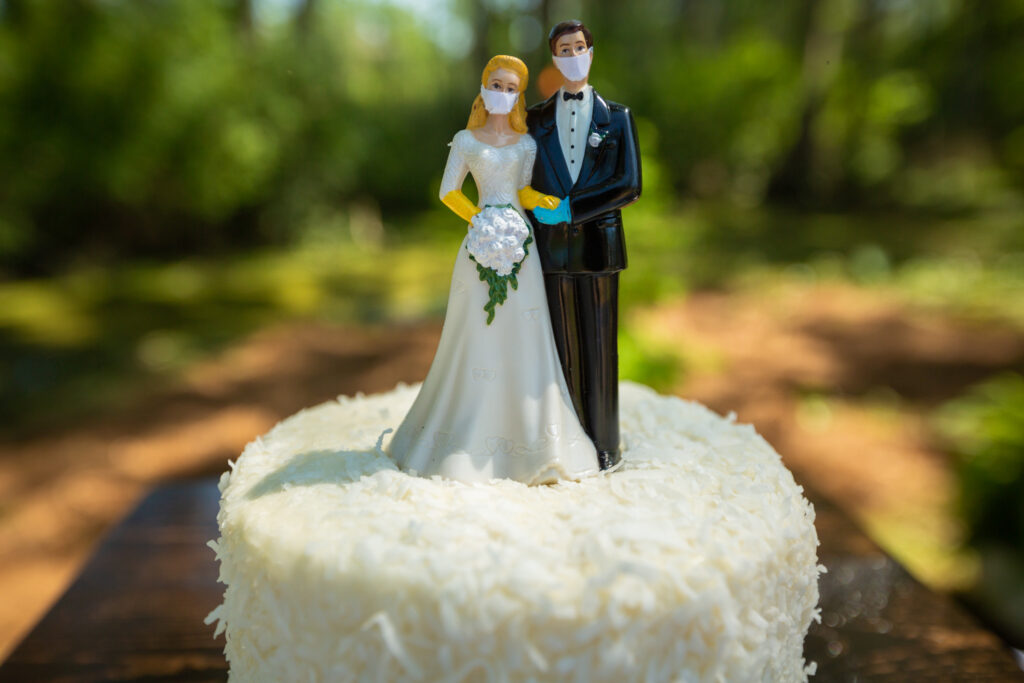 "Even though this was quickly planned, our entire day was very characteristic of the two of us as a couple — fun, loving, flexible, and go with the flow. We had a smile on our faces the entire day," said Kelsey.
Due to the travel restrictions in place, several friends and family members were unable to attend their wedding in person. Two days before the wedding, friends held a virtual happy hour reception where they toasted the happy couple. Guests wore their wedding outfits and celebrated as Kelsey and Brian played the Newlywed Game and the Shoe Game. The Zoom background was even changed to the Mill Pond.
On the day of the wedding, Kelsey's friend Sarah hosted a virtual Zoom meeting so friends and family all over the country would be able to watch as they tied the knot.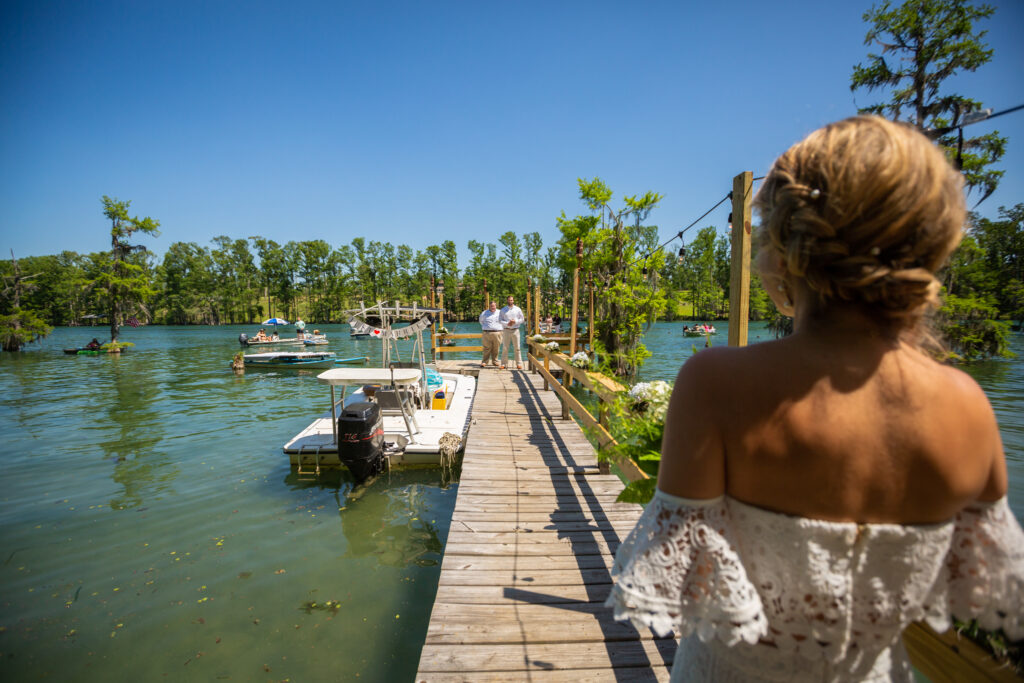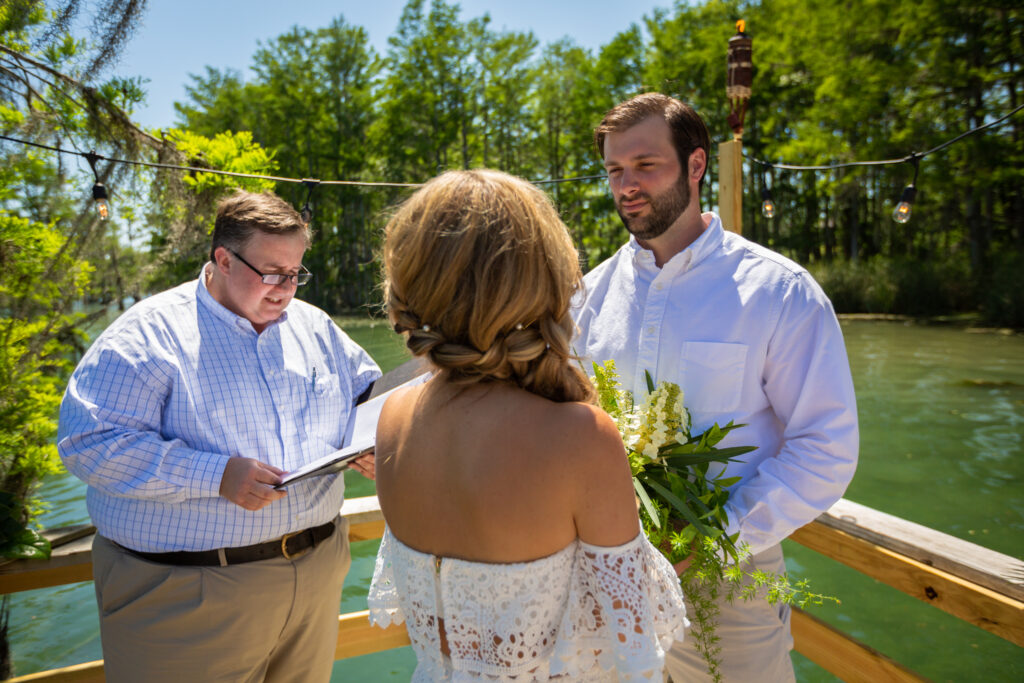 Social distancing rules limited the number of guests standing on the dock with Kelsey and Brian, but they were able to have a select few stand with them. In addition to Kelsey, Brian, and the minister, both sets of parents and Brian's brother Brandon were there. Kelsey's brother Dylan was unable to attend in person, but he was there via Zoom and on the dock in spirit. Jake stood next to Kelsey and held up a picture of Dylan's face. For everyone else attending in person, they watched the ceremony from a distance and attended the wedding by boat, kayak, or paddleboard.
"There was no bridal party. We didn't have our first dance. But… our day was perfect."
While the wedding wasn't what they had originally planned, Kelsey and Brian tied the knot on April 25th and were able to have guests from all over attend a truly picture-perfect ceremony.
After they said their "I do's," they departed by boat, a Just Married sign waving in the wind.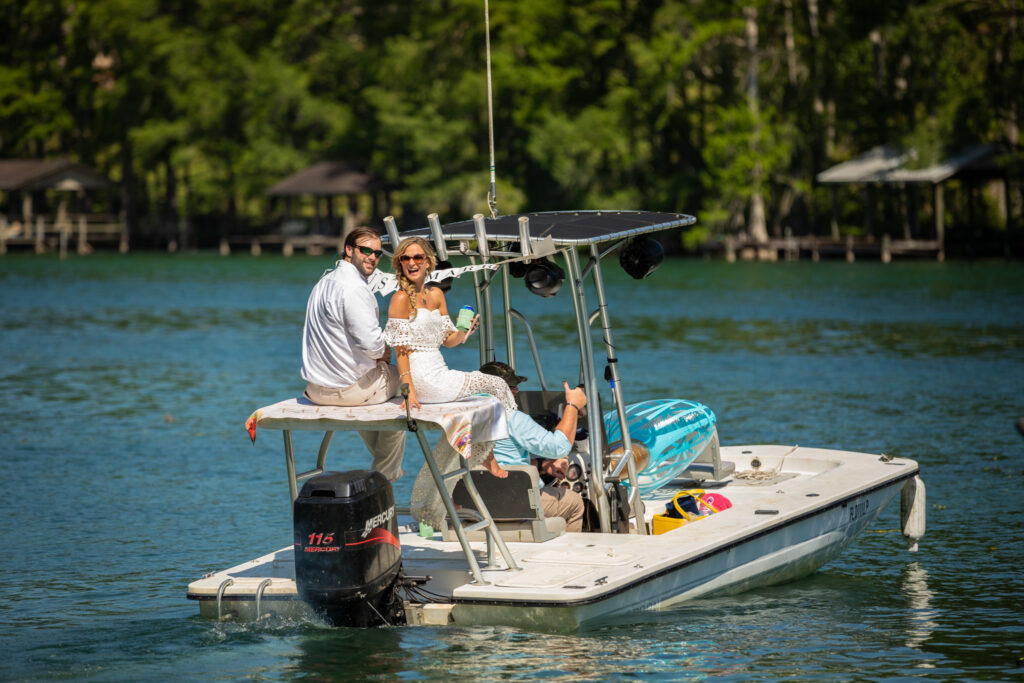 Breathtaking Underwater Wedding Photos
Their photographer, John Starrett, took Kelsey and Brian a few miles north to Jackson Blue Springs, known for its crystal clear waters and icy temperatures. Although Jackson Blue Springs Park had been officially closed, they reached out to the county and were approved for special access.
"When we had to come up with a new plan for our wedding, I immediately knew I wanted to do something unique and representative of our area. I knew an underwater wedding photoshoot was the answer!" said Kelsey.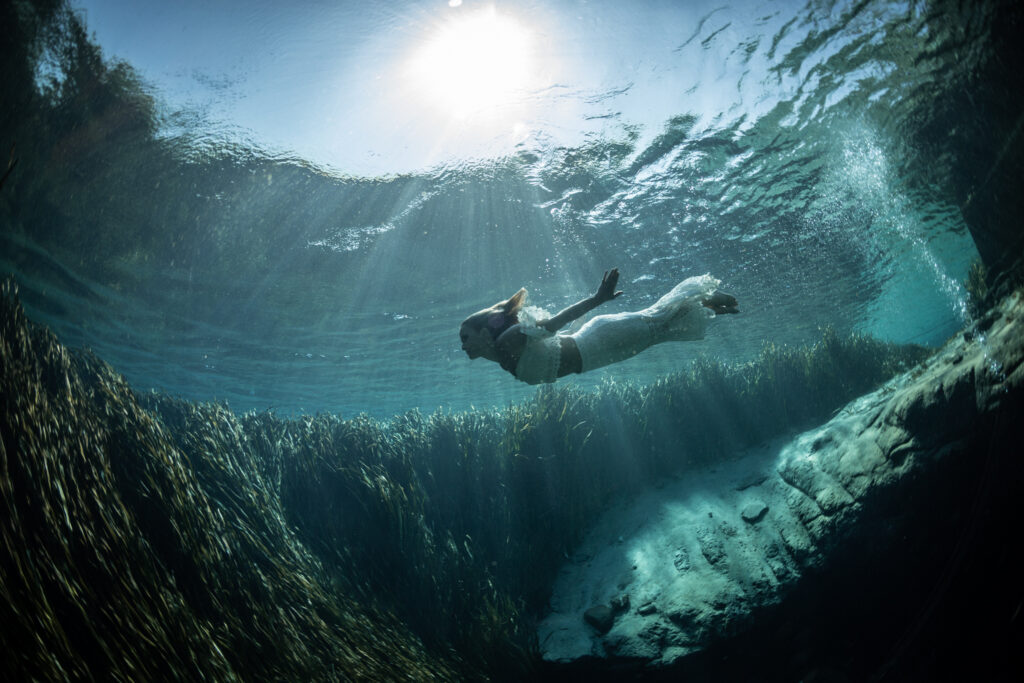 The springs are something Jackson County residents are very proud of — and to Kelsey, it's the most beautiful place in the world. John agrees. When the wedding venue changed to the Mill Pond, John knew that underwater photos at Jackson Blue Springs were the perfect fit. And as he specializes in underwater photography, he knew exactly how to direct and capture shots of the bride and groom.
An underwater photoshoot isn't as easy as it may sound, regardless of the water temperature. No scuba gear was used, so they relied on their skills as swimmers and freedivers as they held their breath and posed underwater. On top of this, small details, like the weight of their clothes or how they were holding their breath, suddenly moved to the forefront. Ideally, all of the air must be let out to prevent cheeks from puffing out and stop bubbles being released from the nose and mouth.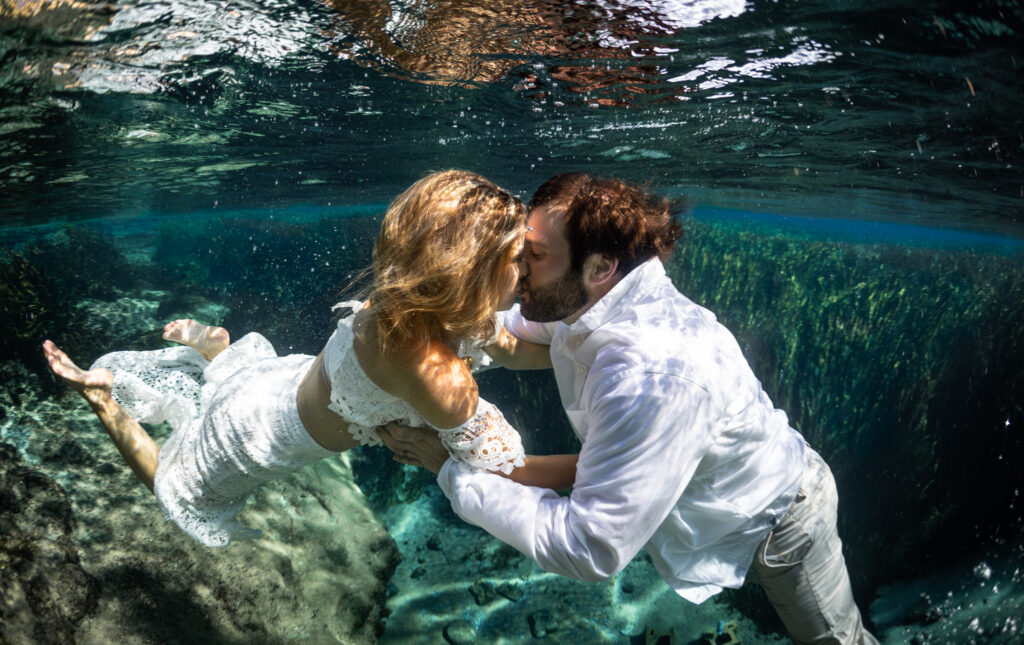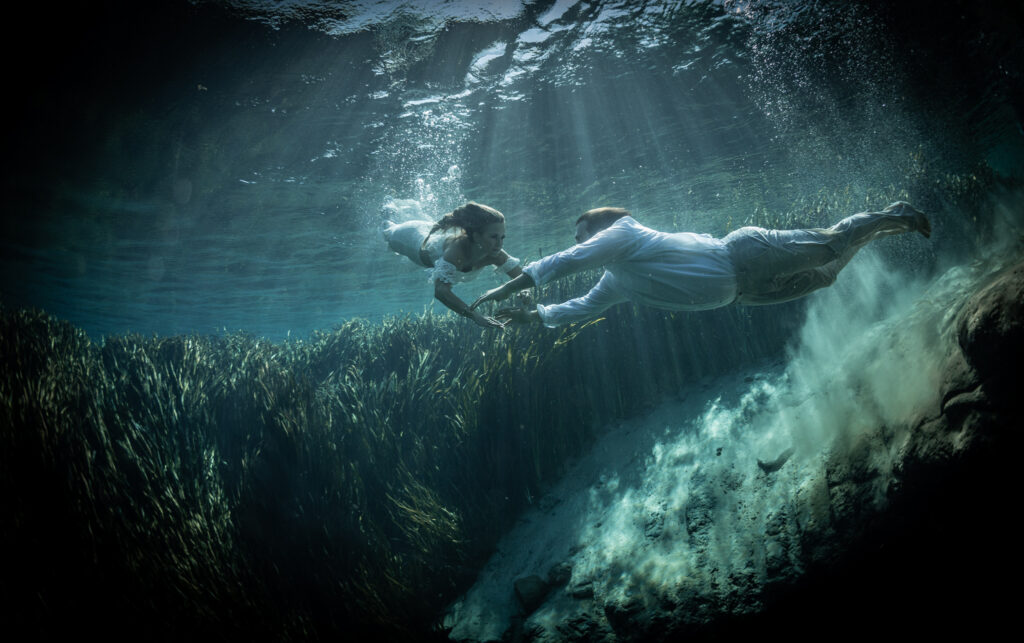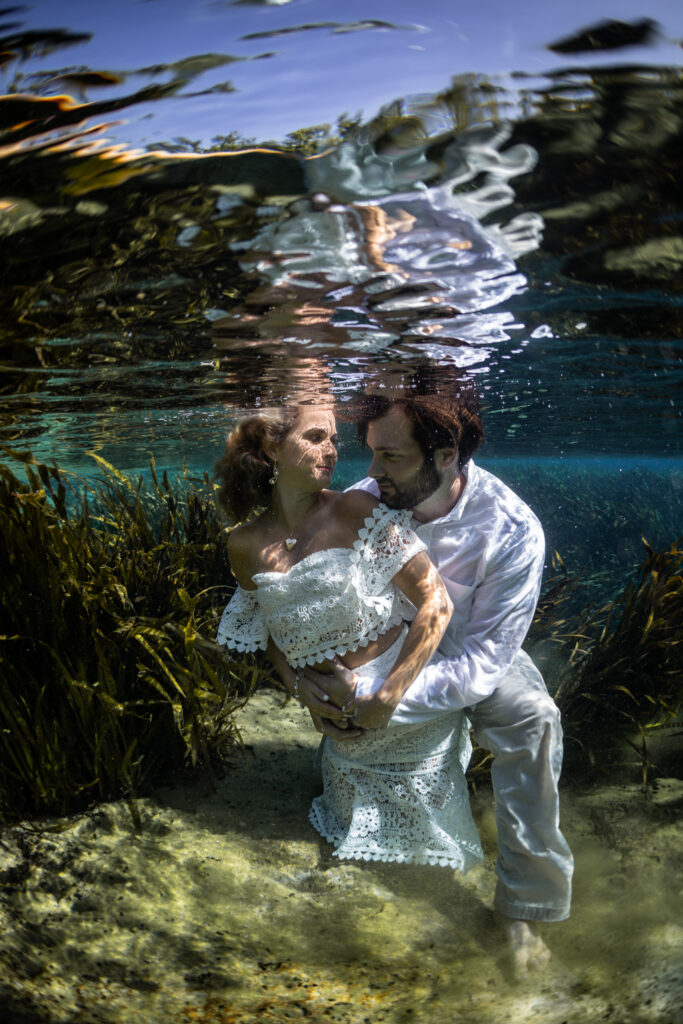 For Kelsey and Brian, juggling all of this knowledge while still managing to look relaxed is a testament to their comfort in the water. Each picture is better than the last, and they look at home and in their element. In the couple's favorite photo, John is inside a cave looking up at the newlyweds as they embrace in the water.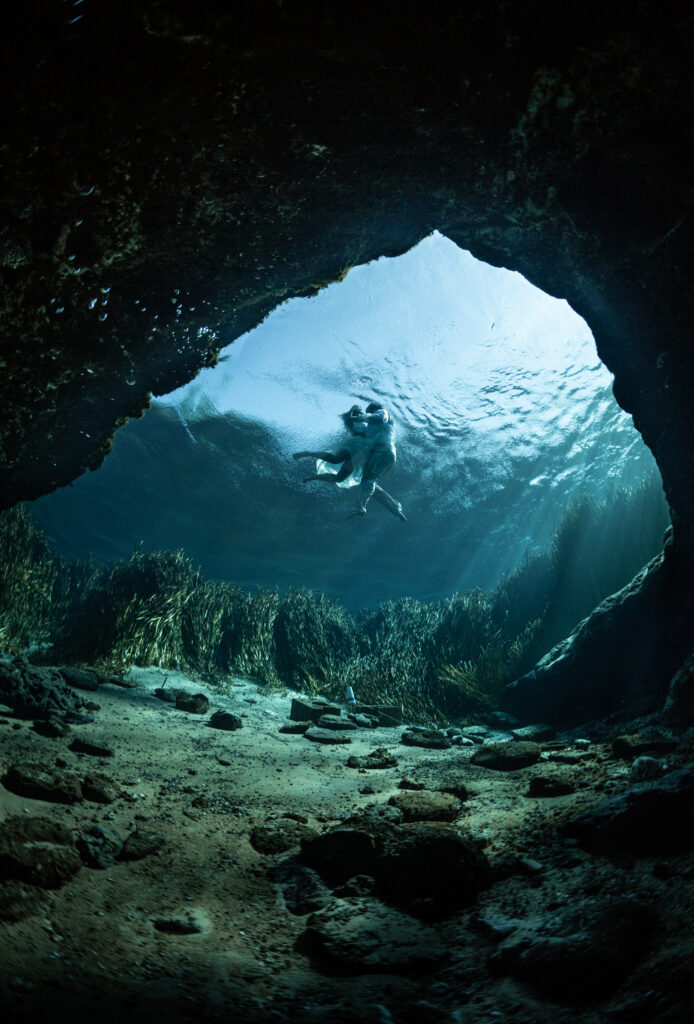 After the photoshoot, they continued their festivities with friends and family in Jake's yard, then had their wedding night in a cabin right on the Mill Pond. To their surprise, when they arrived at the cabin, it had been completely decorated on the inside and out.
Their community of loved ones worked to give Kelsey and Brian an unforgettable wedding — something that did not go unnoticed by the newlyweds. "A huge thanks to our friends and family who went out of their way to make our wedding day very special, and a day we will always cherish," said Kelsey.
"Hiccups and bumps are going to happen, but take it in stride and with grace."
The Beauty in Creating Moments That Matter
"I didn't wear 'the dress.' There was no bridal party. We didn't have our first dance. But… our day was perfect. It was special. It was magical," said Kelsey. "And we are happy, because we are married."
Kesley and Brian pulled off something that must have felt impossible: replanning their entire wedding in two short weeks. Their wedding was a moving celebration that highlighted the moments and activities that brought them together. It also shows that, with a sense of hope and a great group of friends and family, anything is possible.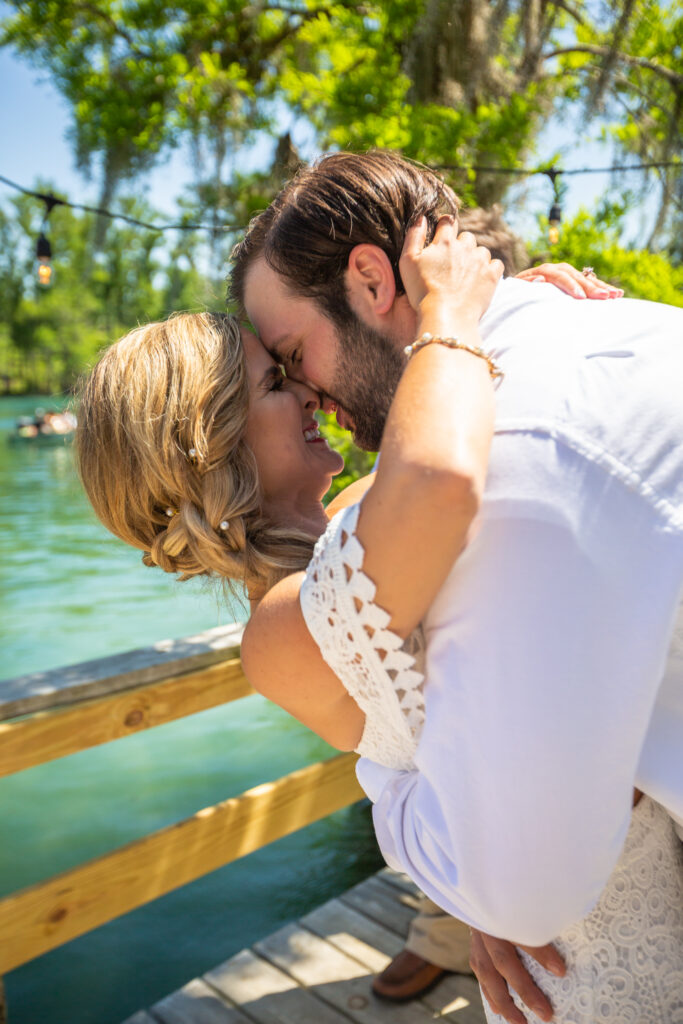 For any brides-to-be, Kelsey has some words of advice.
This is your day. Make it unique and special for you and your spouse. You should have the wedding that the two of you want. Be present and try to enjoy every step of the way. Hiccups and bumps are going to happen, but take it in stride and with grace. In the end, it is a day for you and your husband and that is the most important thing.
Kelsey and Brian had to postpone their honeymoon, but look forward to taking theirs at a later date. For now, the list of upcoming trips is growing steadily: a belated honeymoon trip to a private pool villa in Curacao, and an in-person party with friends and family for their one year anniversary.
Brian promised Kelsey "a lifetime of laughter, traveling, and adventure" when he proposed. They started off with a wedding that did exactly that and so much more. We can't wait to see what future adventures — and underwater pictures — are in store for these two.