Put a finger down if you're guilty of letting life pass you by because you're impatiently waiting for the next big milestone to arrive. It's all too easy to spend your entire life preparing for the next big event. And when it finally happens, you might realize it wasn't quite as amazing as you had hoped — or that you managed to overlook all the little moments that were part of the journey that got you there. All of a sudden, you're 31 with a whole lot of plans and very few "moments."
Just me? I know that the whole "put a finger down" thing is a TikTok trend that older-millennials like myself have recently discovered, but I hope most of you were able to leave your finger up for this round. For any other Type A, Enneagram Fours out there, you know exactly what I'm talking about.
Now, I'm not trying to say that I haven't experienced great things in my life. I have! I've watched the first rays of the sunrise at Cadillac Mountain in Acadia National Park, devoured the ever-famous Amish Donut at Bonnaroo after Super Jam, and camped on the beaches of Portsmouth Island, NC. I married my best friend and college sweetheart, carried human life and gave birth to my beautiful daughter, Laurel Bird, and I've developed a pretty solid "framily" to help take part in all of these experiences. But I'd be lying if I said the majority of these Instagram-worthy moments unfolded in the way that I truly wanted them to.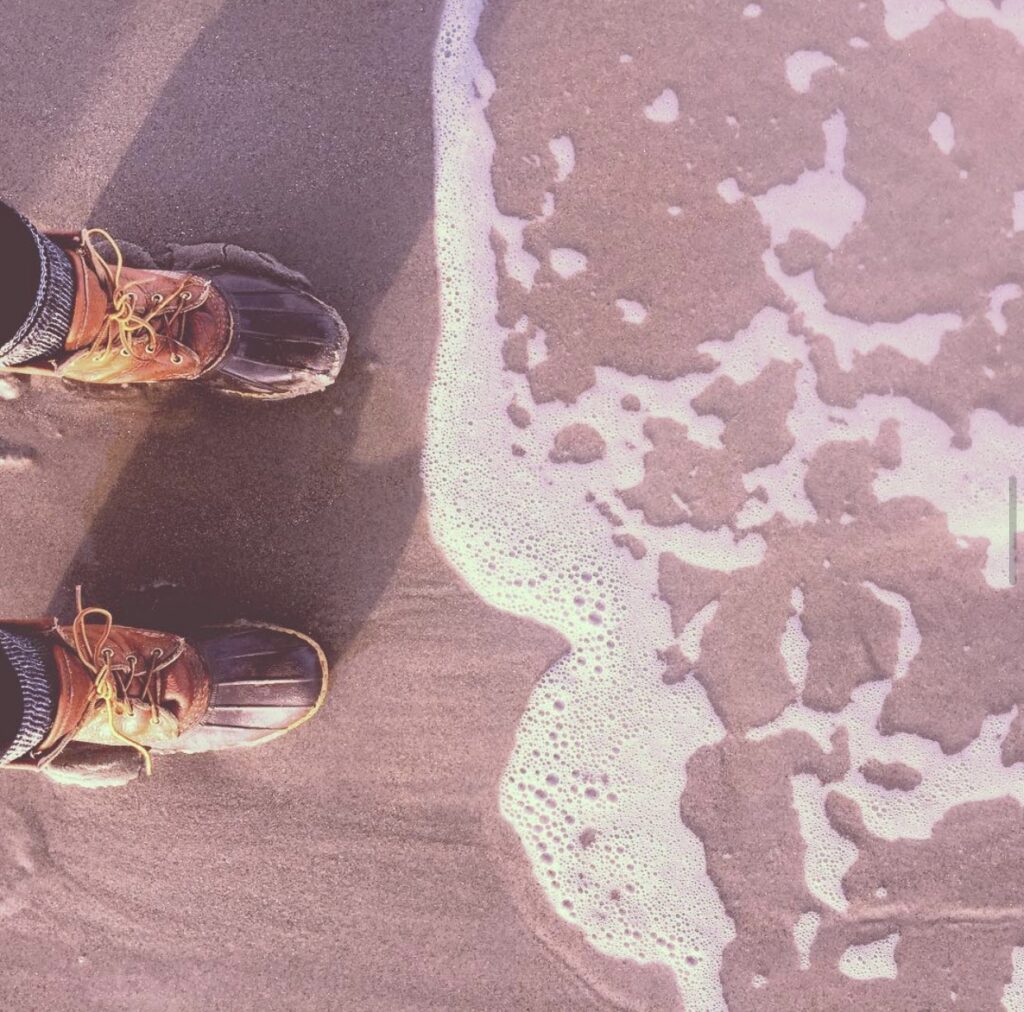 Farewell to Maine
That sunrise? After I found out that I would be going to graduate school at the University of Maine, it skyrocketed to the top of my bucket list. For a good portion of the year, the first sunrise in the United States occurs on top of Cadillac Mountain — a must-see if you're traveling to Acadia.
This is a huge tourist attraction, and hundreds flock up the mountain to catch the sunrise over the Gulf of Maine, Frenchman's Bay, and Bar Harbor. If all of that seems like gibberish to you, picture the vibes from the iconic 90's film Andre (rock beaches, pine trees, and lots of Birkenstocks) plus a pretty amazing sunrise. All of the locals told me I had to witness "first light" before I left town, so I got to planning.
As my time at the University of Maine started coming to a close, I decided that this sunrise was going to be my farewell to Maine after I graduated. My boyfriend (now husband), Drew, and our best friend, Matt, were flying to Maine from Ohio to load up a U-Haul and drive me back home. When I pitched them the idea they were all in — and honestly, who wouldn't have been? I had painted a beautiful mental picture.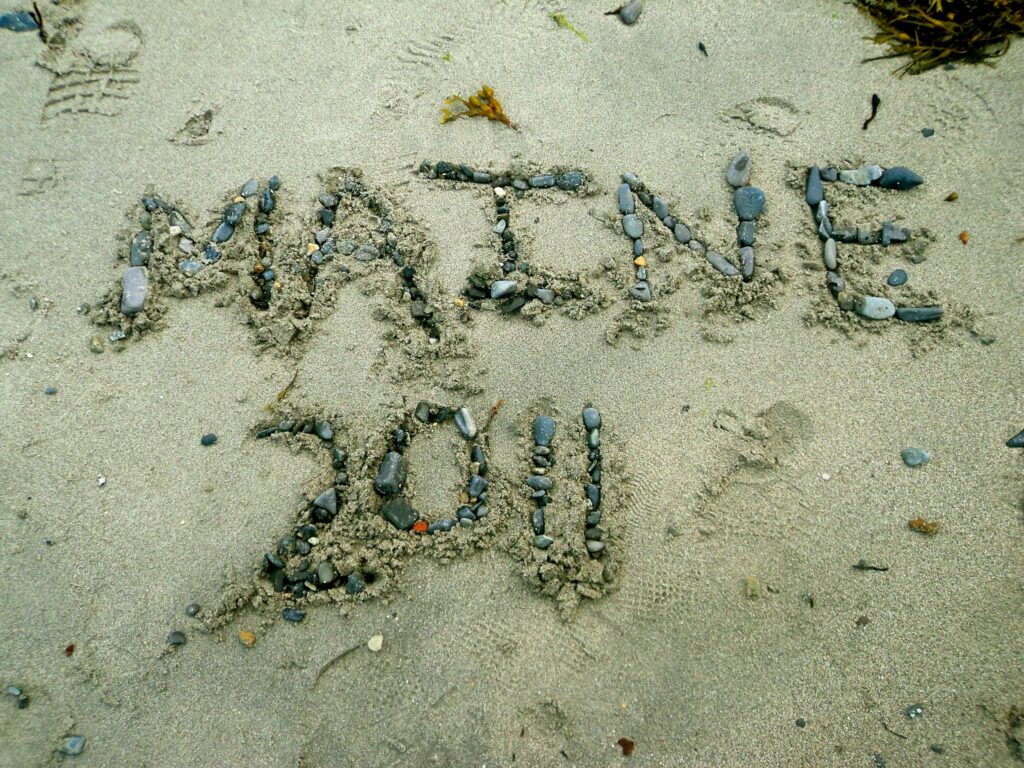 We would drive from my college town of Orono to Acadia and spend the day walking around Bar Harbor, a small picturesque town that neighbors the national park. We would go bar-hopping from one kitschy joint to the next, eat our weight in seafood, and get lobster ice cream for dessert. It would be an early night, just to make sure we were well-rested for our 4:00 am wake-up call so we could snag a good spot to see the sunrise at the top of the mountain.
I sat on that plan for about a month, each day getting more and more excited. This plan got me through finals, defending my thesis, packing up my house (moving seems to be a recurring theme in my life), and each painstaking job application at every available university in Northeast Ohio.
And then the day came. The guys arrived, our U-Haul was packed, and we were ready to go. We pulled into the roadside motel that we had booked for the night and I already could feel the "let down" simmer in my stomach settling in.
In my mind, this was going to be a cozy motel just off the coast. In reality, it was a stale room with a firm bed and carpet that couldn't hide the pine needles you dragged in when you unloaded your car. We were broke, so this was to be expected, but I felt the disappointment nonetheless. I sighed, let it go, and we went off to explore Bar Harbor.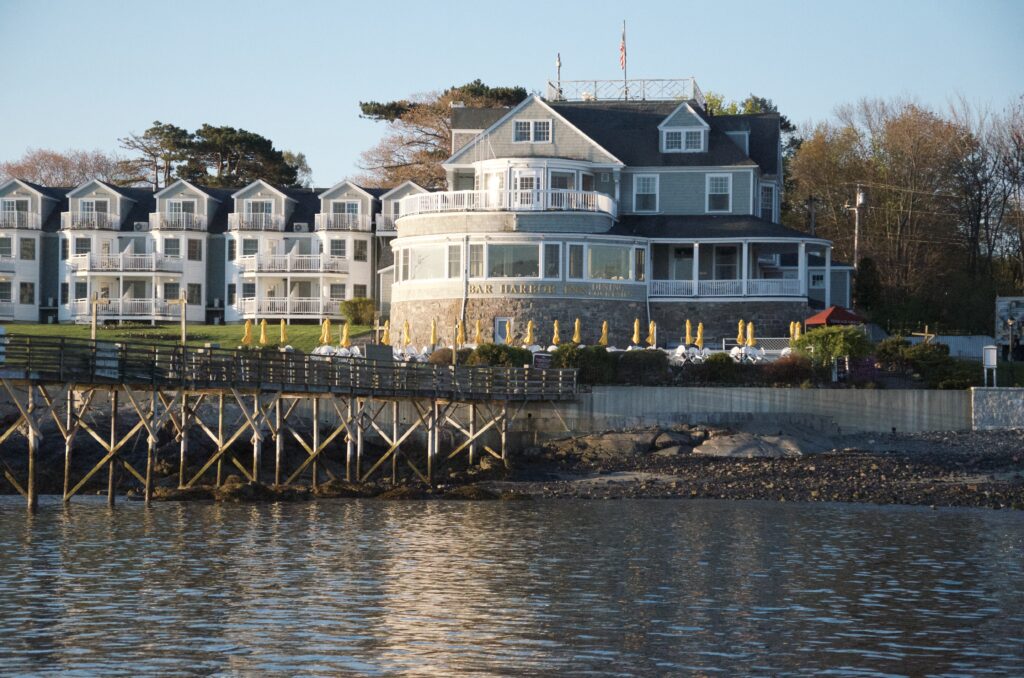 The only problem was that Bar Harbor and Acadia National Park were still very much in the opening stages of the tourist season. Many people don't realize that this area essentially becomes a ghost town in the off-season, and many businesses shutter until tourists make their way back again.
All those kitschy joints? Yeah, most of them were closed. Bar hopping slowly morphed into marathon walks between bars in the hopes that anyone would be willing to take in three tired yet still excited twenty-somethings looking for a good beer and a damn lobster roll. Eventually, we tracked one down. We even found our way to some pretty solid blueberry beer and sampled some of the infamous lobster ice cream. We made the best of the situation and soon decided it was time to find our route to the peak of Cadillac Mountain.
Matt and Drew were at the helm, searching for the best way to drive to the top of the mountain in preparation for the following morning. I sat in the back, feeling carsick, reminding them to "just follow the signs already." But each time we made our way down the roads to the peak, we would hit roadblocks — literally, we were getting stopped by roadblocks.
Because it was still so early into the season, certain roads through Acadia were still closed due to weather conditions. It's pretty common to receive large amounts of snow in April in Maine, and the pile up of snow means winter is followed up by a very long, wet "mud season." So running into a few roadblocks wasn't too surprising. In fact, while walking to my graduation ceremony in the first week of May, I had passed a melting 10-foot pile of snow that had accumulated throughout the winter in the UMaine parking lot. We were certainly north of the wall, if you know what I mean.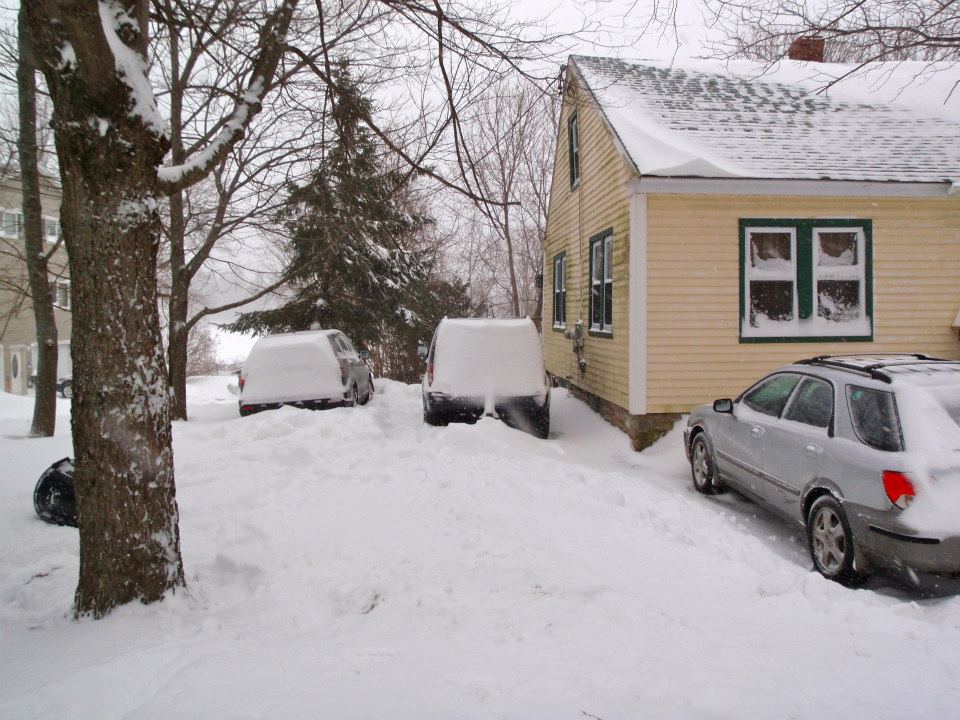 But this was a devastating blow. This had been my grand plan. The culmination of my time in Maine. The celebration of moving 1000 miles from home and graduating. And the plan was falling to pieces. I'd felt this so many times before. That sinking feeling in your stomach when you realize that the idea that you've created and planned in your head just won't pan out.
My face was hot with disappointment and frustration and a little bit of embarrassment for building up this grand send-off without actually figuring out the logistics. Thankfully, Matt and Drew are optimists and unabashedly willing to talk to anyone in hopes of making me happy. And so, thanks to a friendly local walking her Yorkie, we found a secret route to the top of the mountain.
Sunrise
The next morning came swiftly. I was jittery from a lack of sleep and anticipation for a sunrise that would mark an end to my time in Maine. We drank watery motel coffee, dressed quickly, and before we knew it, it was time to make our way up the mountain. I pulled the weight of the motel door open and was immediately struck by the cold sea air. It was May, but it was Maine. I hadn't prepared for this type of cold. Even with my $25 splurge on a touristy Bar Harbor windbreaker and blanket set, I knew I would be freezing. Matt said something like "suck it up" as he barreled through the door in excitement. Drew wrapped his arm around me as we made our way to the car.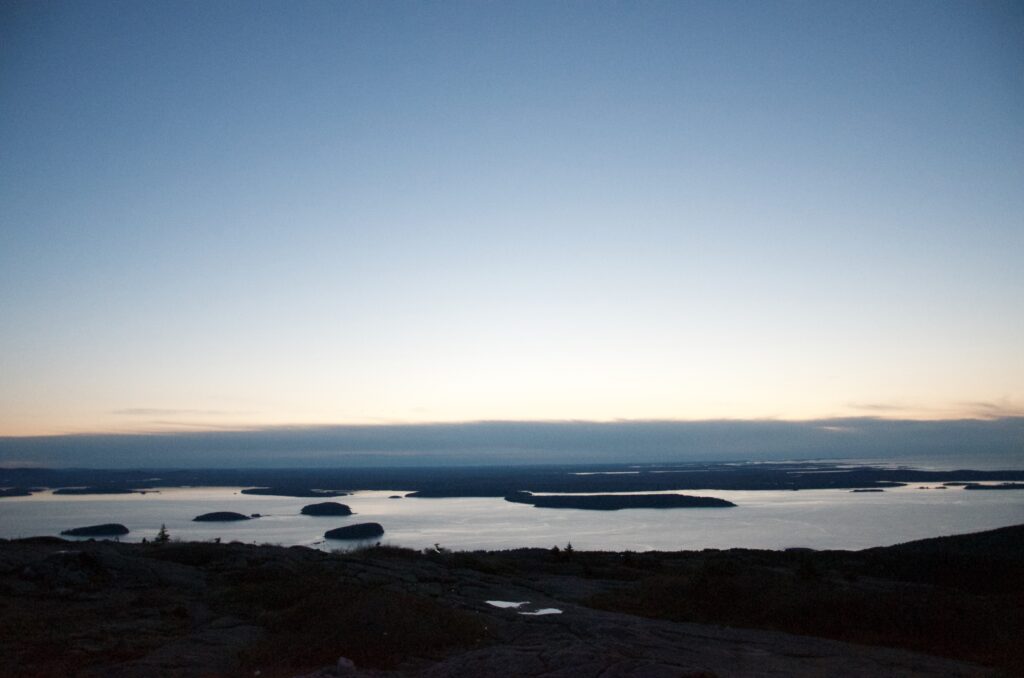 Despite the cold, I knew this moment would be magical. I sat in the backseat as we wound our way up Cadillac Mountain. I could feel my heartbeat rising as we corkscrewed higher and higher, the road seemingly narrowing as we gained elevation. When we finally reached the top I was dizzy from the drive, but mostly my excitement. I hopped out of the car and saw clouds. There were clouds on my mountain. My mountain. My plan. Not only was it cloudy but it was freezing. Freezing.
I looked down at my $2 Old Navy flip flops and thought about how foolish I had been. How silly I would look to all of the real Mainers up there, how irresponsible I would seem to the tourists that had planned for months for this moment and there I was with flip flops and high hopes and a pathetically thin Bar Harbor blanket. I took a big sip of my coffee and washed down any remaining expectations I had for the sunrise.
We found a spot surrounded by professional looking people with expensive jackets and footwear and even more profoundly expensive camera equipment. I laid down my blanket and curled up next to Drew, accepting this moment for what it was. A failed moment. An experience that could have been, but would never be because my plan just didn't pan out.
Matt and Drew started talking about Paulson, a band they loved in high school but I had never bothered to actually listen to, and I took a long deep breath. I had worked really hard to get to that mountain top. I left Ohio for something different and new and special, and Maine had delivered that in so many ways. I grew as a student, an educator, and a writer. I fell in love. I developed friendships that could only be fostered in creepy townhouses just down the road from Steven King's Pet Cemetery. I went to story slams and lighthouses and drank blueberry wine. I had traveled to the top of a mountain looking for a send-off without really appreciating all of the moments that had led me to that very spot.
And then, the sun started rising. The clouds were still there, but it didn't matter because the sun had showed up to the party with all of her colors. In all of her glory. And she was beautiful. It was breathtaking.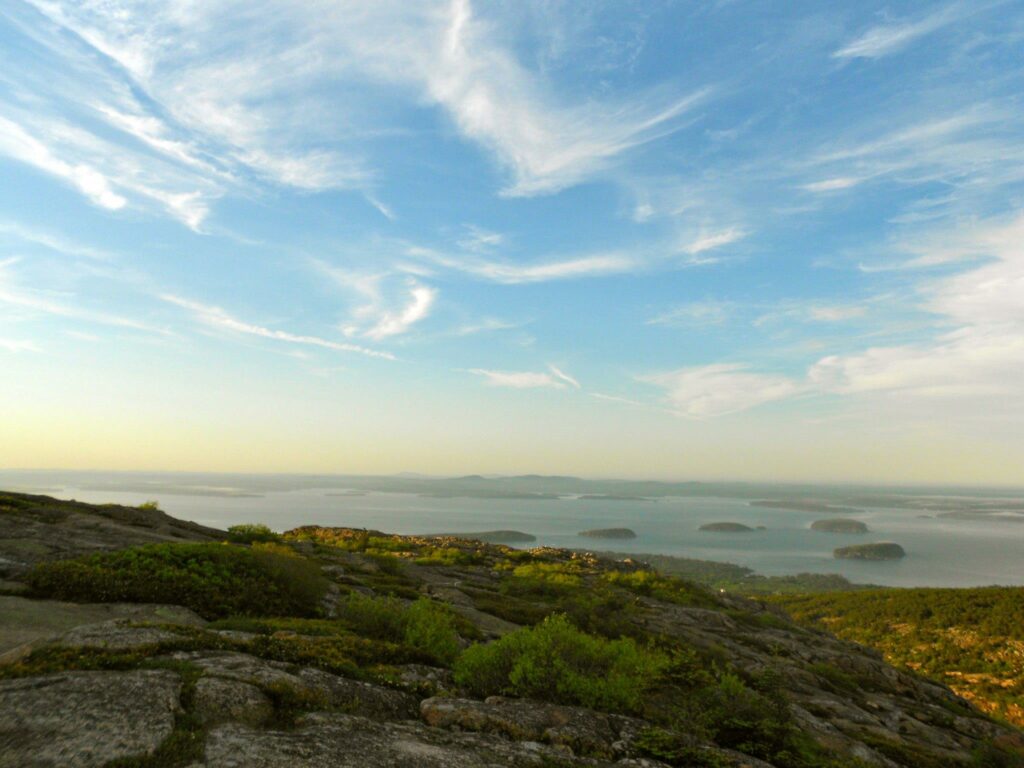 I was shivering and drinking cold, bitter coffee and it was all that it could be. In that moment I felt full — not in the sense that my expectations had been met, but that I was feeling what I was meant to feel. I had this indescribable sensation radiating from my stomach and slowly moving throughout my limbs, tingling along the way. I felt content. And somehow, that felt good enough.
For something so beautiful, it sure was fleeting. If this moment had been in a movie, time would have slowed. There would have been some painfully beautiful indie music playing in the background. Maybe something by Bon Iver or Fleet Foxes. The couple you would have been rooting for would have kissed at the peak of the sunrise — and we did. But, the moment came and went, and we continued on with our day, making our way back down the mountain.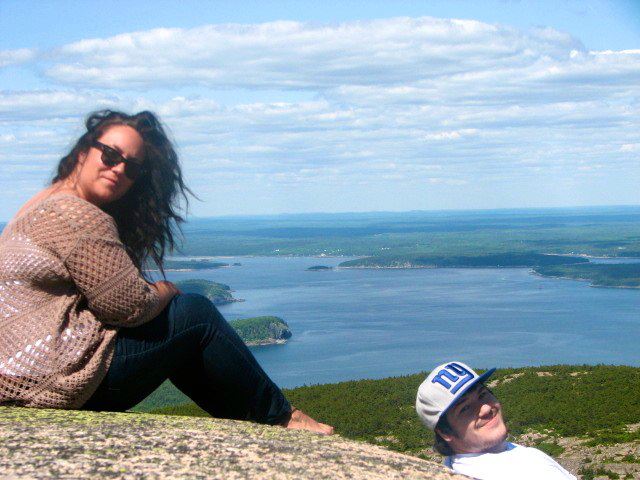 We stopped for brunch in Bar Harbor before hitting the road, and it was over Lobster Benedict (years before Avocado Toast became a thing) that I started to feel sick. By the time we made it to the car I knew I was in trouble. My head was pounding and I needed tissues before we even hit the turnpike.
As we drove south down I-90 I could feel myself sliding deeper and deeper into sickness. I immediately reverted to my 12-year-old self and made a makeshift bed in the back seat of the car, forcing myself to sleep. When we made our way to a rest stop in New York, I popped out to grab some cold and flu medicine. Just standing there felt like a chore. I walked to the cashier to pay and was immediately met with a "Oh, so you like bah habah?" It took me a second to realize I was still wearing my Bar Harbor windbreaker. I gave the cashier a weary nod at his poor attempt of a Maine accent, grabbed my cold meds, and hopped back in the car.
After 16 hours in the car, we finally pulled into Drew's apartment complex — the place I'd be calling home until we found a house of our own. I was exhausted. I still felt ill, but somehow the bulk of my sickness had passed. We put unpacking off until morning and crawled onto Drew's mattress on the floor. I was happy. We'd made it.
I had spent a month planning a grand send-off, and even though the past 48 hours hadn't been what I had expected, it was what it was. It was imperfect and long and cold and cloudy and it was still my send-off.
"…try not to look past the smaller, quieter moments as they unfold. They're imperfect, but they are yours…"
Seven years later, I find myself thinking back to that moment often. I can taste the cheap coffee. I can feel the sun hitting my face after sitting on that cold mountain waiting for her arrival. It may not have been the moment but it was a moment, and for that I'm thankful.
That summer didn't start the way that I had planned. And I'm sure you are feeling a similar way right now.
Vacations, pool days, getaways, weddings, baby showers, births, moves, and everything in-between feel a bit different right now. The plans we had for our summers have shifted and changed. Events have been cancelled, guest lists have been whittled down, and in many ways, what we envisioned for these big moments simply won't come to fruition. I hate that.
It goes against every fiber of my being to have had a plan for this summer and to just watch it fall to pieces. It is disappointing. Frustrating. Sad. And the lack of control these past few months has sent my anxiety through the roof.
But then I think back to Maine. To my send-off. To everything that went wrong and in turn, the things that went right. To the story that I tell every time someone asks me what it was like living there. It usually starts like this, "It didn't really go as planned. . ." and ends with "but what happened is what I needed."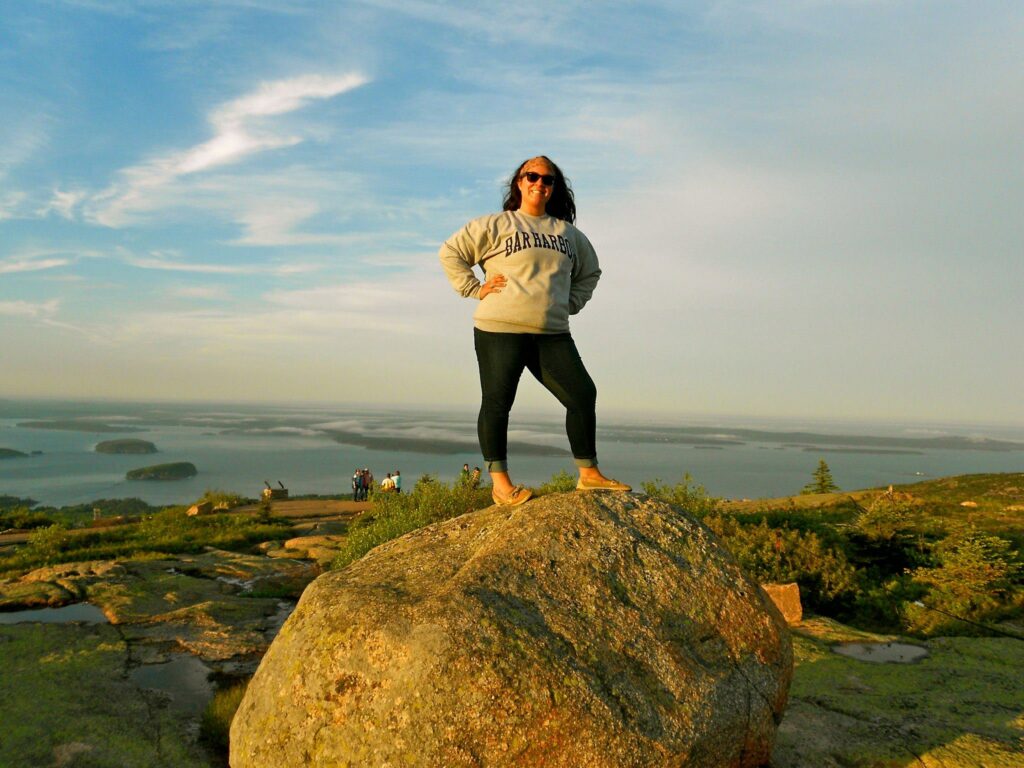 These Moments Still Matter
I know it feels like things aren't going according to plan right now. That the moments we've been looking forward to won't come to pass. But try not to look past the smaller, quieter moments as they unfold. They're imperfect, but they are yours — from front porch weddings to sidewalk chalk obstacle courses and socially distant yoga in the park.
These moments are happening. And even if they don't have the bells and whistles we intended, the truth is, most of these great expectations don't unfold the way we hoped, anyway. Find presence in these small moments. Let them take up space and hold weight. Don't wait until you get to the top of the mountain to soak this summer in. Take a sip of coffee, feel the sun on your face, and know this summer is what is. A moment.