Your Instagram Stories disappear in a day. Snaps too. And honestly, who knows what Reels are, exactly — or if anyone is even paying attention to any of it?
In our increasingly digital existence, it's not just the pictures and tweets that feel disposable. As a writer, I know that even the most thought-out and painstakingly edited pieces I create will vanish from the screens — and likely the minds — of readers just like any other digital content, bumped by the next looped video, eerily relevant ad, anxiety-inducing news headline, or humblebrag-captioned selfie.
The throwaway nature of modern life has been wearing me down for some time, not just as a creative person, but as a human being who craves something enduring. In the middle of summer 2020, as protests raged and the world endured a deadly pandemic, as my own dad began his final retreat from permanence, and as my livelihood as a travel writer and photographer seemed uncertain at best, I decided to start something new, something tangible that I, and others with a similar craving, could literally hold on to. I decided to create a print publication.
I was in the car, delivering toys for a local independent retailer — my latest side hustle to make ends meet — when I rang up an old friend. "Tell me I'm nuts for wanting to start a print magazine," I asked when he picked up. He couldn't. Six weeks later, one hundred copies of the first issue of Stanchion arrived on my doorstep in a brown box from the printer.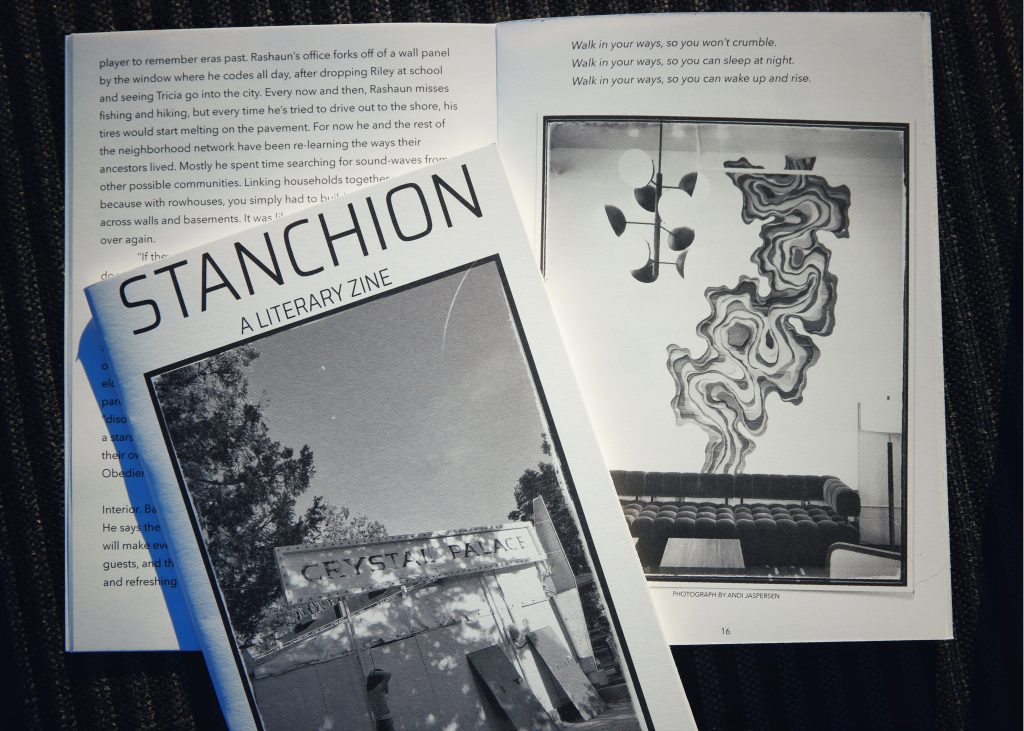 I had made a literary and photography zine, printed on elegantly thick uncoated A5-sized paper. But, why?
Print media is dead — or at the very least, on life support, they say.
People don't read poetry or short fiction, I've heard.
Photographs are shared only on small screens and stored in clouds, it seems.
So why spend money I didn't technically have to make something like this — in a world like ours, no less? In short, because art that we can see, smell, touch and hold roots us to the world and makes us feel better about it, if not also about ourselves.
You see, tangible art matters. According to a research study conducted by Park West Gallery, interacting with physical art forms have a major, positive impact on our well-being. Based on data collected from 130,000 Norwegians ages 13 and up, a whopping 84% of respondents who engaged in four or more art-related activities reported good health, while 91% said they were highly satisfied in life. The study concluded that these benefits were found in people who both created the art, as well as those who consumed it.
In my home, there's a wall of Fracture glass print photographs from our wedding, four-foot canvases of famous book cover art, colorful football scarves from matches I've attended in the UK, and above my wife's side of our bed, there's a delicate wreath made from pages torn from her favorite novel and adorned with fanciful lavender ribbon. Walls need none of these items to stand strong. Us though, without them we would be more susceptible to crumbling. These tangible pieces of art do more than just hang on painted drywall, they remind us of our past, stoke our passions, and make the structure in which we live a warm, welcoming home.
I made Stanchion in hopes it might have a similar impact. After all, even in a digital world, analog media is still thriving in its own right. Vinyl records are more en vogue now than at any point in the last couple of decades. Etsy is flourishing, with artists making and selling their wares. Bookstores still exist. Lots of people seem to want actual artistic, creative, thoughtfully designed things to have and to hold, to look at not — on a screen, but in their own physical space.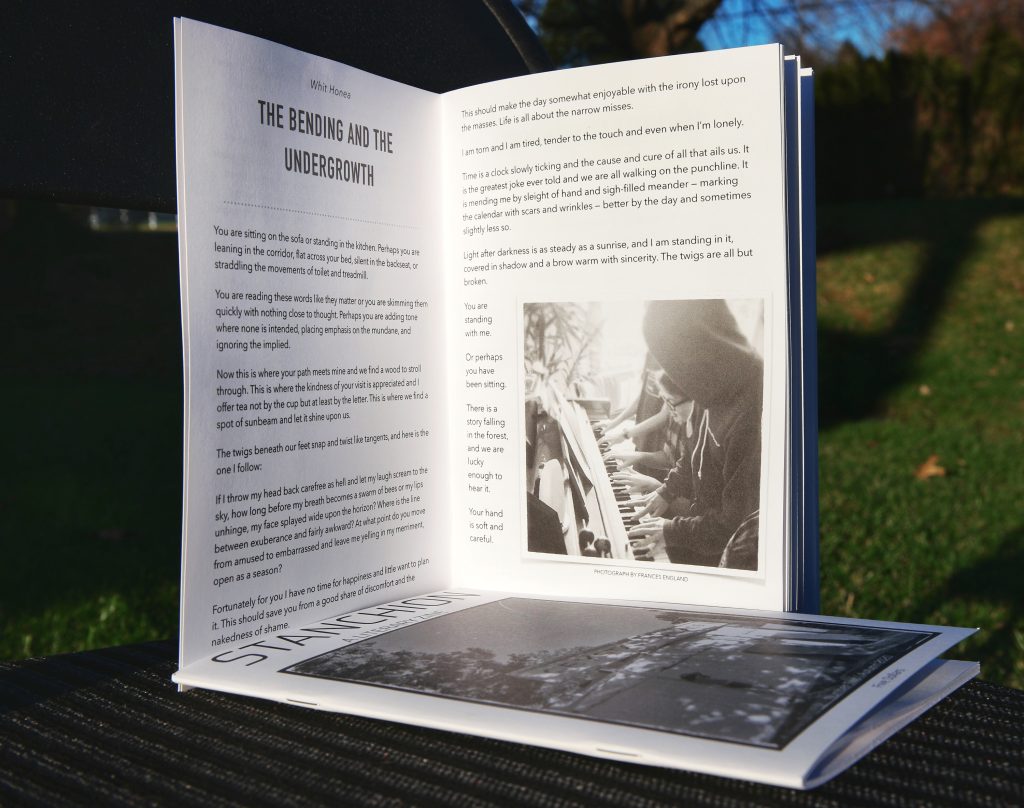 My goals with Stanchion then were three-fold:
For myself, to make something and be creative during a period of time where that wasn't happening through normal means. After all, I wasn't writing or photographing much while partially locked down at home.

For other creatives, to provide a new outlet for their work to be seen, experienced, digested, enjoyed, and shared.

For readers, to increase their health and well-being through the arts.
The response to Stanchion has been nothing short of breathtaking. The limited-edition debut issue was nearly sold out with a month of its release. Subscription numbers are higher than I could have ever imagined at this still-early stage, while submissions of stories, poems, drawings and photographs are arriving weekly from India, England, and across the USA. The feedback I've received directly from those who've taken a chance on Stanchion, buying a copy for roughly the cost of a single cup of coffee, makes me happy my friend didn't toss water onto the fire burning in me on the phone last summer. More importantly, it has me excited to keep going.
I still use Instagram, for myself and for Stanchion, and I still post Stories knowing full well they'll be gone in the relative blink of an eye. But like the difference between sitting before a roaring fire and turning on a YouTube video of a fireplace, nothing on a screen makes me feel more whole than holding a book, a record, a photograph, a piece of handmade art, or a copy of a quality publication — self-printed or otherwise.