The holiday season will be here before we know it (cue: the inevitable scramble for gifts). Each year, thousands of people gift glass prints from Fracture to their loved ones. Understandably, we tend to receive many questions from customers about holiday gifting during this joyful but hectic time of year. If you're considering gifting a glass print this year, we've got you covered. Here are the answers to some of your most asked holiday gifting questions.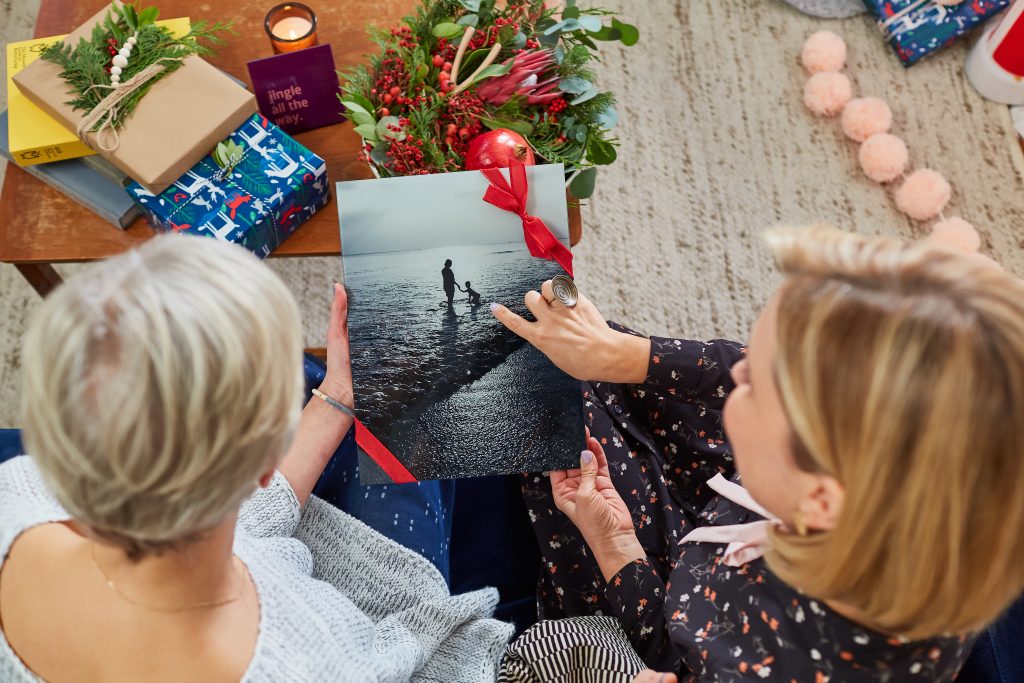 Where do I begin?
Photos make excellent holiday gifts, and they look super sleek as glass prints. Using Fracture, you can print your cherished photos directly on glass (as long as they are standard resolution and size—our site will automatically warn you if your file is too small to print clearly). You can also print hand-drawn pictures or choose some festive artwork. We offer a variety of sizes, shapes, ways to style, and finish options. Suffice it to say, the—glass print—world is your oyster! Once you choose a photo to print, it's easy to get started.
What kinds of gifts can I buy?
With multiple sizes and shapes, it's easy to create custom layouts for all your unique moments. Currently, we have three ways to style your prints:
Single glass prints that come in five rectangular sizes and three square sizes and can be used in endless ways in your home decor
Photo Walls are arrangements of multiple glass prints designed by our in-house team. You can choose a layout, upload your photos, and we'll deliver your Photo Wall to you, ready to hang.
Storyboard is the perfect way to tell the story that is uniquely yours. Made of solid wood and designed to display your glass prints securely, the grooved surface allows you to slide, layer, and switch out your prints easily.
Plus, you'll receive everything you need to hang them on your walls, hassle-free, with options for tabletop display stands.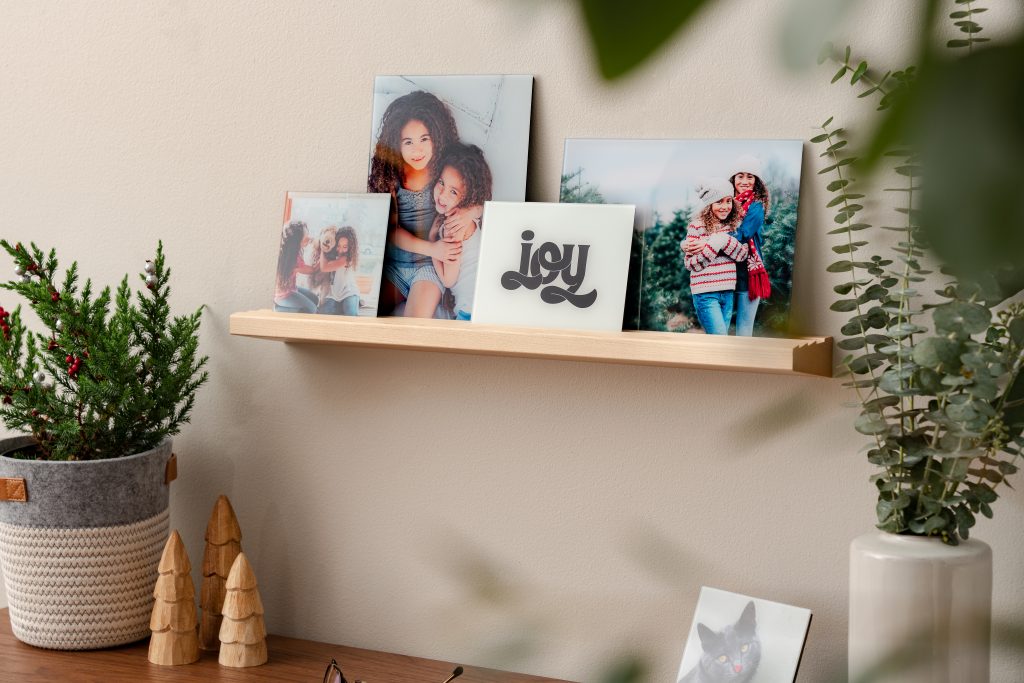 Are there any alternative gifts to glass prints?
Fracture Gift Cards are a great alternative, especially since our print queues fill up quickly during the holiday season. The recipient can simply pick out their own photos to print using either a physical or digital Gift Card—which never expires! Physical Gift Cards are sent free through the mail (USPS First Class only) and will likely arrive on time if purchased through the second week of December. 
However, to avoid any delays in shipment, we recommend purchasing digital Gift Cards, which are significantly more convenient. In addition, digital Gift Cards can be emailed directly to a recipient or to yourself for instant printing. Pro tip: You can also schedule exactly when you'd like your recipient to receive the email (e.g. Christmas morning).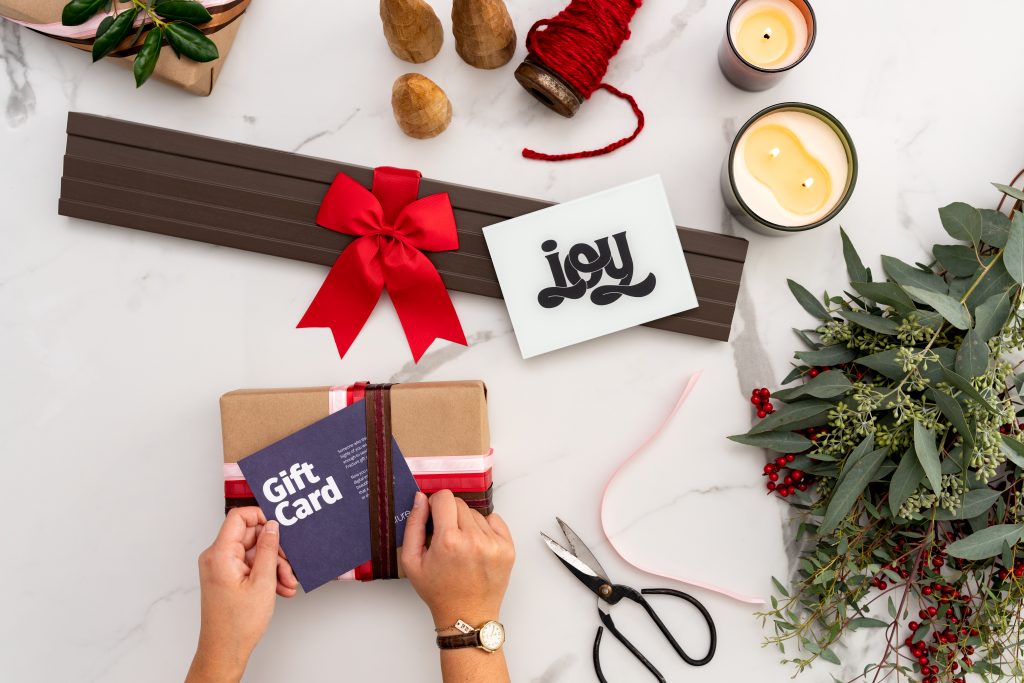 When is the latest I can order and still get my items in time for the holidays?
The answer? It depends; our holiday shipping is influenced by the volume of orders and how quickly we receive them. (You can always keep an eye on our production turnaround time in the blue banner at the top of our home page. Note that this turnaround date represents the ship-by date, not the delivery date). When the ship-by date in our banner reaches December 23, that will be the very latest you can get in an order (with an upgrade to overnight shipping) that will arrive by Christmas Eve. We recommend ordering as early as possible to avoid cutting it that close and having to pay the considerable overnight shipping fee. Historically, the last week customers can order is the week of December 15-19.
After ordering, you can easily check your order status by entering your email address and order number on the status checker page.
Furthermore, Rush Production is available until the Rush queues fill up. You will see estimated Rush delivery dates when you check out, after entering your shipping address. All in all, when it comes to holiday gifting, the sooner you can place the order, the better!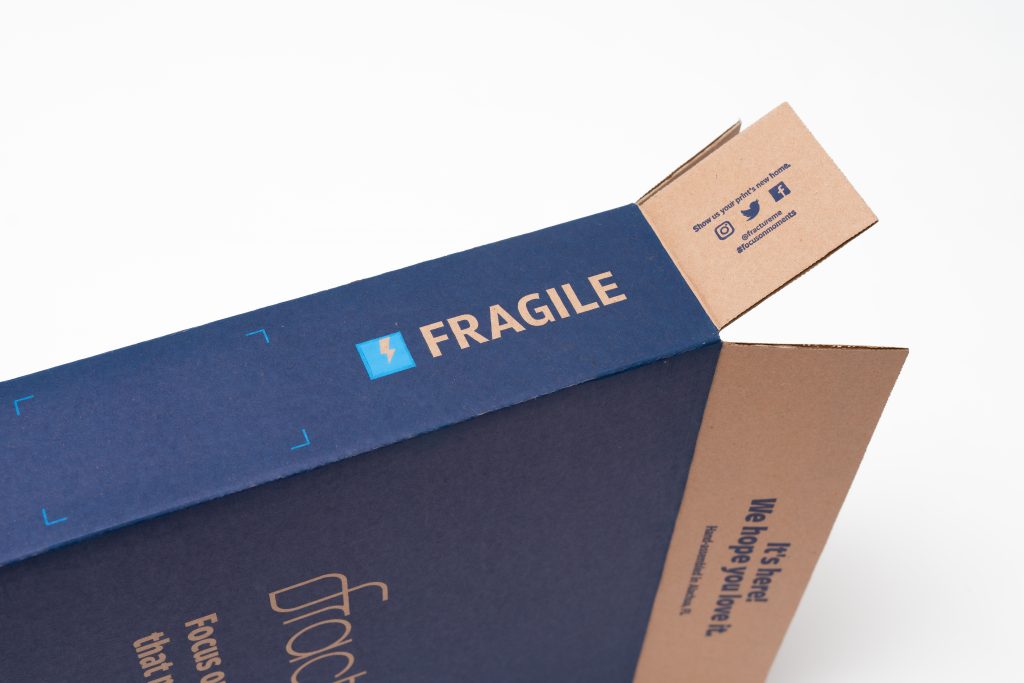 What if my print arrives broken?
We designed the eco-friendly Fracture packaging to stay intact during shipping and transit. (We're not kidding—one glass print withstood the Fracture team test driving a truck over it, and one of our Facebook customers said their print survived an earthquake!). Still, accidents can happen during transit on the rare occasion. If your print arrives broken, there are steps you can take to get a replacement:
Take a photo of your packaging
Take one or two photos of the damaged glass print
Email those photos along with your order ID number to our Fracture Customer Support Team
We strive to resolve any issues promptly, and completing these steps helps us get a brand new print for you ASAP.
Does Fracture include gift receipts?
Fracture is committed to reducing its carbon footprint. In order to save paper and stay green, no paper invoices or receipts are included in our boxes. All order invoices and receipts are sent electronically to the email address on file with your order and will not be in the gift box. If you're sending directly to a recipient, feel free to include a personalized gift note with your holiday gift.
Are you running any holiday promotions?
We typically have a few promotions running through the holiday season! This year, look out for things like our Holiday Year-End Sale and our Christmas Day Promo. To stay in the loop, we recommend following us on social, signing up for our email list (on our home page), and checking back at our website regularly.
As always, we're here to support you with all of your holiday needs. Happy gifting!