I was born and raised in a restaurant family and, for us, that meant moving around every couple of years as the next best opportunity presented itself. That meant I attended seven schools in 12 years. While I did become a fearless warrior at navigating uncharted lunch table hierarchies, it left me with a pretty malleable understanding of "home." And so, as an adult, I continued to move. Two dorms and two apartments during college, one townhome and one house in graduate school, and then six other moves of all shapes and sizes with my husband. That's a lot of packing tape.
There is so much excitement that comes with a move, but I think it really all boils down to possibility. The possibility of a fresh start, of actually keeping your junk drawer under control, of finally painting that black accent wall that you saw on Queer Eye once but couldn't seem to muster the courage to actually do yourself. The newness of a move is invigorating. But that newness doesn't last forever.
Eventually, my husband and I landed in Cincinnati — the place my parents decided to put down roots. This was strange and sentimental all at the same time. Of all the places I lived as a child, Cincinnati was the place I had lived the longest. Gutturally, I was unsure of moving back to the town where I navigated the awkwardness of high school. I had also firmly stated, "I will never end up here" too many times to not at least feel a little uneasy about the idea. But what Cincinnati did offer was the nostalgia and permanence that most people feel when referring or returning to their home. We moved back in with my parents (very on-brand as Millennials) and started to save to buy our first house. Over the next five months, we saved generously and also found out we were expecting our first child. And that's when it hit me. I didn't just want a house. I wanted a home.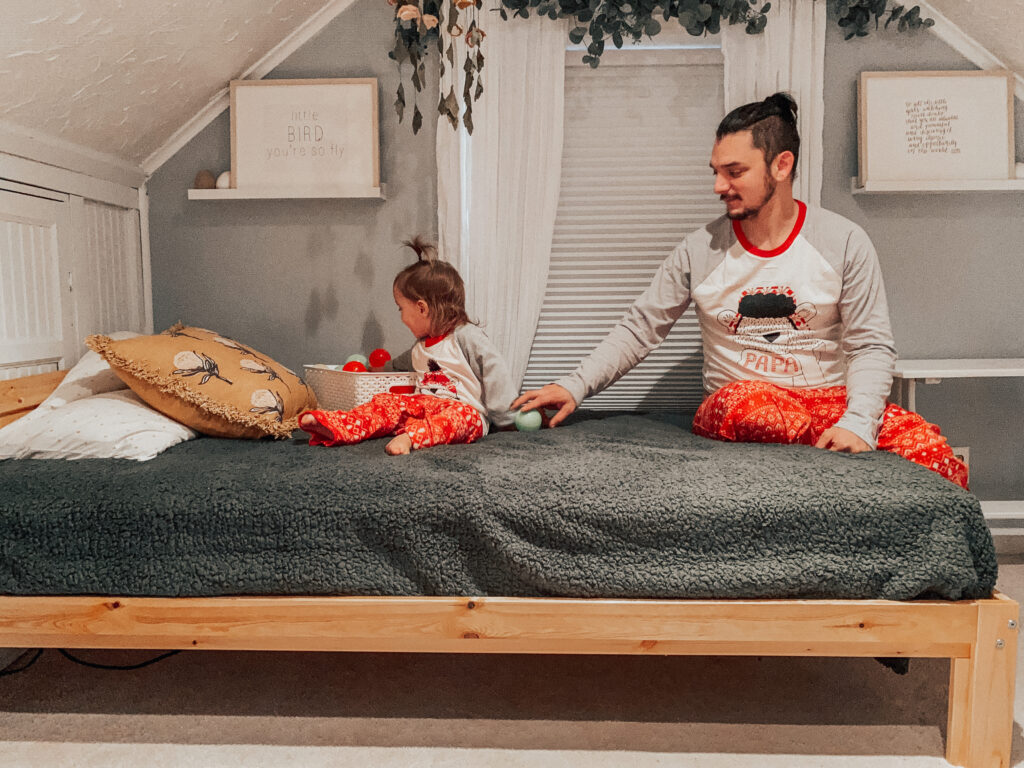 I wanted a home where you plan to stay so long that you unpack all the boxes — even the ones holding unmatched Tupperware lids and your incense holder and those pictures from college which are embarrassing, but hard to part with. A home that you walk into after a long trip and you take a deep breath and sigh, because although that trip was nice there's really nothing like being back in the space that you call yours. I wanted a home where the memories could be defined by the wear and tear on the doorframes, each chip indicating a daylong trip to IKEA where all you managed to do was fight at the kitchen displays. With a bureau that you thrifted because you had to have it but, to your husband's dismay, didn't really think of where to put it. And the small but steady pencil lines that grazed your daughter's head and slowly made its way up the wall as she stood up tall and proud that she was growing. I wanted a home to grow in. I wanted a home to grow with.
So, our search began. It was tricky. We had a tight budget and a big wish list and a ticking timeline — better known as my growing belly! Eventually, we landed on a 113-year-old Cape Cod on the east side of town. It wasn't perfect, but it was ours. Over the next two years, we fell in love with that house, and slowly it began to feel like our home. 
In January of this year, my husband was offered a job in our college town of Athens, OH, that we simply couldn't pass up. When you continually move around as a child it's very easy to feel like large, sweeping portions of your life are out of your control. But Athens was my choice. That small, hippie town in Southeast Ohio holds so much space in my heart. I met my best friends there, I fell in love with my husband there, and I drank far, far too much there, but ultimately I experienced key moments of transition and growth that solidified Athens as somewhere special — for me and my family.
Suddenly, I found myself in a very familiar position. On the precipice of possibility while facing a move I was not sure I wanted to make. Athens was special, but Cincinnati was home. It took a few months to really convince me, but by March our house was on the market. My realtor asked me to write a letter to prospective buyers and this is what I had to say: 
Welcome to our home! You're here because you are at an exciting stage of life — you're buying a house! I know this process can be stressful and overwhelming and exciting all at the same time. I'm sure that you've already walked around the house, but I'd like to tell you a little bit about how we made this a home.
My husband and I bought this house when I was five months pregnant. I was starting to enter the nesting stage and needed to find the place we would bring our baby home to. We looked at so many homes and nothing seemed to be the right fit. And then we found ourselves here. We walked through the door and I knew immediately that this was our home.
At first it was just the mere charm of the house. Built in 1905, this home has character! We were in love with the hardwood floors, the exposed brick, and those ten-foot ceilings. I was immediately channeling my inner Joanna Gaines and knew this was the house we had been dreaming of. We put in an offer 10 minutes after walking through the door.
Once we moved in, this house became a project of love for my husband and I. We knew we wanted to make a few key changes to really make this feel like our home. We painted the bedroom and bathroom, we extended our driveway, and, at seven months pregnant, we sanded and white-washed the entire upstairs. Some people thought we were crazy, but we were just creating the space we knew we needed.
And then our little girl came! We spent so many late nights in that bedroom, rocking and cooing our girl. We walked up and down the living room singing The Avett Brothers and praying she'd sleep. We played upstairs and read books in her room. And we soaked up this amazing location! We indulged in ice cream at Creamy Whip, ordered one too many pizzas from Ramundos, and coffee from Luckman's got me through every sleep regression. Storytime at the Blue Manatee became a staple for our family, followed by breakfast at Sleepy Bee, and, if we were lucky, a solid beer at Madtree. My husband worked downtown and I worked in the suburbs and somehow this home was right in the middle of it all.
If I am being honest, leaving this home is no small feat. We didn't plan on this move and, while exciting, this decision was unexpected. But my husband got a promotion in Athens, the college town where we met, and our family can't pass up this opportunity. The truth is, it is hard for us to leave this home. But we do so knowing that you will find your stride here.
You will make late-night dinners with your friends in this kitchen; everyone standing around the island, chatting and laughing, and trying their hand at playing chef. You will host holiday gatherings in that dining room. You'll string lights and cuddle close and blow into those cheesy horns to ring in the new year. You'll slow dance in the living room after having one too many glasses of wine to celebrate your daughter sleeping through the night for the first time.
You'll lay in bed and look up and wonder how these ceilings could possibly be so high. Don't worry. You will fill this space, as we did. With good conversation and laughter and friendship and sometimes arguments, but that's what wine is for. You will fill this space with love. Welcome to your home.
Our home sold in 24 hours. Five days after that, Ohio Governor Mike DeWine enacted a stay-at-home order. We were told that we were safer at home. Schools, colleges, restaurants, retail, and everything no longer deemed essential had closed. We needed to social distance, stay put, go for a walk (but not too close to anyone), build a puzzle, bake, deep clean, reorganize, redecorate, landscape, play in the backyard, but by all means necessary — stay home. At this point, we had already moved our belongings into storage and we ended up staying at my parents' house, yet again. But I found myself coming back to this letter over and over again. Reading it, crying, reading it again, and wondering if we had made the right choice.
"You will fill this space with love. Welcome to your home."
How could I stay at home if I had just sold mine? My husband was living in our college town, starting his new job and coming home on the weekends, my parents retreated to their lake home in Tennessee, and here I was in Cincinnati with my almost two-year-old daughter, alone. It was and is really hard. It doesn't take much effort to see that while our healthcare workers are fighting tirelessly to combat this virus, many others are finding comfort in their homes. They're doing quarantine Olympic competitions and creating sidewalk chalk murals and hosting birthday party parades. They're embodying their homes. They're exuding it within themselves and to each other.  
And that's when I realized that our 113-year-old Cape Cod felt like home because we decided we would turn it into one. We made the choice to foster that environment. We decided to connect, to lay roots, to grow in and with our home. Home isn't a location. It's a state of mind — cue Edward Sharpe and the Magnetic Zeros!
But really, I decided that day that even though we are here temporarily until the stay-at-home order eases and we join my husband in our tiny college town, my daughter and I would wake up every day and be each other's home. We would go for long walks with our dog Huckleberry and sing folk songs in the kitchen and lay in bed, folded into each other. I didn't need a safe place, because I could be hers.
I have another move ahead of me, but during these two months of quarantine, I have found peace in what is normally a life-changing event. Spaces seem less important and yet the connections we have in them feel invaluable. I'm not sure what home will look like for us in the future, but I do know what it will feel like. It will feel like the possibilities are endless.
"Home isn't a location. It's a state of mind."
Wherever home finds you, I hope it wraps you up. Cuddles you close and reminds you that home and safe are four-letter words that drape over your shoulders like a cozy blanket. They are a part of you. And they will get us through this.