Countless factors go into choosing the right photographer for a photo shoot. From the cost and services offered to the technical skill and aesthetic style of the photographer, there is no shortage of details to consider when visually capturing just about any event. When it comes to weddings, when the stakes, emotions, and price tags are often at their highest, the decision can be even more nerve-wracking. Choosing a wedding photographer is one of the most important things you'll do while planning your special day — and it can often be among the trickiest.
If you're wondering how to find a wedding photographer, booking an engagement photo shoot is an excellent place to start. After all, if you're pleased with the photography from your engagement shoot, you can likely count on the same photographer to capture the wedding with the same compositional skill and creativity. It also helps you get to know the photographer before you commit to spending the whole day — not to mention much more money — with them on the big day.  
Jessica Lapp is a wedding photographer working out of Virginia. She says that even professional photographers struggle when it comes time to begin planning their wedding. "I remember when I was a bride, I was planning my own wedding and felt overwhelmed by the sheer number of choices I had when it came to choosing a wedding photographer."
Part of this pressure comes from trying to find the perfect wedding photographer — who you trust, who can help capture and create the atmosphere you've been envisioning, and who can capture your big day the way you've been hoping. "Photography is the one thing that lasts for years after your wedding day, so finding a photographer whose images you love and expertise you trust is a crucial part of the planning process."
As you begin to search for how to find a wedding photographer for your big day, consider your own answers to the following questions offered by actual professional photographers and wedding planners.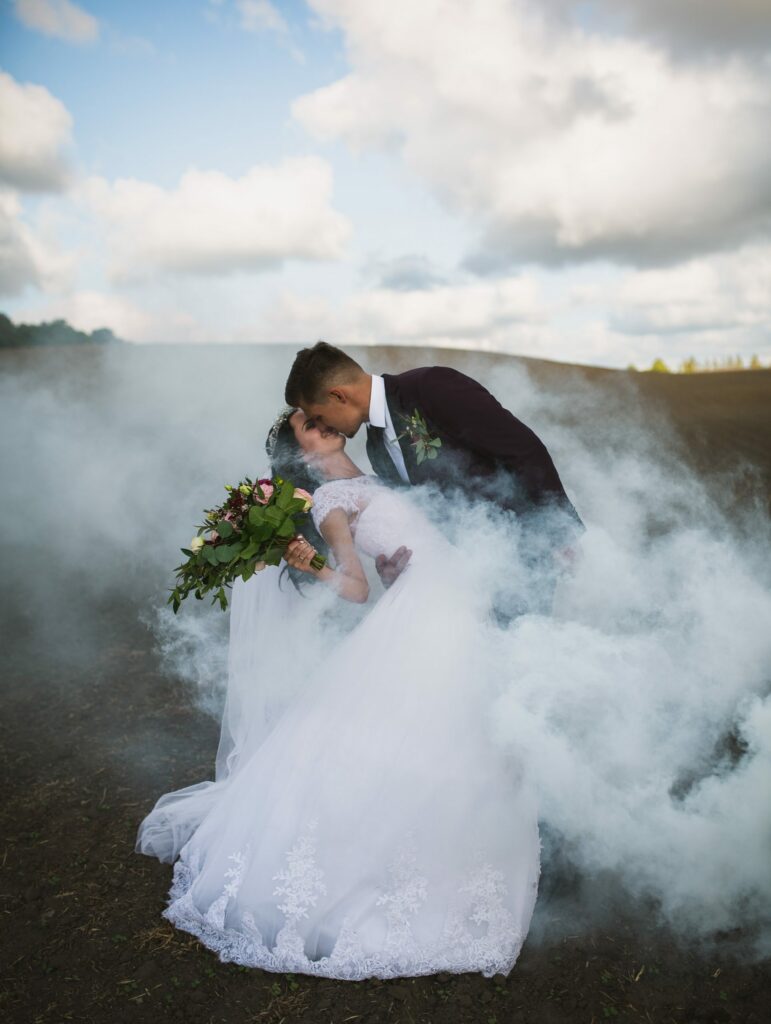 Do You Love Their Work?
It goes without saying, but when choosing a wedding photographer, go with one whose work you admire. You want someone whose work blows you away — not just someone who is competent. 
Jenna Miller, Creative Director of the wedding website Here Comes the Guide, says: "Do your homework by researching online, checking out websites, galleries, reviews, and social media to find a photographer whose work speaks to you. When you come across a website and portfolio that makes your heart flutter, then you know you've found your potential match."
California-based wedding photographer Chelsi McFadden feels the same way. "Try to find something in the photographs that you have an innate connection with."
Don't be afraid to be picky when it comes to how to find a wedding photographer. After narrowing down your list, the next step is booking meetings with the photogs before you choose a wedding photographer. McFadden says, "Get a feel for their personalities and ask questions that may not have been answered on their website."
Miller believes you should get to know them as much as possible. "Make sure you click with them on a personal level. You want a photographer that you could see yourself being friends with. The more at ease you are with them, the more natural and authentic your wedding photos will be."
And, Miller adds, you want to make sure they're responsive. "Do they respond to your emails or phone calls in a timely manner? Do they send information when they say they will? Are they on time to meetings? If they're not polite, professional, and prompt during the initial inquiry stage, that's a red flag."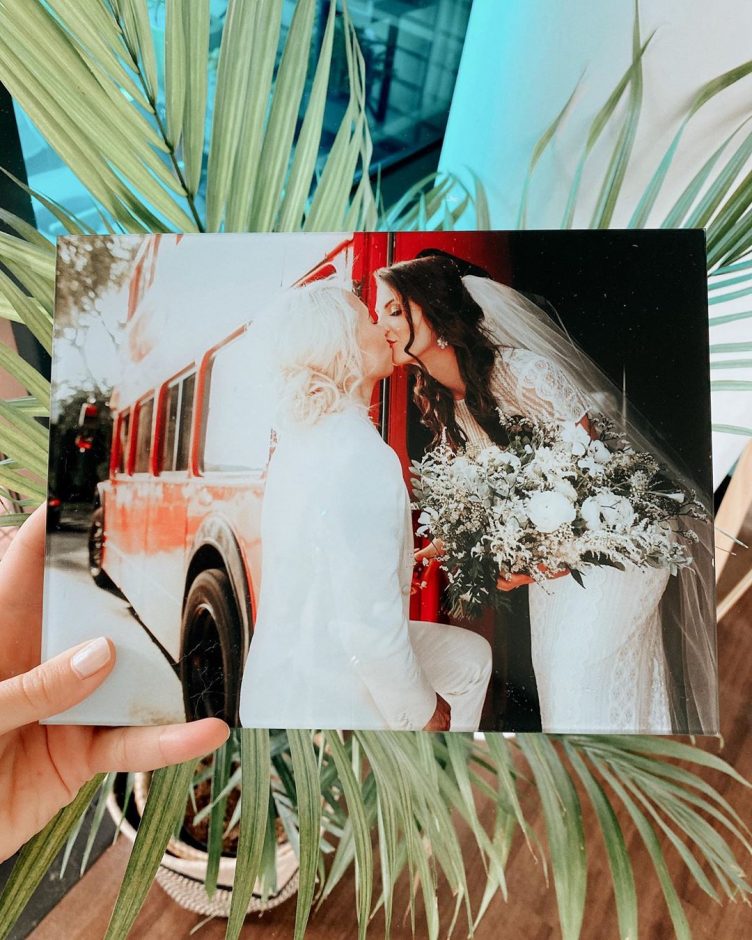 What's the Final Product?
We're deep into the digital age at this point. No photographer is shooting on film unless it's a specialty offer, like DJs who can spin vinyl. In many ways, this is helpful for everyone — photographers can immediately tell if the shot is good, time and money isn't wasted developing unwanted photos, and you'll have hundreds of photos to choose from.
The difficult part is that not all photographers have completely migrated over to digital delivery. Some are still focused on selling prints and albums — and if that's what you're looking for, great. However, if you're not, pay careful attention to the deliverables when choosing a wedding photographer. 
When you meet with potentials and begin to choose a wedding photographer, make sure to ask what their final delivery will be. Will they be providing a flash drive or a link to download the images? Or will you be expected to purchase prints from the photographer?
Bear in mind there can be a massive price difference between the two delivery methods. Photographers that do digital delivery may charge more upfront because they aren't going to make any additional money on the photos themselves. Photographers that want to sell albums and prints may charge less for the wedding day itself so you're more inclined to buy photos later.
There's no "right" or "wrong" answer here — it's a matter of how much license you want to have with the finished photos after the wedding when it comes to choosing your wedding photographer.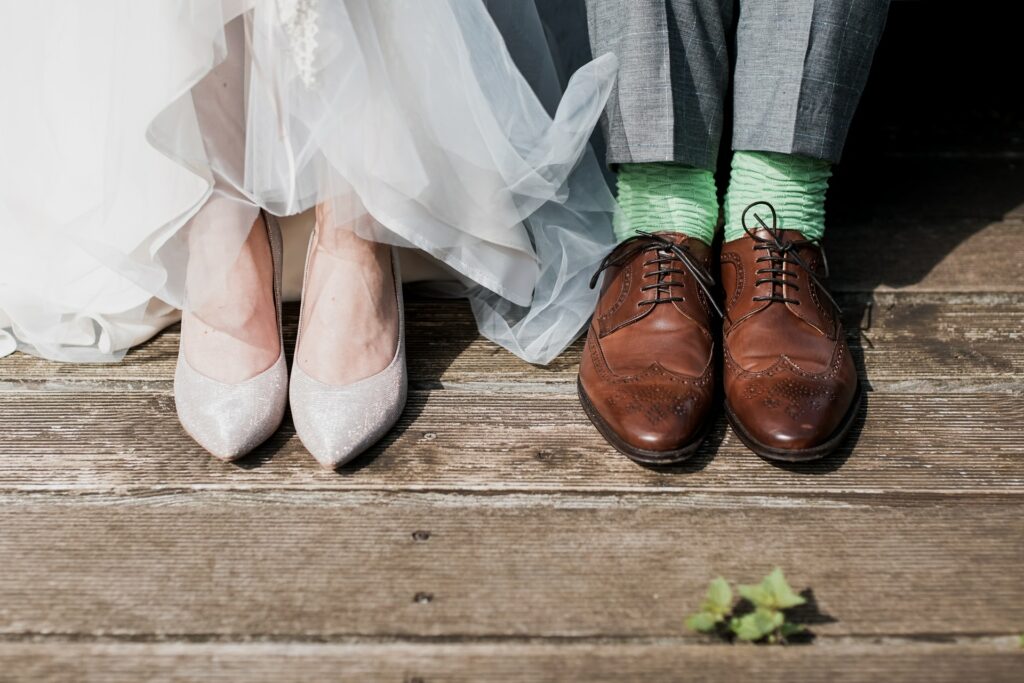 What Are Your Rights with the Final Product?
Understanding what your rights are in regard to the final product is very important when it comes to digital delivery and how to find a wedding photographer that's perfect for you. With printed photos from the photographer, you can assume (and your contract probably states) that you cannot reprint or replicate them in any way. But with digital delivery, terms are a bit more nebulous.
If a potential photographer offers digital delivery, ask them the following questions:
Can you buy digital images that can be printed however you'd like? Or are you expected to purchase prints from the photographer?
Are you allowed to post them on social media? If you are allowed to post them on social channels, how do you give them proper credit —and is this required?
Furthermore, are you allowed to edit them in any way? Some photographers allow for cropping only.
You want to make sure you know exactly what you're getting and what your rights are with your photography before choosing your wedding photographer. After all, asking these questions protects you both!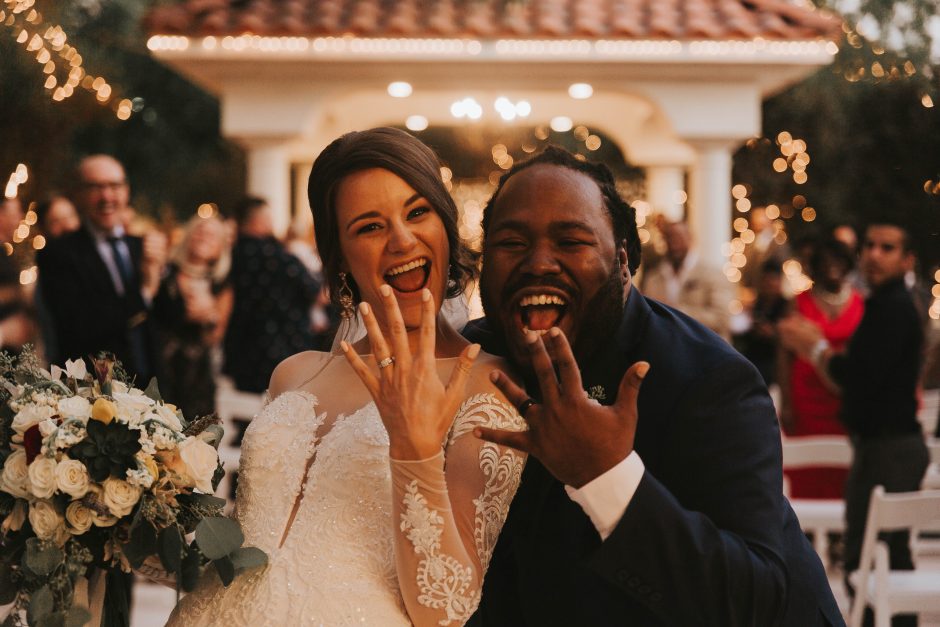 What's Your Style?
The photographers you look at will have different styles, and of course, no approach is better than another — it just depends on your own personal style when it comes to how to choose a wedding photographer. Before you meet with photographers, discuss this with your partner. What do you want your wedding photos to look like?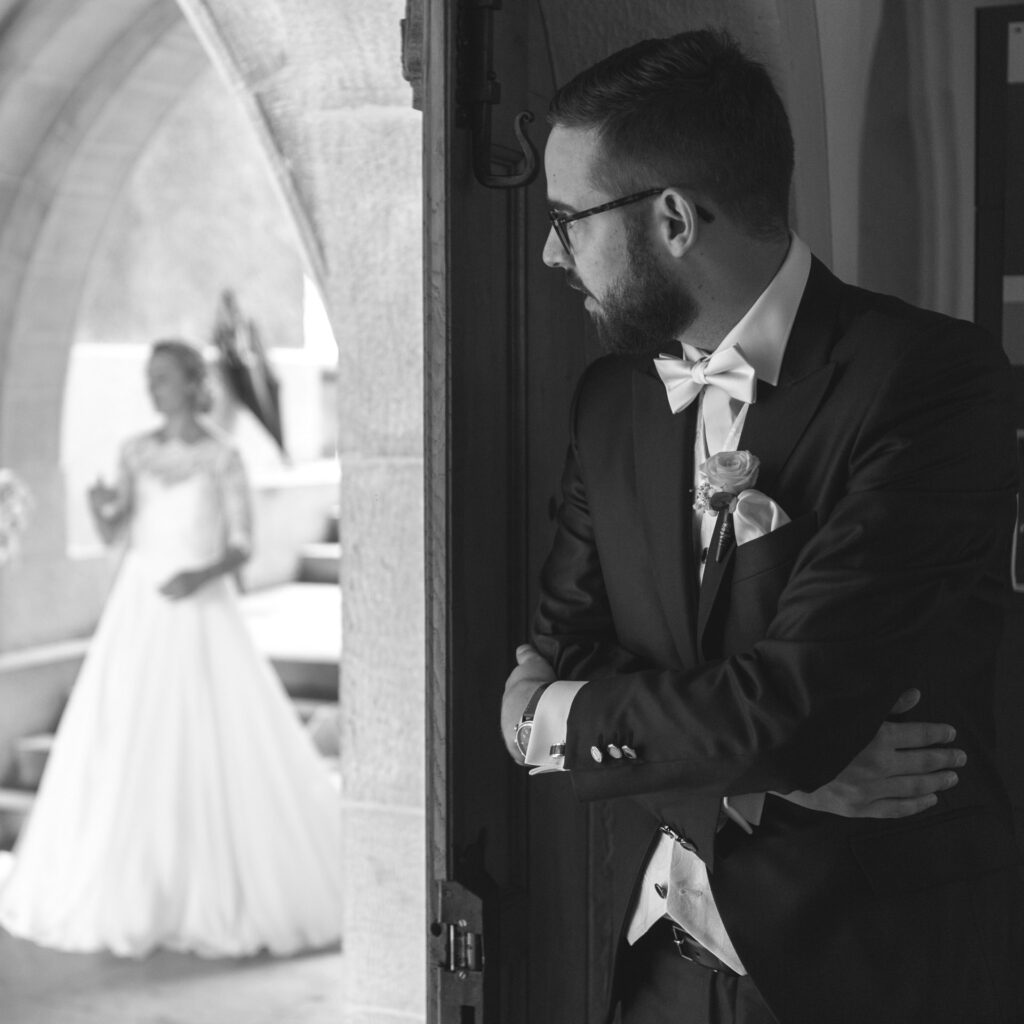 Posed Portraits vs. Photojournalism
Award-winning professional photographer Michael Grecco separates photography into two major styles: "Portraits — with the lights, the family, and the poses — and then photojournalism, which is more documentary-style."
Grecco has experience with both, but believes that for weddings, you need to find the sweet spot between the two. "The documentary style looks more real — less hokey. But you'll still want the portraits and the family photos. It's important to find a photographer who can figure out a setup for the portraits that feels more natural."
Grecco also believes "a great photographer will put the elements together and give people that moment to be intimate and be themselves. Let them engage with each other. See that moment in the eyes where you can see how much they love each other. Let them interact — the magic will happen."
Feel free to peruse Pinterest and photographers' websites to get an idea for the types of poses and photos you want to capture — but be sure to use them as inspiration, not a step-by-step guidebook. Your wedding photos should capture the feelings of your day, not someone else's.
Let's say you end up choosing a wedding photographer that doesn't match your style— even a really good one; you may be disappointed in your wedding photos. You can figure out the photographer's style by looking at their previous work. There should be plenty of samples on their website, but they're also likely to have photos hanging in their studio. 
Joanna Patterson of Visualizations Photography says their company's "style is unique in that it is an innovative, artistic twist on traditional portraits, with the second photographer capturing the whimsical, airy portraits. Because of that, the clients they meet with are usually looking for that type of style."
Style is an important topic of conversation when she initially meets with engaged couples, but typically, Patterson finds those who aren't a good fit have weeded themselves out. "By the time the client has decided to visit with us and ultimately, select us as their wedding photographer, they have already qualified themselves as a good fit for our company."
No matter what you want your wedding photos to look like, make sure that you choose a wedding photographer who is on the same page as you.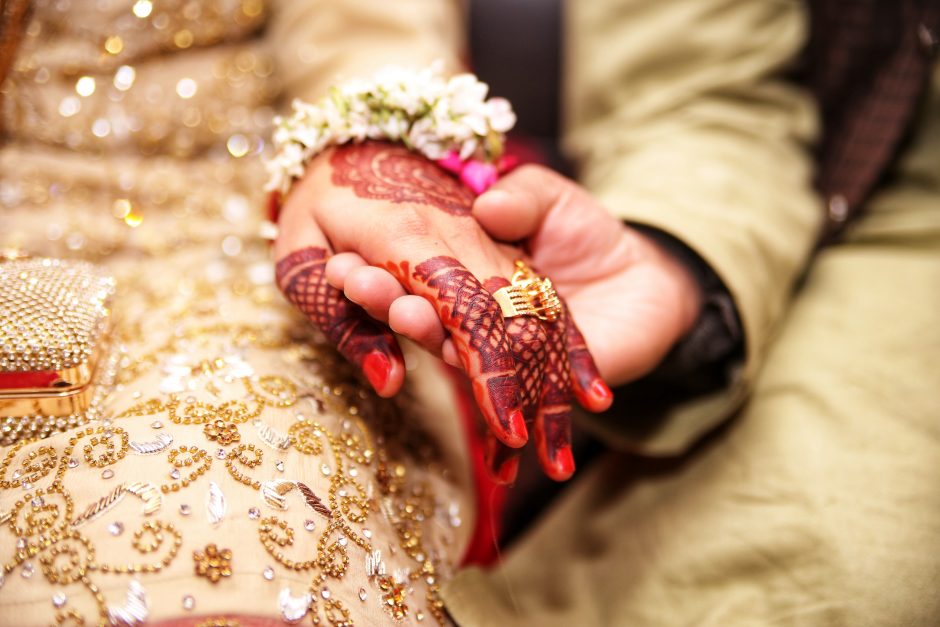 What's the Turnaround?
Photographers have different timetables, depending on how large their staff is and how many days a week they're booked. When choosing your wedding photographer, make sure you ask how long it takes to get your photos after the fact.
Keep in mind that a long or short turnaround doesn't reflect on a particular photographer's quality — it's just a measure of how busy they are and how quickly they work through their backlog. Generally speaking, most photographers will have at least the initial photos ready within a month.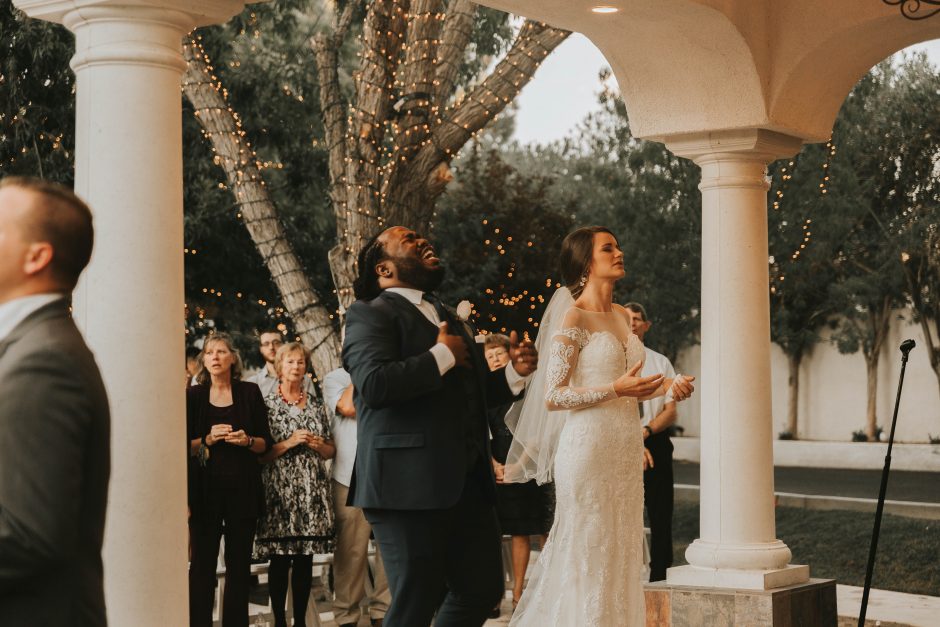 What Do Previous Clients Say?
Read reviews of the photographer's work on Google, Yelp, and their website. Overall, you want to see a lot of positive feedback, with hopefully very little negative feedback. If there is negative feedback, pay attention to what they have to say. It may be that the previous couple had unrealistic expectations, or the photographer simply wasn't a good fit for them.
Similar to any other product review, remember to take everything with a grain of salt — there's a lot of emotion built into wedding planning (as you surely know by now), and it can color people's viewpoints, both positively and negatively.
That being said, after your wedding is over and you've reviewed your wedding images with the photographer, be sure to leave a review so you can help others with choosing a wedding photographer that's a perfect match, too.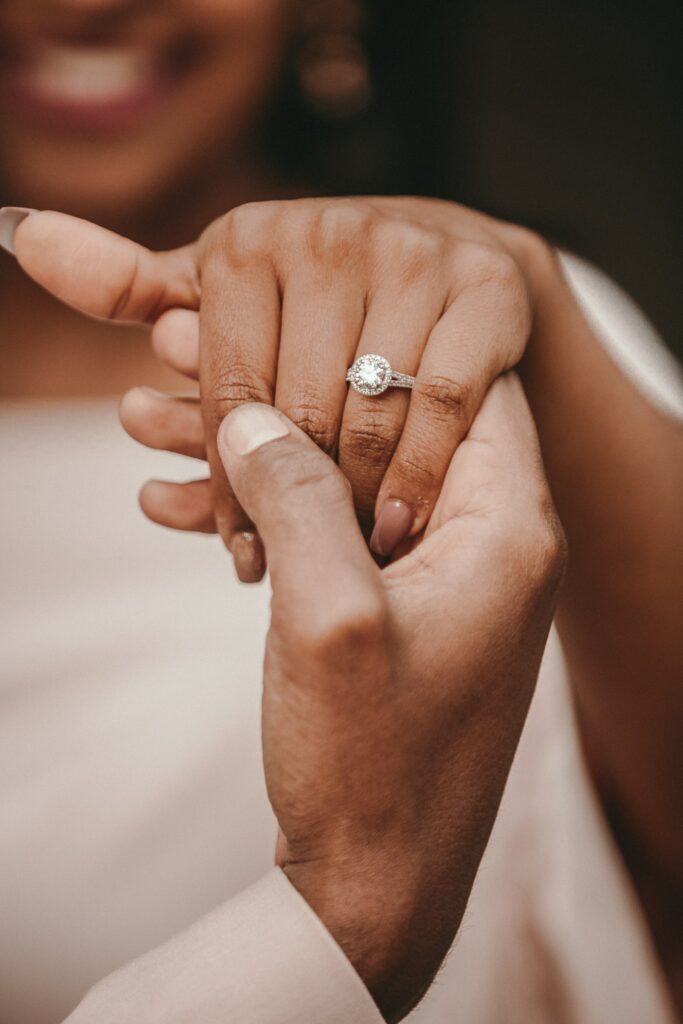 What's in the Contract?
Like with anything else involving wedding planning, make sure you have an ironclad contract with your photographer that spells out exactly what you're getting the day of your wedding, how and when payments are due, and what the deliverables will be.
California-based Lin and Jirsa Photography provides a word of warning in regards to contracts: "A contract is created for your protection, and for the wedding photographer's protection. It is best to hire a photographer that will build a contract with you, and be wary of photographers that "don't typically create contracts for clients."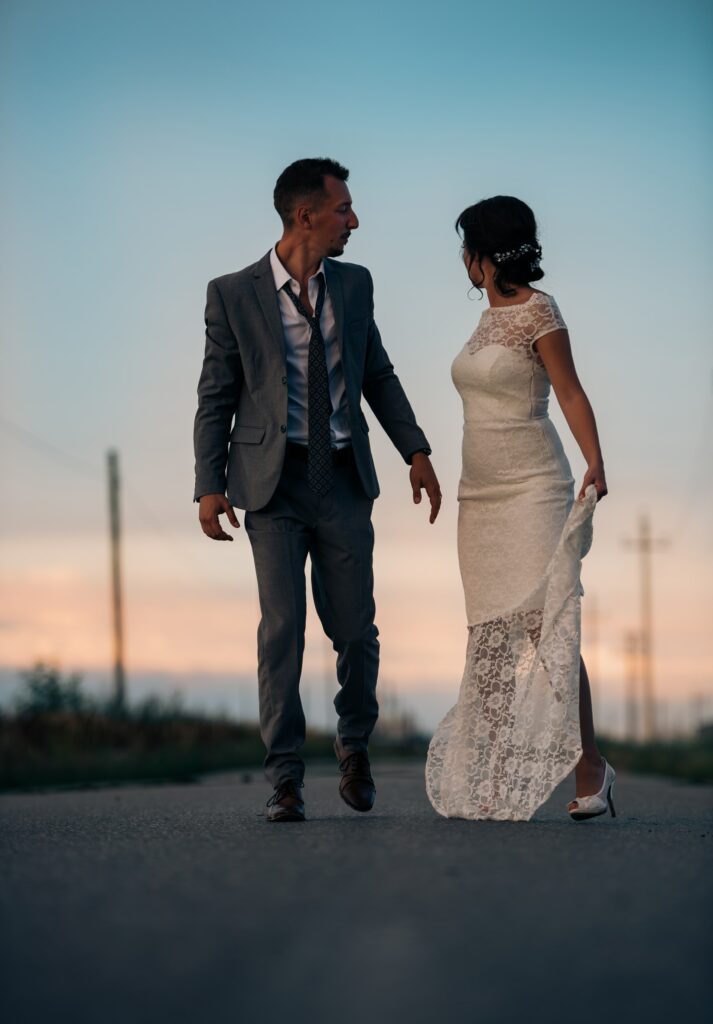 How Credible Are They?
You only have one shot at capturing your wedding day. There's typically just one ceremony, one cake cutting moment, and one first dance, and when it comes to how to find a wedding photographer that can capture all of these fairy tale moments, you want to have a level of trust built in.
"You need to feel comfortable with your photographer and more importantly, trust your photographer. The trust is not just in capturing amazing images, but to be there throughout the planning process and more importantly, the post-production process," says Patterson.
When you hire a photographer, you're trusting them to capture all of the special moments of the day. You're putting a lot of eggs in one basket, so make sure you feel good about this decision.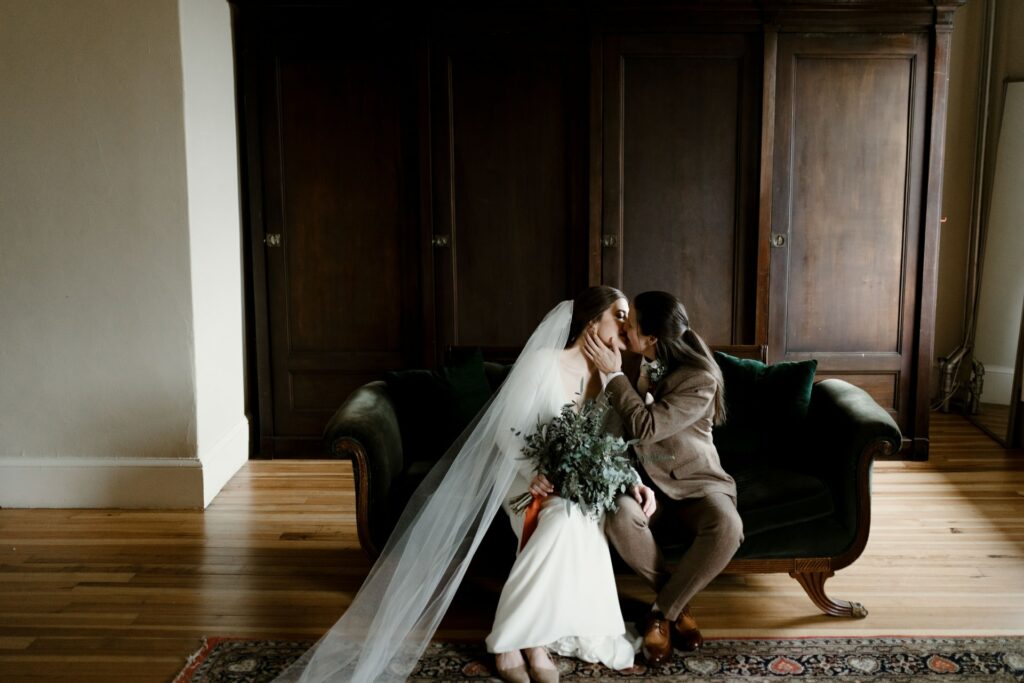 Buyer Beware: Reasons to Avoid Working with a Wedding Photographer
They're a friend of a friend.
It's always nice to help out a friend (or a friend of a friend). However, the best thing is choosing a wedding photographer based on your personal style, how reliable you feel the person is, and if they fit within your budget. Making decisions like this based on who you know doesn't always result in photography you'll cherish forever.
Because your parent wants them.
This is a tough one if your parents (or grandparents) are helping to pay for the wedding. The dreaded "Well, I'm paying for this!" is the guilt trip no one needs, but almost everyone will get it at some point during the wedding planning process.
The photographer your parents want may not be the photographer you want. Perhaps it's a style issue or a budgetary one, but either way, you'll want to discuss with your parents the reason for their preference. Perhaps the photographer you want can make some compromises for your parents' sake– otherwise you can work together on how to find a wedding photographer that fits both your needs..
In the end, if you're not happy with the photographer, you'll regret letting your parents' wishes sway your choice.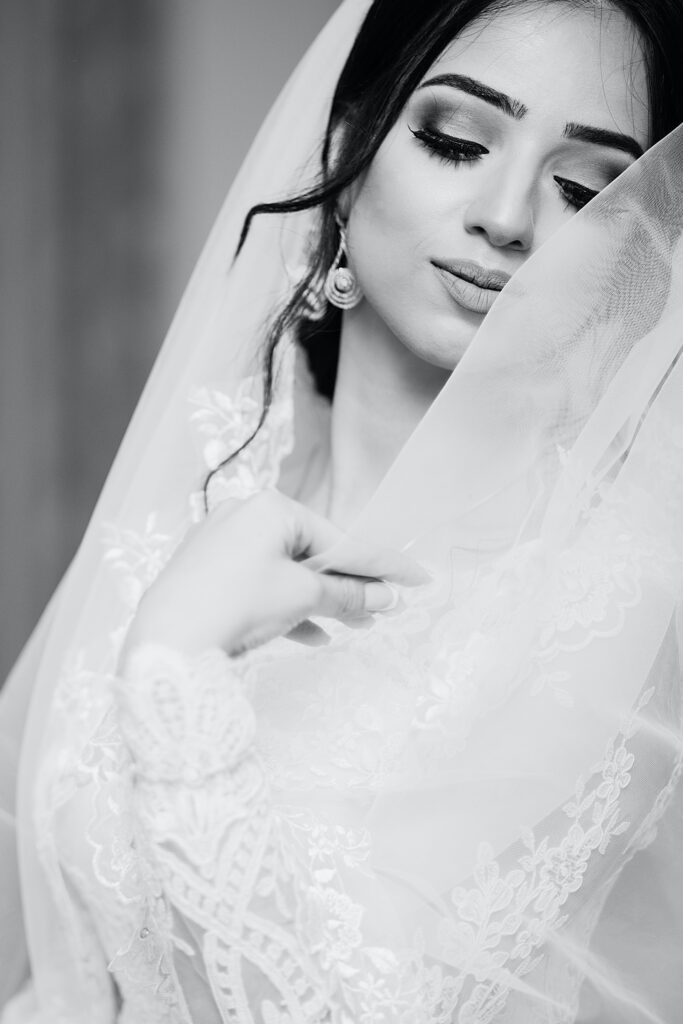 They did your sibling's wedding.
We're sure you and your siblings are thick as thieves. You love them, respect their opinions, and thought their weddings were gorgeous. But that doesn't mean you have to choose a wedding photographer that's the same. 
There could be many reasons you don't want to use the same person, but no matter what they are, go with your gut. Don't feel like you have to replicate their wedding to appease them.
They're your best friend.
Much like working with family, working with friends can create a lot of tension — especially when large sums of money are involved. There's already going to be enough tension involved in your wedding planning.
Instead of asking your best friend to photograph your wedding, ask them to be involved in another aspect. Think about inviting them to be part of the wedding party, doing a reading during the ceremony, or even officiating it (they can get ordained online). You want your friends to be able to relax and have a good time — not stress about letting you down on your wedding day
They're new to wedding photography.
Wedding photography is its own beast. It's stressful and difficult and expensive (even with digital cameras). You can't hire just anyone to do it.
Even if a photographer is fantastic at shooting portraits, or they have a killer sense of style, if they don't typically shoot weddings, it's just not a good idea to get them involved. Wedding photography can be grueling — and it isn't for everyone.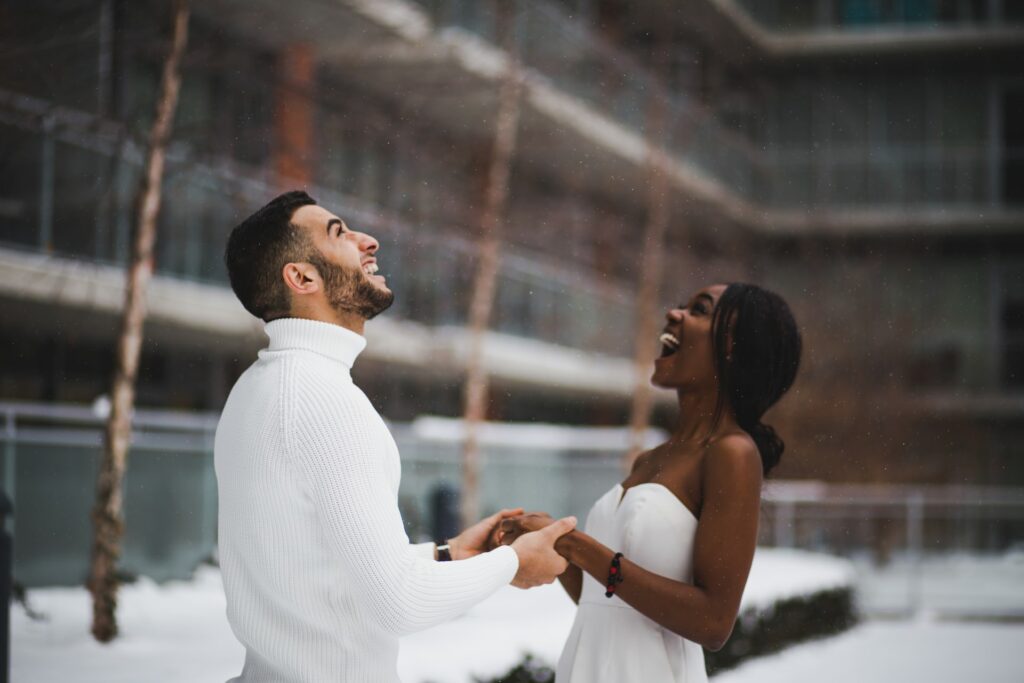 Ready choose a wedding photographer?
At the end of the day, Miller says to trust your gut when it comes to how to find a wedding photographer to capture your special day. "Hiring a wedding photographer is an incredibly personal decision, and you should search until you find a shutterbug you really click with!"
Try not to stress out about getting the perfect wedding photos or creating the ultimate shot list. Grecco believes that the joy of the occasion will show up in the photos.
"Weddings are naturally happy events — everyone's in a good mood. You get a couple when they're really into each other. You're with people in a joyous situation."
Look at several options, don't be afraid to be picky, choose a wedding photographer you get along with (and who is communicative), and then relax. The joy you feel on your wedding day will come through in the photos. 
And of course, displaying your favorite photos in your home is critical. Our homes provide ample opportunity to focus on the moments that matter most in our lives — the ones that make us smile, fill our eyes with happy tears, and lift our spirits on stressful days. Celebrate your big day every time you enter the living room or glance on the mantle. Choose a select few images and tell your story with a Storyboard or create your own gallery wall with highlights of all your favorite moments.