Your significant other popped the question, and you said "yes." In between all the planning and preparation, don't forget to enjoy this time together. Being engaged might be a short period in your relationship, but it's full of joy, excitement, and a time you both will want to remember forever. One of the most classic and timeless ways to commemorate this time together is through engagement photos.
Taking engagement photos is more than just a way to remember your engagement. It's a chance to take a break from the stress of wedding planning and spend some quality time together. In addition, it's an ideal opportunity to practice taking professional photos together before your big day.
However you decide to celebrate this unforgettable period in your life, remember that oftentimes the candid moments and personal touches are the ones you'll remember and cherish most. Let your personality shine through, and embrace what you love most about each other. Take a breath, relax those shoulders, and learn how to take engagement photos that will be both personal and timeless.
1. Wear something timeless…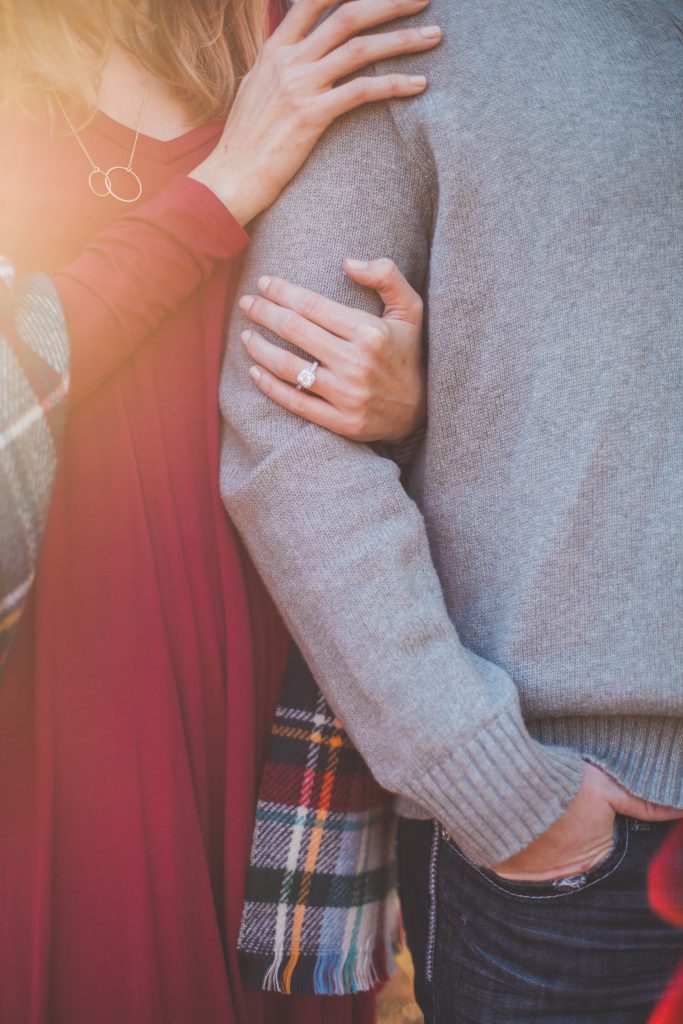 Figuring out just what to wear before any photoshoot is stressful — let alone your engagement shoot. There's a little bit of added pressure to get everything perfect, to say the least.
Maybe you want to wear your favorite pair of jeans, but you have to wear heels with them and you don't want to worry about twisting an ankle on rough terrain. Maybe you want to wear a dress, but you're worried about the weather. Unless your wedding already has a set theme that is outside the current time period (like rockabilly or vintage 1920's), go for a more classic look.
These photos will be displayed in your home for years to come. The last thing you want is to wear something that you'll regret later on, like a neon shirt. Instead, stick to colors that won't go out of style. You can't go wrong with black, white, or navy.
Additionally, wedding photographer Addison Jones recommends staying away from anything too bold. "Avoid big, loud, chunky, crazy patterns. We want the attention to be on your emotions. If the pattern is too loud, it will distract from your beautiful faces. You don't want to look at your photos and have your eyes go straight to your clothes. Keep it simple and keep the focus on what is really important about the shoot: your love for each other."
Photographer Marie Papp always discusses clothing choice with her engaged couples. "I will usually ask whether they will be dressing casually or dressy. That helps set the tone of the shoot." She even goes so far as to ask the couple to send photos of their outfits to make sure they coordinate.
2. …But also comfortable.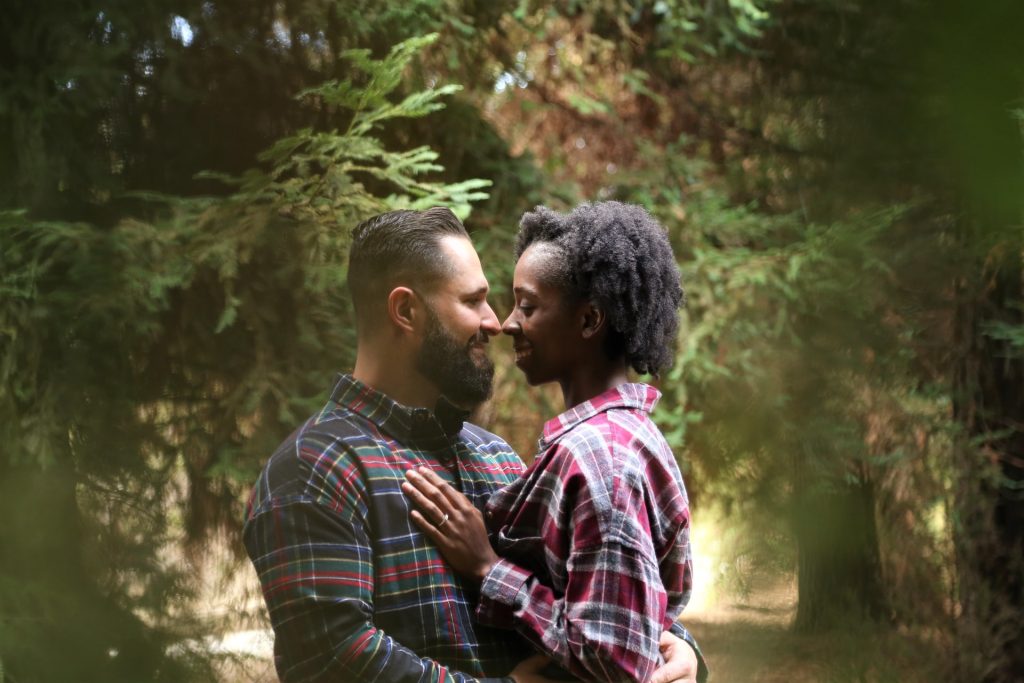 Like any other photoshoot, it's going to be important for you to be comfortable. Avoid wearing clothes that are uncomfortably tight or fussy. Your engagement photoshoot isn't the day to wear that pair of jeans that feels just a little too snug, or a dress with a belt you need to keep rearranging.
If you know you're planning on being active — especially if you'll be running down the beach or walking through any uneven terrain — be mindful of your attire.
Take into account the location of your shoot. If you know you're going to be walking in the grass or in the sand, it may be best to skip the heels. Better yet, take them off and walk barefoot, carrying your strappy heels casually in one hand.
The bottom line is that if you're not comfortable, it will show in your photos. You'll see it in the expression on your face, your posture, and in the emotions exhibited in the images. Even if you have the world's best fake smile, the memories from your photoshoot will be ones of discomfort. No shirt or pair of shoes is worth that.
3. Capture your personalities.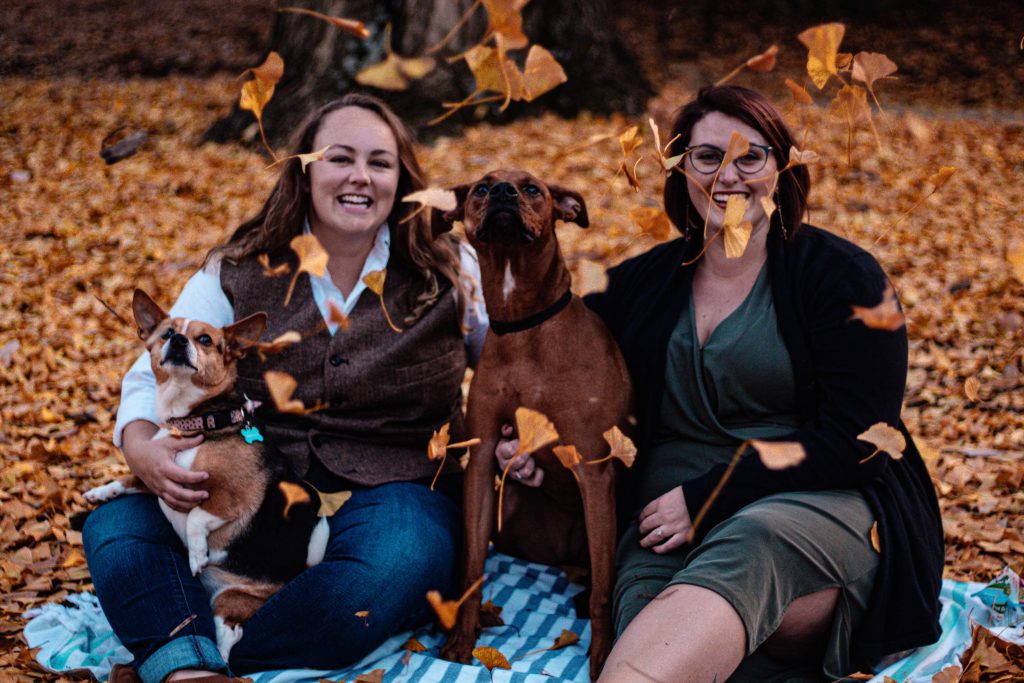 When you and your partner decide to tie the knot, you'll have plenty of inside jokes and memories together. Why not highlight some of those special moments? 
If you both love surfing, get in your suits and head to the beach. Let your photographer capture you in your element. Catch some waves together — we guarantee these photos are ones you'll cherish forever.
Perhaps you adopted a couple of dogs. Bring them with you and let them be the co-stars of the photoshoot. If that seems like a daunting task, ask your photographer to visit your home and take some images of you both with your pups in an environment that works for them.
4. Go back to the beginning.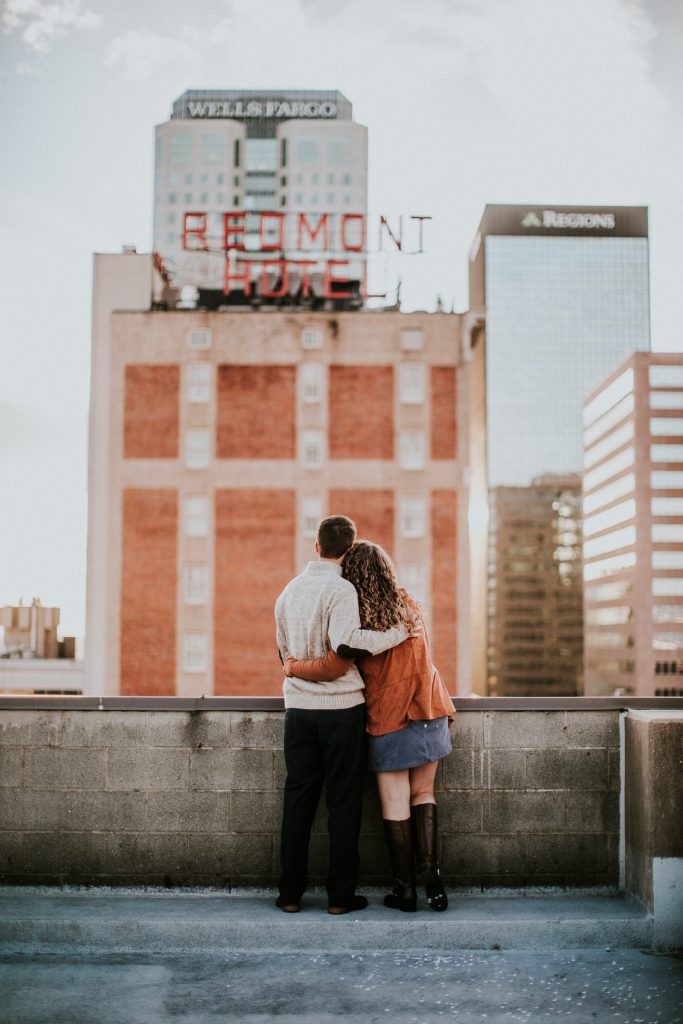 A classic engagement location is revisiting the place you first met. Take some fun shots there — you can even recreate your first date. Whether you ran into each other in the aisles of your favorite store, met at the restaurant down the street from your old apartment, or during a class in college, this is a popular idea, and for good reason.
As a couple, you may find this experience emotional, knowing that all these years later, you've returned to the spot where your love blossomed. This emotion is sure to show up in your photos, making them even more meaningful.
5. Choose a special location.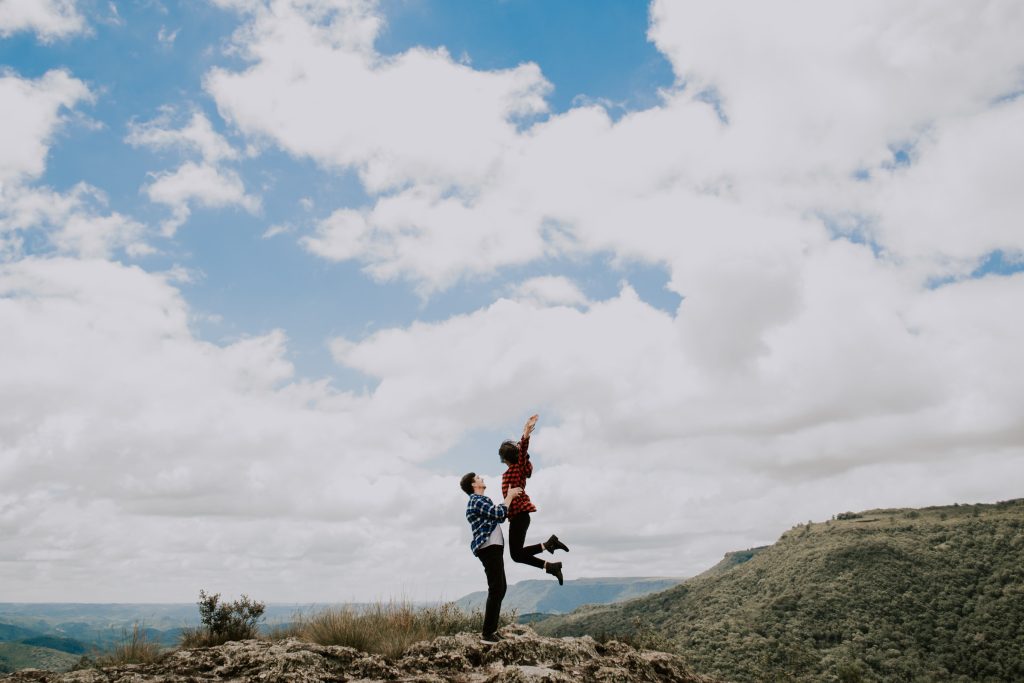 Of course, a meaningful location might be somewhere other than the place you met. It could be a place you regularly go together, your favorite weekend getaway spot, the place where your partner proposed, or the home you purchased together. Photographer Molly Hauge McCauley believes that the location can really make a difference in your photos — not just because of the way it looks, but because of the way you feel there.
"Find a location that feels good to you — and resonates with your personality. This will ensure that you feel comfortable and relaxed."
If you're not sure where to do your engagement shoot, McCauley suggests discussing it with your photographer. She says she's always happy to help choose a location based on the couple's hobbies or favorite local activities.
6. Dress for the weather, but don't stress about it.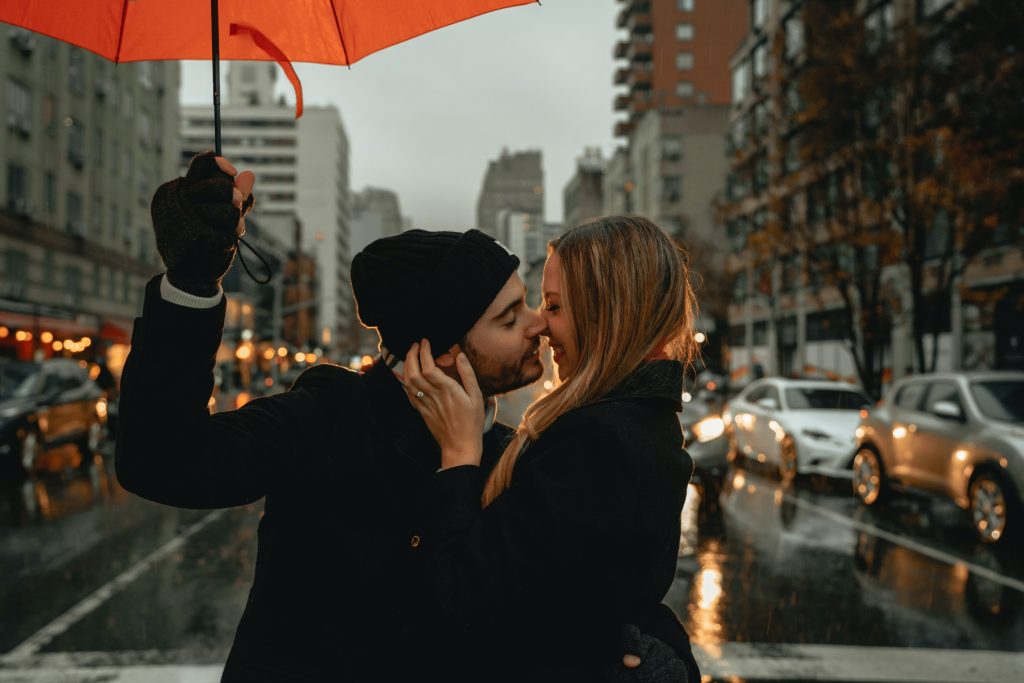 Photographers are used to dealing with unexpected weather. While they certainly keep an eye on the forecast, part of their job is learning how to work with the elements they're given.
"You can't control the weather, so if it's cloudy, don't fret — think of it as an opportunity to have photos where there is no one squinting, sweating, or with harsh shadows," says McCauley.
In fact, some of her favorite engagement photoshoots have been with couples who can bring joy and laughter into any situation. "In one case, torrential rain sprung up on us, and instead of throwing in the towel my couple went with it and had a "Notebook-style" moment like when Allie and Noah got stuck in a rowboat!"
"Enjoy this time together and allow the camera to do its work."
7. Write letters to each other.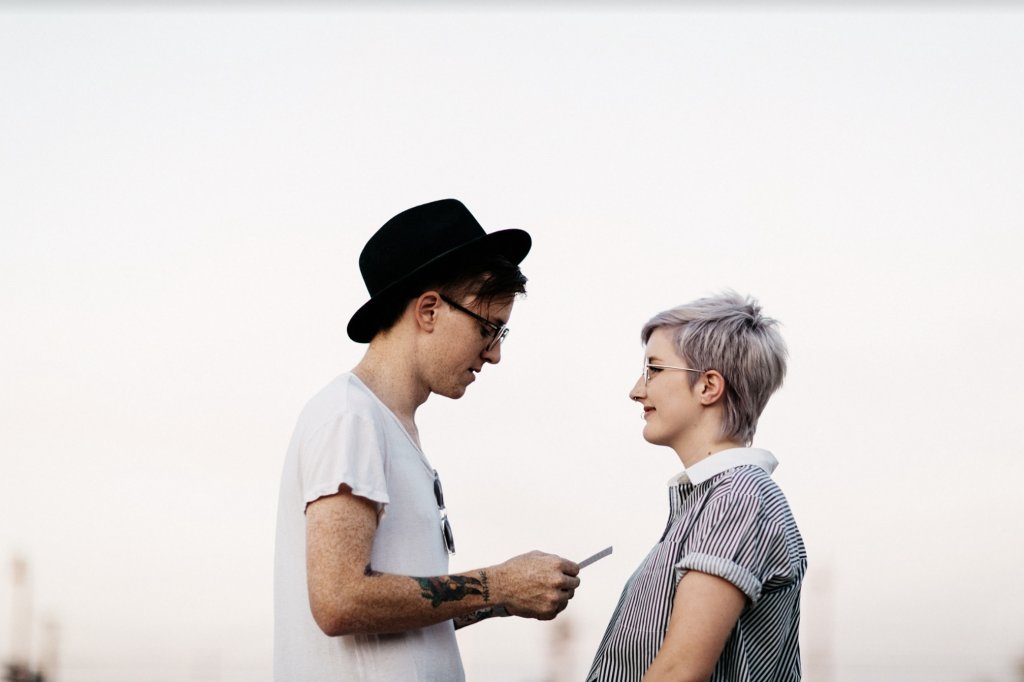 Another timeless suggestion from McCauley is one often used on the wedding day. "A fun idea for a sentimental moment is to have the couple write letters to each other about why they are excited to marry each other — it's a sweet and sometimes emotional moment that is a precursor to their vows."
Not only is this a touching way to capture the emotion you both are experiencing as you plan your wedding, these images can be used as background images in the wedding album or the guest book.
8. Get your hair and makeup done.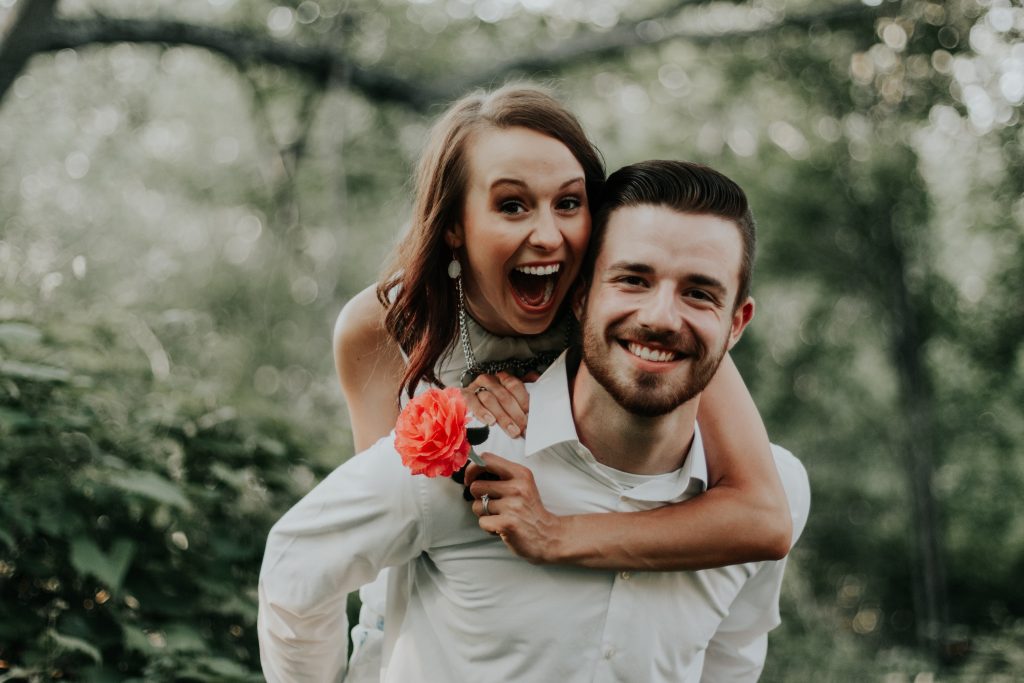 Many photographers suggest getting your hair and makeup professionally done. It's one less thing you'll have to worry about, and an easy way to ensure you look your best. McCauley says, "a blowout and some fake lashes do wonders for confidence, and it shows in the photos."
And similarly to your attire, it's important that you're comfortable with your hair and makeup. Now isn't the time to try out a daring new haircut. In fact, Kristina Savina of Wedding Forward cautions against making major changes to your look just before your engagement shoot, encouraging doing test runs of minor changes ahead of time. "Do not get a new tan or haircut, or shave [your beard] just before your photo session. Perhaps try it a week or two before and see how you like it."
Savina also recommends bringing an emergency beauty kit in case you need a touch-up or something doesn't go as planned. "Take makeup, combs, hair ties, sunglasses, lint remover — anything that might be needed for a touch-up in between takes. You'll be glad you did."
9. Relax and be yourselves.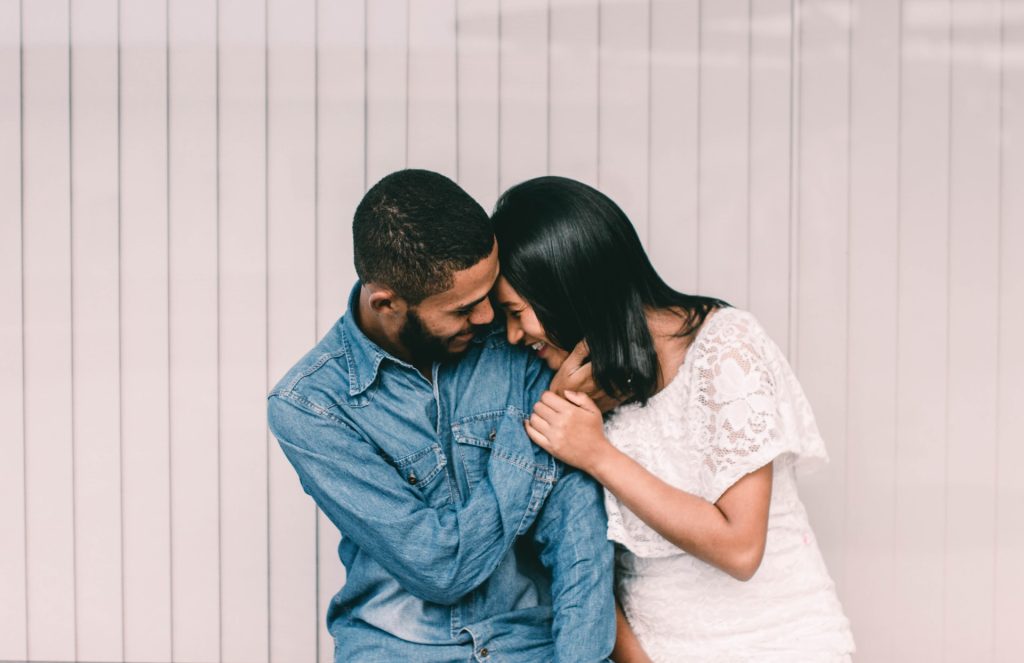 If you're tense in your engagement photos, it will affect nearly every aspect of it: your smile, your posture, and how well you're able to take direction from the photographer. In the end, it may mean you don't actually like the images.
Savina says, "Be yourselves. During the shoot, it would do you well to ignore the camera and just be yourselves. Act like you normally would — be the two people who fell in love with each other and just play with each other. Enjoy this time together and allow the camera to do its work."
10. Let your photographer pull double duty.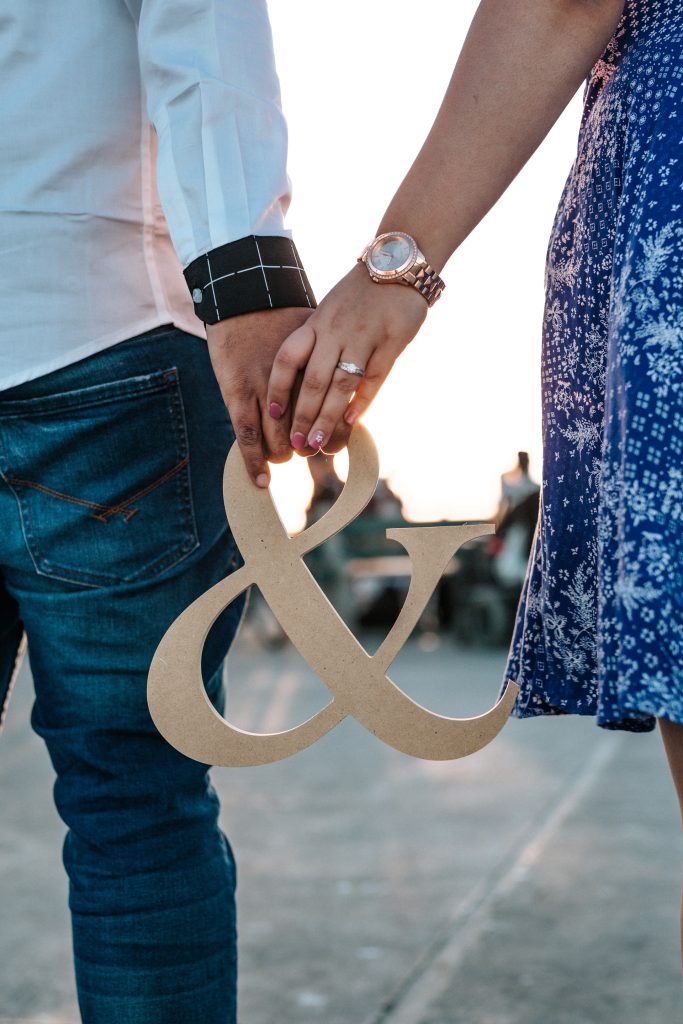 If you're able, using the same photographer for both your engagement and your wedding could save you quite a pretty penny. Many photographers offer reduced prices if you use their services for both events. Working with the same photographer will also provide a welcome level of familiarity on your wedding day. Best of all, through your engagement photos, you'll be able to experience and see firsthand the work of your photographer. You'll know what poses you want to recreate on your wedding day — and your photographer will already know the best way to capture the joy and love between you and your new spouse. 

We even have some great tips to help you pick the best engagement and wedding photographers.
11. Follow your heart.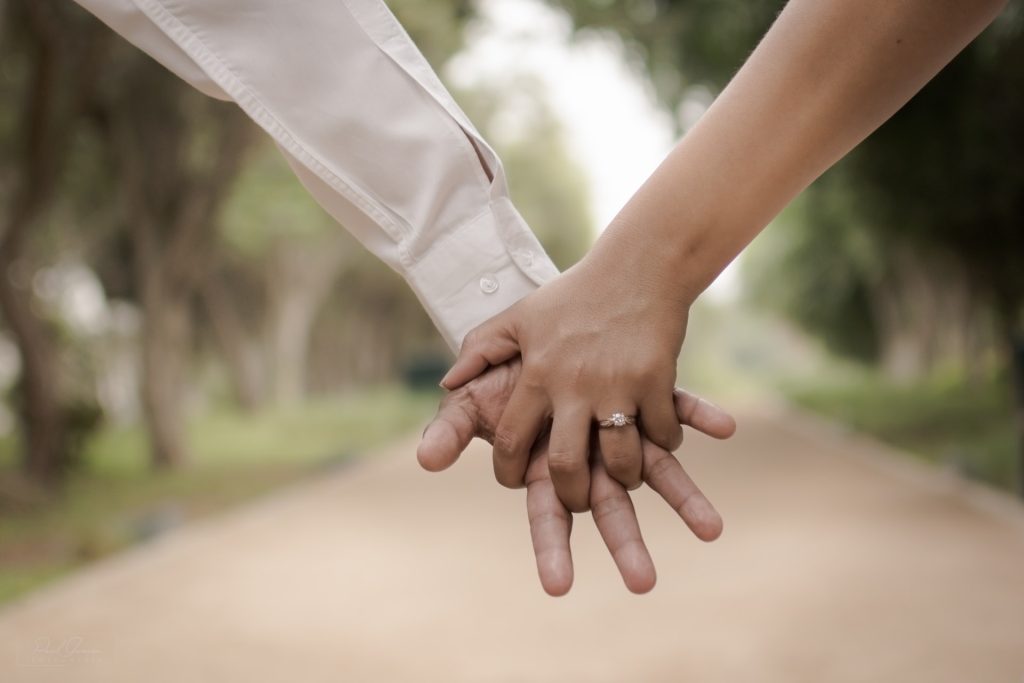 In the end, engagement photos can be whatever you want them to be. It's a way for you and your partner to remember a special time in your life. The location or your clothes are irrelevant as long as you had fun taking them and the photos are ones that bring you joy.
12. Focus on the moment.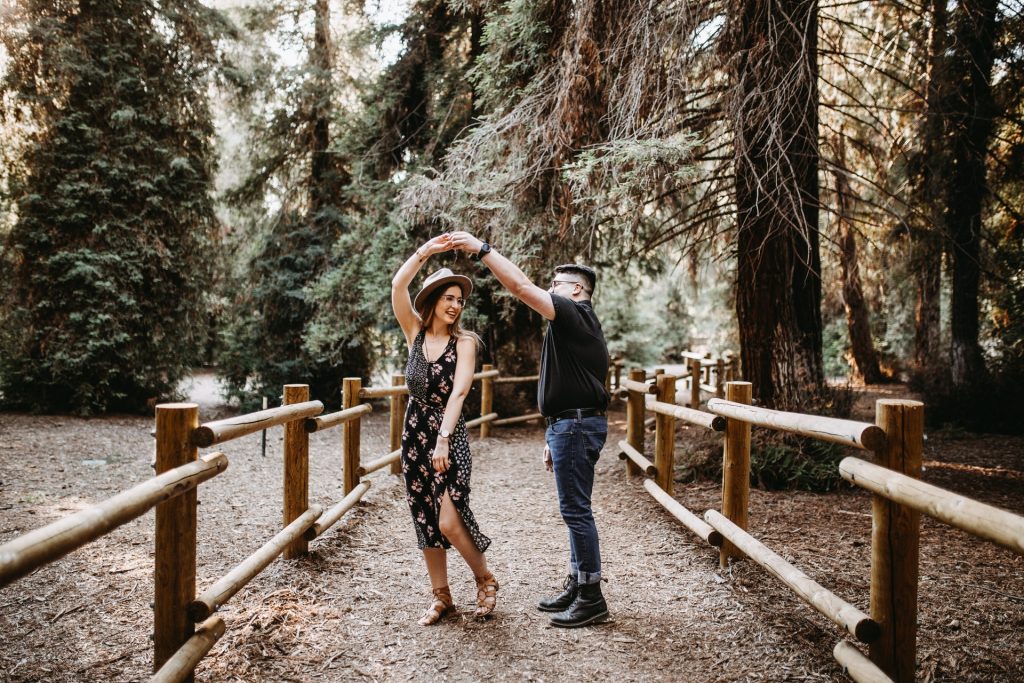 Engagement photos are an intimate affair that you'll cherish forever. They're all about you and your partner. Forget about the guest list, the caterer, or any of the other decisions that need to be made. You can take your time posing and laughing together.
While nothing quite compares to wedding photos, an engagement photoshoot gives you the opportunity to take photos together without the stress of your wedding day. There are no guests around the corner that you need to worry about, or speeches coming up next. This is a time to focus on the two of you, and your love for each other.
These are the photos that will be hung on the wall and displayed. It's a perfect way to celebrate these crazy, exciting moments together before your wedding.