Capturing the joy and magic of your baby's first Christmas may not be the easiest thing in the world (hello, squirmy babies). Still, with the right tips and tricks, you can pull off your baby's first Christmas photo shoot with style and success — and plenty of cute options for your baby's first holiday card.
One of the most important things to remember when capturing photos of a baby's first Christmas is choosing the right time of day for your photo shoot, ideally when your baby is fed and well-rested. This helps minimize fussing, although when it comes to snapping pictures of babies, pouting pics are sometimes just as cute!
We asked two top family photographers for their expert tips for nailing your baby's first Christmas photo shoot. Some of their ideas might surprise you.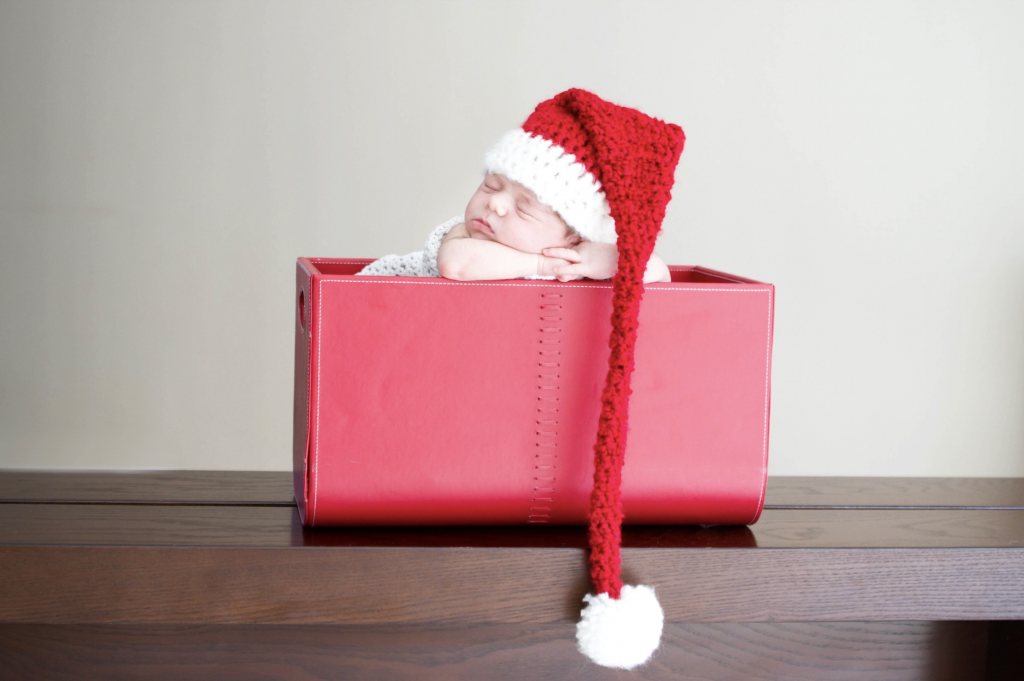 1. Pare down to a Santa hat
Sometimes there's nothing cuter than making a statement with a bold red Santa hat, a diaper, and not much else. Rather than bogging down the image with too many props and accessories, paring it down creates an image that feels soft and natural, perfect for a baby Christmas card.

"One easy way to do this is to place white sheets or blankets on a large bed, then dress the baby in a simple diaper and Santa hat," says longtime family photographer Me Ra Koh, the author of Your Baby in Pictures and the founder of Fioria, a photography studio in Frisco, Texas.

This is a great option if you're looking to snap holiday card pictures in a pinch, whether the baby is a newborn and you have to snap them from above lying down, or they're able to sit up and be photographed head-on. Of course, if you're not into Santa hats, any single item that screams Christmas will do, such as a holiday tutu or even a candy cane-striped headband.
2. Let baby play with string lights
Choose lights with small to medium plastic bulbs that don't get hot and find a picturesque spot with low natural light. This contrast will add a nice touch if you have a wall with some texture to it, such as brick. Once you've chosen your spot, turn off all interior lights, place the baby on the ground and the string of lights all around, including behind them. This way, the camera captures the baby's entire silhouette, and Koh says there's some separation between the baby and the background. "It's a great way to capture the wonder of Christmas!"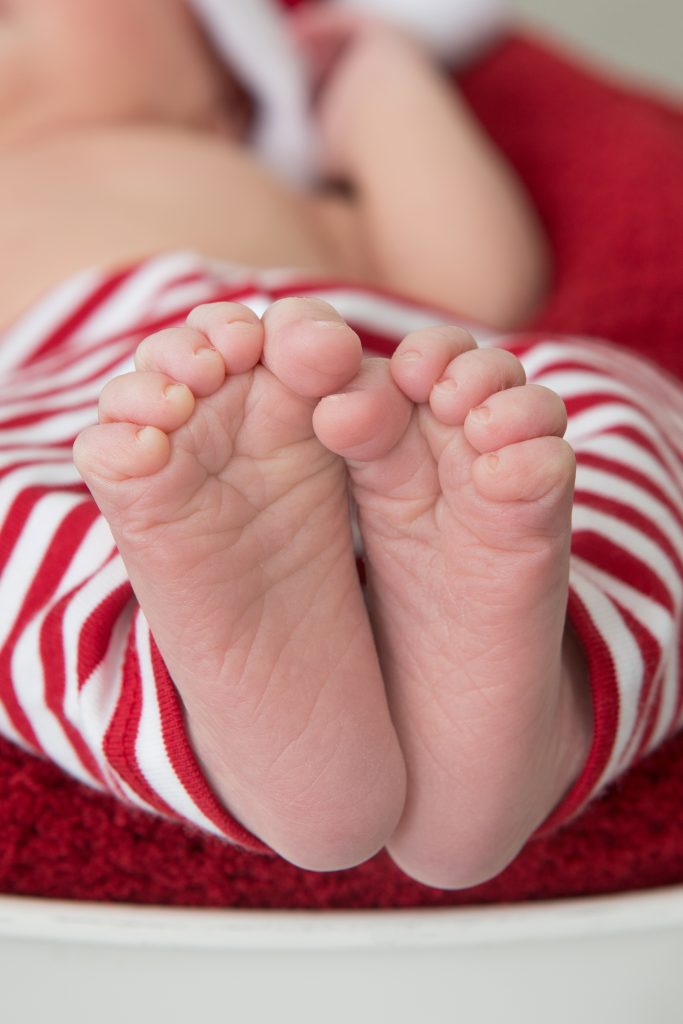 3. Focus on the baby's hands and feet
Nothing says that all of your baby's Christmas pictures need to show their entire body — or even their face. However, with the right holiday jammies and a holiday backdrop as simple as a Christmas tree, you can capture beautiful holiday memories with artistic flair simply by focusing on the baby's hands and bare feet.

Try having someone hold the baby in front of the tree while the baby is dressed in a favorite holiday outfit, ideally something long enough that it reaches their wrists and ankles. Next, have whoever is holding the baby cradle the baby's feet in their hands, snap a few frames, then try the same thing cradling the baby's hands instead. The tiny size of those adorable limbs will delight you for years, capturing the age and stage of your baby during their first Christmas, while the jammies and decor provide just the right amount of holiday context.
4. Rely on natural light
"Natural lighting outdoors or indoors is usually best," says family photographer Gloria Rodriguez of Glopink Studios in Miami, Florida. "If taking portraits outdoors, find a shaded spot with even lighting, whether it's under a large tree, on a patio, or even along the shaded side of a building. You can also step out at sunrise or right before sunset — that light is always magical and even."
If photographing indoors, place baby in a baby seat or pillow specifically made for propping up babies, near windows with a lot of natural light. Find a room with light pouring in from the east, north, and west for ideal conditions. "I often use a similar spot in my studio when photographing newborns without any artificial studio lighting, and it is absolutely perfect," Rodriguez says.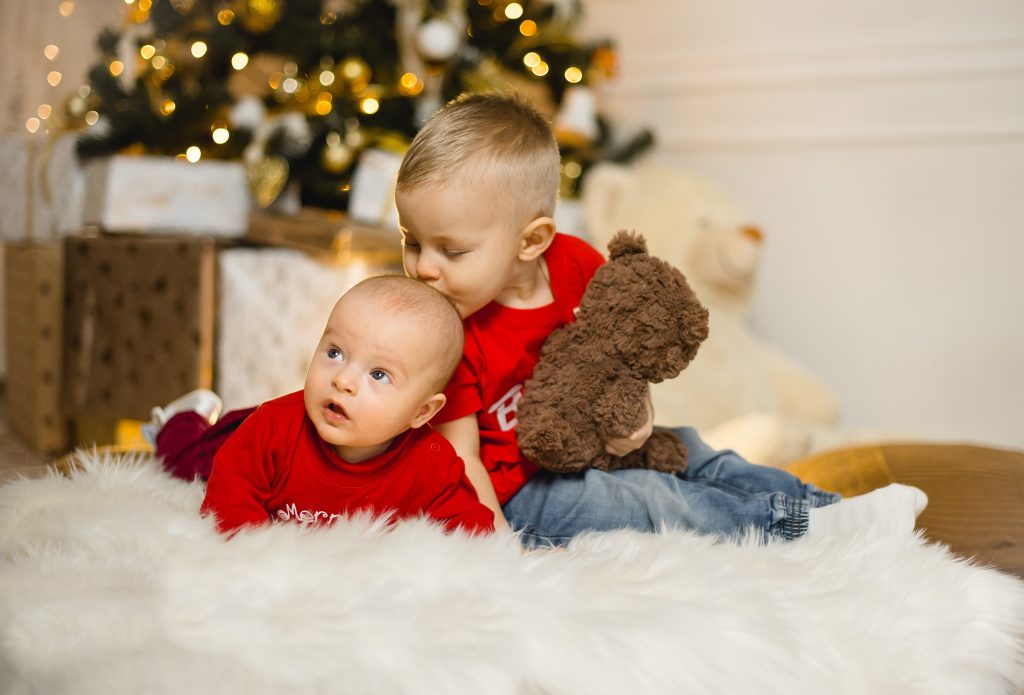 5. Try new angles
Shooting from different points of view offers a fresh perspective, especially if your baby is looking up or over at you with curiosity. For example, place baby near the Christmas stockings hanging on a fireplace or the holiday tree and climb on a ladder to snap pics from above. If they're able to hold objects in their grasp already, try handing them a soft, simple ornament they can safely place in their mouth (as babies do). It adds context and captures natural gestures that are indicative of their age and stage — perfect for holiday memories.
If you have a newborn or even a crawling baby, try lying down on the floor and snapping them at eye level. Even on a smartphone, most parents can take multiple pictures in fast succession, ensuring you have plenty of options to choose from, even if they're wiggle worms.
If your baby can sit up on its own, Koh recommends snapping photos from behind the baby, too. "Capturing a baby's silhouette while they're seated on the floor gazing at a fireplace or the lights on the holiday tree can appear magical," she says. This angle is especially charming if you can capture details like little hair ringlets behind the ears or a diaper bottom peeking out from their pants.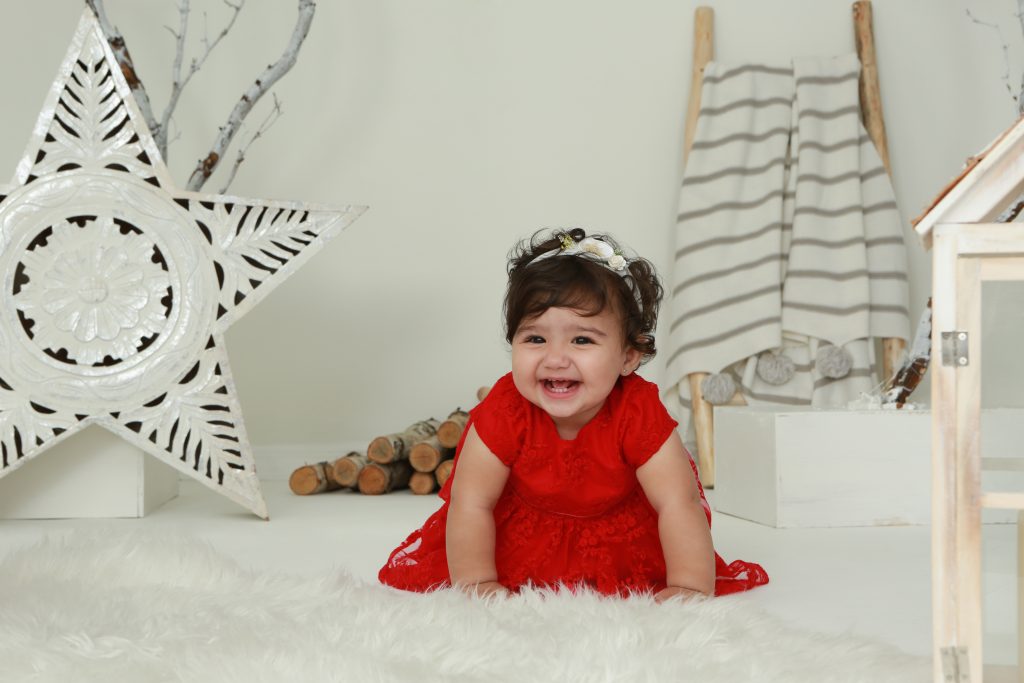 6. Choose props carefully
"If the baby is under a year old but not a newborn, placing them in props such as baskets or gift boxes helps keep them safe and in place," Rodriguez says. "To avoid squirmy newborns, try wrapping or swaddling them in a scarf or a blanket to keep them calm and happy for a while, especially if their bellies are full."

If you want to surround them with props, try choosing multiples of a single holiday item, such as ornaments, for continuity. Having too many props and too many varieties becomes a distraction for an infant and for you. Younger and smaller babies look adorable peeking out of holiday stockings or even Christmas gift boxes — just wrap them in a swaddle, slide them halfway in while they're sleeping, and snap away.
For a fun twist on the usual baby Christmas card, last year's DIY hot chocolate baby pics were the hit of the season. Ideal for babies who can sit up on their own, all you have to do is fill a galvanized bucket or planter large enough to fit the baby with chocolate milk and giant floating marshmallows, then place the baby inside as if it was getting a bath and hang candy canes along the edge. Snap pics from above, and you'll get the full effect of your delicious, floating "hot chocolate baby."
7. For family pics, try looking at the baby, not the camera
"The relationships between all of you are so much more important than the perfect pose," says Rodriguez. "I often hear moms say they won't be part of the session each year for one reason or another. We need to remind ourselves that one day when our children look back at these pictures, they won't be focusing on whether mom was a few pounds heavier than her ideal weight, or if she has a few more wrinkles, didn't have time to dye her hair, etc. Instead, they will just want to see you with them."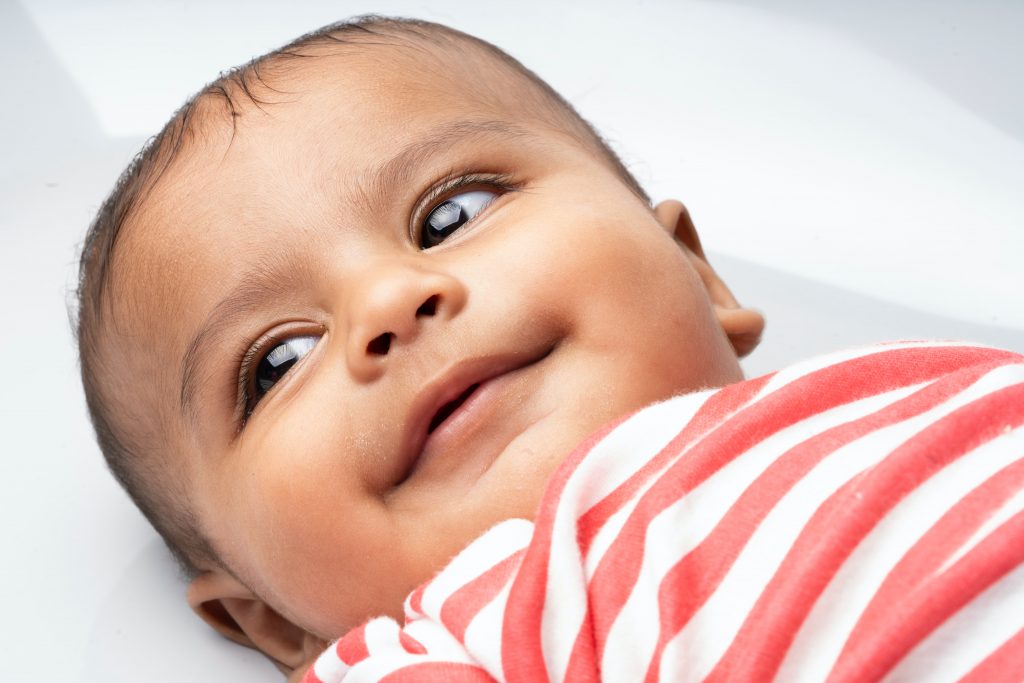 8. When necessary, add distractions
If your heart is set on snapping a pic of the baby looking right at the camera, distractions can be used to your advantage. Try having someone stand behind the person snapping the pics holding a bubble machine or a noisemaker, and snap away, even when you think you're not capturing the so-called "perfect moment."

During your baby's first Christmas photo shoot, you'd be surprised what gets captured when you least expect it. Keep in mind that distractions depend on your baby's personality. Some babies instantly feel overwhelmed, while others are curious creatures who immediately turn their heads and settle their gaze. If your baby is more likely to feel startled than curious, forgo distractions altogether.
"When all else fails, keep it simple," says Rodriguez. "As they say, less is more." Even if it's just your baby dressed in Christmas jammies snoozing away, it can turn out to be the perfect Christmas card. Just keep your smartphone handy so that you can take advantage of good moods — the best time for your baby's first Christmas photo shoot may be when you least expect it.
Babies may not be the easiest subjects to photograph, but the final product is always heartwarmingly adorable. This holiday season, spread some holiday cheer around your home with elegant glass prints of your baby's first Christmas. With multiple sizes and styles to choose from, you can decorate with a single glass print or create an elaborate Photo Wall. Or give your fellow parent friends the gift of DIY with a Fracture digital gift card so they can print holiday photos of their kids. The possibilities are endless—we can't wait to see your prints in your home!