It's been an odd year for weddings, to say the least.
While many couples postponed their special day to a future date when throngs of loved ones could safely be together in person, my betrothed and I tied the knot inside our own bubble, with eight guests and one masked photographer. The scaled-back, intimate ceremony we held in early September marked our family's first function of 2020 – a full nine months into a year that has made such traditional gatherings nearly impossible. It would be a few more weeks before we'd all be together again, at least in a sense – blended together on the wall of our apartment, convening in photographic form while we await the next chance to do so physically. But first, we had a honeymoon to embark on.
Wearing face masks with patterned designs – cats on mine, books on hers – and many ounces of hand sanitizer at the ready, my wife and I ventured west to explore some of the wide open, clean-air spaces that have long defined truly great American ideation. While she has traveled extensively – from Egypt to Peru to Japan – she had somehow never once experienced the natural splendor of America's National Park System. It was with glee then that I returned to Grand Teton and Yellowstone, this time with the love of my life in tow, a fortnight after saying, "I absolutely do."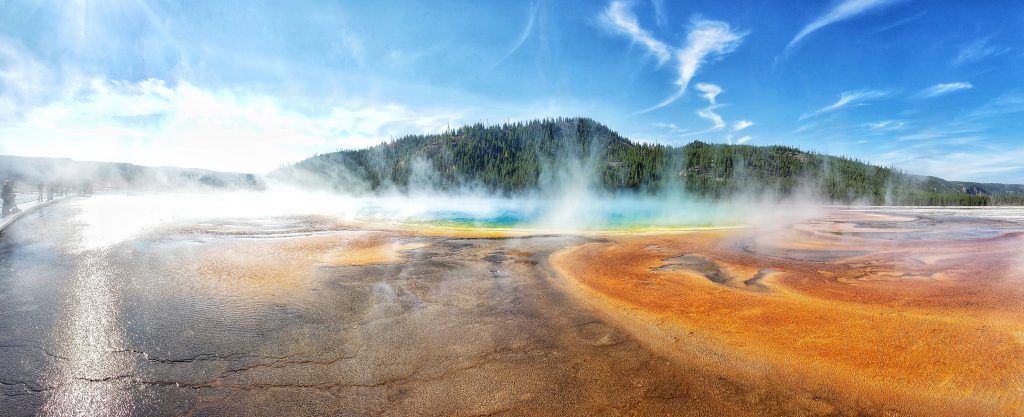 Didn't we want to share our wedding with friends and extended family? Would we have liked to stick with our original plan of honeymooning abroad and making memories somewhere new? Without a doubt. But as with most things in 2020, alterations were needed to keep everyone safe. Like all those other couples, we too could have postponed and waited it out, but if this year has reinforced anything in my mind, it's that tomorrow isn't guaranteed. I simply couldn't bear the risk that something else might stand in the way of me getting to marry this remarkable woman – and then whisk her away to celebrate.
During our week in the great outdoors, we saw more bison, elk, coyote, and bears than people. We came across powerful geysers, prismatic hot springs, and gurgling mud pots. Mother Nature even graciously gave us a wedding gift of 63-degree days and a wide canvas of blue painted sky overhead. Much like our brief yet intense love story, you'd think it was fiction.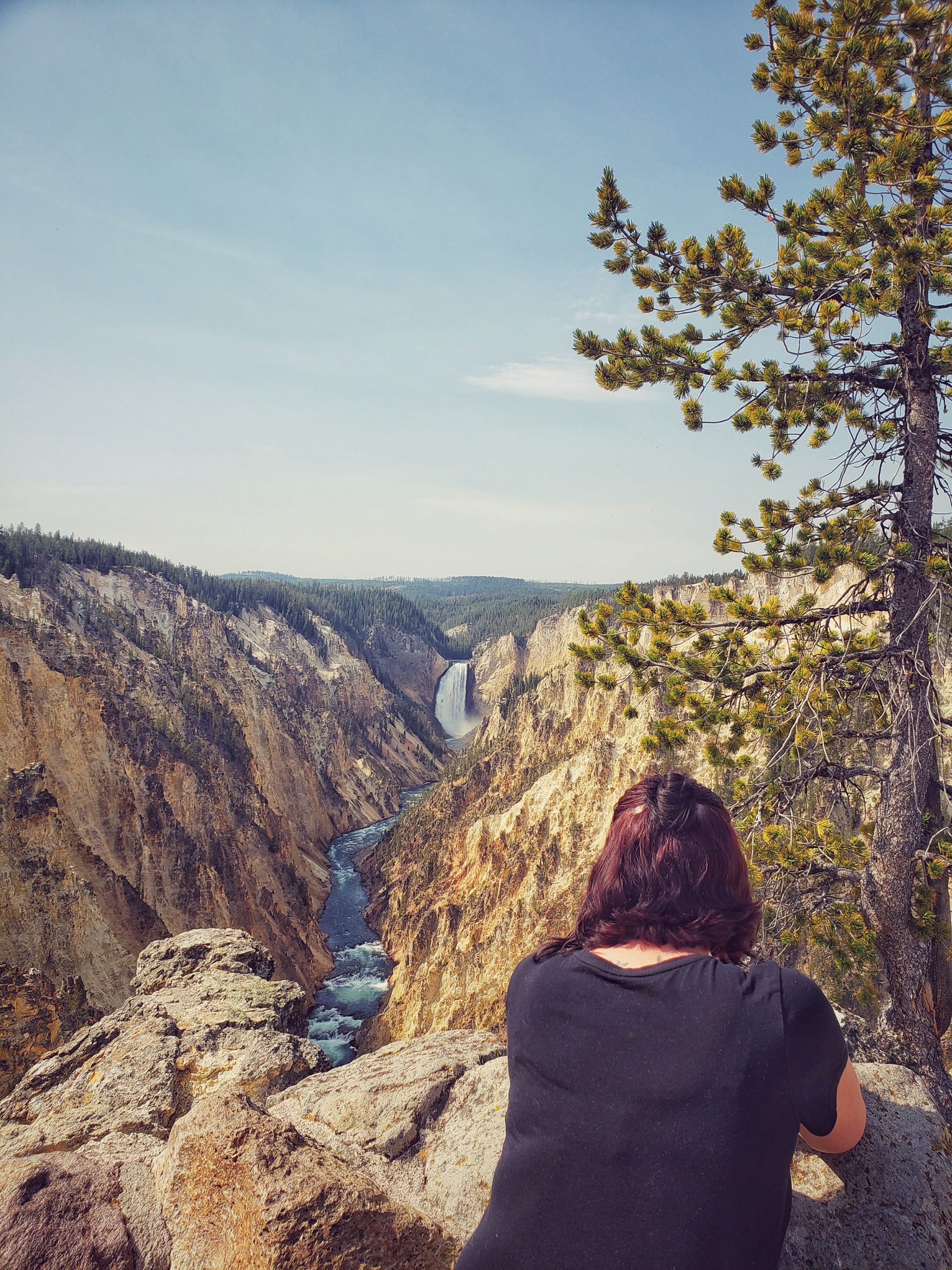 Ideally, we would have dined al fresco every night of our road trip honeymoon but, man, it was downright chilly. At nearly 7,000 feet, all bets are off for moderate autumnal temperatures once the sun calls it a day. So inside we sat alongside other tourists, yet safely divided by glass partitions. Together, but apart, in the way that has come to define life during a global pandemic.
The wedding itself was no less conventional. At a small ceremony held outside in the courtyard of a restaurant in West Chester, Pennsylvania, our officiant stood behind a pane of plexiglass. My brother Mike attended the ceremony the way we've all attended so many events lately – virtually, over video chat. Interacting with others through a barrier – be it a plexiglass divider or the glass screen of a phone – has become the norm. It's a stand-in, a proxy for closeness but we make do. We're a resilient people after all and we know that necessity breeds invention, so we'll navigate these still-fresh best practices for traveling, eating out, getting married, and above all else, for finding the kind of togetherness we need as human beings, to not merely survive the trials and tribulations of life, but to flourish.
I miss my family terribly – both the ones I've loved for decades and the new members I added when I said "I do." As we patiently await a new, healthier, and less restrictive new year, Lorelei and I have thankfully found a creative way to keep the most important people in our lives close to us – at least in a sense, for now.
Blending Our Family Through Photos, At Least For Now
The blended family photo wall I've created in my new apartment, with the help of Fracture glass prints and Storyboard, is art for our times. It's us and our story, very much flourishing, because art heals and makes us whole; art is capable of making humans feel a part of something bigger, and to feel closer to the heart of that something.
These images, printed on glass and blended together, represent the copious amount of love and loss inherent in a big, blended family. There's my oldest daughter at age 14 posed studiously during the golden hour on a cruise ship docked in Naples, Italy. I see and smile at my carefree youngest kid throwing her arms wide open beneath a torrent of rain on a warm summer day in Boston. My wife is here too, out back in the grass on our wedding day with Sydney, the miraculous pit bull she rescued from the streets of Queens a decade ago.
This wall of memories and moments wouldn't be complete with my dad and his granddaughters, together in my childhood backyard, a year before he would pass away (just a few weeks before the wedding). Finally, there's my father-in-law and I in our first ever photograph together.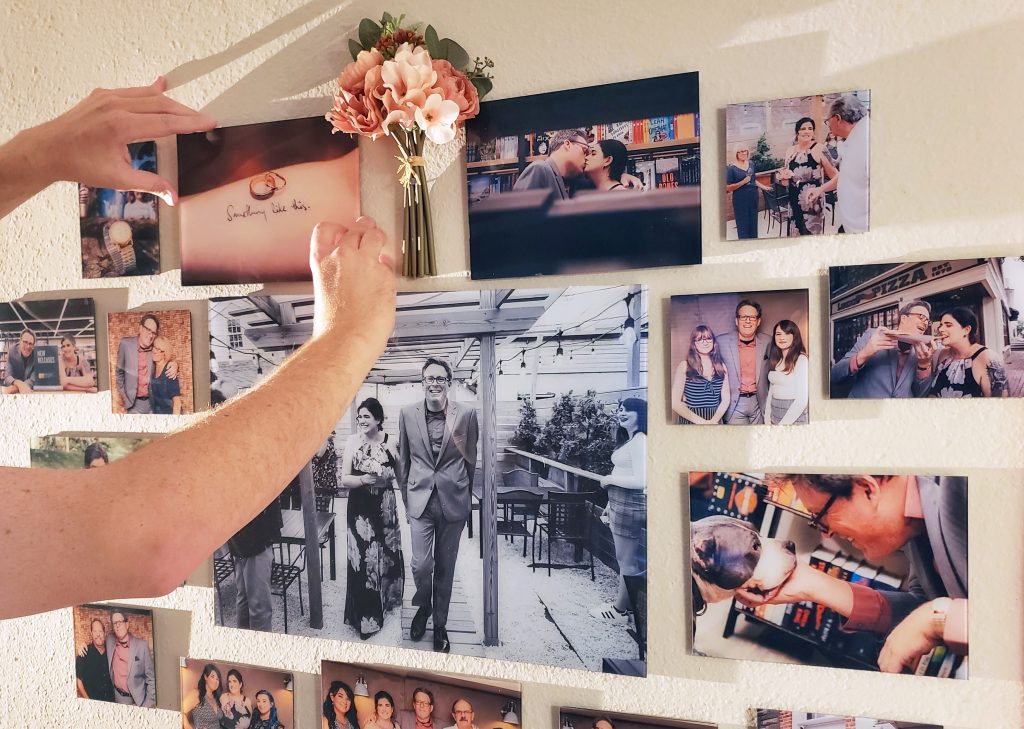 The majority of the photos on the wall were taken by my old pal, Bryan Sargent, one of NYC's most notable wedding and engagement photographers. He kindly took a four-hour roundtrip to be a part of our day and to capture a scaled-back, blended family unit witness two people they cherish commit to a brand new love.
In designing the photo wall, I worked to make everyone mingle together, in a way they weren't comfortable doing upon meeting for the first time ever over plates of fresh pasta during a pandemic. On the wall, without any distancing requirements to consider, I placed my mom and I beside me and my wife's dad, my brother alongside her sister, Lorelei with her girl Sydney and on the other side, me with Sydney too, and my two daughters tucked in close to their very happy, newly married dad. All of those photographs are in color, orchestrated around a big anchor black and white photo, the first of Lorelei and I as husband and wife; I'm smiling like a kid in a candy store!
Laying out a collection of priceless memories is no simple task. As a bit of a first draft, we arranged all the glass prints on the floor, arranging them just right before I snapped a picture on my phone to remember what goes where. We paid close attention to the symmetry of the shapes, like squares and rectangles, as well as the orientation of each photograph. Once the glass prints were affixed to the wall, I arranged her silk flower bouquet prominently in the middle. I built an auxiliary photo wall too, using just the Fracture Storyboard holding three black and white photographs of the ceremony, punctuated by some of the colorful silk flowers we had on the table at our wedding.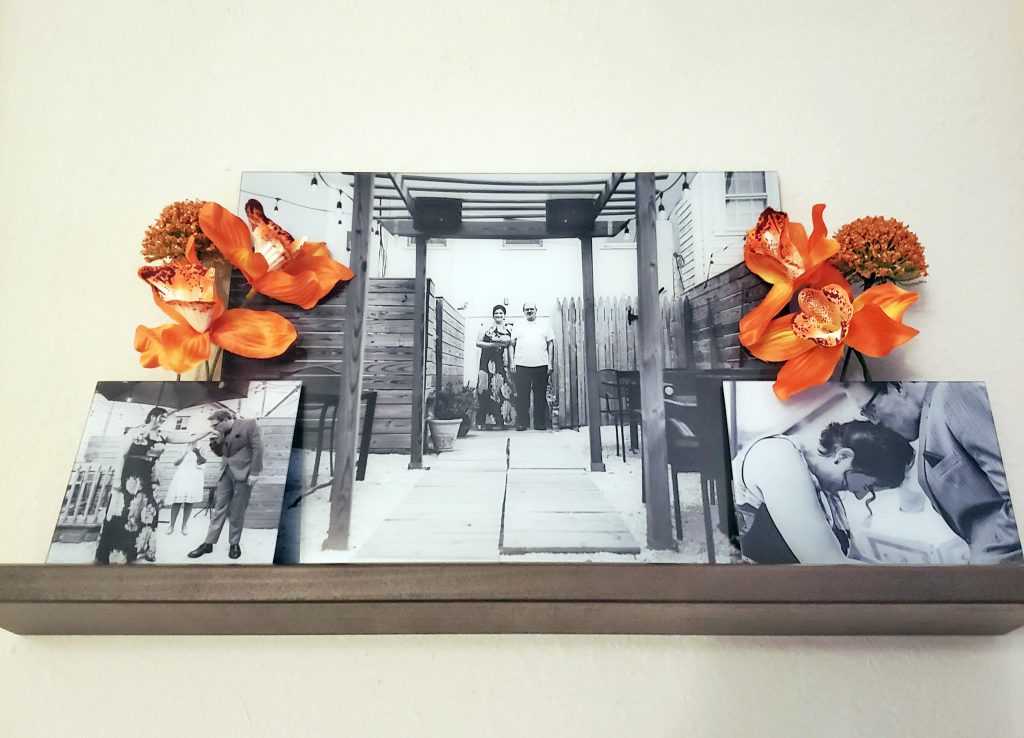 This wall sits across from my favorite chair, in a space where vinyl spins, where many books line many shelves, and where my personality shines with European football posters, Bob's Burgers figurines, and the first two issues of my quarterly literary zine on display. This room is also where my writing happens, in the presence of so many things that inspire me.
The glass photographs now adorning the wall are a constant, visual reminder of the love in our lives. In this way, we are always together, at least on glass, overlapping in close physical proximity on a prominent wall for everyone to see. At this delicate moment in our history, both as a newly married couple and as a society, when the physical manifestation of closeness can be a precarious commodity, this wall reminds us of what we have that's worth holding on to, even when we cannot, or can no longer, hold them tight.