The Wedding Cycle is more than an ordinary wedding boutique. Sure, it's a place where brides-to-be come to find the dress they've been dreaming about. But amidst the oos, aahs, and emotional gasps of approval, the floor of this Gainesville, Florida dress shop also sees its share of goodbyes — that is, as happily married customers bid farewell to the dresses worn on their special day.
This focus on "pre-loved" gowns — a term owner Alisha Alsbrook credits to her friends Sheena and Clint Asbell, owners of Haile Jewelry and Loans — is what separates The Wedding Cycle from other bridal stores. Alsbrook created The Wedding Cycle with one simple goal: helping brides find the dress of their dreams at an affordable price. And in today's world, the environmental sustainability of her approach doesn't hurt, either.
"You might see your Mom's gown from 25 years ago and laugh at the sleeves, but I can see the beautiful gown it could turn into," says Alsbrook. "Rip those sleeves off, remove the beading, and you're left with a chic dress with a beautiful lace train that otherwise might have been overlooked."
How the Wedding Cycle Came to Life
The Wedding Cycle was conceived just over six years ago. After transitioning from corporate sales to working at a big box wedding shop, Alsbrook realized there was a hole in the wedding gown industry: pre-owned wedding gowns.
As she helped bride after bride find the perfect dress, she noticed a pattern; Many of them wanted to sell them back after the wedding. In fact, for every five brides who had purchased dresses, three or four would return to the store and ask about selling them back. As it turned out, such buy-backs were only typically done at consignment shops, where brides would have to wait for their dress to be sold before receiving any compensation.
Alsbrook saw an opportunity to offer something consignment shops didn't. By purchasing the dresses outright from the brides, Alsbrook could spend the time and energy needed to fix the dresses, breathing new life into each one.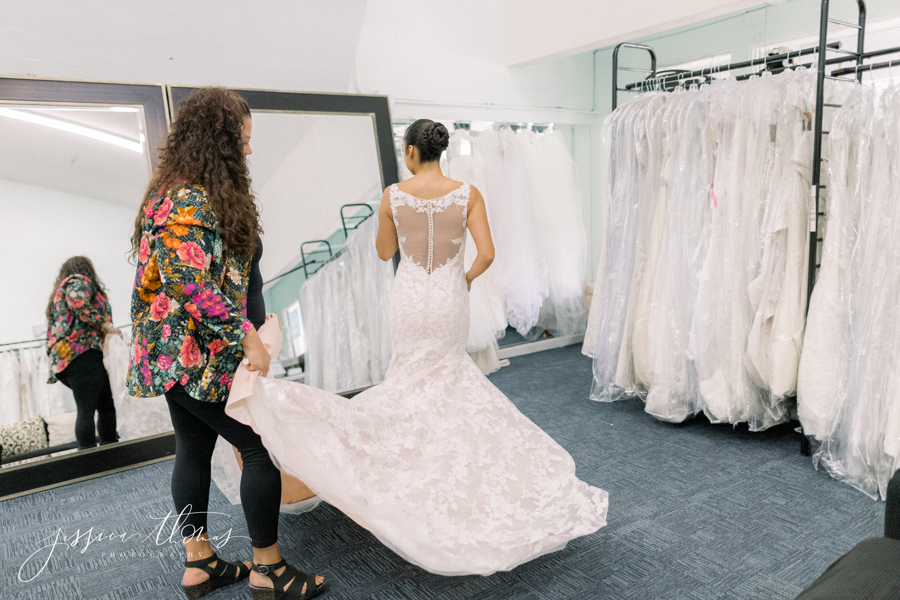 "If you don't own it, you don't love it," says Alsbrook. "You'll never take care of something you don't own yourself. It's just another product on the shelf,"
Having grown up in a family of entrepreneurs, Alsbrook was instilled with the belief that "ideas are a dime a dozen, but execution is worth millions." With that sentiment in mind — and realizing that a gap in the marketplace often means there's an opportunity — she decided to start her own wedding shop. With plans to open an office where customers could book private appointments, Alsbrook prepared for a six month ramp-up period to gather the inventory needed to launch the business.
After just 30 days, she had accumulated 120 gowns, storing them in her home while she looked for a proper storefront. After all, these gowns needed a place to be cared for and put on display for customers. Naturally, her husband was happy to help facilitate a speedy migration from their limited home storage space to a real, brick and mortar retail shop. Before they knew it, The Wedding Cycle was open for business.
Breathing New Life — and Love — into Old Dresses
There are three things that determine the cost of a wedding gown: the construction method, the quality of the material used, and the brand name. "Because we take brand names off the table we're able to cut the price by a third," says Alsbrook.
She works to keep the prices reasonable so customers don't feel stressed when they walk in. The Wedding Cycle sells gowns for up to 60% off retail prices and has options for brides of all types and backgrounds. Whether one is looking for vintage, upcycled, or even a new dress, Alsbrook strives to offer options that match the style and budget of just about anyone.
After she purchases each gown, Alsbrook personally examines and cleans them, fixing imperfections and making note of any alterations that should be made.
When Alsbrook says she gives new love to each dress, she's not just referring to the stitch work. Talking aloud to each dress, she verbally reassures each garment that once they're back looking fresh and new, she'll find someone perfect for them.
As she works on each gown, she envisions the journey it's taken to get to her shop—from the designer conceptualizing it to the talented seamstresses putting it together to the previous bride walking down the aisle surrounded by the love of friends and family. To Alsbrook, each of these dresses has a history. Her shop is just one stop on that journey.
"If I love these dresses, I just know someone else is going to really love it for their wedding day," says Alsbrook.
Alsbrook has a special place in her heart for vintage gowns — the old-fashioned, ornately-detailed dresses with history practically oozing out of every seam.
For Alsbrook, the magic of these older dresses lies in the details. Before the 1920s, for instance, wedding dresses weren't white. That only came into fashion once it became possible to bleach fabric. Prior to the 1960s, dresses — which were almost always made in the United States, often by female unions — featured handmade lace that was literally sewn onto the tulle. Meanwhile, the pearls found in dresses crafted before the 1980s are most likely glass beads, individually hand-sewn onto the fabric. Look closely, and you'll also be able to see the rich history, aesthetic trends and unique journey each of these vintage gowns has taken.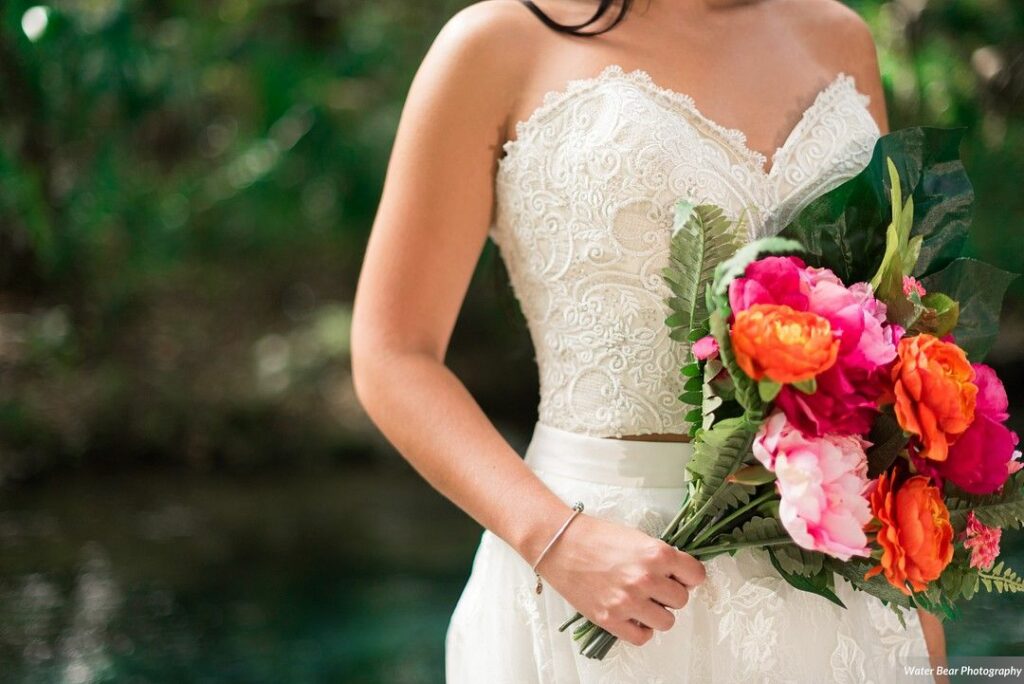 A Different Approach for a Different Kind of Business
Aside from pricing, Alsbrook believes that what sets her business apart is its approach to customer service. Selling wedding gowns requires its own unique sales strategy compared to other products. Buying a wedding dress is an incredibly emotional process and Alsbrook does her best to be a blank state, letting brides work through the layers of emotions attached to the purchase.
Buying a wedding dress is also a very intimate experience, she notes. "You're six inches from someone who is taking their clothes off just minutes after you've met. My job is to give them the ability to feel confident and very much life themselves. Comfort and confidence go hand-in-hand."
To Alsbrook, the secret lies in the act of listening, being empathetic, and helping the brides see themselves as a whole person rather than a caricature they might be seeing in ads. Alisha works to provide the best service possible and make sure they feel special. It doesn't matter if a bride is coming in to try on a $100 gown or one that costs $1800.
"It's nerve-wracking just buying a pair of jeans," says Alsbrook. "Now, they're looking for 'The Dress.' My job is to give the best experience we can, whether we sell them or not. If I help a bride figure out the beading, cut, and construction of their dream dress, I know that, even if they don't buy from me, they'll be leaving knowing the exact kind of dress they'll be looking for."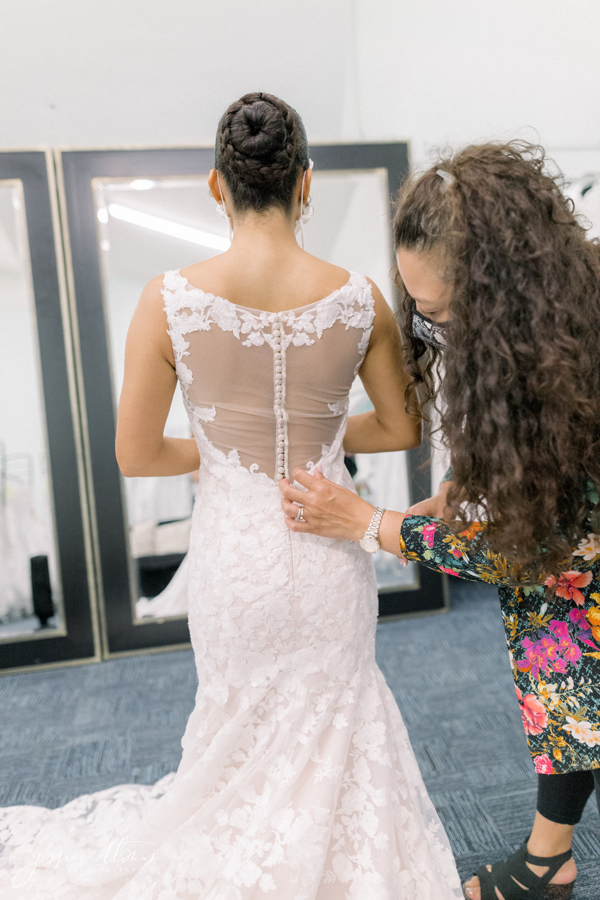 Each of her appointments spans between 90 minutes to two hours, so she really gets to know her customers on a more personal level. By encouraging customers to bring only two or three even-keeled loved ones with them to the store, Alsbrook says she's able to maintain that sense of intimacy — and more importantly, simplify the decision-making process.
What Goes Around…
When her shop first opened, Alsbrook distributed flyers at local churches offering 15% off, either to be given to the bride, or donated to the church. This grassroots local marketing tactic — a common move for small businesses such as hers — wound up paying off in a big way.
Then, two years ago, Alsbrook received an unexpected phone call on her day off. Eleven brides were waiting outside her shop, eager to peruse the racks inside. A church in Lake City was going to host a celebration where 80 couples would be married on the same day. The brides had divvied up local bridal shops and 30 women were hoping to try on her wedding gowns.
For the next three weeks, Alsbrook came in on her days off and helped the women find their dresses, often offering discounts as big as 50% off. "It was just me working, and at the time there was just one fitting room, but we managed to get 18 looks together."
To Alsbrook, the extra working hours were worth the trouble. Not only did she help those dresses find a new and adoring owner, she created several new potential business opportunities down the line.
"My focus is doing my job, having passion, and taking care of my customers," Alsbrook says. "If I give out enough love, I'll get back enough love. As long as I survive another day, another month, and pay the rent, we can keep going. I've had that thinking for six years. It's a happier, healthier way to live."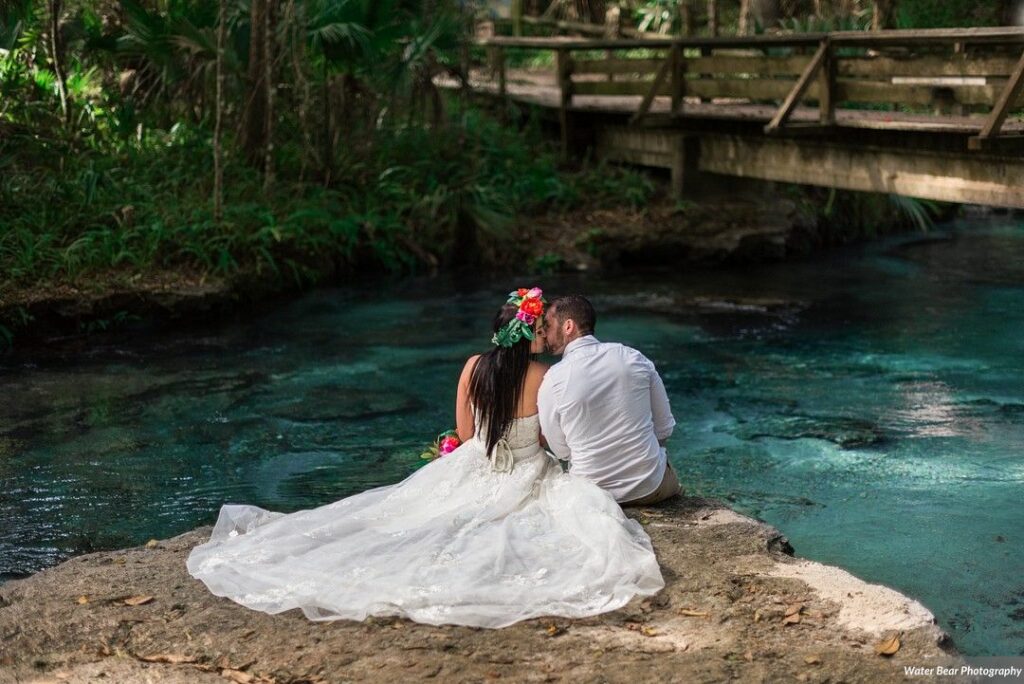 Local Support in Tumultuous Times
Like most businesses across the country, The Wedding Cycle has endured drastic changes and challenges in light of the Covid-19 pandemic. As a local shop whose doors are closed to all but those with appointments, she understands the difficulty and recognizes the importance of remaining an active part of the community. "It's not so much about the money," she says. "It's more about the connection as we all remain stuck inside our businesses," she says.
The Wedding Cycle has certainly seen its fair share of local love in Gainesville. In addition to customers dropping by safely during the pandemic, The Wedding Cycle has been featured in local newspapers The Alligator and The Gainesville Sun, and recently won the Our Town Fan Favorite Award. Alsbrook tries to pass the blessings along. She offers discounts to first-responders and teachers, and does a cross-collaboration with local vendors each summer.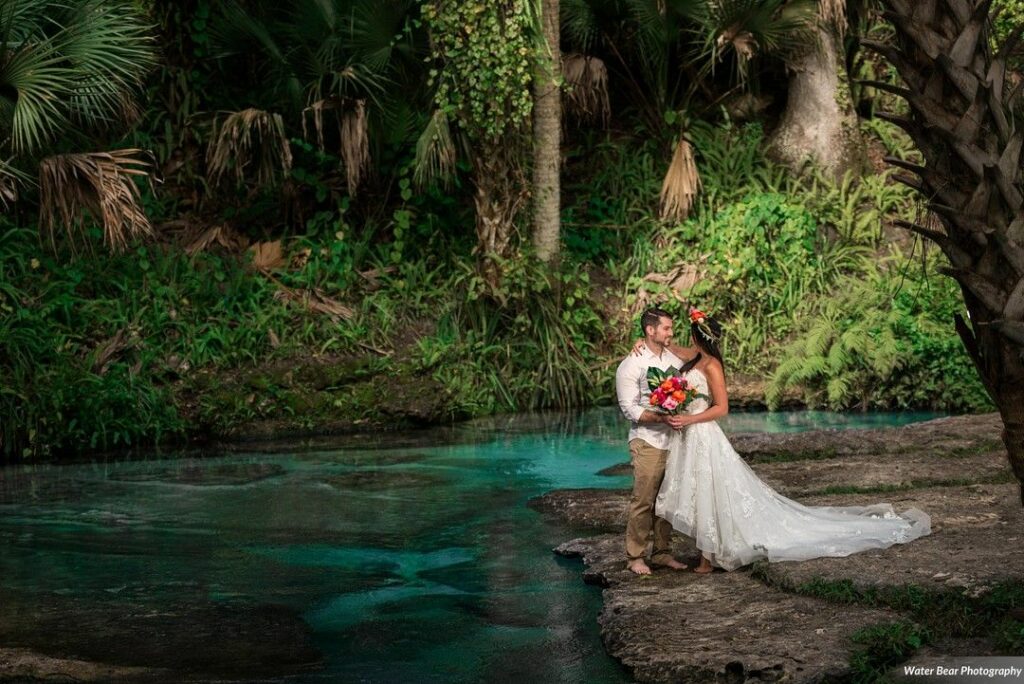 "Every bit of support supports my passion, my dream, and my family," says Alsbrook. "We're all very thankful."
As smaller weddings, elopements, and micro-weddings have begun to rise in popularity, Alsbrook is delighted to see that the focus of weddings is centering back on the commitment being made between the bride and groom.
And while she's passionate about wedding dresses above all, Alsbrook knows there's much more to a wedding than what the bride is wearing. Her own wedding 22 years ago was one of simplicity — a "hippy wedding," she lovingly calls it.
"It's about living it up and doing it and surviving it and being appreciative that people still want to do the bonding and love and marriage and not being scared to commit to each other. If you have someone and you love someone, it doesn't matter how big your wedding is or if you have a traditional wedding. It's about creating a legacy and the beginning of your life together."
On the big day, it's those family bonds and future legacies that matter the most — whether the bride is dancing in a gown worth thousands of dollars, or a dress that's been passed down for years.
A majority of the photos featured in this post are from a recent collaboration, done in partnership with Water Bear Photography with makeup by Kara Winslow and flowers by Garden and Grace Florals. All other photos were taken by Jessica Thomas Photography.