Remember when working from home was just a pipe dream for so many of us? With all that's happened in the last two years, many Americans have had to share their at-home office space with roommates, toddlers, pets, and even their beds and TVs. The noise and distractions are enough to make anyone long for their morning commute to the office. Thankfully, there are several ways to level up your home decor to increase focus and help you stay in "the zone." Read on for six home decor tips for maximizing productivity.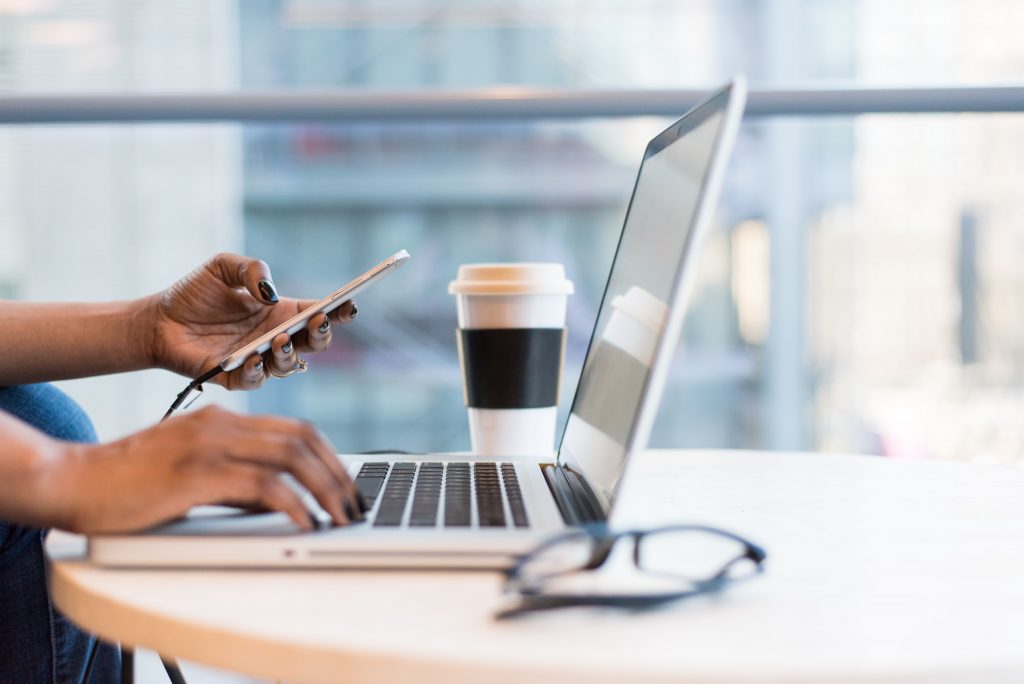 1. Location, location, location
The office may have its fair share of distractions, from chatty coworkers to bottomless snacks in the kitchen. But working from home presents a whole new set of distractors, given that you're surrounded by the easy-to-give-into comforts of your home. One of the best ways around this is to place your desk or workspace away from those distractions. If you have a room available, turn it into a designated home office (bonus if the room has a door). If not, place your desk in a spot facing away from your bed, couch, or TV. Try turning your desk towards a wall or a window, so you aren't tempted by distractions.
Pro tip: If you can avoid it, try putting your desk as far away from the bedroom as possible. Working where you sleep may decrease your productivity during the day or, alternatively, disrupt your sleep at night. Instead, consider workspaces such as your dining room, a guest room, or a basement. Sometimes, you may have no choice but to work near your sleep space if you live in a studio apartment, for example. A simple solution is to create boundaries between your work and personal life; make your bed each morning before starting work, try not to work in bed, and keep your space decluttered. This lets your brain know when you're in work mode versus rest mode.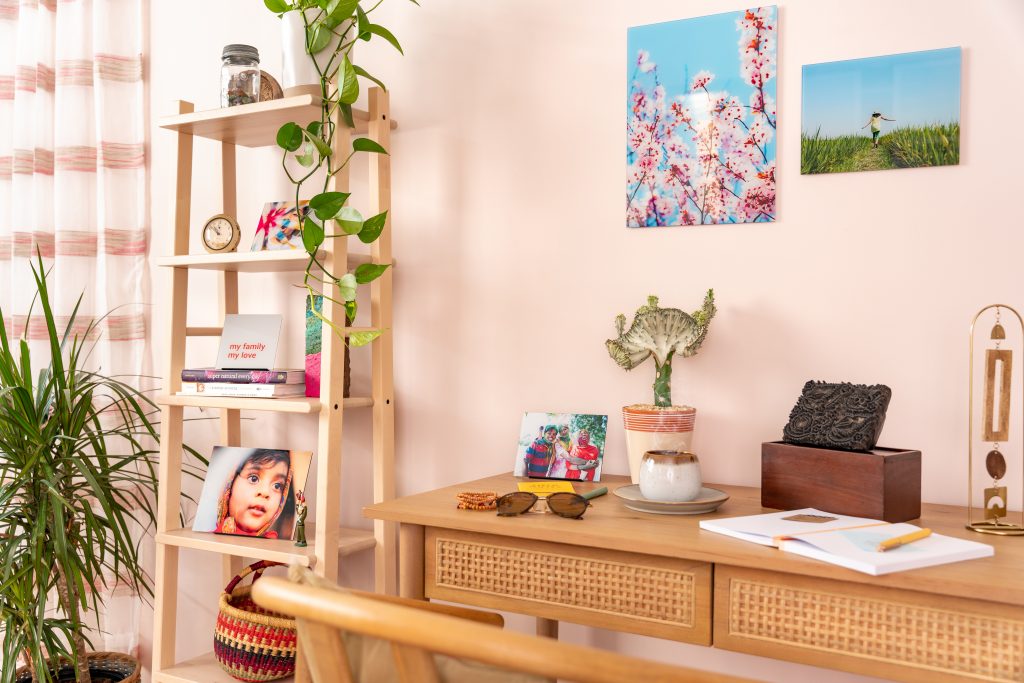 2. Inspire yourself with pops of color
More often than not, traditional office furniture isn't the most colorful or exciting. Don't shy away from colorful decor if you need that extra productivity boost while working from home. A vibrant statement rug or accent chair can brighten up the room and keep your spirits high during the workday. If you have shelves above or around your desk, style colorful, decorative trinkets on them. Hang up mementos of happy moments around you to inspire and motivate you throughout the day. (To really elevate your space, trade in traditional photo frames and opt for Fracture glass prints of your favorite photos). If you need a short break or feel overwhelmed, you can always look up at them and get that creativity and mood boost you need to keep going.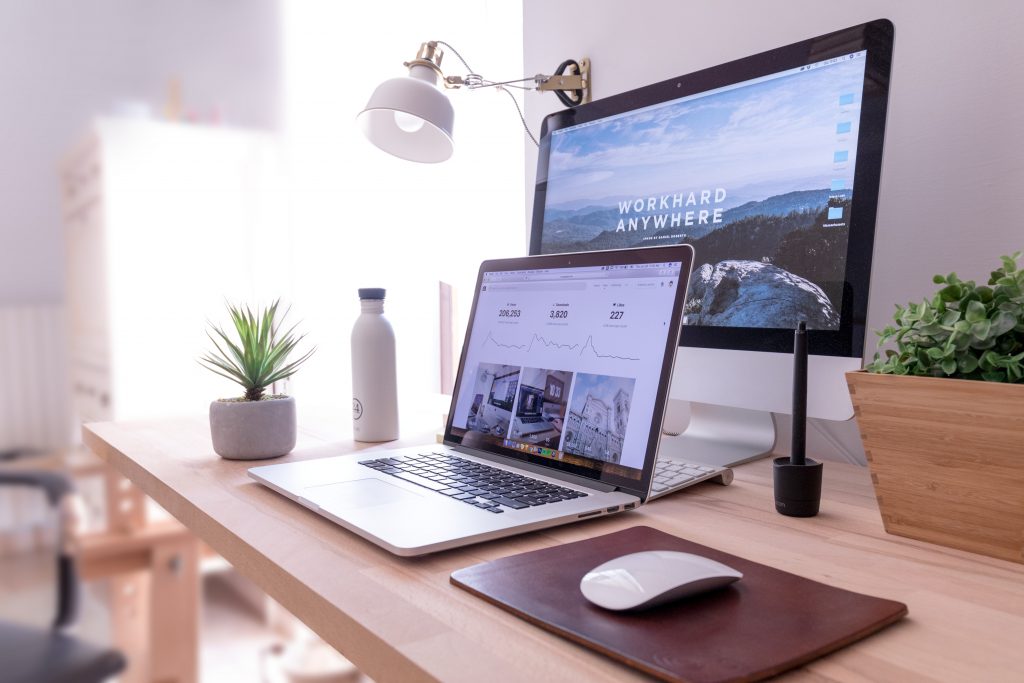 3. Prioritize good lighting
A well-lit workspace is a must not only for "head down" work time but also for Zoom meetings with your team. The easiest way to keep your workspace illuminated is to have your workspace near a window for natural light. But, if that's not possible, there are other options! Find a sturdy yet stylish desk lamp or an adjustable floor lamp so you can point it towards your desk. Additionally, a bright ceiling light works well. You can even add some elegance to it by decorating it with a chandelier attachment.
4. Desk decor that maximizes your productivity
This tip is either a "heck yes" or "heck no," depending on your personality; some people prefer to have a completely clean slate and work on a bare desk, while others find they get more work done when surrounded by motivating items on their desk. If you're in the former category, adopt a minimalist feel by having a predominantly white palette with strategically placed color accents throughout. On the other hand, if you're in the latter category, you can vary the colors and types of items on your desk. Stack work-related or personal development books near the corner to get you in the working mindset. Moreover, plants have been shown to be restorative and increase productive thinking.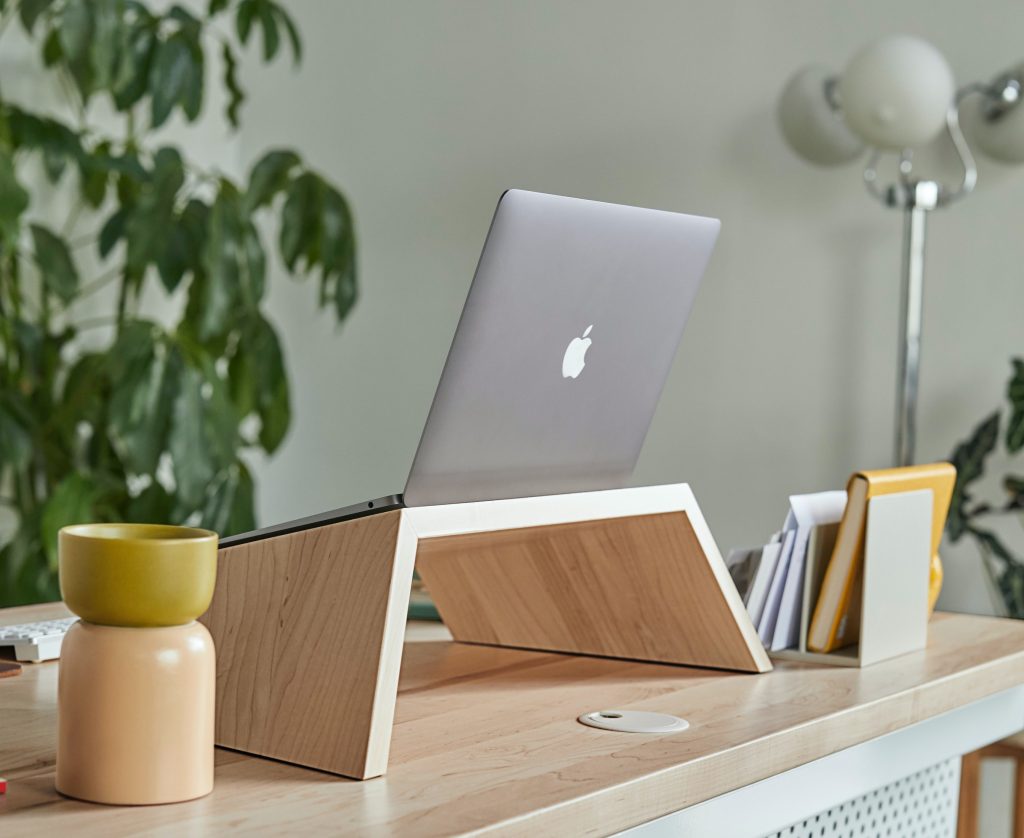 5. Stress relief hacks and ergonomic accessories
Sitting in the same position for an extended period can often lead to body aches and soreness. Setting up an ergonomic workstation is vital for not only productivity but your health as well. Make sure your monitor is set up at a suitable distance from your face and at a height that encourages good posture. To prevent wrist pain or stiffness, place your laptop on a laptop stand, or place a hand rest at the bottom of your keyboard. Ergonomic foot mats can also be used in conjunction with a standing desk or standing desk converter (if you have one) to reduce back pain and take some pressure off your feet.
At times, work is bound to become stressful. A great way to stay calm and refocus your mind is to have functional stress-relieving items readily available at your desk. Accessories such as a Rubik's cube, fidget spinner, or stress ball can double as stress relief and whimsical desk decor.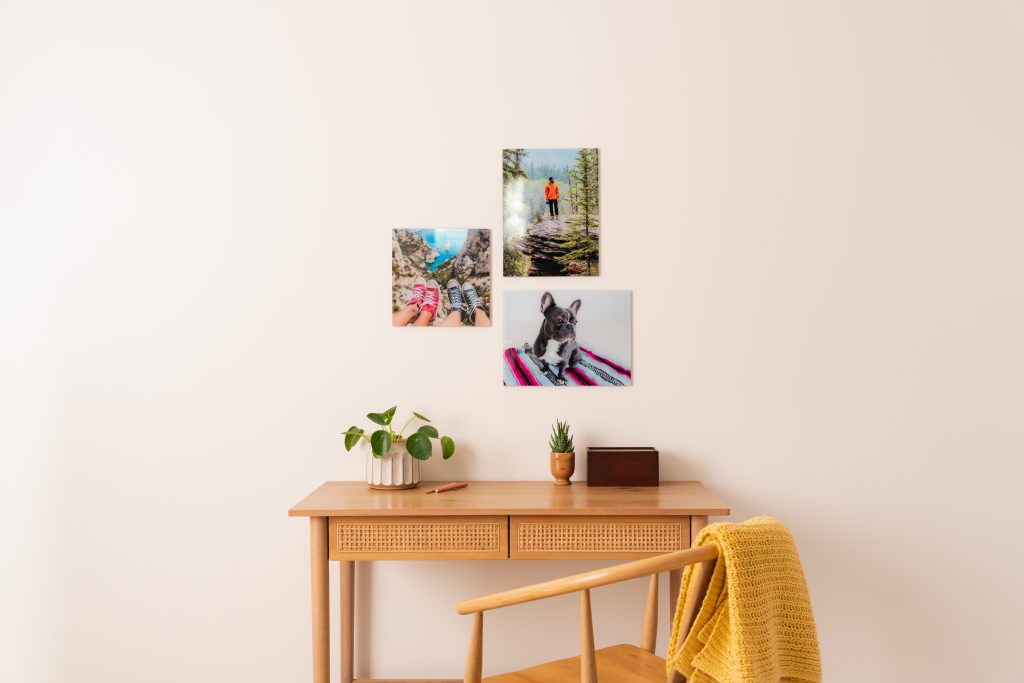 6. Wall art and inspirational wall decor
If your desk faces or is near a wall, decorate it with pieces that foster productivity. An acrylic dry erase calendar will keep you on track for deadlines and important dates. You can also hang up a glass print with a motivational message or a photo of you during an accomplished moment for all the success and abundance vibes. Happy, inspiring wall decor can help put a smile on your face and prime you to have a great workday.
From family birthdays, to the littles' first day of school, to a collection of your favorite art, you can turn your cherished moments into beautiful glass prints. With multiple sizes and styles to choose from, you can give a single glass print or help someone create an elaborate Photo Wall — Fracture's version of a gallery wall. Or give your loved one the gift of DIY with a Fracture digital gift card. The possibilities are endless—we can't wait to see your prints in your home!