There's something special about a physical photo.
Before technology allowed us to have an incredible camera in our pockets at all times, just taking a photo was much more of an event. If a photo was getting taken, something important was usually happening. A wedding. A funeral. A crazy vacation. The first time the whole family was together in decades. And of course, all of those photos were, by necessity, printed, hard copies.
And there's a really good chance that you have a shoebox or big binder somewhere in your house that has LOTS of these old photo prints, collected over generations. So many special moments captured and printed.
Make no mistake: those prints don't age very well. But, technology lets us scan them now, digitally, so those memories can be remembered forever.
So, what's the best way to do that? We'll go over a few options, but the biggest takeaway here is: Pick a method and DO IT. Honestly, just going through the process lets you remember and celebrate so many moments that really did matter to you and your loved ones. And, the sooner you have all your old photos digitized, the better you'll feel knowing that all those moments are safe and secure. Ok, let's get started.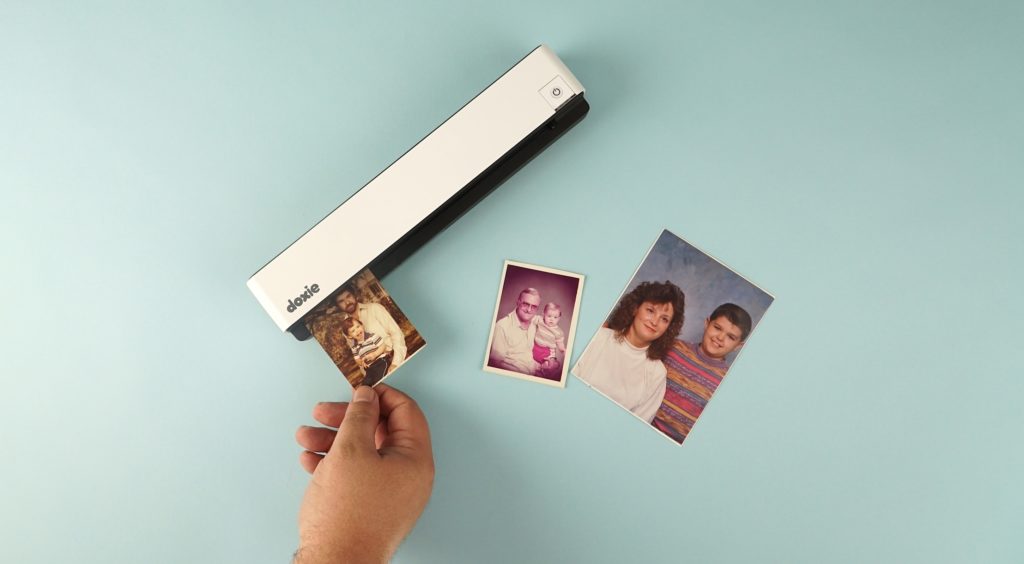 Option 1: Use a photo scanner
For the highest quality digital photos, use a scanner. Every scanner's specific instructions for use are different, so make sure to follow them step-by-step. Here are some tips to ensure the best possible results.
Choosing a scanner
There are many different photo scanners on the market with varying price tags and capabilities. A high quality scanner is a great investment for your home or office, and you don't have to spend a ton for a good one. You can also purchase a portable scanner, like Doxie, that allows you to scan from anywhere.
When choosing a scanner, consider what your priorities are when it comes to digitizing prints. We've found some highly rated scanner options based on what you are specifically looking for.
Most budget-friendly: Brother DS-640 Compact Mobile Document Scanner

For film: Epson Perfection V370 Color Photo, Image, Film, Negative & Document Scanner
Best all-around: HP Scanjet Enterprise Flow 7500 Flatbed Scanner, (L2725B)
Clean your glass
Scanners are extremely sensitive to even the smallest of particles, so make sure to clean your scanner and photos. Keep the scanning station a dust-free environment. You can use a microfiber rag or alcohol-based wipe to get the job done.
Have a plan
It's important to think about the order that you scan your photos. Organizing them by date or event is a good idea, but no matter which method you choose, make sure to have a plan before you start scanning and stick with it to stay organized.
Scan multiple photos at once
On an average-size scanner, you can scan four 4×6-inch photos at once and crop them later. Some scanners even come with software that does this automatically for you. This will cut down scanning time.
Choosing resolution
Select a resolution of at least 300 dots per inch (dpi), and up to 600 dpi if you plan to order enlargements.
Editing options
Take advantage of editing options. Most scanning software will allow you to crop, adjust color, adjust brightness and remove red-eye.
Choose your difficulty
When it comes to photo scanning, the process can be as basic or technical as you choose. For more intensive tips that will help you produce the highest quality digital images, check out this great resource.
Option 2: Use a photo scanning app on your phone
As the quality of smartphone cameras improves, phone scanning apps become a more viable and useful option for turning old photos into digital prints. The cameras on the Pixel, Galaxy S7, and iPhone 7 are recommended for high-quality prints. Before scanning, be sure to clean your photos and phone lens with a microfiber cloth or cleaning wipe. Scan photos in a well-lit area with lots of natural light and avoid shadows.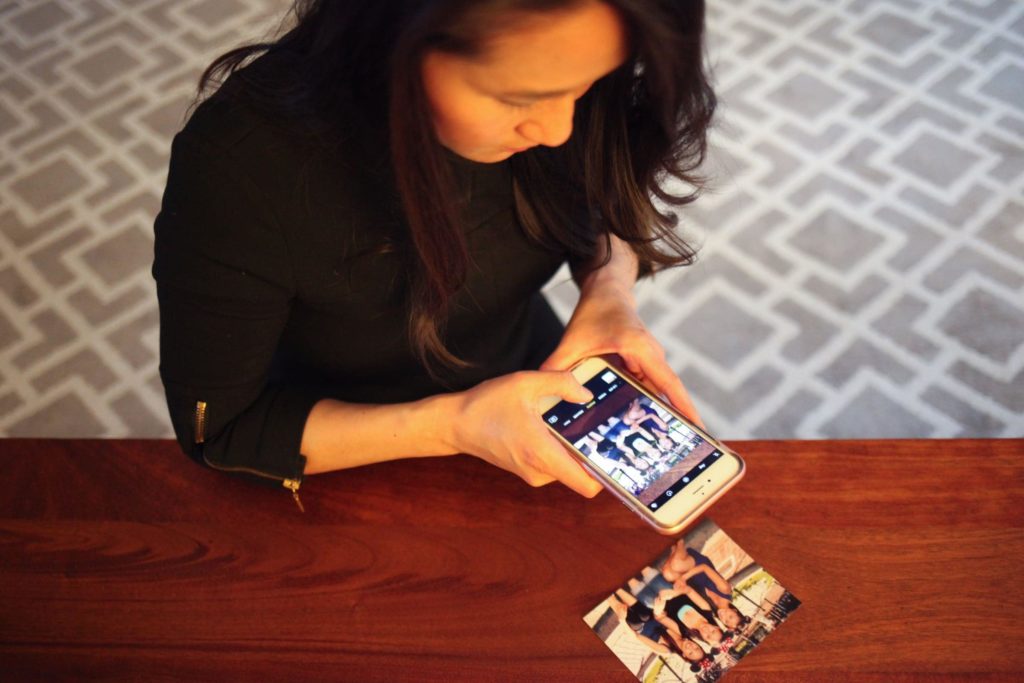 Here are your two best options for scanning photos with your phone:
Price: $4.99, or a free Lite version
Availability: Google Play and App Store
Description: Photomyne is a photo scanning app similar to Heirloom. Simply hold your smartphone over the printed photo, and Photomyne will capture and crop it. There are even options to edit and restore newly scanned photos. The best way to store old photos is to digitize them, and Photomyne allows you to do just that.
Price: Free
Availability: Google Play and App Store
Description: PhotoScan is a new app from Google Photos that lets you scan and save your favorite printed photos using your phone's camera. Don't just take a picture of a picture. Create enhanced digital scans, with automatic edge detection, perspective correction, and smart rotation. PhotoScan stitches multiple images together to remove glare and improve the quality of your scans. Here is some more information on what Google Photo Scan is and is not good for.
Option 3: Send your photos to a company that'll do it for you
Sometimes, it's better to step back and let the professionals do the work for you. If you aren't interested in scanning your own pictures, you can send them off to Legacybox.
Just fill Legacybox with your tapes, film, pictures, and audio. Send it in and they'll send it back with your memories preserved on DVDs and optional thumb drive.
Legacybox isn't your only option though. Check out more photo scanning services here!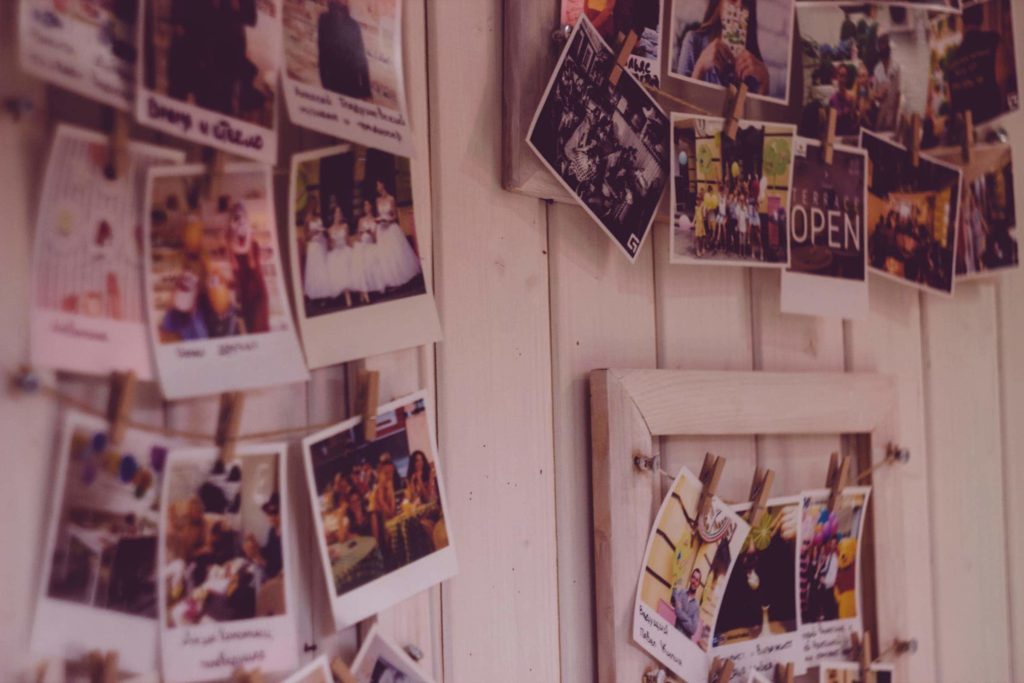 No matter how you decide to scan your photos, having those inspiring moments in digital form opens up a world of possibility. Whether you convert them into a Fracture to hang in your home or share them with friends and family on social media, you've successfully preserved your precious moments forever.
Which way would you digitize your photos? Let us know in the comments.