There's something extra special about a printed photo.

In the age of smartphone cameras and disappearing social media posts, something about a physical, tangible photograph just feels so much more meaningful these days. But there's a problem: Photos printed on paper – or stored in another analog format like negatives or slides – will inevitably deteriorate over time. Or worse, they can get lost or destroyed.
Chances are, you have old photo albums or shoeboxes hiding somewhere in your house that contain a whole archive of photographs, probably collected over generations. If so, now would be a great time to plan on digitizing them.
Make no mistake: those prints don't age very well. Thankfully, technology lets us scan these analog images and preserve them in a digital format, so those memories can endure forever.
There are a few different ways to digitize your old photos, which we'll outline below. Whichever method you choose, the goal is to get them all into a digital format and stored safely on an external hard drive, in the cloud, or both. The sooner you digitize your old photos, the sooner you can share them online, get them reprinted, and have the peace of mind knowing that those memories and moments won't disappear.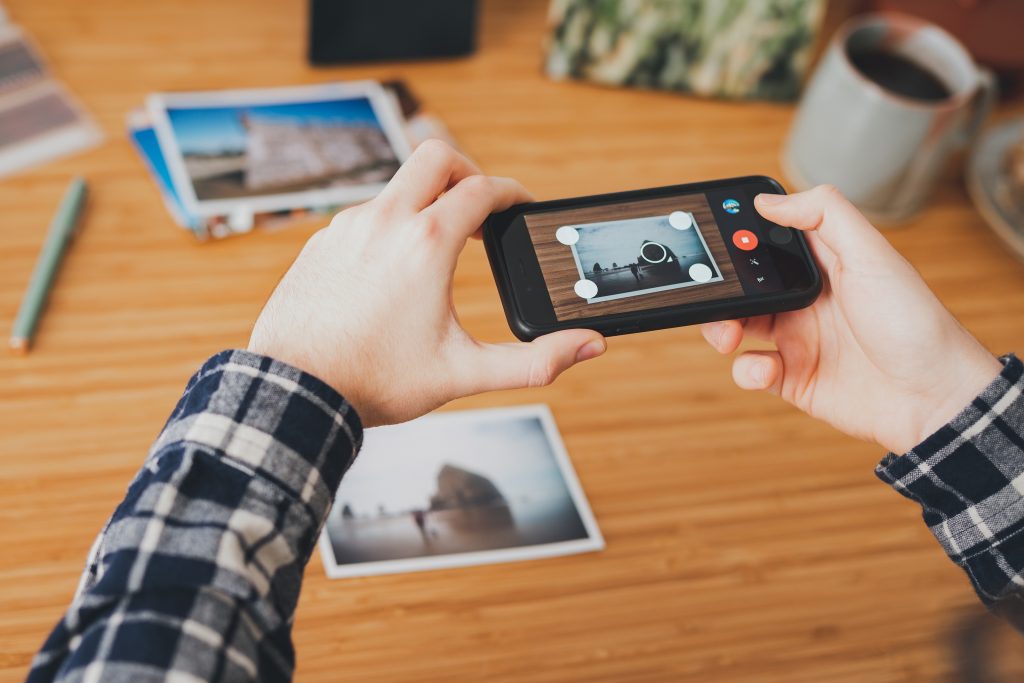 Option 1: Use a photo-scanning app on your smartphone
As the quality of smartphone cameras improves, phone scanning apps become a more viable and useful option for turning old photo prints into digital files. The cameras on the latest iPhone and many newer Android devices are recommended for producing high-quality scans. Before scanning, be sure to clean your photos and phone lens with a microfiber cloth or cleaning wipe. Scan the photos in a well-lit area with lots of natural light and avoid shadows.
There are a number of mobile photo-scanning services out there, but we recommend Photomyne or Google Photo Scan, two of the best apps for digitizing print photos.
Price: $4.99, or a free Lite version
Availability: Google Play and App Store
Photomyne is a powerful and reliable photo-scanning app for the iPhone. Best of all, it's easy to use; Simply hold your smartphone over the printed photo, and Photomyne will capture and crop it. There are also options to edit and restore newly scanned photos. If the original photo is particularly old or worn out, you may want to review these tips for retouching and breathing new life into old photographs.
Price: Free
Availability: Google Play and App Store
PhotoScan is a free app from Google Photos that lets you scan and save your favorite photos using your smartphone's camera. The app creates enhanced digital scans, with automatic edge detection, perspective correction, and smart rotation. In the process of digitizing the photos, PhotoScan stitches multiple images together to remove glare and improve the quality of your newly-digitized images.
Word to the wise: As convenient as they are, mobile photo-scanning apps might not always be the best solution, depending on your needs. For example, as this detailed review of Google PhotoScan mentions, photos you intend on reprinting at a larger size later may be best scanned at a higher resolution using a dedicated photo scanner like one of the options below.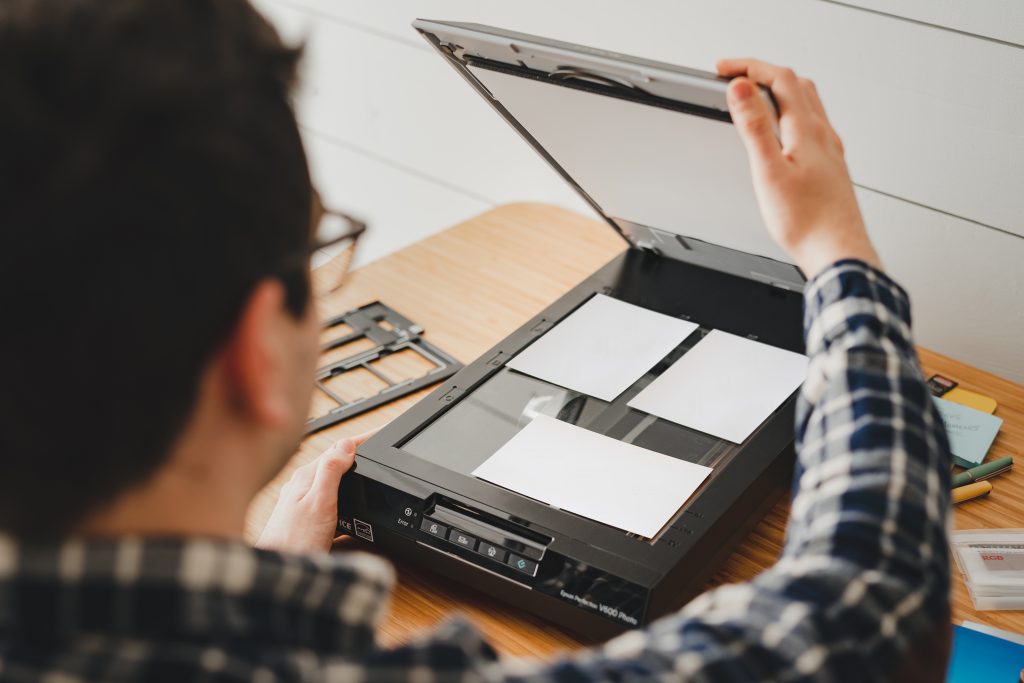 Option 2: Use a photo scanner
For the highest quality digital photos, you'll want to use use a dedicated photo scanner. Every scanner's specific instructions for use are different, so make sure to follow them step-by-step. Here are some tips to ensure the best possible results.
Choosing a scanner
There are many different photo scanners on the market with varying price points and capabilities. A high quality flatbed scanner is a worthwhile investment for your home or office, and most of them are fairly affordable. You can also purchase a portable scanner, like Doxie, that allows you to scan from anywhere.
When choosing a scanner, consider what your priorities are when it comes to digitizing prints – including if you'd like to get some of them reprinted at a larger size on Fracture glass (or any other format).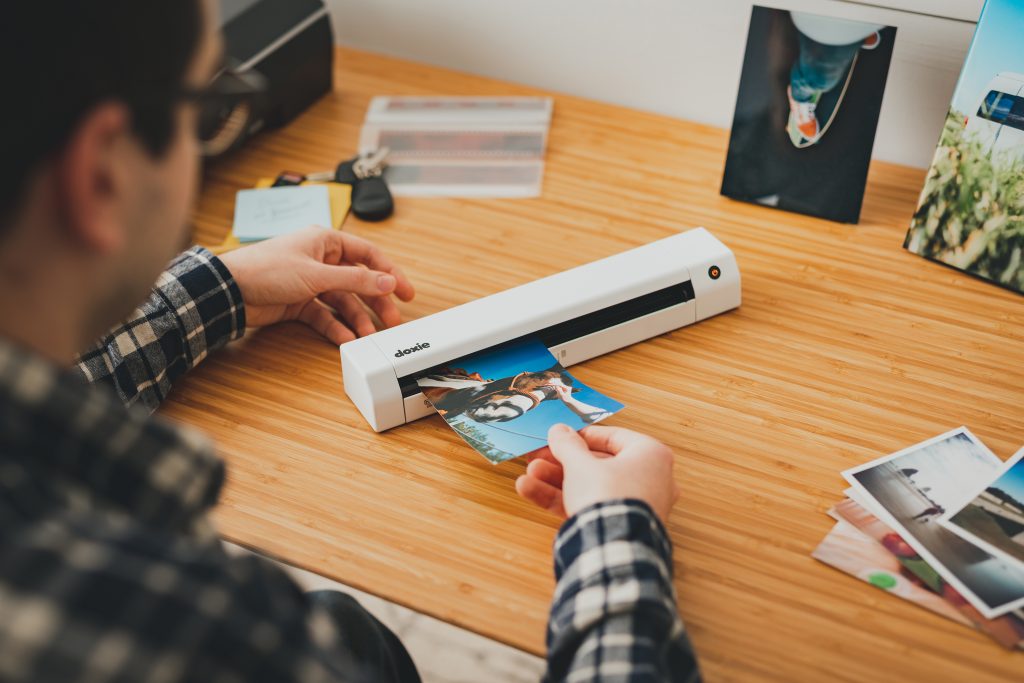 Best portable scanner: Doxie Go SE
Most budget-friendly: Canon CanoScan LiDE 300

For film, slides and prints: Epson Perfection V600 Photo Scanner
Best scanner for pros: HP Scanjet Enterprise Flow 7500 Flatbed Scanner, (L2725B)
Clean the scanner glass
Scanners are extremely sensitive to even the smallest of particles – and any stray dust, hair or other artifacts will definitely show up in your photo scans. So make sure to clean off the glass of your scanner, as well as the photos. Keep the scanning station a dust-free environment. You can use a microfiber rag, alcohol-based wipe, or canned air to get the job done.
Scan multiple photos at once
On an average-size scanner, you can scan four 4×6-inch photos at once and digitally separate and crop them later. Some scanners even come with software that does this automatically for you, which is a time saver.
Choose a high image resolution
To ensure the highest quality scans –and make it easier to reprint them later – be sure to select a resolution of at least 300 dots per inch (dpi), and up to 600 dpi if you plan to order enlargements.
Scanning photo slides and negatives
If you have 35mm film photo slides or the original negatives from your photos, it's possible to scan the images in from those as well, as long as you have the right kind of scanner. In many cases, scanning these formats will offer Most regular flatbed photo scanners won't scan negatives and slides, so you'll want to go with something like the Epson Perfection V600, which can handle those formats and comes with a special tray to load them in.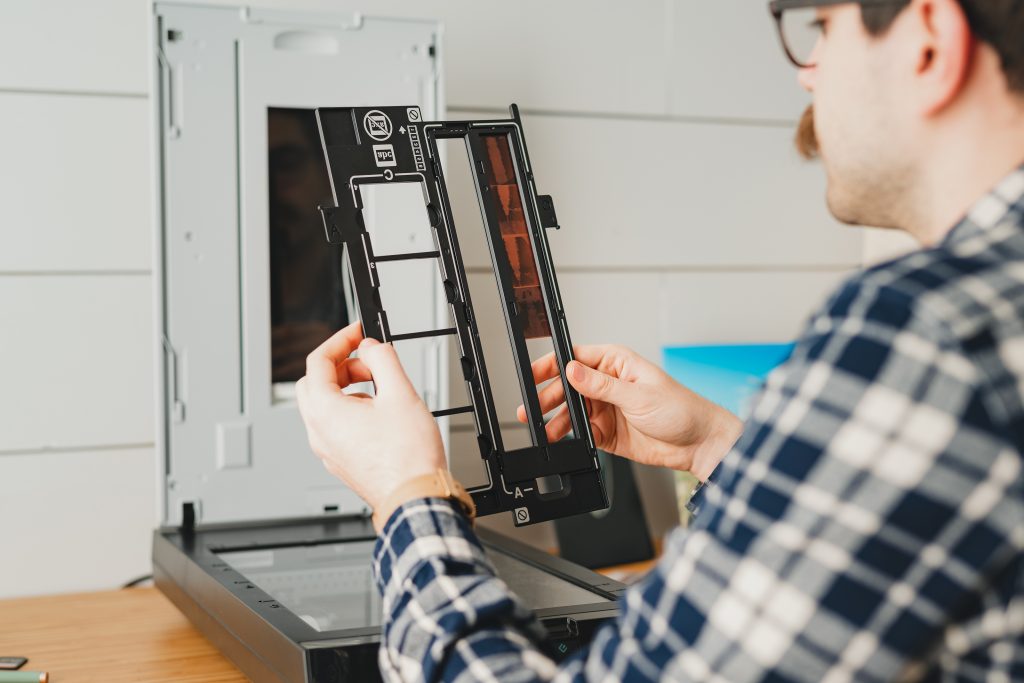 Photo-editing tools
There are lots of options when it comes to editing your newly-scanned photos. Many scanners ship with software that lets you make basic adjustments like cropping, removing red-eye, and adjusting color, contrast, and brightness. For more advanced editing options (especially if your photos are older and require retouching), photo-editing software like Adobe Photoshop and the range of mobile photo editing apps can help you breathe new life into older images. You can even use new, AI-powered tools to automatically colorize black-and-white photos.
Option 3: Use a service that will digitize your photos for you
Sometimes, it's better to step back and let the professionals do the hard work for you. If you aren't interested in scanning your own pictures, you can send them off to Legacybox, a service that takes your analog media like photos, slides, VHS tapes and more, digitizes it all, and sends it back.
Just fill Legacybox with your cassette tapes, film negatives, slides, and photo prints. Send it in and they'll send it back with your memories preserved on DVDs and optional thumb drive.
No matter how you decide to scan your photos, having those moments in digital form opens up a world of new possibilities. Whether you turn them into Fracture glass prints to hang up at home or share them on social media, you'll be glad you took the time to digitize those priceless memories.