My dad died last summer, two weeks before his 82nd birthday. When he left this earthly plane, all of the knowledge, wisdom, and stories he hadn't yet passed on to his wife, three kids, seven grandkids, and handful of friends flitted into the ether with him.
It is nothing short of mortifying that I, a professional, full-time storyteller who enjoyed a fantastic relationship with his dad, stood by and allowed this to happen. I never once asked him to fill in the gaps between his well-worn anecdotes, didn't probe for more emotion or try to pull out more vulnerability, didn't invest the time to encourage him to paint to the edge of his proverbial frame with more color in his voice. I am not going to sugarcoat it, I am downright ashamed of myself.
To compensate for this uncorrectable error, I am on a quest to ensure that others don't make a similar mistake with the most special people (but Dads, specifically) in their lives. Because tomorrow isn't guaranteed — and boy, if we didn't understand this before, COVID sure brought it into focus — we must take action to document and immortalize our and our fathers' favorite, memorable, and most consequential moments. Stories deserve to be made permanent, and thankfully, in 2021, there are a myriad of ways to do this.
Let's look at four distinctly different ways we are able to guarantee — if not his presence — at least the memories that ensure our dads can and will remain of this world long after they have shuffled off this mortal coil.
Audible Memories
For the audio-inclined among us, podcasts are an easy way to experience great storytelling. Podcasts also present to us a chance to give our own stories the breadth and space they deserve and need to fully unfurl. I'm not talking about subscribing to yet another fine podcast, I'm saying to make a podcast with your dad.
What is a podcast? Essentially, it's a set of sequential audio recordings — formal or casual, lighthearted or serious, focused or scattershot — that can be serialized and follow an arc, just like a novel. And for the most part, the cost to record, create and publish a podcast is extremely low (but can climb if you opt for professional microphones, fancy software, etc).
Not only would a podcast be a beautiful document of your dad's unique journey, it would also be a fantastic way to preserve and share his life with extended family and friends today and have it for future generations yet to sprout on the many limbs of Dad's ever-growing family tree.
Ways to approach a podcast with Dad:
1. Sketch out the arc of the podcast. Begin with questions about his childhood, what family life looked like, and the early adulthood years.
2. Next, move on to conversations about young love, school days, bumps in the road, how family life changed, moves and new homes and apartments, successes and failures, and the start of his career.
3. Finally, dive into the genesis of life as a dad, the fears and joys, regrets and happiness of raising children, epic vacations and epic fails. Close with his hopes for the future, goals and dreams yet to be fulfilled, and any parting lessons learned.
Record using your phone or laptop if in person or over Skype or Zoom if not together. Do so in chunks or in one long marathon chat. Speak casually and freely, forgetting that anything is being recorded. At the heart of this project is an in-depth conversation with Dad. The result will be a record of life, love, and fatherhood; a recorded story that will be cherished by many, for many years.
At this point, you've used the podcast 'formula' to tell and document a person's unique story. Well done! Now, you can simply have this audio to enjoy for yourself or pop it into Garageband or another audio editing program or app and cut it up into 'episodes' to be transformed into a multi-part podcast that could be available for download on Apple Podcasts, Spotify, Podcast Addict and more.
For the technical how-to's, follow this easy step-by-step guide to creating, recording, and publishing a podcast.
Visual Memories
A cluster of photographs thoughtfully arranged then hung on a wall, with several additional images overlapping on a Storyboard, is a visually stunning way to preserve and present the best bits of the past right now as well as keep them front of mind far into the future. Whether it's a set of Fracture glass that tells a story of a later-in-life wedding during the pandemic, a unique time when not all family and friends could be physically close, or a wall chock-full of a life well-lived from childhood to present day, a visual documentation of Dad's one-of-a-kind journey is an artistic way to ensure memories never fade and that a life becomes, in a way, eternal.
The final product is the tangible art that will be enjoyed for generations, but the joy of this kind of visual storytelling starts with the conversations you will have with your dad for this project. Sit down over a plate of wings and beers on a Friday night or coffee and scones on a sleepy Sunday morning. Talk about favorite memories that were once (hopefully) captured on film or, later, stored digitally in the cloud. Jot down those special occasions, vacations, and moments that Dad would like to see on a well-designed photographic wall of glass, and prepare for a treasure hunt!
The final steps of this visual track includes tracking down the photographs that best represent these special periods of Dad's life, keeping in mind that quality of image isn't the crux of the issue here (and recognizing that photos from the past will undoubtedly be of lesser clarity than those of today). Now scan and upload the photos to Fracture and let us help give permanence to the past.
Tactile Memories
Scrapbooking and collage art have been unfairly marketed as the exclusive domain of crafty types. This is nonsense. Art and craft are for all. Plus, sitting down with Dad, surrounded by all his concert tickets, sports memorabilia, autographs, award ribbons, certificates, Playbills, craft root beer bottle caps from across the country, unsent postcards from long-away vacations, and other stray mementos he has had stuffed into a drawer for decades can provide hours of joyful nostalgia.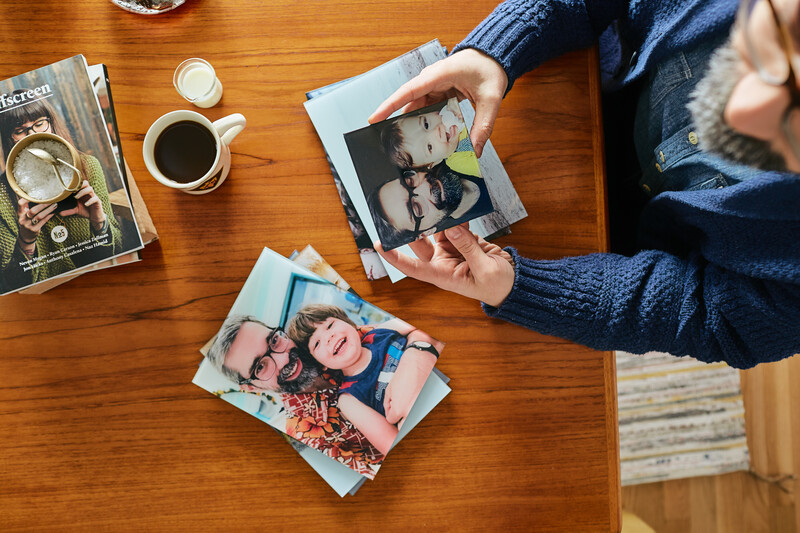 Turning all of that paraphernalia from yesteryear into an eye-popping scrapbook keepsake which shows and tells Dad's life story is a gift not only for Dad but for everyone who loves him. A scrapbook is a physical manifestation of a life that can be held in your hands and passed down to future generations.
Written Memories
A guided journal, like my 100 Questions for Dad that is set to be published in early September of this year, is not only a wonderful project to undertake with your dad but the end product, if completed with honesty, vulnerability and passion, will instantly become a family keepsake.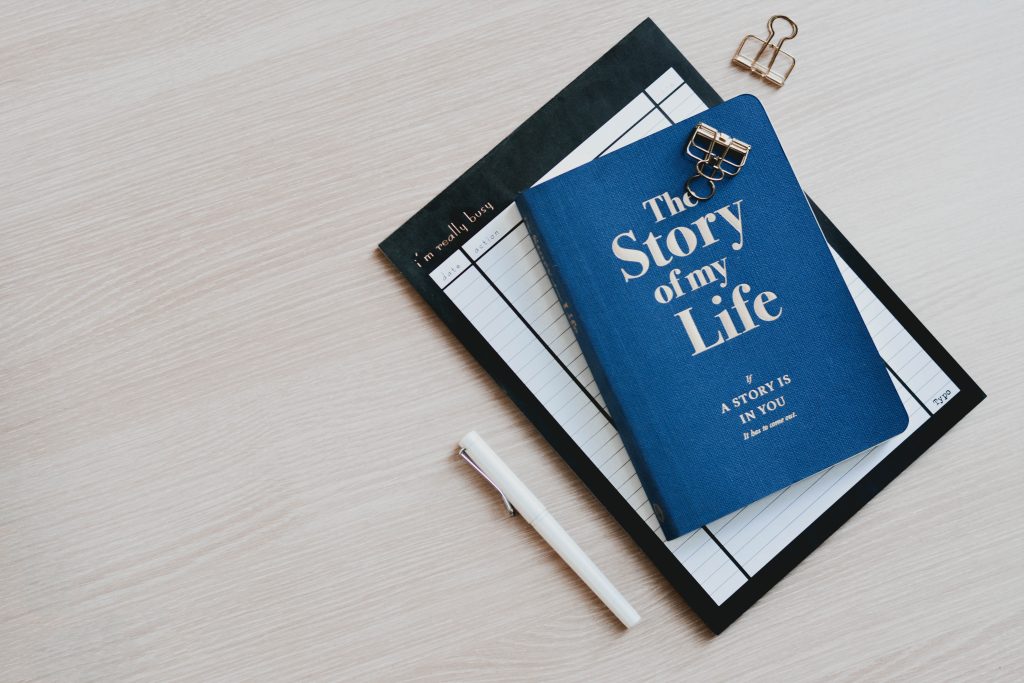 The overall conceit of guided journals is that they will help to usher a person through the touchstone moments of their life through a series of thoughtful, open-ended questions (or in the case of my book, multi-part questions that dig deep into the emotions — both good and bad — Dad has experienced throughout his life). Encourage him to not only be truthful, even when it hurts, but also to not skimp on the answers. Ask him to go long with his responses and provide details no one else could possibly know or would remember. If your own curiosity of his life and excitement for this written project is contagious, your dad's journal will ultimately read like a collection of engrossing creative non-fiction essays that shine a light into the nooks and crannies of the life Dad once lived and is still enjoying today.
Our time here is fleeting and our stories are worth holding on to through whichever medium you fancy. Carve out some time this Father's Day and summer to start documenting your dad's life, while you still have the opportunity to do so. Do it for yourself and your family, and do it for me and my dad, too.