The time to dole out Season's Greetings is officially here, and along with that comes the deadline for narrowing down your holiday decor for your living room. According to predictions made by interior designers, the most anticipated Christmas decor ideas trends are tree collars and festive spaces accentuated by various textures and color schemes.
That said, if you're bored with the standard green tree with string lights or garland and aged mantel decor you pulled from a box in the attic, we encourage you to cast a wider net for some fresh Christmas decor ideas. In the spirit of giving, we're giving you a generous head start. So start decorating now, and thank us later for this list of seven unique holiday decor ideas for your living room.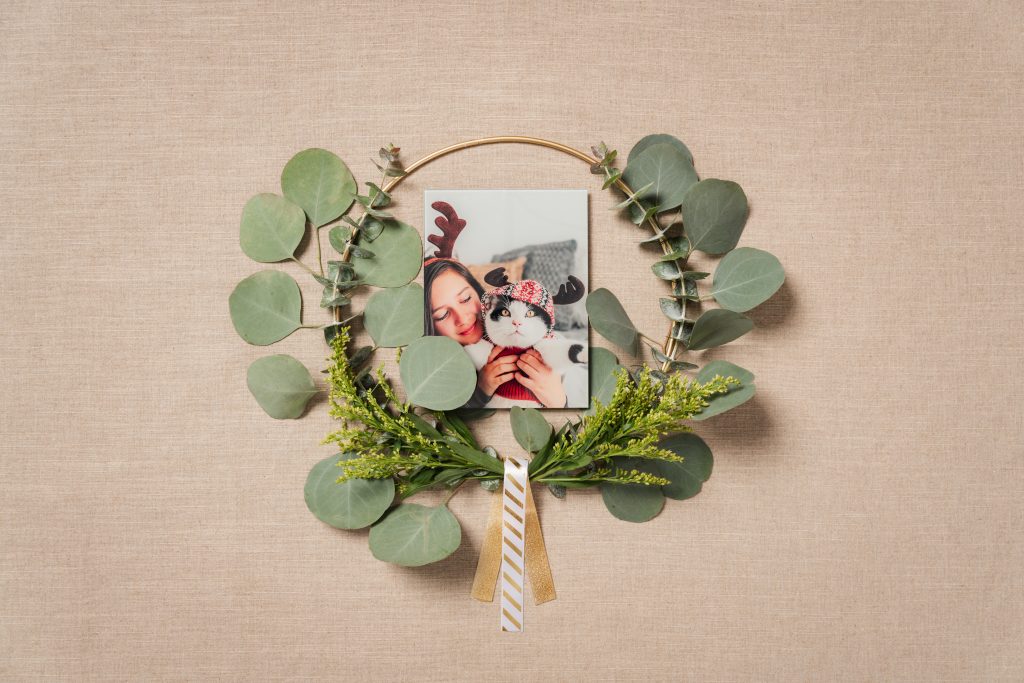 1. Let DIY holiday decor lead the way
We realize the average person's holiday to-do list stretches farther than Santa's delivery route. There's shopping, attending and hosting parties, gift-wrapping, holiday cards, and, of course, decorating. For festive decor that *really* fits your style, try the DIY route.

It'll take more time and effort, but try out simple projects. Swap your store-bought mantel decor for a handmade wreath. Whip out your die-cutting machine and make signature holiday signs. Get the kids involved with making original family ornaments. Either way, you won't be DIY-ing it alone; homemade holiday decor is expected to be extremely popular this year for cozy living room vibes.
2. Decorate with unconventional holiday colors
Traditionalists and purists, hear us out: Red and green will always be the classic holiday colors. After all, the iconic pairing of these hues originated in ancient times. But for a fresh, original take on living room holiday decor, experiment with unexpected color palettes in your Christmas decor ideas.
Get loud with neon ornaments. Go modern or edgy with your pick of horizontal or vertical stripes. Create a moody, sophisticated look with rich, dark colors. Transform your living area into a monochrome haven that reads holiday chic. Ultimately, choose colors that spark joy in your living room space, even if they're a bit outside the box.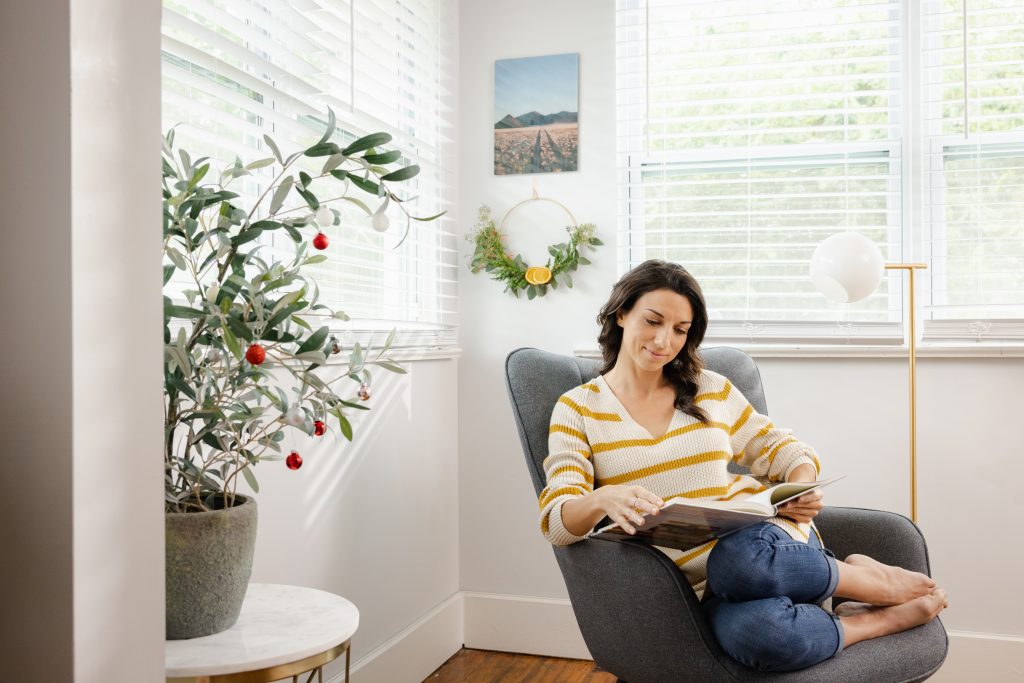 3. Keep it simple with minimalist decor
So, all the twinkling lights, glistening ornaments, and overall frantic holiday energy give you sensory overload. We hear you, but don't ditch your living room decorating plans yet. You can still get in the holiday spirit by taking a more straightforward approach.

For instance, forego the 7-foot fir for a minimalist tree. Hang neutral-toned, nature-inspired ornaments that blend more than they bling. Decorate your space with lots of greenery (sans extra lighting). Allow a lit fireplace to serve as your festive light source. Drape large furniture like bookshelves and cabinets with pieces of live garland. Then relax, and enjoy a low-key holiday living room setup thanks to your Christmas decor ideas.
4. Decorate with holiday-themed photos
Hang framed holiday movie posters for a fun, niche approach to decorating. Curate a collection of holiday-themed art and sculptures. Fashion a gallery wall of holiday family photos. Incorporate large pictures of holidays past to spread cheer among family. Tap into your inner artist by painting and hanging your own festive creation. Invite your family members to do the same and display your holiday collection in the living room. Visitors will be thoroughly impressed (and probably wish they had thought of the holiday decor idea first!).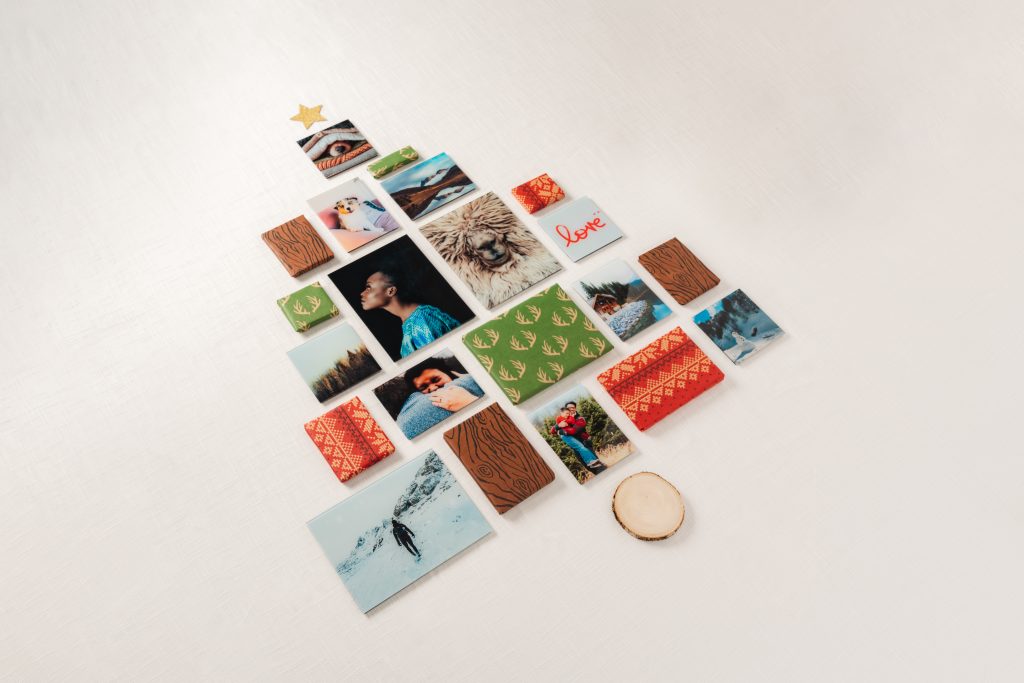 5. Deck the walls with festive art
Holiday-themed photos are an excellent choice, and you can turn up the holiday cheer dial even more. Ring in the most wonderful time of the year with seasonal art on Fracture glass prints. There are countless ways to mix and match artwork around your home to capture the holiday essence.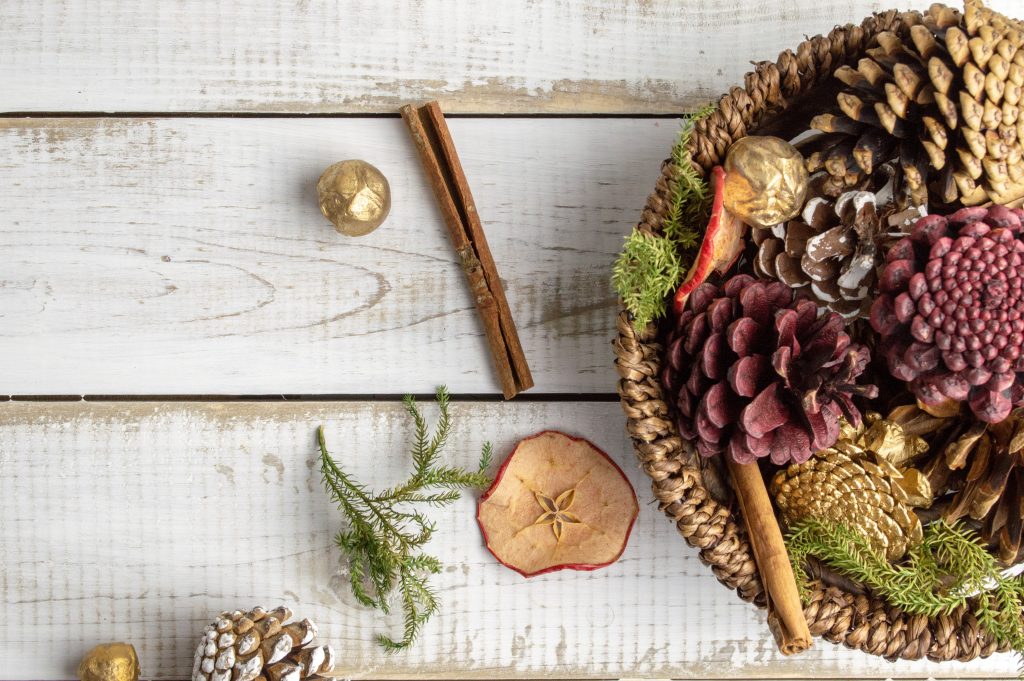 6. Let nature be your guide
This decorating approach challenges you to be in tune with nature. Try going all out with all-natural materials for a green (literal and figurative) living room holiday decor aesthetic. Our favorite natural options are DIY ice lanterns, pinecone ornaments, edible wreaths (yum), yarn-tied cinnamon sticks, garland made from fresh yard clippings, dried fruit ornaments, and wreaths made from rustic wood. 
Not only are these natural accents gorgeous and homey, but they're also eco-friendly, making them a collective holiday gift to the planet that keeps on giving.
7. Use upcycled items to decorate your living room
Continuing the trend of considering the planet, we suggest Christmas decor ideas that use items you already have on hand. For example, make candle holders out of empty wine bottles. Stitch together an old blanket or used T-shirt to serve as a tree skirt. Use reclaimed wood and paper scraps to create one-of-a-kind holiday sculptures. Transform old costume jewelry into tree ornaments. Finally, work your interior decorating magic on old sweaters — they make great Christmas stockings.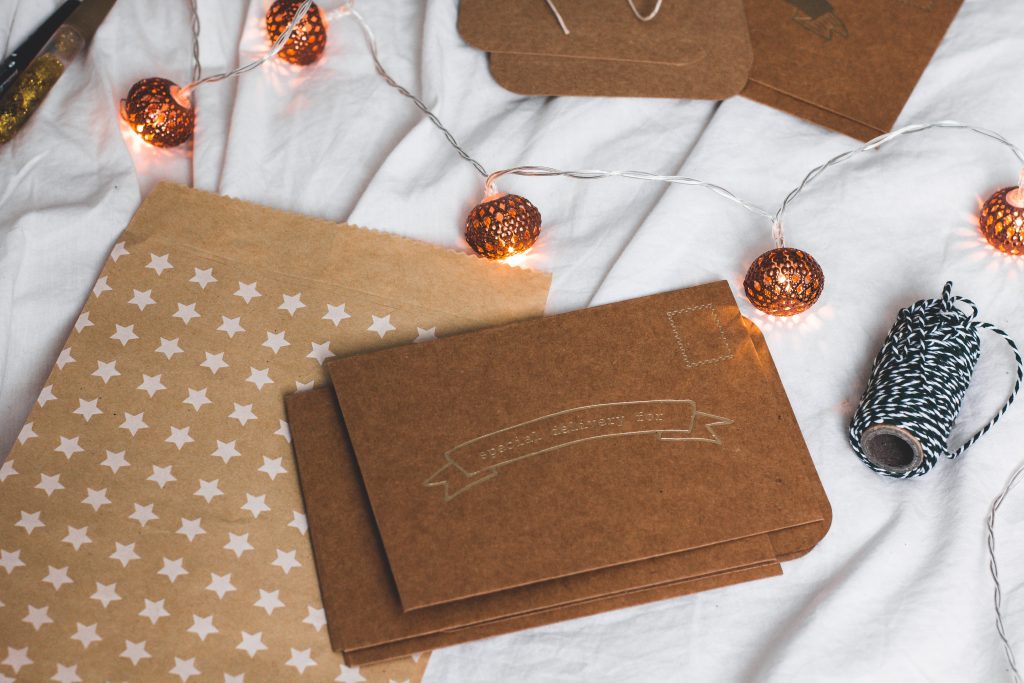 This holiday season, spread some holiday cheer to your living room with elegant glass prints of your holiday moments used artfully in your holiday decor. With multiple sizes and styles to choose from, you can decorate with a single glass print or create an elaborate Photo Wall. Still need some holiday gift ideas? Give your loved ones the gift of DIY with a Fracture digital gift card so they can print holiday photos of their own. The possibilities are endless—we can't wait to see your prints in your home!