With so many options for printing photos, it can be overwhelming and downright confusing trying to decide which material to use. For starters, there's framed, acrylic, metal, canvas, and—of course—glass. But which of these creates the best quality photo prints? We've got the scoop for you and will show you why glass prints can't be beat.

Glass Prints vs Framed Prints
Framed prints are NOT hassle free
For starters, the obvious difference is that framing is a multi-step process. First you have to select the paper type, which can have different textures and finishes on its own. Next, it's handling the printing itself. Finally, you'll need to find the right size frame or get a custom-fitted frame for the dimensions of your photo, encasing it behind the glass before it's truly display-ready.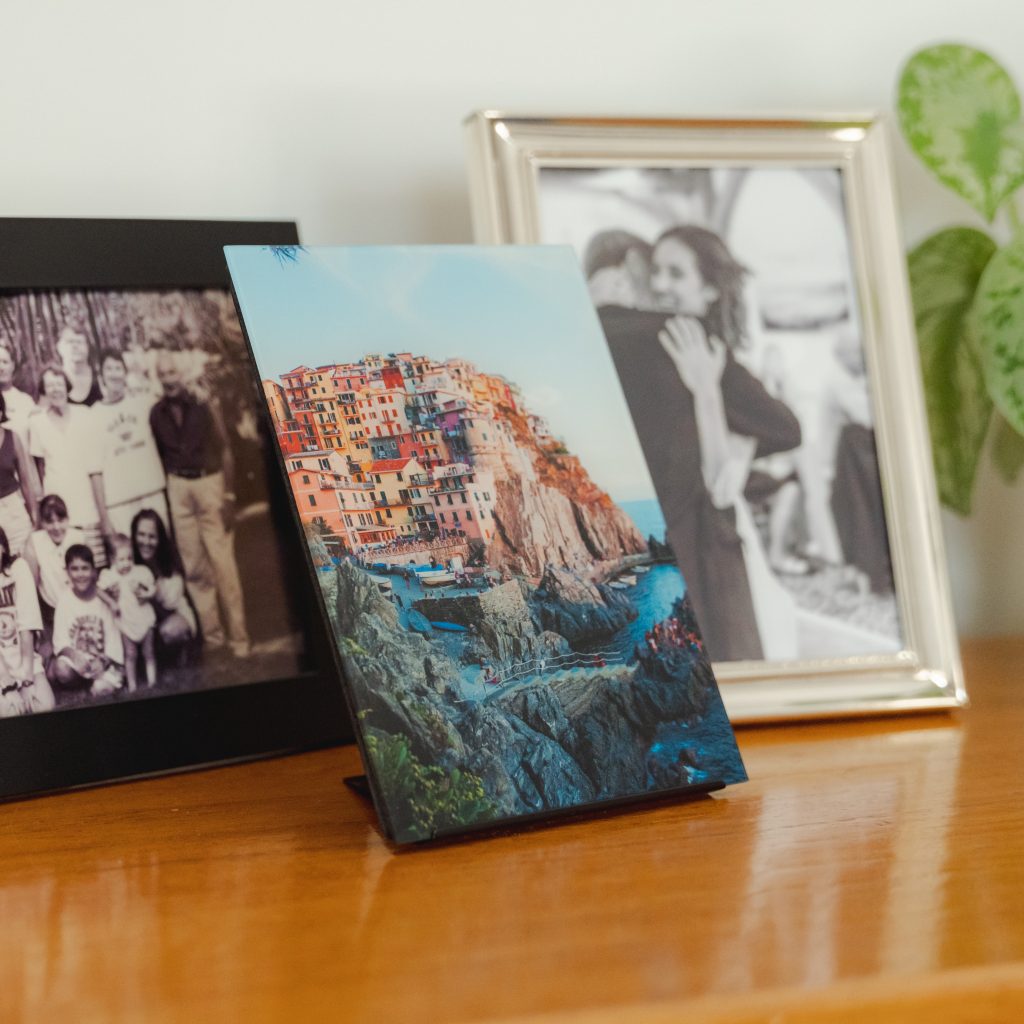 Glass prints offer—affordable—higher quality
As we can attest to here at Fracture, glass + photos is truly a great combo. But custom framing with the high quality materials your photo deserves can get very expensive. It's usually best suited for protecting an original painting or a print of an unusual size. For the best quality photo prints, it just makes sense to go with direct-to-glass printing for photos we take daily with our phones or cameras that we always have on hand. (And of course, professional photography looks fantastic on glass too.)
Our prints, the smallest of which starts at $25, are affordable for these everyday photos. Plus, they provide an easy way to preserve the color and beauty of that moment at the highest quality. We use UV-cured inks that won't fade over time or with exposure to sunlight. Even more, your glass print is covered by our Lifetime Warranty.
When framing, the quality of each material can affect the results. So it's important to consider:
The paper quality,
Density,
Texture,
And paper finish
Fading or deterioration over time is also something you'll need to counteract whenever paper is involved. Moreover, the glass in any frame should have a UV protective coating in order to protect the color and prevent accelerated weakening of the paper.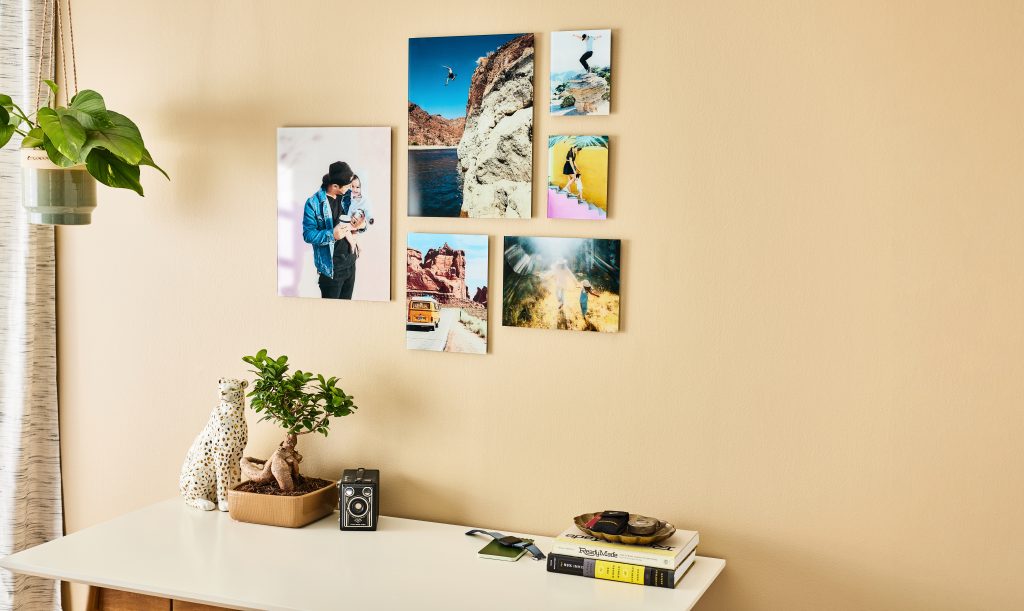 Maintain a cohesive look with glass photo prints
A frame itself can make a statement, but too ornate or too large and it could overwhelm the photo itself. Your image can be suspended edge-to-edge by some frames. However, many off-the-shelf frames include or require a paper mat to surround your photo and display it in the middle of the frame. If you opt for a mat, the entire display will take up more space on your wall, with the photo in the middle being relatively smaller. If done well, this can draw your eye to the image—but too large a mat can look excessive, making your photo look more noticeably small.
Fracture glass prints offer the best quality photo prints with a straightforward, clean, frameless look. They're printed edge-to-edge, so every inch of the glass surface shows off your photo! If you're a fan of the matted look but don't want the bulky frame, you can always add white borders surrounding your digital image for a "mat" look.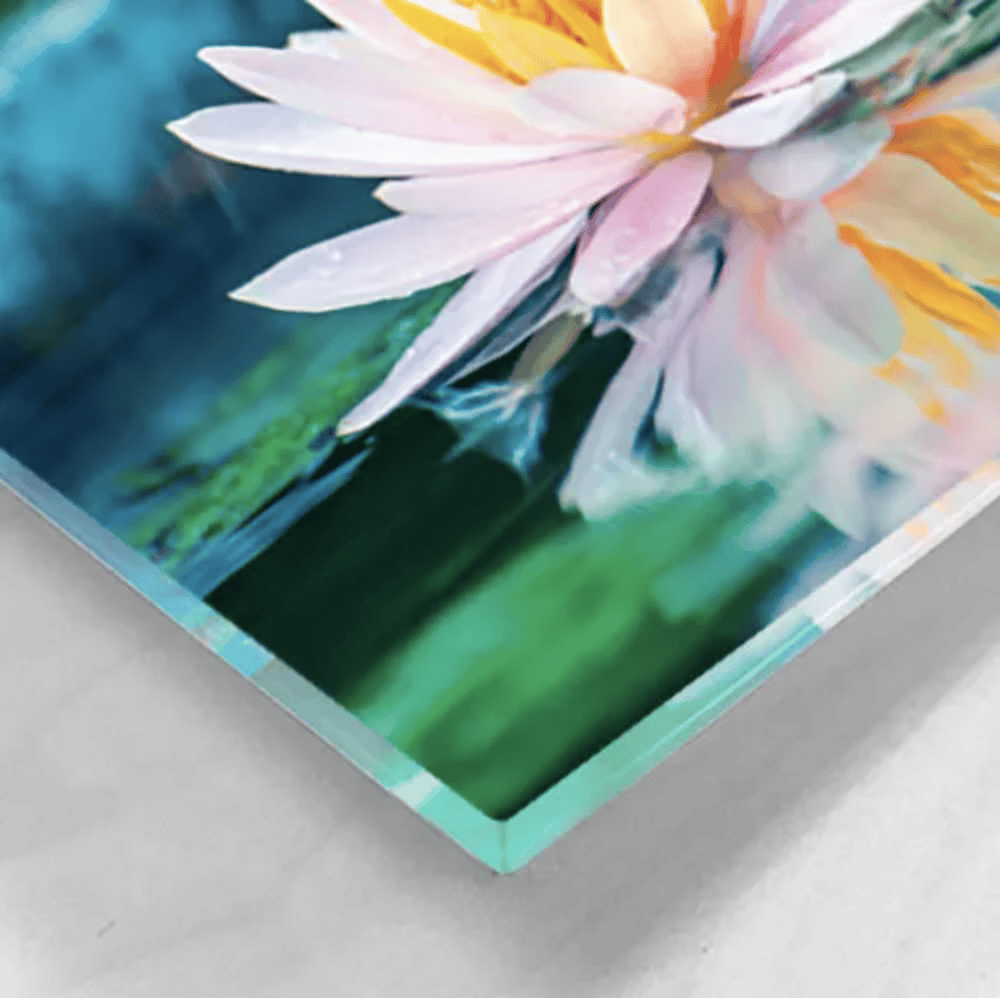 Glass Prints vs Acrylic Prints
Glass photo prints are beautiful and sustainable
You might think acrylic and glass are pretty similar. But aside from their clarity and transparency, prints on these materials are actually quite different. When selecting a material for the best quality photo prints, glass is easily the more beautiful and sustainable option. It's not outright impossible to make eco-friendly plastics, but unless you're sourcing your acrylic prints from a company that uses recycled plastics or "Ecocrylic," you're not going to find many environmentally-conscious acrylic prints out there.
Acrylic and plexiglass (they're one and the same) are more shatter-resistant than glass, but it's important to remember that acrylic is a softer material and scratches a lot more easily. You'd need to ensure the entire acrylic block has an extra protective coating in order to reduce scratching.
Acrylic prints can look blocky while glass prints always look elegant
I was surprised when I held an acrylic print for the first time at how distractingly dense it was; acrylic prints are generally no thinner than ¾ of an inch, and some are a full inch thick or more. While this can be handy for standing a print up on its own, the overall appearance is inherently blocky.
When looking at your image through the acrylic surface, the image has visible distance and the printed layer at the very back of the acrylic block. This can also create some distortion along the edges when viewed from certain angles.
There's a difference in the finish, weight, and overall look of glass compared to plastics of any kind. Much like picking out fine drinkware, there's a timeless elegance to glass that catches your eye—and, while subtle, that difference is noticeable between glass and acrylic prints, too.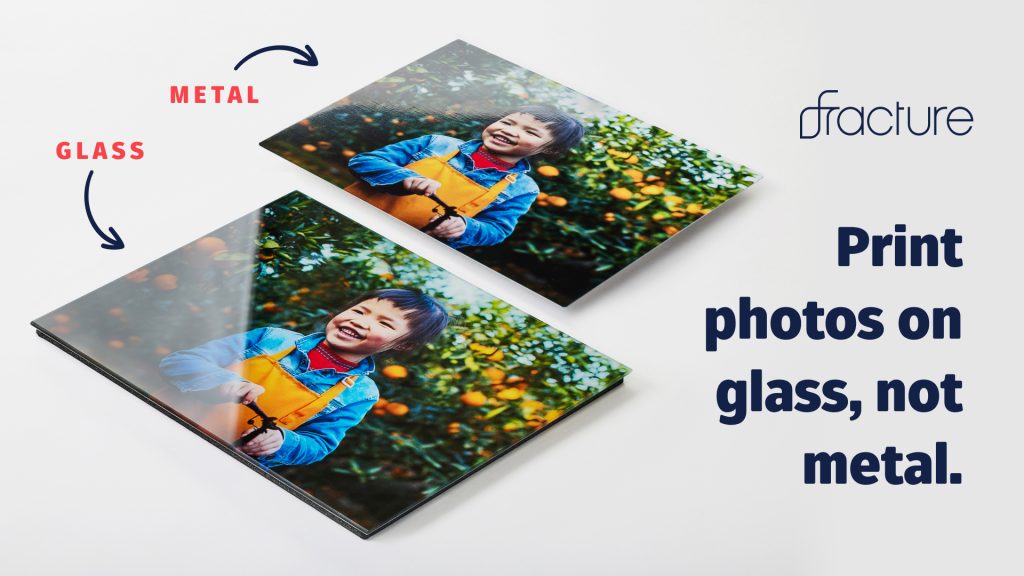 Glass Prints vs Metal Prints
Metal prints use a very different printing process compared to glass prints.
To print on glass, Fracture uses vivid, pigment-based inks that are laid directly onto the back of the thin glass sheet, so you view the photo right through the clear glass surface.
WIth glass prints, the ink is completely protected by the glass and our super lightweight backing. (Take a look at our printing process in action in our workshop tour video.)
By contrast, metal or aluminum prints don't use ink.
The image is transferred with dyes infused onto the surface of the metal.
Because the dyes are open to the air, metal prints will have to be treated or coated to protect the image from scratching or fading.
These results can produce good prints, but the metallic surface can show through without an extra coating below the printed image.
Also, the silvery look can make the metal grain visible or can lend a cooler toned, blue cast to the print.
If you're going for a more industrial look overall, this may work for you. But if you want that sleek look and the best quality photo prints, go with glass prints.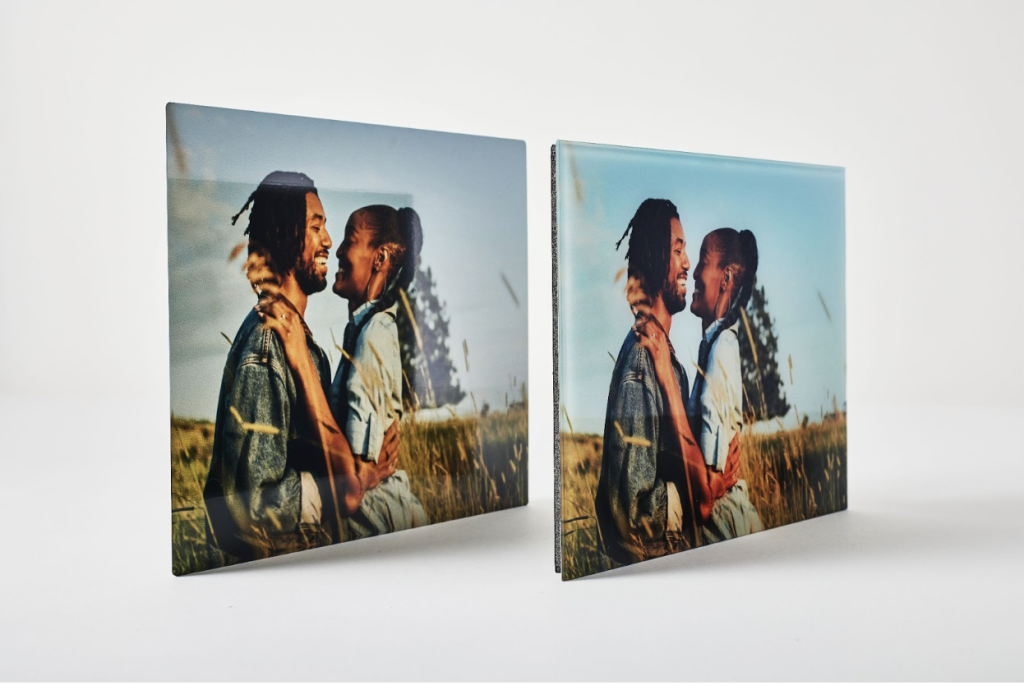 Glass prints lay flat against the wall
Metal prints typically use very thin sheets paired with a hanging block or floating attachment on the back, which makes the piece stand out more from the wall compared to glass prints. Our prints are designed for the backing to sit flush against the wall. This allows you to make sure the print hangs straight and creates a more seamless, low profile look.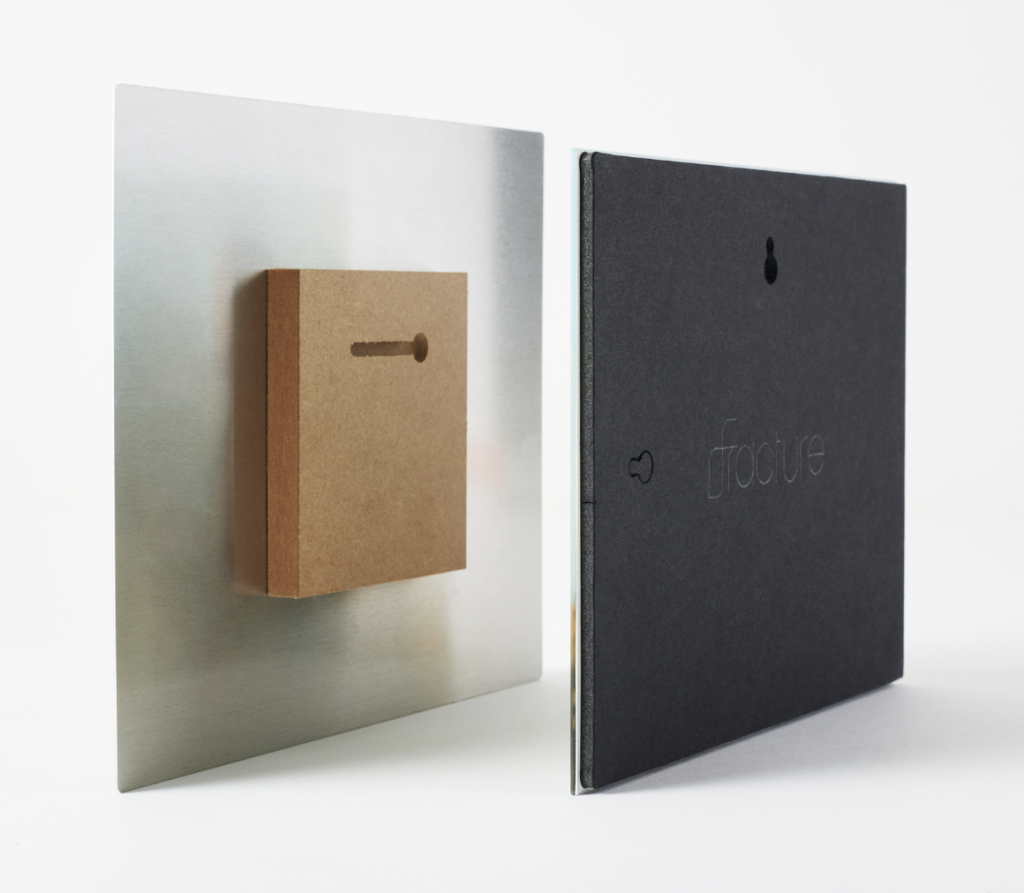 Glass photo prints have smooth corners and are true to your photo's shape
The aluminum and metal sheets tend to have rounded corners, whereas the corners of our glass prints keep the perfectly square and rectangular shape of the photo. The glass is ground perfectly smooth along the edge, with practically zero beveling. Plus, the edges are entirely smooth and comfortable to hold.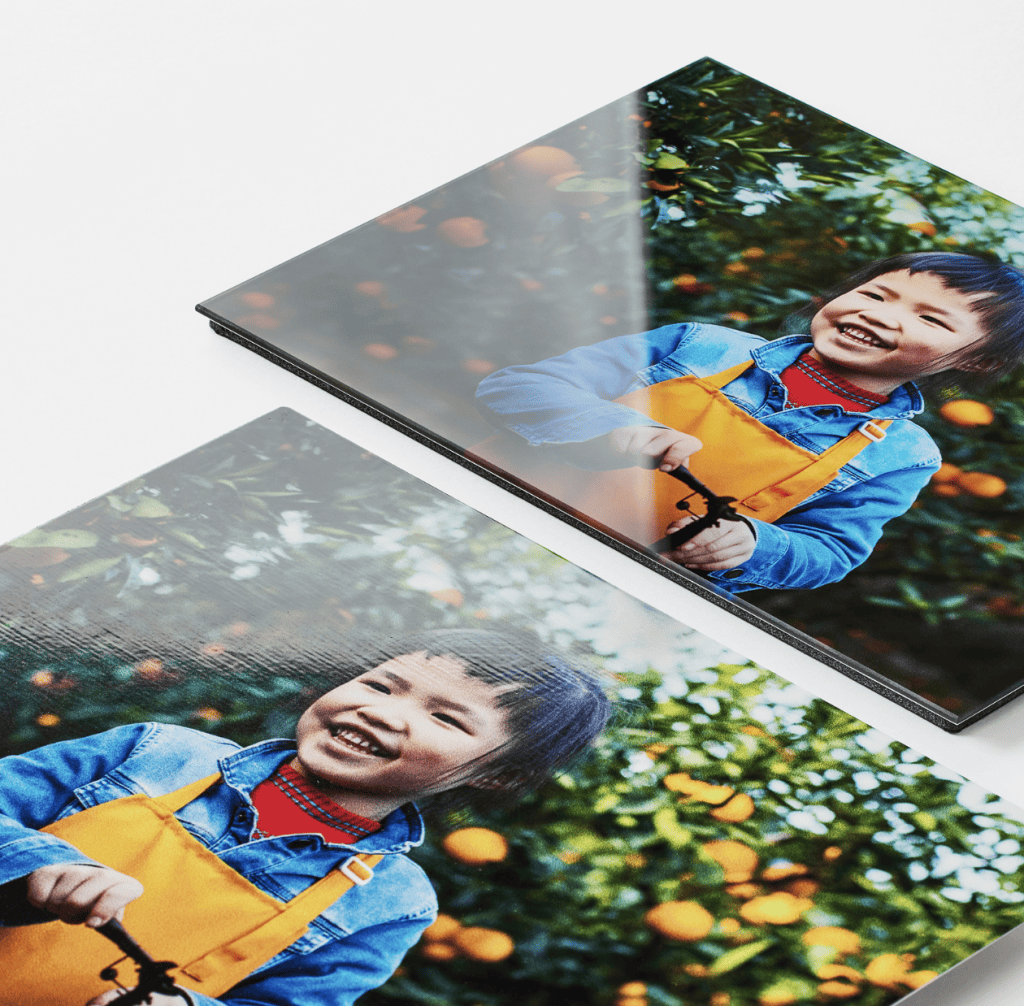 Glass Prints vs Canvas Prints
Canvas prints are perhaps the most affordable printing option, but their quality and longevity fall short of glass prints and other print mediums. Canvas fabric is traditionally made of a linen or cotton blend. However, modern canvas frequently includes plastics or PVC, which isn't very eco-friendly. The thick weave also creates a very textured print surface that's more noticeable than on glass prints. This creates a less smooth and less color-saturated print overall, which doesn't make for the best quality photo prints. On top of that, canvas and other paper-based materials don't hold up over time. In addition, they don't offer any UV protection, even with the added plastics.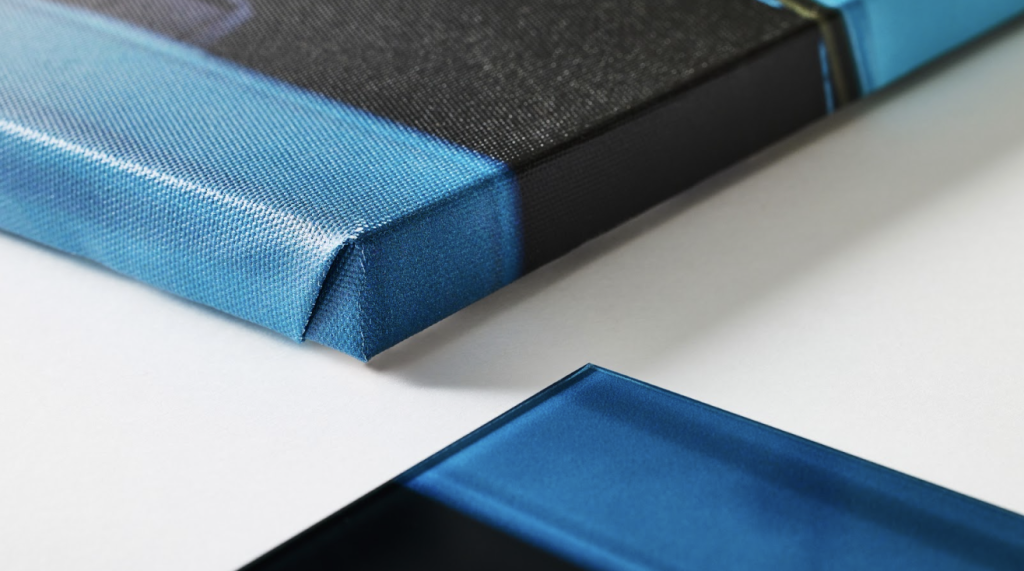 The construction of a canvas print requires the fabric to be wrapped around a wooden frame. This forces the contents of your photo to wrap around the sides of the print as opposed to displaying the photo in its entirety. The unfinished wood and staples visible from behind also make canvas much less suitable for desk or tabletop display, where the back could be exposed. All in all, canvas isn't a great option if you're looking for a uniform look or "wow" factor to display your photography.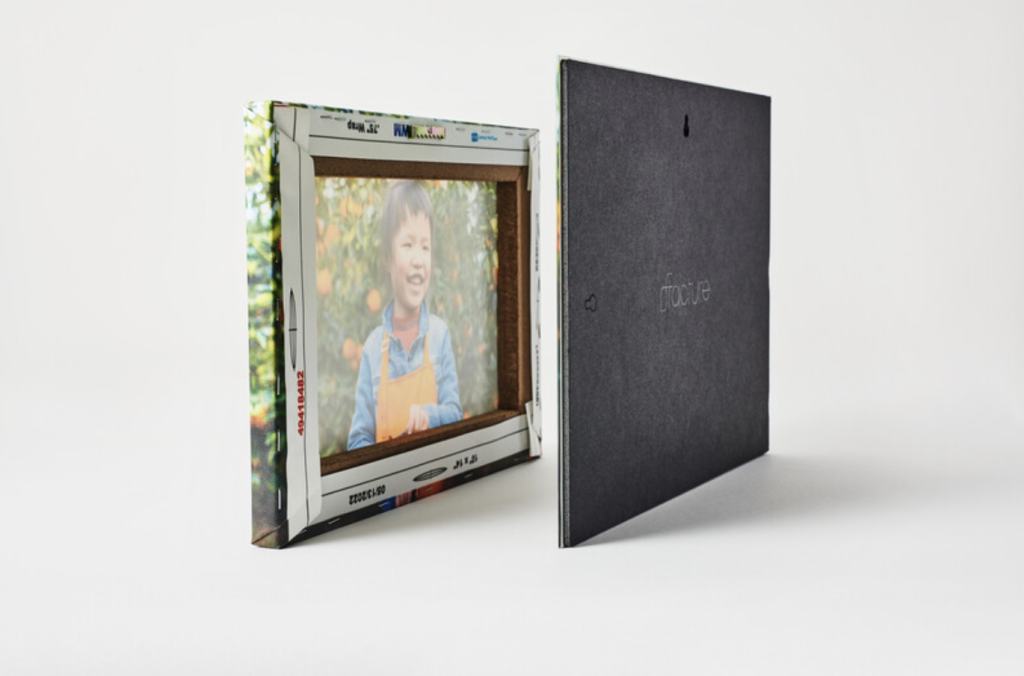 We'll let you be the judge and declare an official winner. But we can confidently say that you'll love how your photo looks on glass.
Take a look at our Instagram to see more of our prints in action and for inspiration on what you could print next. Or—if you're ready to print your photos on glass—get started here!