It can feel daunting enough to find home decor that is affordable and aesthetically pleasing, let alone environmentally sustainable. Luckily, brands have begun embracing a more eco-friendly mindset shifting to more sustainable production and business practices. For many companies, this planet-friendly ethos was built into their DNA from the start, while for others it's an ongoing adaptation.
While there's a lot to consider — from poorly-sourced materials to plastic packaging — moving toward a more sustainable future is possible. Whether you're looking to design or redesign your home with sustainability in mind or are interested in learning about reducing your carbon footprint, here are some tips for finding sustainable home decor.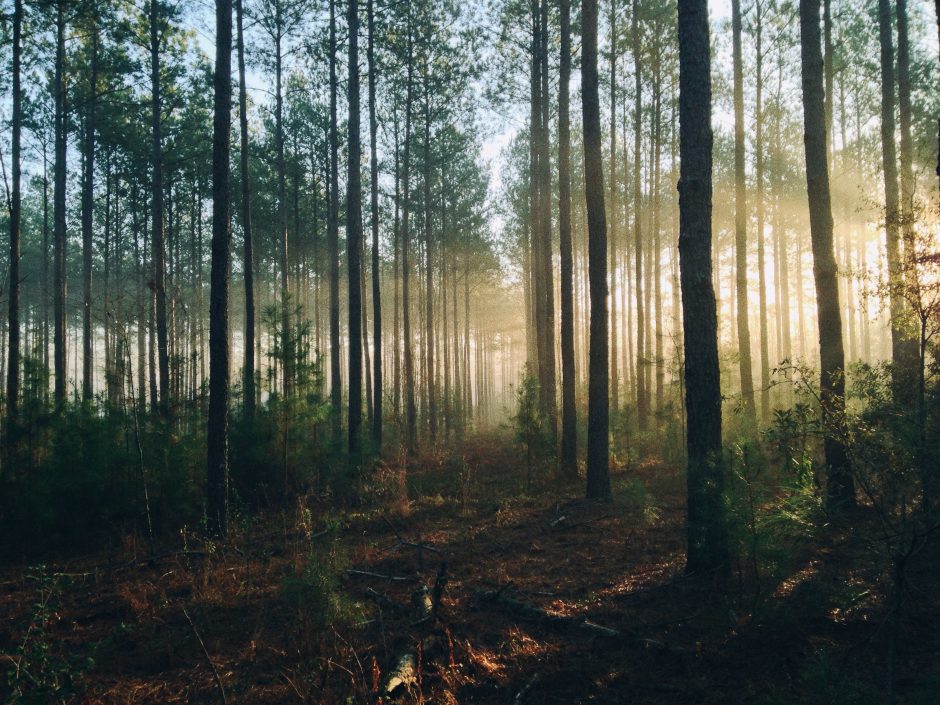 Where and how brands obtain their source materials plays a large role in the environmental impact their products have. Sourcing raw materials locally, for example, typically cuts down on a company's overall carbon footprint. If a piece of furniture is built with bamboo that needs to be shipped halfway across the globe, its creation will generate far more pollution than that of a product made with wood grown, cut, and shipped locally.
DCI Furniture has been providing sustainable hardwood furniture since 1970. Their manufacturing process is taken care of in-house: from processing logs into lumber at their Vermont sawmill to the assembly within their regional assembly facilities.
Another company that relies on locally-sourced timber is Vermont Woods Studios. They take pride in ethically-sourced timber harvested from the Green Mountains as well as other North American forests. Each piece of furniture is crafted by independent furniture makers across the state of Vermont.
There are many ways you can support sustainability through your home decor and interior design choices, and doing some research and being aware of a brand's supply chain and material sourcing is certainly a big one.
Shop Made-to-Order Products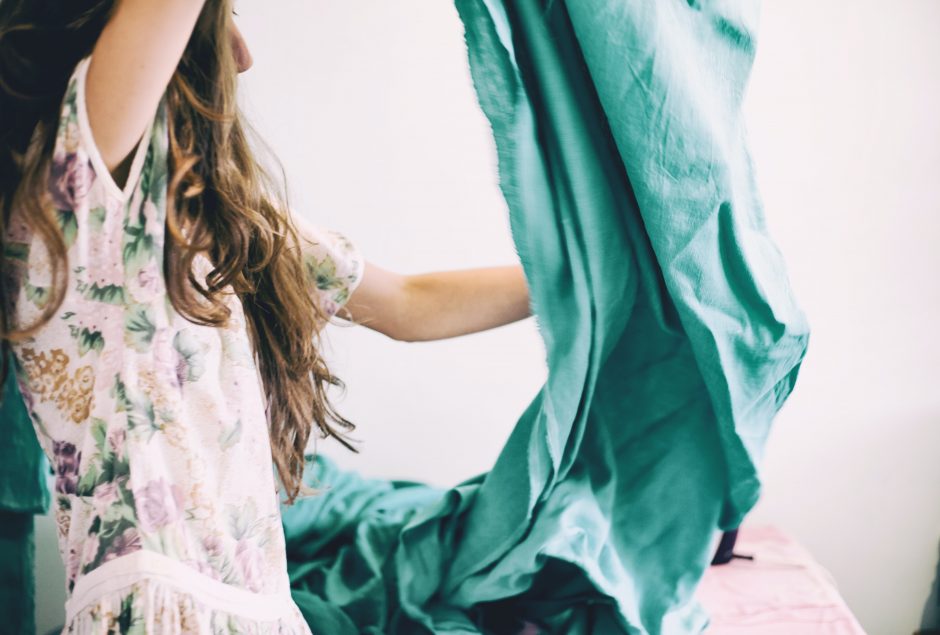 The nature of many businesses is to create inventory based on the demand they anticipate they'll have. That might mean creating 100,000 blue chairs, for example. If the product doesn't sell as expected, there could be thousands of leftover blue chairs sitting somewhere in a warehouse — or eventually, a landfill.
One way companies are reducing waste is by switching to a made-to-order business model. By producing products in smaller batches based on demand, brands can prevent excess waste through overstock inventory and reduce the amount of environmental pollutants created through manufacturing. In many cases, this approach can also be more cost-effective for the company's bottom line. For our planet, the payoff is undeniable.
With so many brands selling made-to-order products, it's easy to find furniture, wall art, knick-knacks and other in-home design elements that match your aesthetic taste. Home decor companies that create made-to-order products include Eskayel, Maiden Home, The Inside, and Joybird.
Replace Disposables with Reusables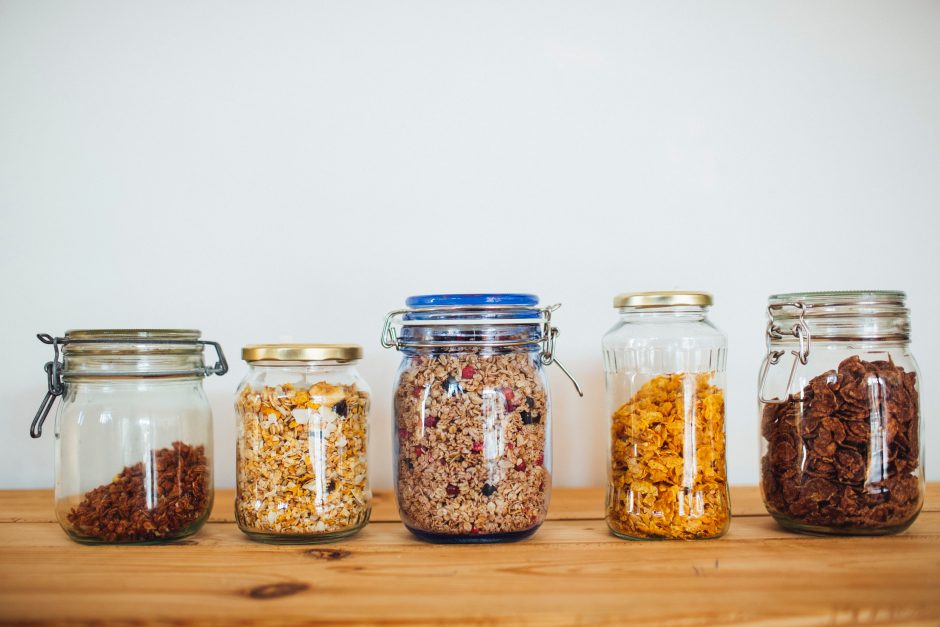 Many of the products we use in our daily lives are disposable. Think about the snack bags you put veggies in, the produce bags you use at the grocery store, the plastic wrap you put over food in the fridge, and straws automatically given to you at your favorite fast food restaurant. In each of these situations, and many more, there are reusable, eco-friendly alternatives available.
Even objects you might not think about — your watch strap, for example — will eventually become waste that has to be disposed of. Nordgreen is a watch manufacturer that emphasizes global health, education, and the environment.
There are also eco-friendly ways to stock your kitchen and bathroom. Package Free Shop offers an easy way to order products shipped with plastic-free packaging that's 100% recyclable and compostable. If you're not sure where to start, check out their Zero Waste Starter Kit, which includes bamboo utensils, a bamboo toothbrush, a metal straw, and a tumbler or water bottle.

The best news is that, with a little creativity, many of these reusable containers can pull double duty as sustainable home decor.
Buy Refurbished and Vintage Furniture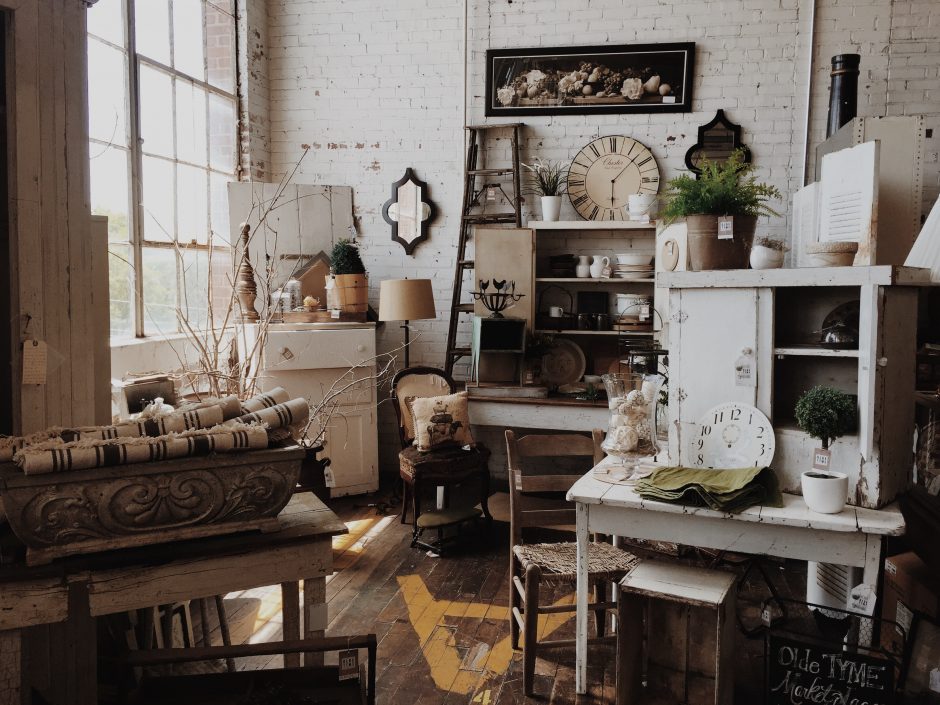 If the thought of buying used furniture online triggers memories of that questionable Craigslist couch from your college apartment, don't fret. There are plenty of high-quality refurbished and vintage pieces available from a number of reputable shops. And in addition to lending a more retro flavor to your home's design aesthetic, buying things used is inherently easier on the environment than springing for the new stuff.
Websites like Chairish sell gently used designer home decor pieces. They're still gorgeous and in excellent condition, but cost a fraction of the original price. Etsy is another place to look for refurbished and vintage pieces, or some custom made-to-order furniture. We also recommend skipping eBay — instead, look into the goods on Everything But the House, where you can auction on home decor and goods for an unbeatable bargain.
For those that prefer to view items in-person before purchasing, local flea markets, thrift stores, and consignment shops can yield some surprisingly stylish options at some of the lowest prices. This approach also wins sustainability bonus points by bypassing the need to ship things long distances.
Six Eco-Friendly Home Decor Companies
With all of this valuable information in-hand to guide your next purchase, let's take a look at some home decor brands focused on ethically-sourced materials and sustainable products.
Eco-Friendly Linens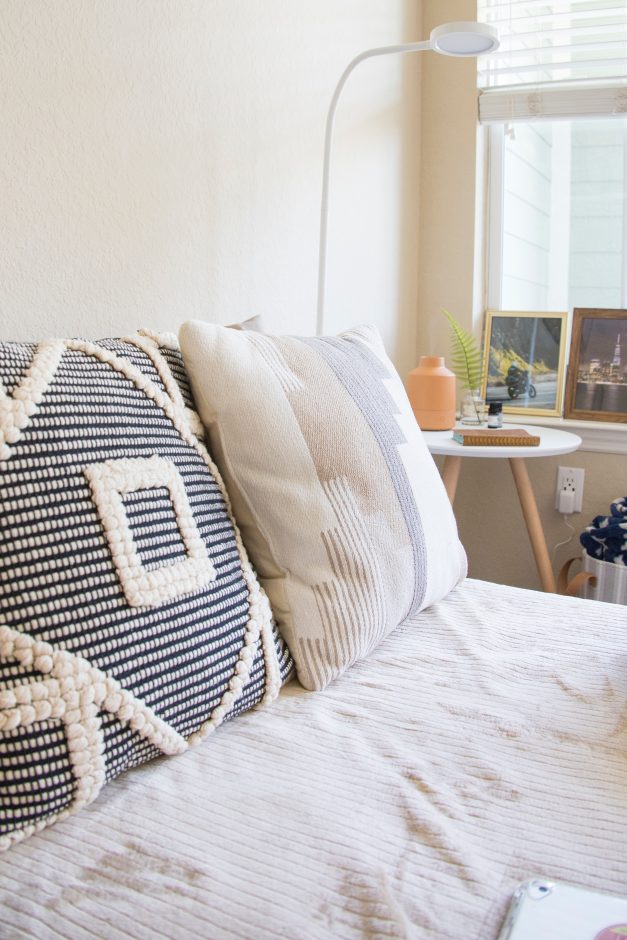 Threaded
Threaded makes environmentally-sustainable bed linens and pillows. They responsibly source their materials and believe that compromise isn't necessary for beautiful, hand-crafted linens. In their own words, they choose to "partner with mills and factories that are committed to offering community empowerment initiatives, education, and support."
Sheets come in percale and sateen, and include a fitted sheet, a flat sheet, and two pillowcases (either standard or king sized). They also sell matching duvet covers and decorative pillows.
In addition to making sure the people who make their products are treated equitably and fairly, Threaded is a brand that's conscious of its impact on the environment.
Coyuchi
Coyuchi is another textile company. They offer a more extensive product line with a focus on organic materials. Their philosophy is based on protecting "soil and waterways against the harmful effects of pesticides, herbicides, synthetic fertilizers and other conventional (non-organic) agricultural runoff that contributes to global warming, climate change, soil degradation, and pollution."
They voluntarily adhere to strict Global Organic Textile Standards, ensuring that their materials are both environmentally-sustainable and ethically obtained. And, along those lines, Coyuchi is specifically concerned about water contamination.
According to the World Resources Institute, "About 20 percent of industrial water pollution is due to garment manufacturing, while the world uses 5 trillion liters (1.3 trillion gallons) of water each year for fabric dyeing alone, enough to fill 2 million Olympic-sized swimming pools."
Even if you don't choose to purchase from Coyuchi, opting to purchase organic textiles can help reduce the environmental footprint of your lifestyle and your home.
Sustainable Home Decor Essentials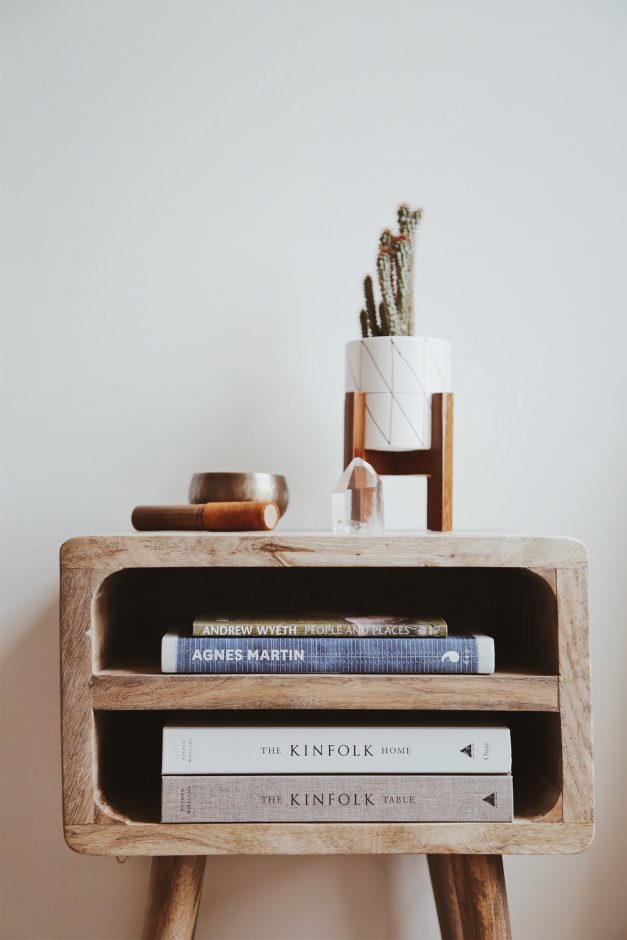 Viva Terra
If you're looking for a one-stop-shop for sustainable home decor, Viva Terra might be it. They have everything from furniture to kitchen essentials to garden accents. Viva Terra translates to "living earth" — a name chosen to represent their "dedication to operating in harmony with nature and [their] passion for blending global inspiration with modern, eco-conscious design." Not only do they support artisans and fair trade organizations overseas, but they have a special focus on products made in the United States as it helps reduce shipping transportation emissions.
They're committed to using recycled materials such as glass, reclaimed wood, salvaged metal, and repurposed fabrics, which helps cut back on manufacturing waste, as well as landfill space. They also try to keep their materials as close to their raw form as possible. This reduces manufacturing emissions and ensures that the products will decompose easier and quicker.
TOAST
TOAST is a women's textile and home decor company founded in the U.K. In a modern world occupied by new and fashionable clothing and decor, TOAST chooses to focus on well-made pieces with timeless designs. Many shops offer repairs and an initiative called TOAST Circle, which allows customers to bring in gently-worn clothing and exchange for new pieces.
They're also finding more sustainable ways of making fabrics from beginning to end. All of their fabrics are made with 85% natural fibers (including their cashmere) and they have committed to making a major change to their denim manufacturing by incorporating a process called indigo flow, which reduces water wastage by up to 70%.
TOAST is also working to reduce the waste generated by their products' packaging. Their packaging is made entirely of recyclable paper, and they are currently in the process of completely eliminating all single-use plastic from their supply chain. Their goal is to do so by 2022.
Environmentally-Conscious Wall Decor and Paint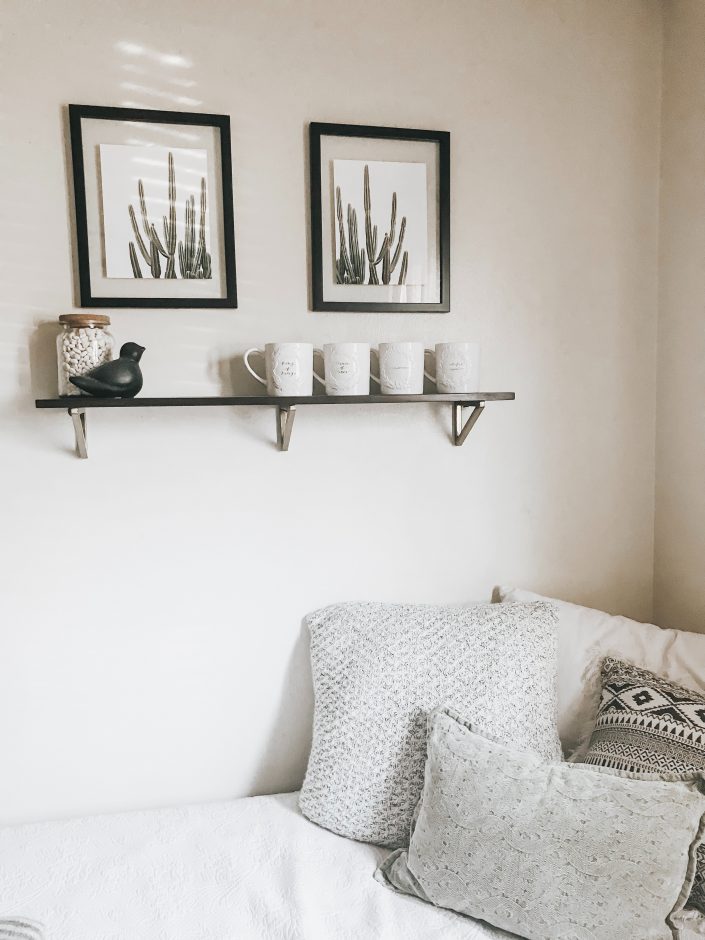 Raven + Lily
Great design is about functionality as much as it is about visual aesthetics. Your cookware, everyday dishes, and the little finishing touches you put around the house all play a role in your home's design. Raven + Lily is focused on their impact across the globe, both from an environmental standpoint and in terms of ethical labor practices. The company is a member of the Fair Trade Federation, which ensures that their workers are all fairly compensated.
As a carbon-neutral company, Raven + Lily do their best to locally source organic, eco-friendly materials. They focus on low-energy, hand-made techniques, and they purchase offsets for the carbon footprint that they can't avoid.
Colorhouse Paint
Paint is often overlooked in the eco-friendly home decor discussion. Typically, there isn't much waste to speak of, but there are a few concerns with paint and pollutants.
First, paint emits fumes that pollute the air. Second, when you wash off your paint supplies like brushes and rollers, the paint goes down the drain and into the water supply. And unfortunately, not everyone wants to spend time cleaning their brushes and rollers, so it ends up going into the trash.
Choosing eco-friendly paint is a good way to decrease the carbon footprint of your home, and options like Colorhouse Paint are environmentally-friendly, with no VOCs, reproductive toxins, phthalates, mutagens, formaldehyde, hazardous air pollutants or ozone-depleting compounds.
Fracture Glass Prints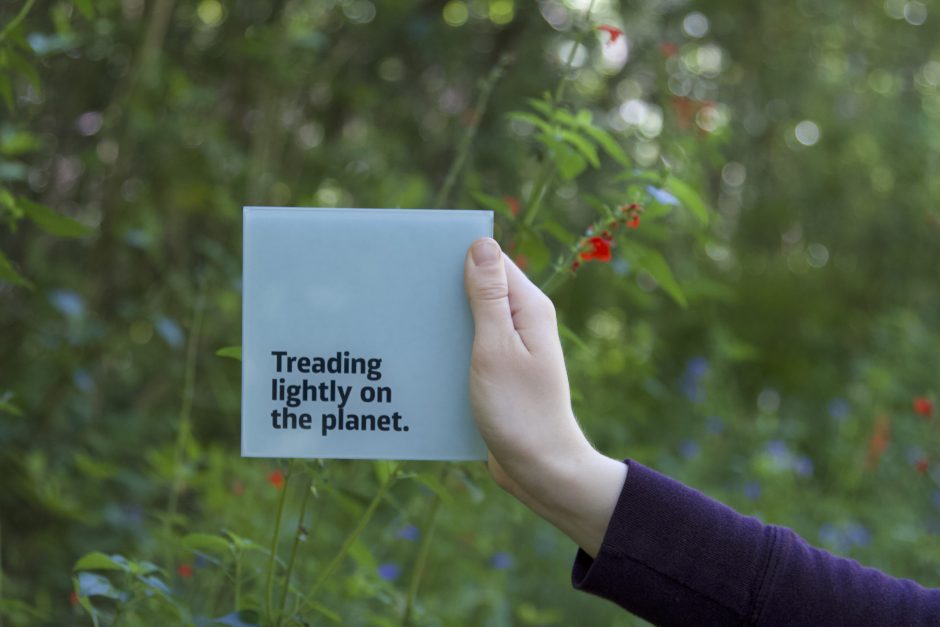 Since the first Fracture order over ten years ago, we've worked to integrate sustainability into the very core of our company's ethos and operations. As a carbon-neutral company, Fracture is always on the lookout for innovative ways to protect our planet from the impact of waste and disposable products. Here are just a few of the ways we do that:
Not only do we operate our facility entirely off of solar power — we purchase offsets for the fuel used when our employees travel for work.
We installed floor-to-ceiling windows throughout our facility, allowing us to reduce the amount of electricity needed for lighting. 
We reuse whatever glass we can, and recycle whatever we can't at a local recycling facility. This process wasn't easy to figure out, but it was worth it. Over the years, we've recycled hundreds of thousands of pounds of glass.
We completely redesigned our shipping methods. We knew there were more eco-friendly solutions than bubble wrap or air pockets and for us, honeycomb cardboard was the solution. We're working toward creating packaging that is completely sustainable.
Our staff volunteers its free time, planting trees with local environmental groups. 
To learn more about Fracture's sustainability efforts, check out CEO Abhi Lokesh's recent interview with Authority Magazine.