Is there anything more impressive than a photograph that takes your breath away? Photographers work tirelessly to become experts of their craft. For wildlife and nature photography in particular, a specific skill is needed: seeing more than what's being shown through the lens — seeing the shot that could be. Then, patiently waiting for seconds, minutes, or hours for deer to walk through a particular grove of trees or for a bird to take off in flight.
Matt Hamas and Ben Ivers have spent the past decade capturing incredible landscapes and animals of all shapes and sizes. Friends since their time at Indiana University, they joined the IU Underwater Science department together in 2008. It was there that their photography journey began.
When their photography began gaining traction a few years ago, they decided to create an even bigger platform where they could shine a spotlight on causes they were passionate about. Here, the focus would be on their photography and nature, but with an emphasis on spreading awareness of environmentally-based nonprofits helping protect our planet. After a lot of planning and preparation, Wild Boyz Photography officially launched on April 22, 2019 — Earth Day.
Making Nature Accessible
With a focus on photography and the environment, Wild Boyz Photography aims to spread awareness of and access to the gorgeous landscape that surrounds our planet.
"We hope our photography will help remind people of why nature is so important to protect. Seeing nature through a new perspective can provide people with a unique lens that they haven't seen before. Hopefully this instills in them a desire to protect nature. Whether it's taking action on their own or supporting their favorite nature cause, we hope to instill a change towards conservation, restoration, and protection."
Each month, Wild Boyz Photography partners with a nonprofit organization and focuses on education through photography and writing. The nonprofits they work with are typically a balance of land-based and marine-based nonprofits based all across the U.S. Each nonprofit is focused on nature, and can vary in size. Whether they're household names or smaller nonprofits, one of the things Matt and Ben love about them all is that they are all amazing causes run by incredibly dedicated people.
Wild Boyz Photography gives everyone the chance to experience the outdoors in a completely new way — and at no cost. Every single one of their photographs can be downloaded for free. "We recognized that we are fortunate, and a lot of people do not have the same opportunities or access to nature as we do." Instead, users are encouraged to donate to the highlighted nonprofit of the month. This month they partnered with Ocean Blue Project and featured sunrises of the summer.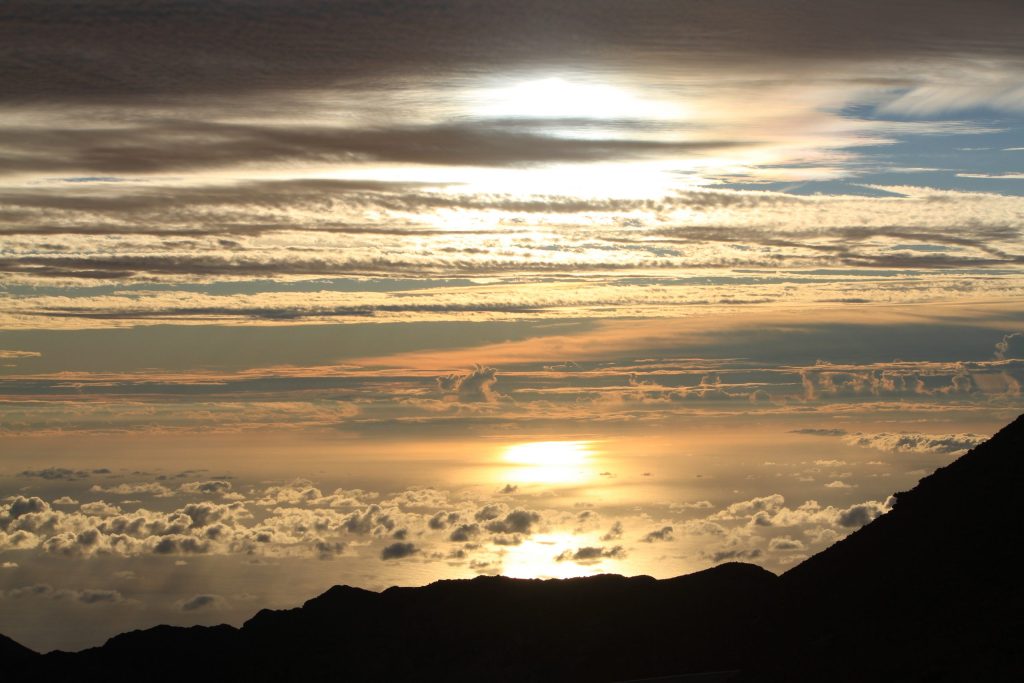 "The sunrise at Haleakalā National Park is something special. Not only was it a journey to see the sunrise, but it was also my wife's birthday on our honeymoon! Talk about a special day! We got up bright and early — I believe it was around 3:30 am — to make sure that we would get to the park in time to get a good spot to view the sunrise from." Continue reading.
So far, Wild Boyz has partnered with 15 unique nonprofits. Matt and Ben work hard to find and take several photos that match the nonprofit of the month. In addition to their incredible photos, they share a little bit about where the photo was taken, and what it means to them. The photos range from mountain tops to underwater photos and everything in between.
They also hope that through their photography they can bring awareness to the great work these nonprofit organizations are doing.
"In 2020, people only hear about the negative news, but there is so much positive news in the nonprofit community. We hope that Wild Boys Photography can help to share some of those stories of how people are doing great things for our environment."
Traversing the Unexplored 
For Matt, traveling and photography go hand-in-hand. He makes sure he always has a camera on hand, and is ready to capture each moment as it comes. His favorite place to take photos is anyplace he hasn't been before. "The thrill of the unexplored keeps things interesting," he said. Here are some of his favorite photos.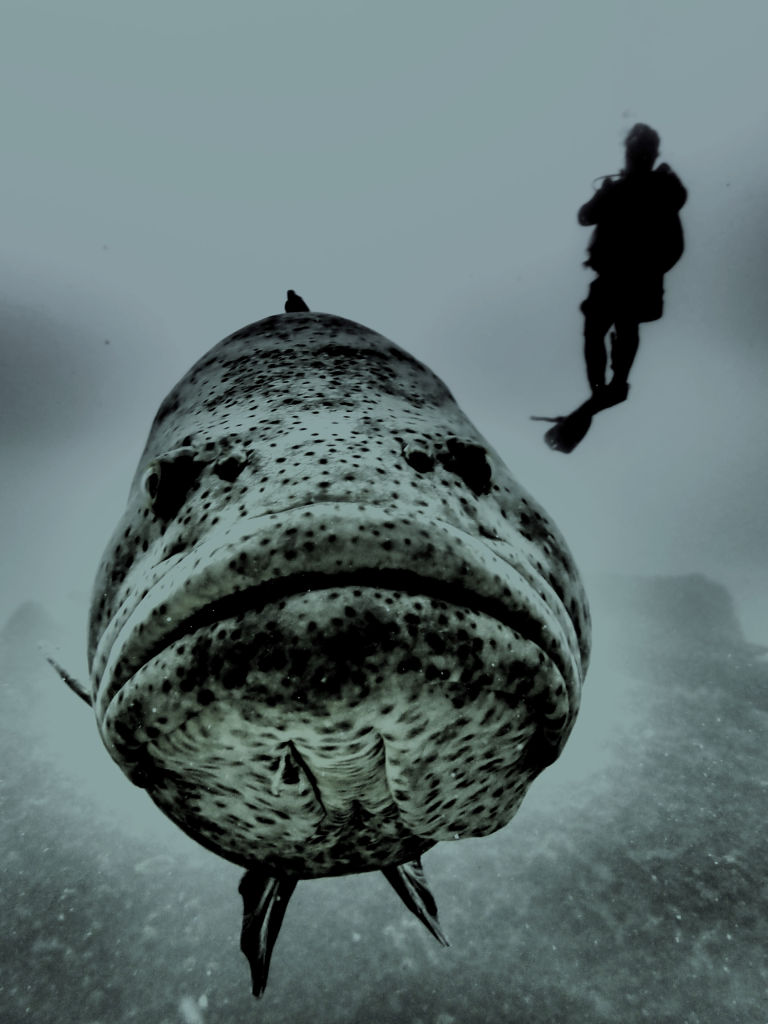 One of my favorite photos is of Wilbur, from their May 2019 album. Wilbur is a friendly ~200 pound goliath grouper that lives around the M/V Castor shipwreck off Boynton Beach, Florida. In terms of size, Wilbur is a small goliath grouper. In his life, Wilbur could grow to 800+ pounds.
Fortunately, this species has been protected since 1990. Unfortunately, this hasn't stopped poachers from harvesting them. These fish can be especially vulnerable because they aggregate to breed in the same areas every year. Their large size and predictable behavior led to them being overfished at these aggregatory areas. For now, we are hopeful that the goliath grouper will continue to rebound.
This photo was a part of Wild Boyz Photography's "Under the Sea" month, featuring our nonprofit partner Coral Restoration Foundation (CRF). These dedicated folks headquartered in Key Largo, Florida actively restore coral reefs, on a large scale. CRF grows corals in offshore nurseries. Then when the corals are big enough, they transplant them to carefully selected sites.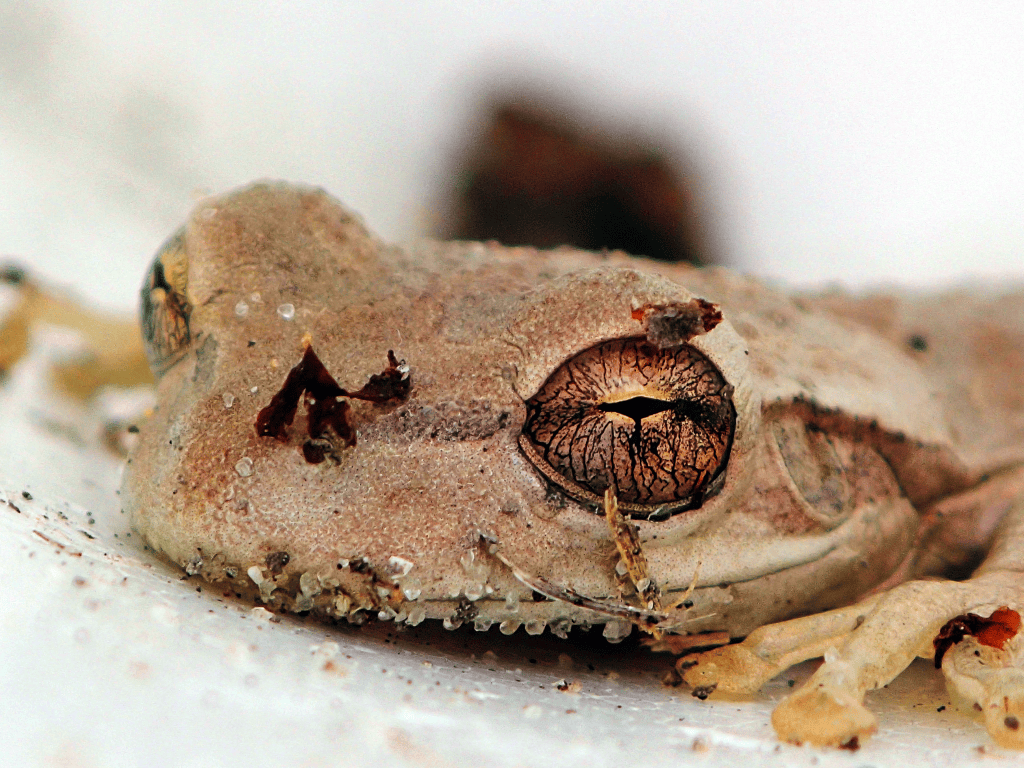 This is a photo of a Cuban Tree Frog taken at Fakahatchee Strand Preserve State Park in Florida, the largest state park in Florida.
I enjoy this photo because of the incredible detail in the frog's eye. I don't enjoy this photo because of where this frog was found, in a styrofoam cup out in the middle of the Florida wetlands. That is disturbing. This is yet another example of how our single-use products are ending up in even the most remote areas of the world.
During this particular month, Wild Boyz Photography's theme was "Macro." Our featured nonprofit for this month was Lady Bird Johnson Wildlife Center, located in Austin, Texas. We were fortunate to be able to feature a guest photographer, Bruce Leander, who has taken some unbelievable photos at Lady Bird Johnson Wildlife Center.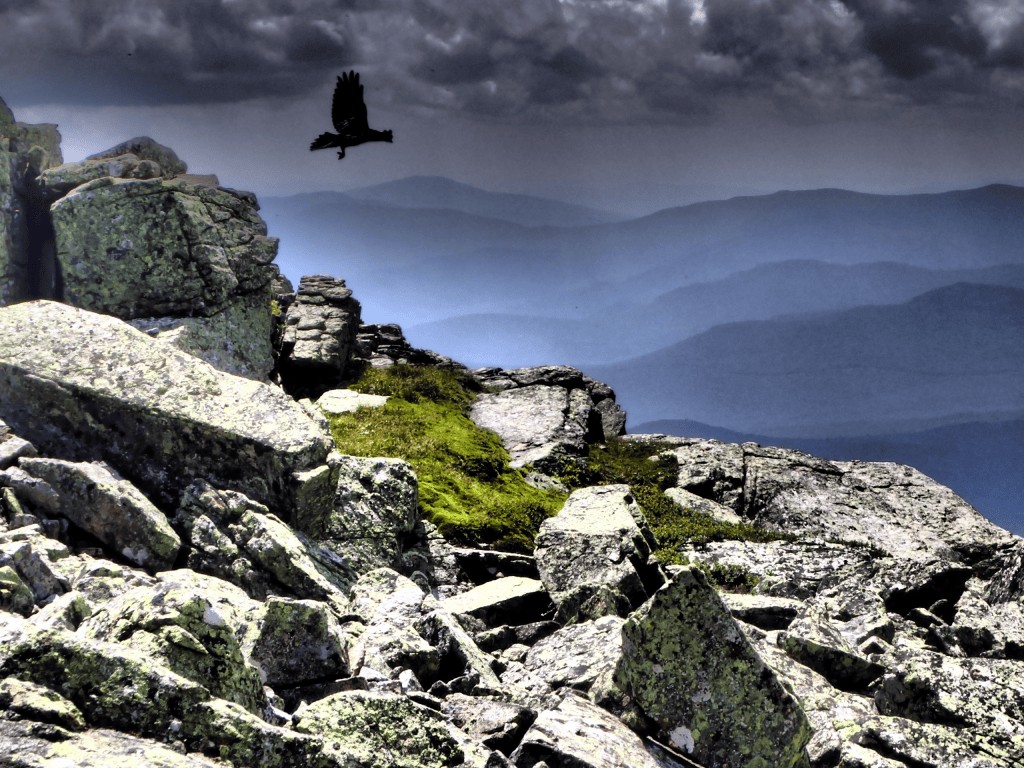 This photo was taken at the summit of Mt. Lafayette. More specifically, it was taken in the Franconia Range of the White Mountains in New Hampshire. Although I am uncertain of this specific bird, I always liked this photo. I remember watching this stoic bird, perched on a rock at the summit. I sat there and waited for it to take off and fly down the mountain. It was worth the wait. I got lucky and captured this image.
This photo was a part of Wild Boyz Photography's "Birds" month, featuring our nonprofit partner Vermont Institute of Natural Science (VINS). VINS mission is to motivate individuals and communities to care for the environment through education, research, and avian wildlife rehabilitation.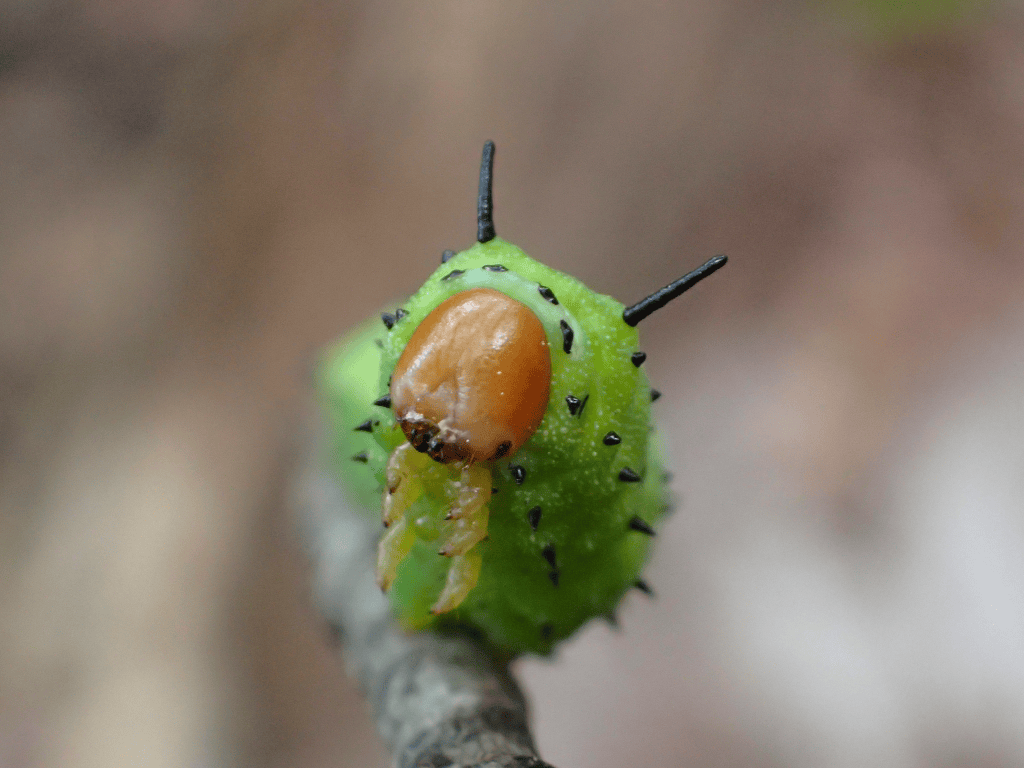 This vibrant greenstriped mapleworm is covered in tiny black spikes. This mapleworm is only about an inch long and found commonly in the eastern part of the United States. When this caterpillar cocoons, it will transform into a much different looking creature, a rosy maple moth. These moths are bright yellow and pink, and there is no mistaking when you see one.
Fun Fact: These greenstriped mapleworms lay bright yellow eggs on the underside of…you guessed it…maple tree leaves.
This particular photo is from our theme "Textures," where Wild Boyz Photography featured non-profit partner Glen Canyon Conservancy (GCC). Based in Page, Arizona, GCC offers educational programming, products, and services to help visitors find a lasting connection with their public lands.
Capturing Untouched Nature
Ben focuses most of his time taking photos of untouched nature. That means many of his favorite places to take photos are places off the beaten trail or require a good bit of effort to get to. Like Matt, he also makes sure his camera is always with him. He also enjoys taking macro photography — and, as he puts it, "the macro world is all around us." He shared a few of his favorite photos below.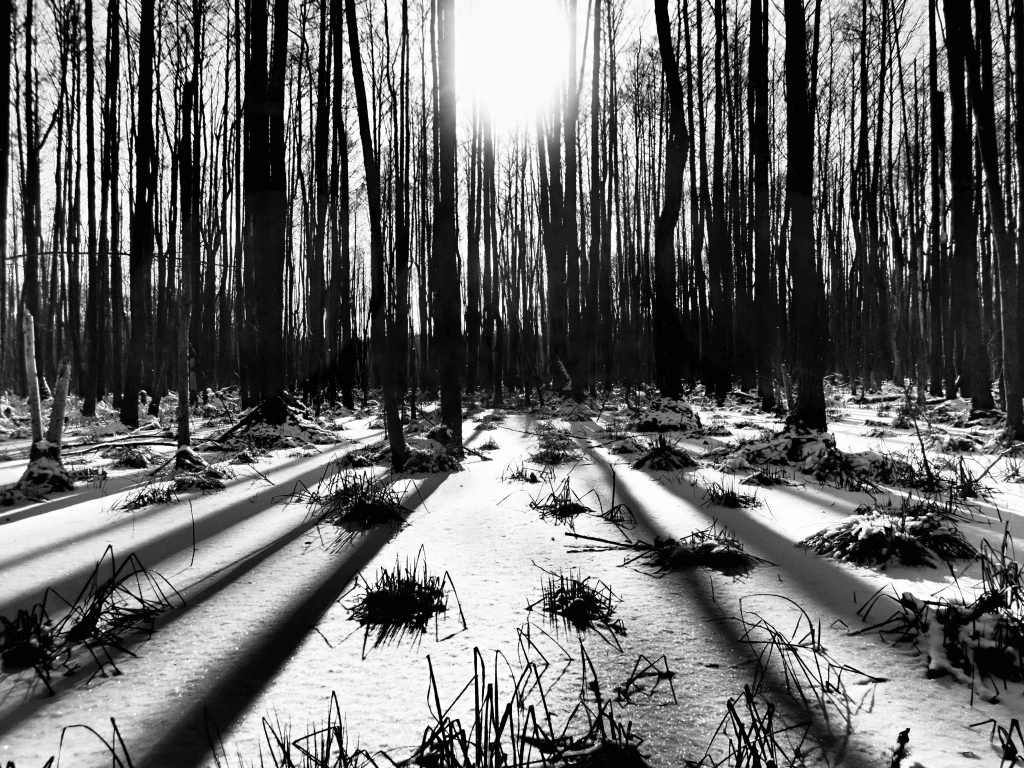 My favorite is a photo taken while hiking in Kampinos National Park just outside Warsaw, Poland. I took this photo while on a work trip to Warsaw, Poland. I had been cooped up in a hotel in downtown Warsaw, and I decided that I wanted to go explore nature in this new country. I took a 45 minute Uber ride outside of the city to Kampinos National Park.
When my driver dropped me off, he asked, "Are you sure this is the right place?" I reassured him that it was, and I stepped out into the snow-covered wilderness. This was one of the coldest hikes of my life, and I was ill-prepared since I was traveling for work.
I had just come over a frozen sand dune when I saw the low sun peeking through the trees and decided to get low to take this photo. I really enjoy this photo because of the dramatic lines that were created by the trees, and the almost natural black and white colors that were caused by the snow and the light reflecting off of the snow. I have always enjoyed trying to shoot photos with the sun or sunlight as the focus of the photo. I feel that this photo captures the beauty that the sun brings out in nature.
Fun fact: Kampinos National Park is a sister park to Indiana Dunes National Park. Having been born and raised in Indiana, I knew that I had to visit this park. This photo will be part of our November gallery.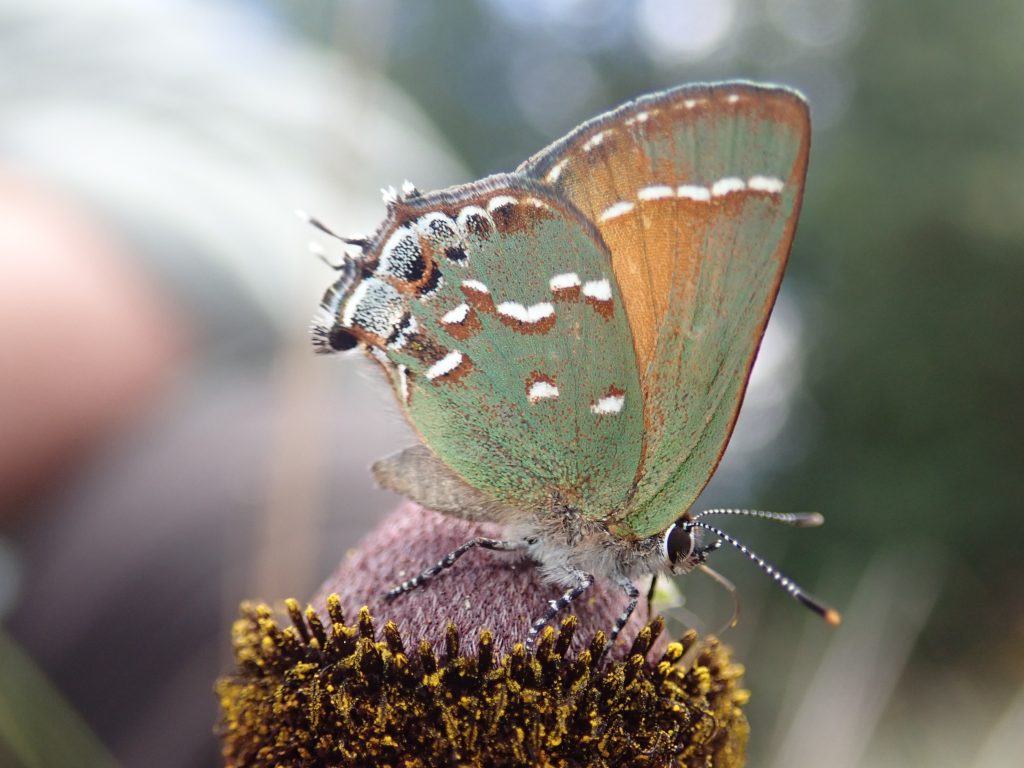 In this photo I was able to get up close to a Juniper Hairstreak. I was out doing field work searching for bees with my brother, Nick. He is pursuing his PhD in biology with a focus on bee landscape-epidemiology. We were at the Lady Bird Johnson Wildflower Center looking for bees, when I saw this butterfly. This beautiful juniper hairstreak stopped just long enough for me to get up close for a memorable photo. This photo reminds me of the work that needs to be done to protect pollinators. That is exactly what Xerces Society focuses on, and why we chose to partner with them last month.
Some fun facts about juniper hairstreaks:
Found across North America throughout the year, migrating as far north as Canada, and as far south as Mexico.
Previously the eastern and western species were considered to be separate species, but have been found to be one in the same.
Some of the subspecies of the juniper hairstreak are considered to be endangered.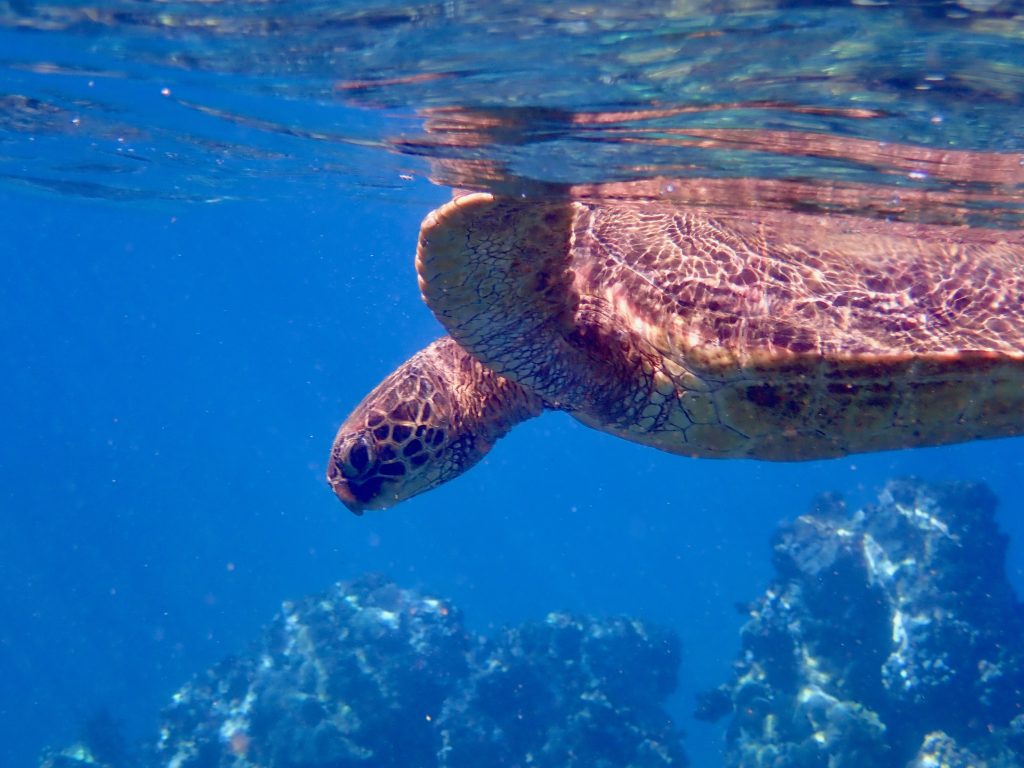 I took this photo while on my honeymoon in Maui. Jill and I had just gotten married, and we set off the next day to relax and explore in Hawai'i. On our snorkeling trips along the South Maui coast, we saw dozens of green sea turtles — honu, in Hawaiian.
I love this photo because of the color composition and the peacefulness that the turtle brings me. This green sea turtle was in good health, but that is not always the case. The green sea turtle is considered Endangered by IUCN, but only considered Threatened according to the U.S. Federal Endangered Species Act.
Matt took a similar photo of an injured green sea turtle that had a fishing line wrapped around its body. We featured Ocean Defenders Alliance in January because of the great work they do to clean up our oceans.
Some fun facts about green sea turtles:
Green sea turtles are the largest of the hard-shelled turtles. They grow to three to four feet in length and typically weigh between 240 and 420 pounds.
Green sea turtles are not named for the color of their shell but for the color of their fat.
They are the only sea turtle that is herbivorous as an adult.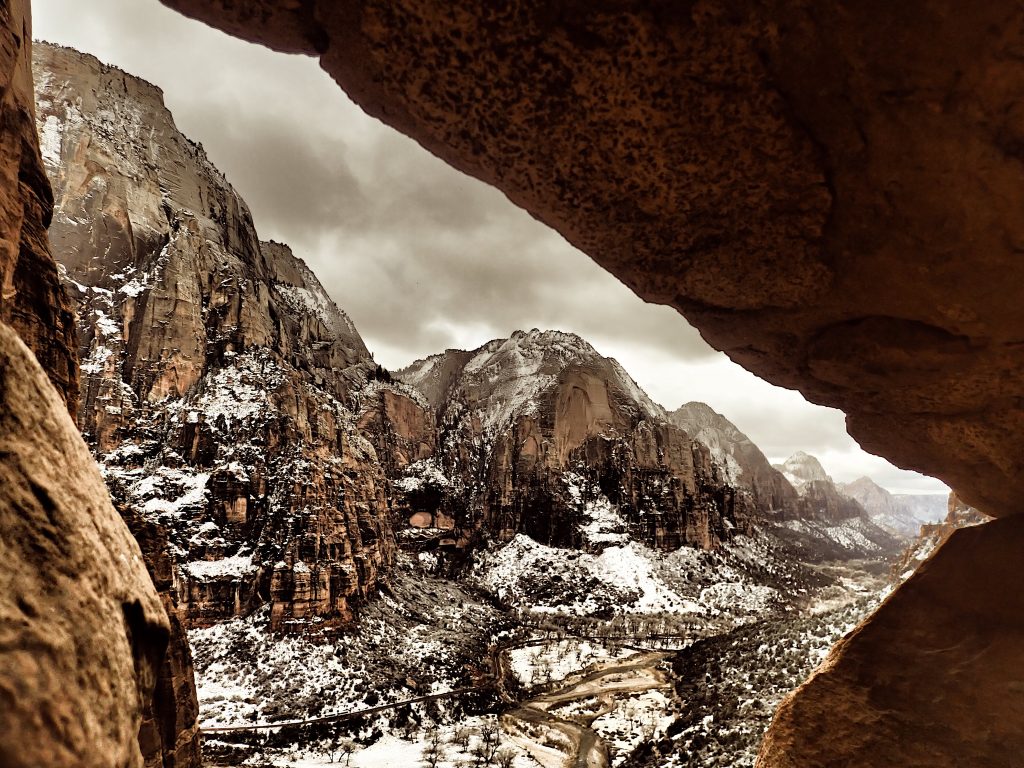 I enjoy this photo because of how easy nature made it for me to take a great photo. Sometimes the environment presents an easy opportunity for a great photo. I was in Zion National Park hiking up the Angels Landing trail with my brother and a few friends. It had been snowing since we started the hike, and we had made it to the section of the trail that includes switchback after switchback. Peering through a hole in the rock, I realized that the mountain peaks across the valley appeared to be perfectly aligned with the rock.
I believe that the mountains pictured in the photo include: Mountain of the Sun, Twin Brothers, The East Temple, and Bridge Mountain. Bridge Mountain was formerly named Crawford Mountain for the family that settled there. It was renamed Bridge Mountain after the natural bridge that is found on the mountain. A bridge is a type of arch that is formed primarily by water erosion. This photo was part of our September 2019 gallery when we featured The Nature Conservancy.
When Matt and Ben launched Wild Boyz Photography, they set out to create a platform where they could bring attention to causes they were passionate about. Their enthusiasm for the nonprofits they partner with is evident in every single one of their photos. We can't wait to see what the future holds for them — and what incredible photos they'll be sharing next.
If you want to read more about Wild Boyz and next month's nonprofit partnership, head on over to their site. You can also check out their store and purchase items featuring their photography.