Finding stylish, sustainable furniture can be tricky. "Fast fashion" home decor stores have made furniture-buying affordable, but at what cost? After hours of assembly, we often end up with wobbly pieces made of fake wood. Even if it is within your price range, it often doesn't match your style.
The solution, believe it or not, can be found on TikTok. There, furniture flippers like Clinton Avery Tharp can be seen turning furniture found in thrift stores and junk yard into stylish, one of a kind vintage pieces, often with only a few small alterations. In many cases, as Tharp has learned, those rehabbed furniture pieces can be flipped online for a profit. But sometimes, a piece is so good, you just have to keep it for your own home. 
Tharp, a longtime thrifter and furniture flipper, recently started documenting his entire process on TikTok. With his signature offbeat, wacky humor and production style, Tharp takes viewers to the thrift store, where he finds flippable pieces, and walks viewers through the process of fixing them up and reselling them. 
We sat down with Tharp to learn his secrets to finding, fixing, and repurposing furniture that others might consider trash.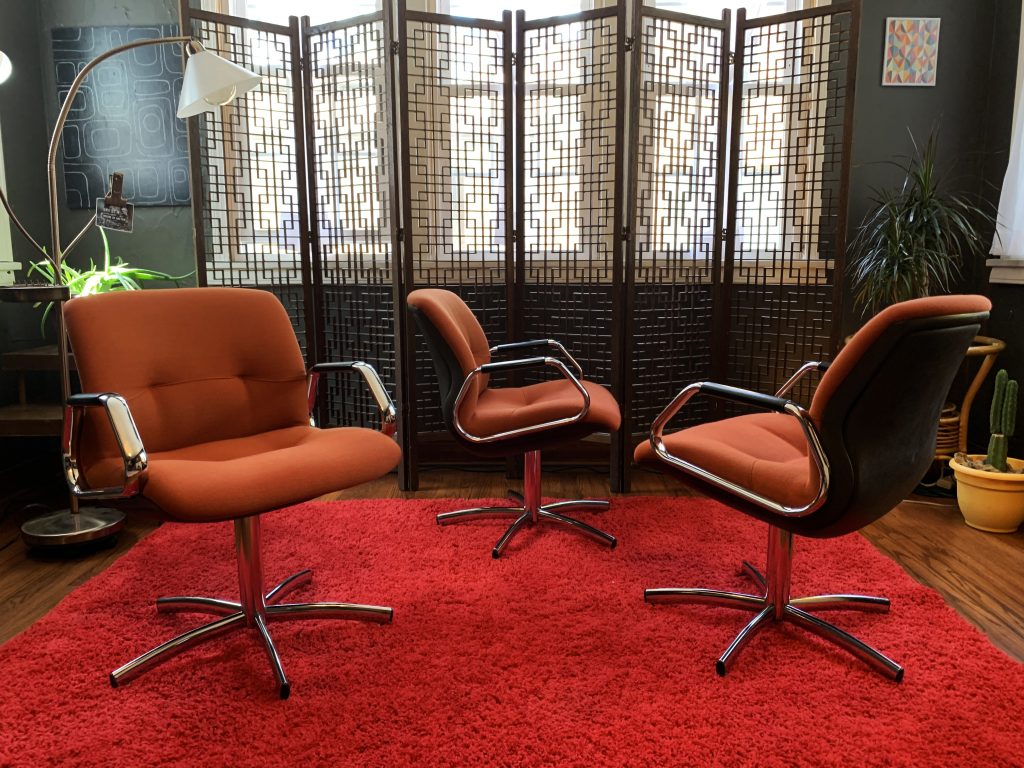 How did you get started flipping furniture?
I've been a thrifter since high school. Anytime I'd decorate my place, it was always with pieces I found at an estate sale, thrift store, or garage sale, doing what I can to fix it up.
Being a musician, especially in Oklahoma City, you have to have several side hustles. I'm also a new dad. Since COVID hit, I'm trying to not do as many music gigs anyway. Instead, I just upped my furniture game. That's when it went from more of a side hustle to my main thing. I was going in all these different directions and not really honing my craft. During lockdown I was able to really just hone in on furniture and really make that blossom. And that's turned into a pretty healthy income for me.
With vintage furniture, because it's so well-made, you can just refinish it and touch it up. Or you can take the tabletop off one thing, the legs from another thing, and then Frankenstein those together, paint it, and …Voila! You've got a brand new piece.
You seem to have found quite an audience on TikTok.
When I first started posting videos on TikTok, some didn't do very well. Then I had a video with the tufted sofa where I removed the skirt from it. That one went viral overnight and I got all these followers.
Now I'm super motivated to just keep going with this. I just kept getting out there with it and flipping furniture and making videos. Now I don't even want to play gigs. I'm having fun doing this.

What types of furniture do you look for? 
I'm always looking for credenzas. It's that piece of furniture that has four names: credenzas, dressers, sideboards, buffets, or whatever. Those are great. I'm always looking for those.
I also like tufted furniture like tufted chairs, tufted sofas. Also coffee tables and dining sets. I'm always on the hunt for that. There's a lot of good resale value in those: dining sets, credenzas and dressers. Those are probably my top three.
Credenzas are probably my favorite to flip just because they're so cool. I love the clean lines of a really nice mid-century modern credenza then styling and staging around it with some plants and some good art, photos, or whatever. And I mean, they're so useful. They can store so much stuff and it looks good.
How can you tell if a piece is well-made? What details catch your eye?
I look for dovetail joinery on the drawers, if it has any. I'm always on the hunt for that.
I'm also always looking for furniture with mid-century modern legs. I do a lot of those. I'm always looking for those modern legs on things. I might just salvage the legs off of the piece, especially off curbside furniture. 
I also do a lot of skirt removals on chairs, so I'm always looking for tufted chairs from the seventies. A lot of them have these modern legs underneath. You just need to remove the skirt, and then you've got a really modern version of the chair. It's relatively easy to do; anybody can do it.
I always keep a screwdriver in my truck in case I see something on the side of the road that's got nice legs, but maybe the rest of it is a piece of junk. If there's modern hardware on something on the side of the road, I'll get out and just take all the hardware off of it and then move on.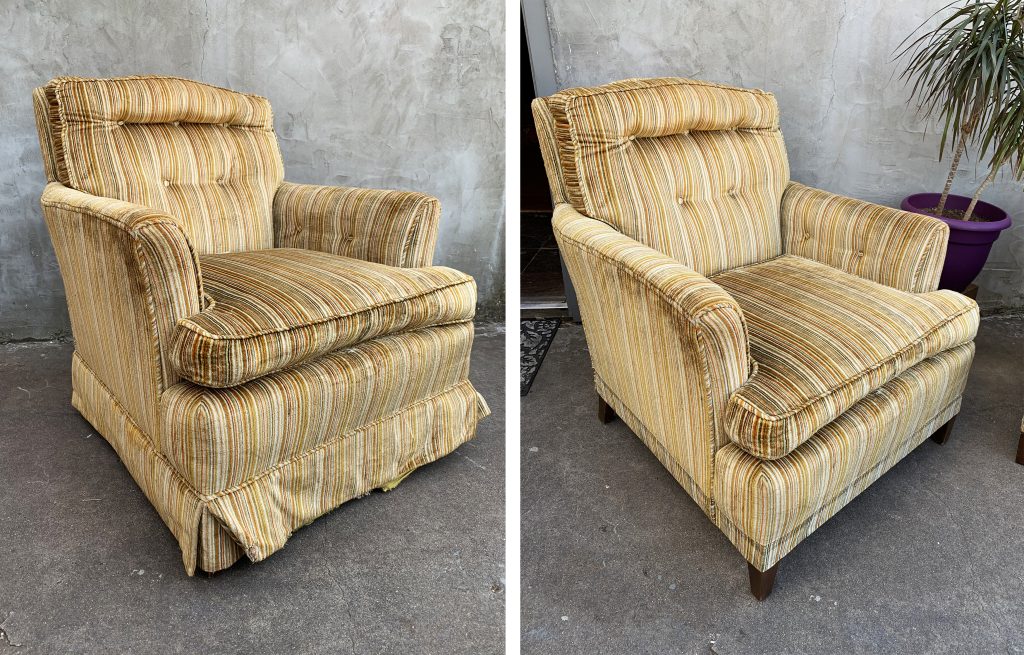 Beside thrift stores and curbs, where else do you find these pieces of furniture?
I also check out estate sales, but mostly I find a lot of this stuff on Facebook Marketplace. I think that's probably the key to my success.
On Saturdays and Sundays, Facebook Marketplace has really good deals. Those are the people that have been working all week. They come home, maybe they bought something new, and it's time to get rid of the old thing. So they price it to sell. That's when you're going to find an awesome dresser or coffee table or a credenza for $50. And then you can take that — and sometimes not even have to do anything to it — and just turn around and sell that for $350.
Probably my biggest flips, probably have come from Marketplace or estate sales. And I'm not leaving out thrift stores. I found a Danish-made platform bed about three weeks ago at a Goodwill. I couldn't believe it.
What are the most common alterations that you find you need to make on a piece of furniture?
The most common issue with upholstery is that it's going to have stains on it. So I use this little wet vac, with a little scrub brush on it. You have the option to spray and then scrub and it sucks the liquid out of there. And instead of using the fancy high dollar stuff that they tell you to get, I just use laundry detergent. It works better than the stuff they tell you to get.
And then I use my Fiskars — I use these on all kinds of things. It's great on upholstery and stuff to get those little balls of cotton, or thread, or whatever fabric, or little strings left from from some kitty cats. I'm using that all the time.
I use tons of glass cleaner. Because it's a degreaser, you can use Windex for all kinds of stuff. You can even clean your wedding ring with it. I also use a lot of white vinegar to clean with — that gets anything out. All my tools go in this little cart that I use. This goes with me all around the place.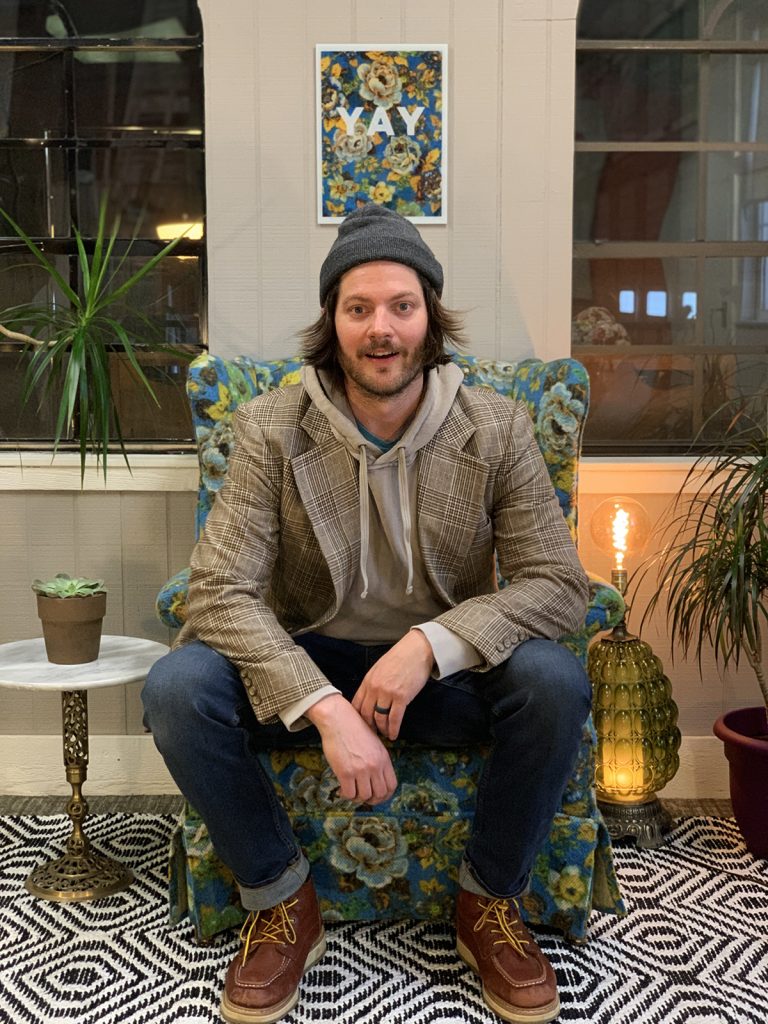 Any pro tips for aspiring furniture flippers? 
I would say buy things that are trendy. Don't be the person that's like, "that's so unique and weird" and then be the only person that's ever going to have this one-of-a-kind thing, because that'll be true. You'll be stuck with it.
I used to be really into selling oddities and you can sell them on eBay all the time, but on Marketplace or for local sales, buy trendy. So figure out what the trends are. Get on Pinterest and just copy and paste it in your brain and have that kind of eye when you're looking for stuff.
Whenever I buy credenzas or mid-century modern modern furniture, that's insanely popular right now. That just goes super quick if you have it priced right.
So my advice would be to start with just three things that you think are trendy, three different kinds of things. Let's start with those and see how it goes. And then maybe use the profits to buy more things or put that back into the business if you can.
If you're broke and you just need money, figure out the trash day routes in your city. In Oklahoma City, instead of it being five-o-clock somewhere, it's always a big trash day somewhere. They give us a map of when and where it is, too. It's pretty nice.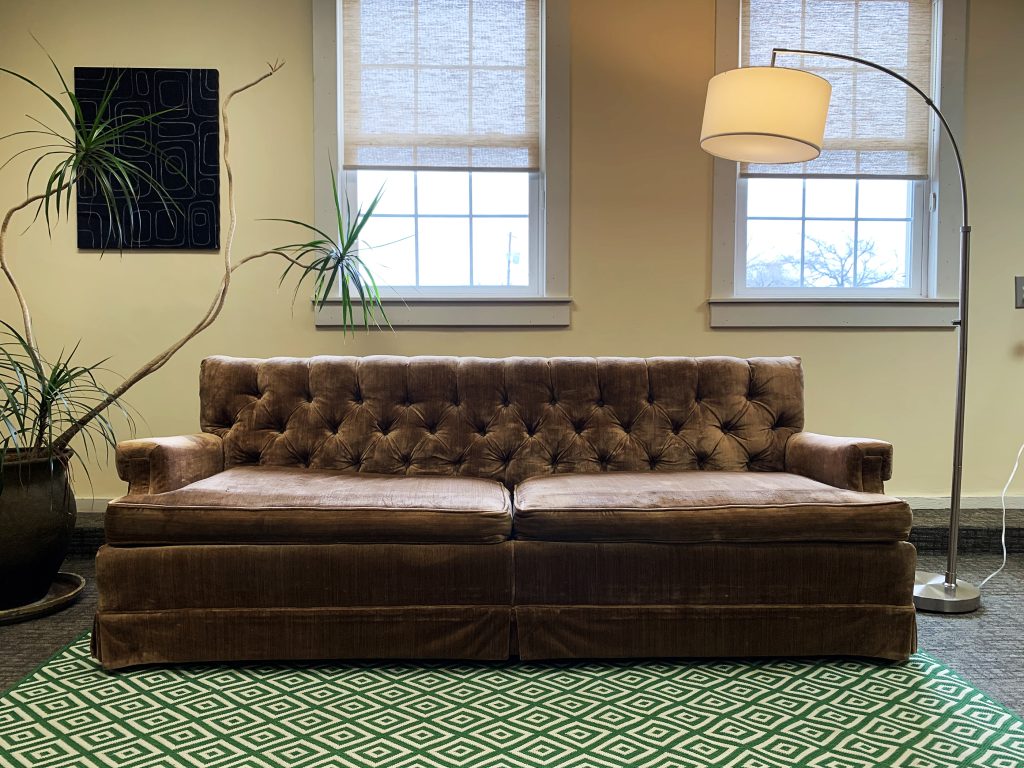 Are there any pieces of furniture that you've come across and just had to have? 
My mind is blown all the time by furniture. I love it. So it's just like these little pieces of art — that's actually what it is. Furniture is like toys for adults. That's why it's so fun to get new furniture and change it around. 
My buddy recently brought this little double dresser, credenza, whatever you want to call it. He brought it in today and I was like, "Oh my God, where'd you get that?" Got it. It's a Bassett double dresser. He got it for $45 at a Goodwill. So yeah, my mind's blown all the time. It's not hard to blow my mind.