Summer is coming to a close, the days are getting longer, and fall is just around the corner. The change of seasons is upon us!
And while the bright summer colors mold into the warmer tones of fall, the same can happen in your home. Often, when it comes to home decor, the "season between seasons" can be tricky to navigate. But there's a silver lining; all it takes is a few swaps for decor pieces that fit the upcoming autumn season.
Learn how to make changes to your decor throughout your home to reflect the natural transformation happening outside your window. Here are 6 ways to transition your home from summer to fall.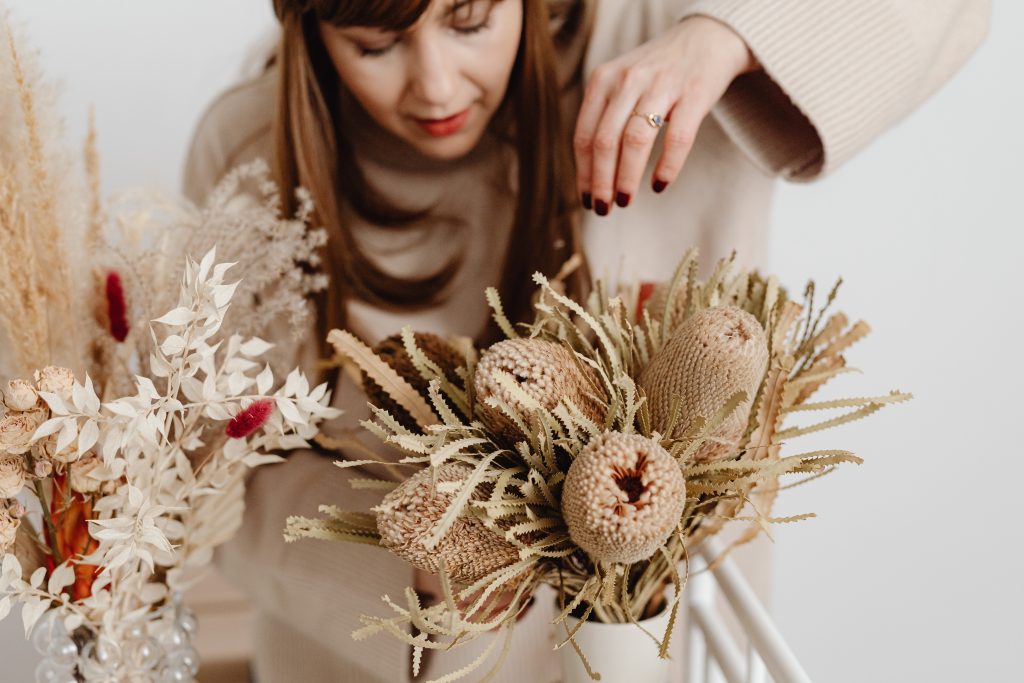 1. Display fall florals
As the light, warm outdoors turn darker and cooler, so should your plants and florals around your home. While summer flowers may include bright dahlias, marigolds, and peonies, the perfect fall florals are a bit more muted. To transition your home from summer to fall, consider using sage, chrysanthemums, goldenrods, and purple fountain grass in your floral arrangements.
2. Add cozy throws to go from summer to fall
When summer turns to fall, the temperature starts to drop. The crisp, cool air means it's time to break out the cozy blankets and throws! There are many creative ways to use throws to transition your home from summer to fall. For example, layer blankets on sofas, accent chairs, and baskets for a cozy feel in every room. You can also use a rustic ladder to store your blankets—super cute and functional. Also, bring a soft burgundy or burnt orange throw into the bedroom; the muted tone will make the room feel warmer and cozier. (It might even help you doze off to sleep faster at night!)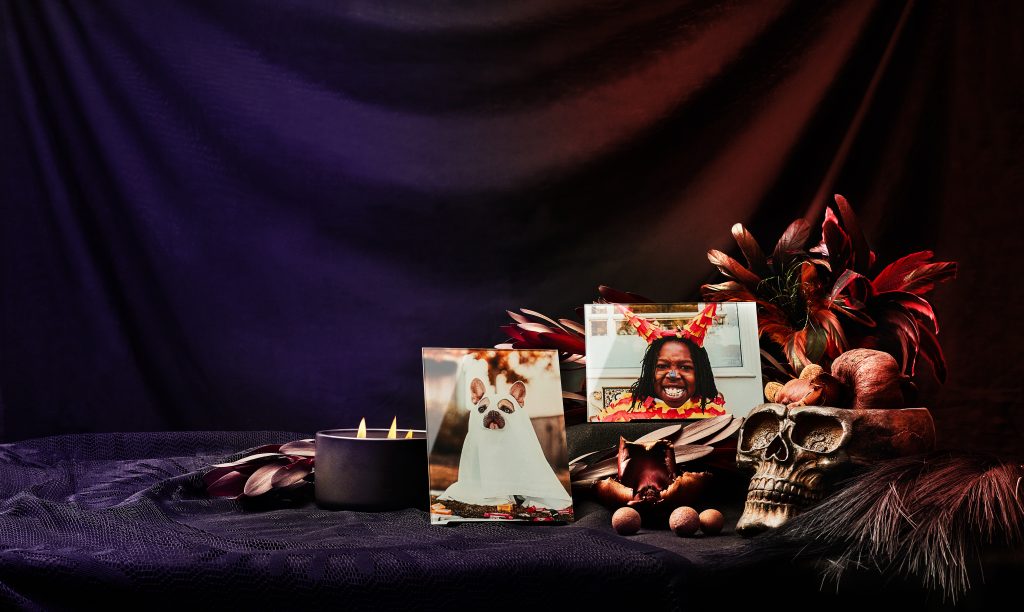 3. Embrace festive decor
Whether it's Halloween or Thanksgiving, there's lots to celebrate in the fall. You can start getting your home ready for those fun holidays now. Often, home decor stores start selling fall-themed festive decor starting in August, so there will be plenty to choose from. Here are some ideas to inspire you: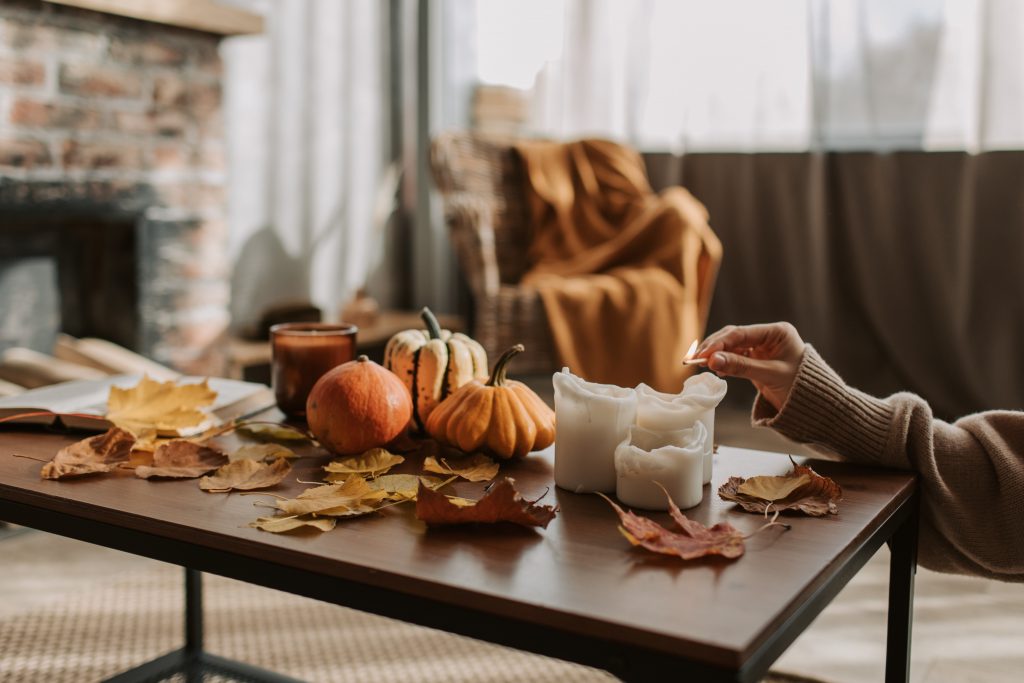 4. Freshen the air with fall scents
When you picture fall in your mind, does it come with a distinct scent? It's often said that fall has a certain smell, whether it's pumpkin spice, cranberry, or the crisp fall air itself. Even though scents aren't technically decor, they can help set the mood in your home and convey a greater essence of the season.
To capture beloved fall smells, get a candle in your favorite scent: apple cinnamon, sandalwood, vanilla, or an outdoor scent. You can even DIY this by making stovetop potpourri, a more natural way to spread a scent, if you're not into candles. It's simple to create—just throw your selected ingredients into an iron or glass pot and slowly simmer to make your home smell like fall. Try our favorite stovetop pumpkin potpourri recipe with a tablespoon of each of these ingredients:
Pumpkin pie spice
Cinnamon
Cloves
Vanilla extract
…Just add water, and you're ready to release the fall vibes.
5. Fall-ify your home's color palette to transition from summer to fall
Interestingly, summer and fall have several overlapping colors in their color palettes—namely red, orange, and yellow. Good news for you! This makes it relatively simple to transition your home from summer to fall. The only thing to remember here is to vary the shades.
Another plus: You don't have to change your entire base color scheme for the season. Instead, add to your existing interior by blending it with complementary fall colors in muted tones or darker versions of colors already in your home.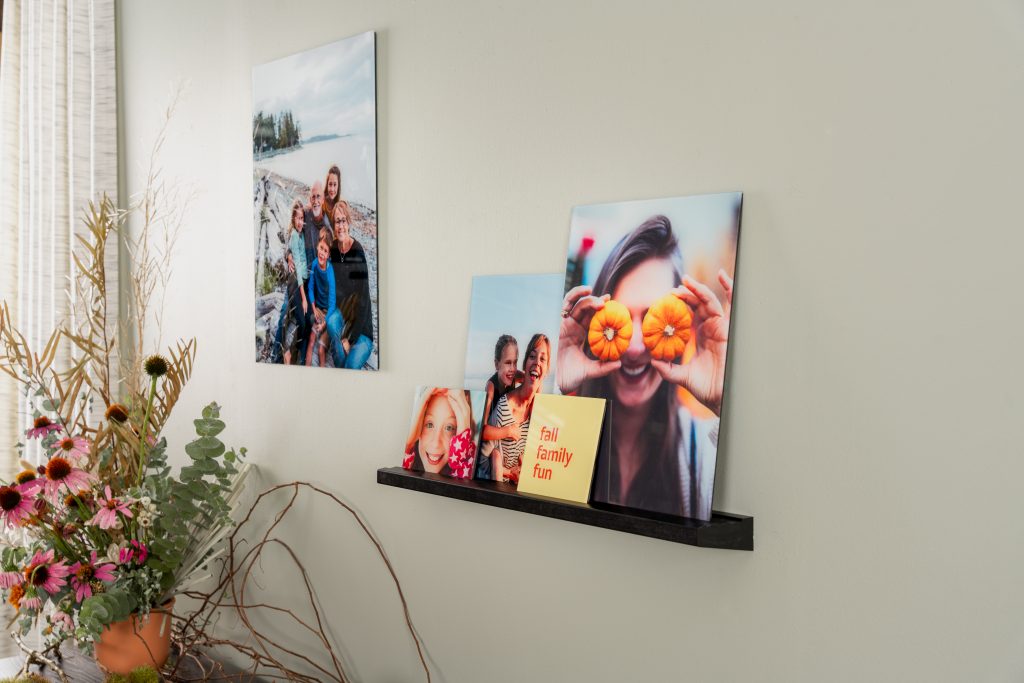 6. Decorate with autumn-themed glass prints
Fall moments look especially stunning on camera—and, even more so, printed on glass. Cherish the memories you make during sweater weather by decorating your home with them. This will up the cozy factor in your home by making those sweet moments some of the first things you see when you wake up in the morning.
When you're ready to print, consider Fracture your go-to for premier wall decor. We print your photos directly onto glass to create beautiful, frameless works of art. With a selection of sizes and shapes, you can create custom layouts—available in single glass prints, a Photo Wall arrangement, or Storyboard—to print your art on glass and display it in a style that's uniquely yours. In addition, you'll receive all of the materials you need to hang it on your walls, with options for tabletop display stands.
As you can see, fall doesn't have to stop at your front door—bring it into your home with these simple ways to transition your home from summer to fall.
We can't wait to see your fall decor in your home! Get started now and share your photos using #FractureMe.