Everybody often takes the same types of family vacation photos (cue: hand on the hip and smile at the camera), but there are all sorts of fun ways to snap cool family vacation photos. It doesn't matter if you use a professional DSLR camera or your iPhone. From what you wear to how you play with scale, light, and the objects around you, the following ideas are funny, cool, and downright different—the kind of memorable photos you'll want to hang up at home so they can make everyone smile for years to come.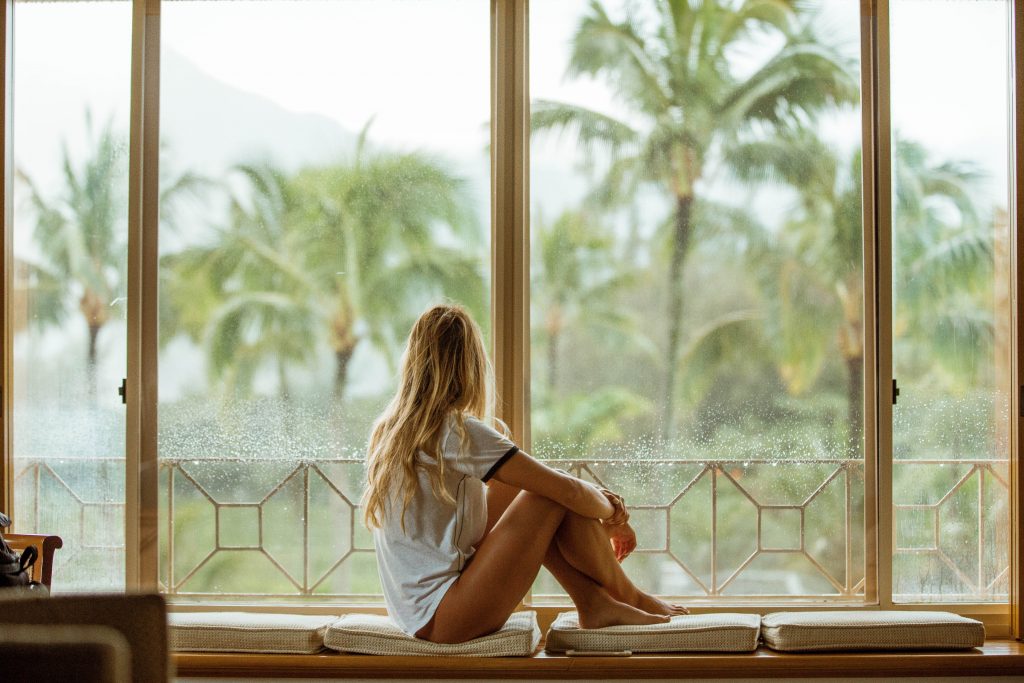 1. Try leaning out of a window
Whether it's the back of your car on a road trip or the window of your Airbnb rental, snapping pics of everyone hanging out of a window usually guarantees big smiles and positive vibes. It perfectly captures the spirit of being piled up together in one place for an extended period. It's also the perfect kind of "fun" shot that you can snap with everyone making funny faces.
2. Snap a few vacation photos from the back instead of the front
Two adorable toddlers sitting next to each other on a sandy beach makes for a great photo. To add some unique perspective, stand behind them and get down to their level. With the sea and sky on the horizon beyond and their sweet little bodies balancing on the sand, it's a money shot that you'll want extra copies of. Bonus points if they have matching swimsuits! This photo also works great if the whole family is standing or enjoying a nice view. This is especially so if you're snapping photos at golden hour, when the sun is beginning to dip into the horizon.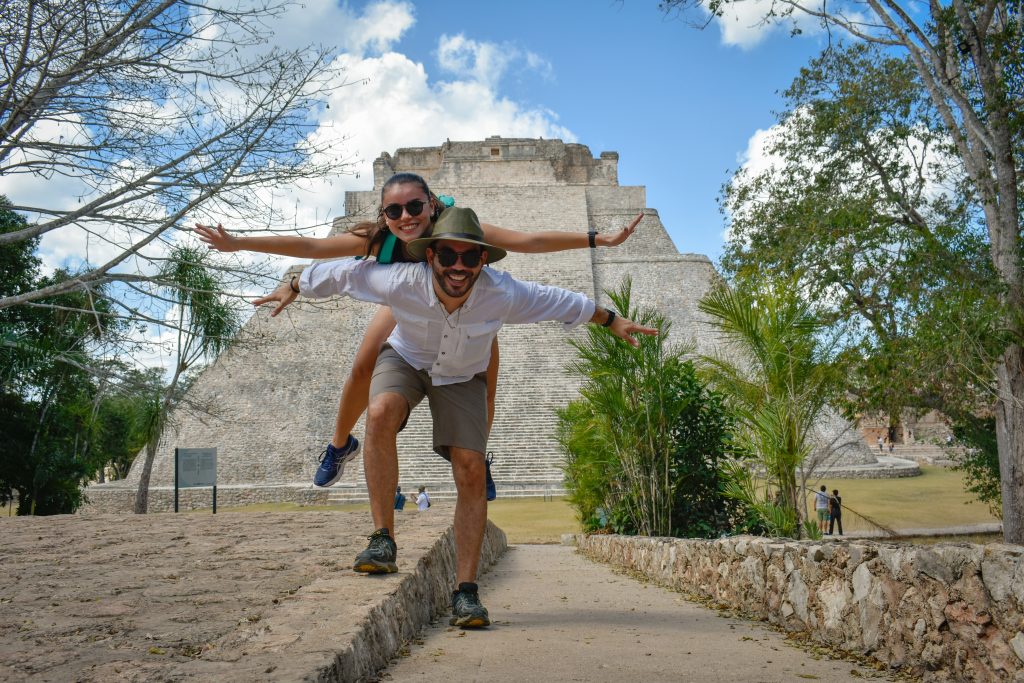 3. Run, jump, or dance your way to better family vacation photos
While everyone stays focused on posed group shots in various locations, some of the best photos of family vacations are action shots. Imagine visiting a lighthouse and asking your kids to run down the grassy knoll around it instead of posing stiffly beside it. Chances are you'll capture the lighthouse in the background and the joy on your kids' faces (at the simple fact that they're on vacation and allowed to run around in the middle of the day). Asking someone to snap a picture of the whole family in action near scenic picture spots also will likely capture a giggly, hyperkinetic shot that suits many families much better than the stoic variety.
4. Hold hands and walk towards the camera
Choose a location you love, such as a shoreline, a desert road, or a clearing in a park or forest. Line everyone up next to each other holding hands. Then, start walking towards the camera while someone snaps pictures. It will capture the location by making it seem like you're coming out of the sea or fresh off a beautiful hike. These photos look even better if your outfits are somewhat coordinated. Try choosing a color palette or a style of clothing, like swimsuits, and you'll further unify the look of these great family vacation photos.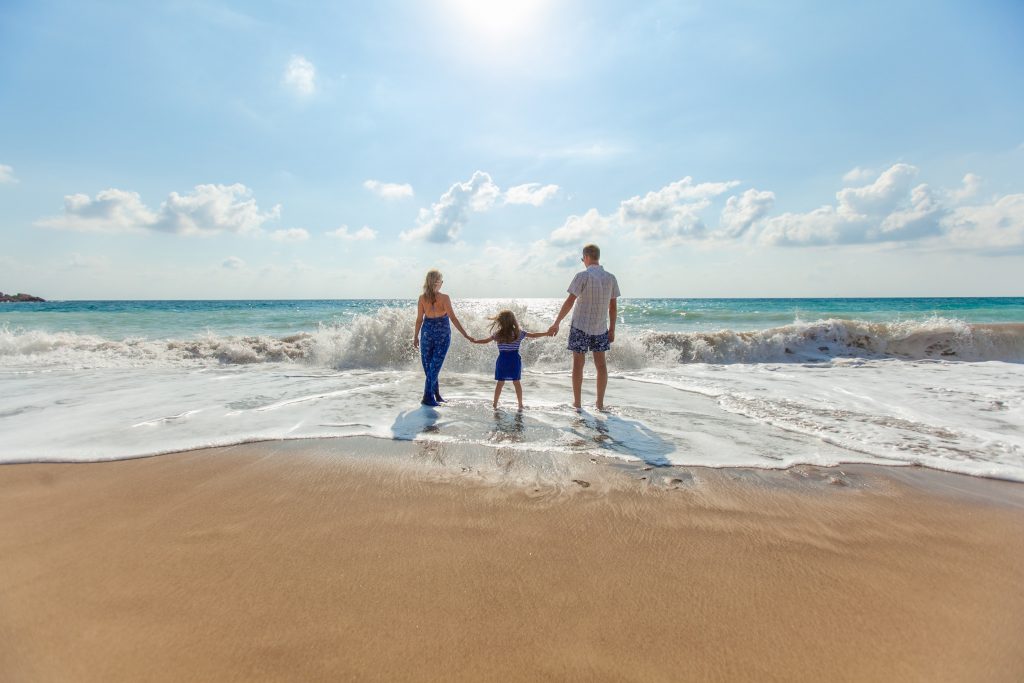 5. Show up early or late at the hotspots
Everyone wants a picture in front of "The Bean" sculpture at Chicago's Millennium Park or the Eiffel Tower in Paris, but so does every other person on vacation—and possibly a few passersby, too. If you want a great shot without excessive distractions or people in the background, wake up early or show up late, long after dinner. The fewer the crowds, the more time you can spend playing with poses and capturing the best family vacation photos. Make sure to snap a few fun ones by asking everyone to give you their best funny face or dramatic pose.
6. Choose a handheld object that represents your vacation and use it in the photo
If you're in the tropics, have everyone hold a pineapple in front of their face as if replacing their head, and add sunglasses to it. If you're at the beach, ask everyone to stand far away from you while you hold an upside bucket in front of you with the camera pointing to it. It will look like the bucket is spilling over everyone's heads. Positioning yourself at just the right distance allows you to play with scale the way professional photographers do. In doing so, you can make the object in the foreground appear much larger, adding a different dimension to family vacation photos.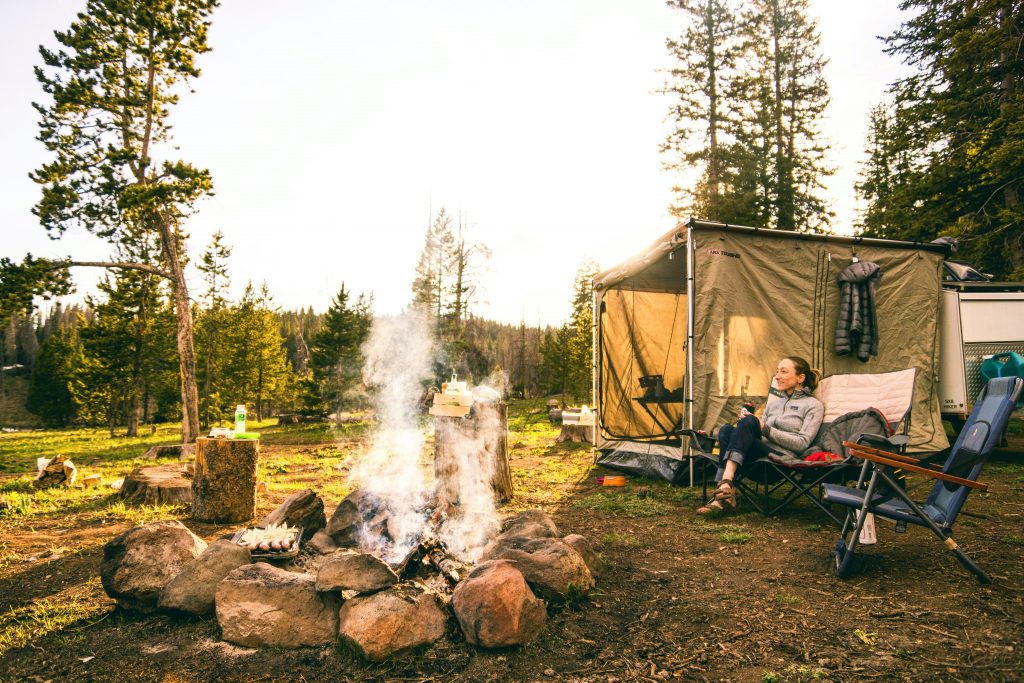 7. Capture the family vacation scene
If you're camping, snap a picture of the campsite without anyone in it. Resist the temptation to set up the shot. Years from now, you'll look back and laugh at some of the objects that ended up in your family vacation photos, like a child's favorite teddy bear or an old-school radio. Vacation scenes can hold just as many memories as those featuring everyone's smiling faces, especially if you're the kind of family that tends to choose different types of vacation destinations every year. Memories are attached to locations just as much as they're tied to the experiences shared and the people you're with. So, be sure to snap plenty of shots of your vacation scenes, too.
8. Snap pictures from above
Kids in floaties look adorable when photographed from above. (Bonus points if they're wearing sunglasses or goggles while floating!) Shooting from a higher vantage point provides a different perspective on both the action and the location, so don't be afraid to climb steps to a second story or up to a bridge and point your camera down.
9. Don't forget to snap some from down below, too
Lying on the floor while the gang creates a circle hug above you is a fun way to capture the magic right before a family rafting trip or a turn down a slide. You'll get a closer look at the nuances in everyone's face, including the excitement for the activity you're about to embark on.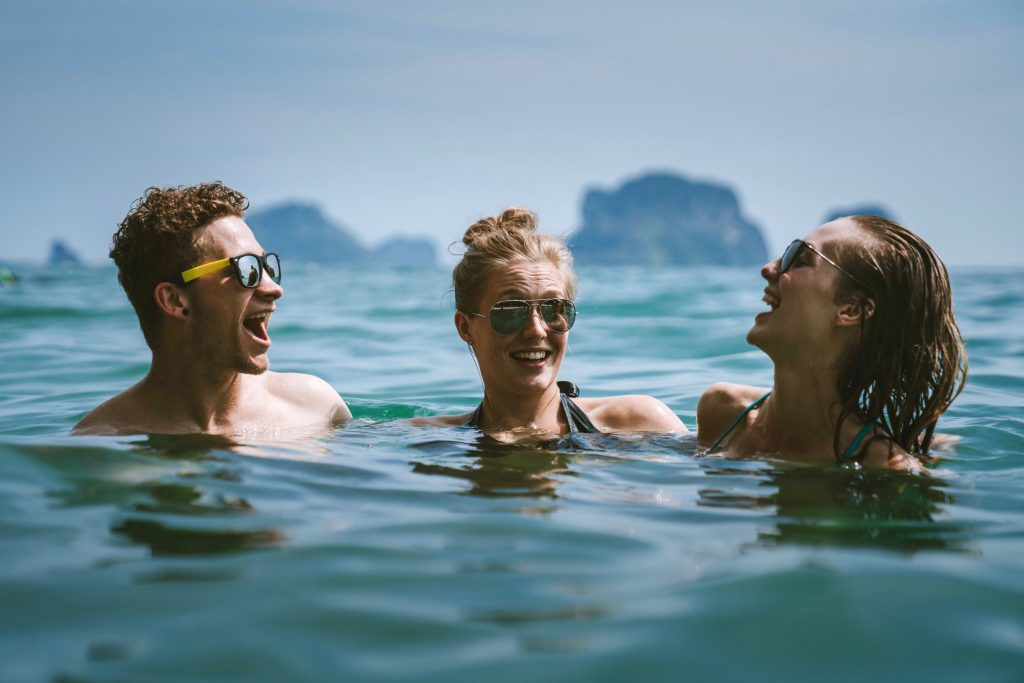 10. Take partial pictures of yourselves instead of full body shots
Think about the last time you piled into a hammock with your kiddos. You know that just looking at everyone's feet squished together on one end of it perfectly captures those sweet, quirky moments. For kids who love to bury themselves in sand when they're at the beach, snapping a picture of their floating heads will also do the trick.
11. Mimic the scene you're in, especially if you're at a museum
This is a great idea if your family vacation includes trips to museums or art galleries. It builds on the trend of recreating old family photos as adults or with the next generation of kids in your family. While at a museum or gallery, choose a painting or photo that has the same number of people in it as your family or choose one where the people featured are in an awkward or funny pose. Next, pose yourselves in front of it mimicking the piece and snap a few photos. It's a fun, interactive way to capture photos during museum visits, which can be boring for some kids.
12. Coordinate outfits for your family vacation photos
Sometimes looking like a tacky tourist can pay off if you're looking for quirky, fun family vacation photos. Have everyone wear tropical themed shirts if you're spending your vacation in Florida or the Caribbean. On the other hand, color coordinate your ski wear if you're up in the mountains. Doing so adds a quirky, playful element to your photos that ties to the location well.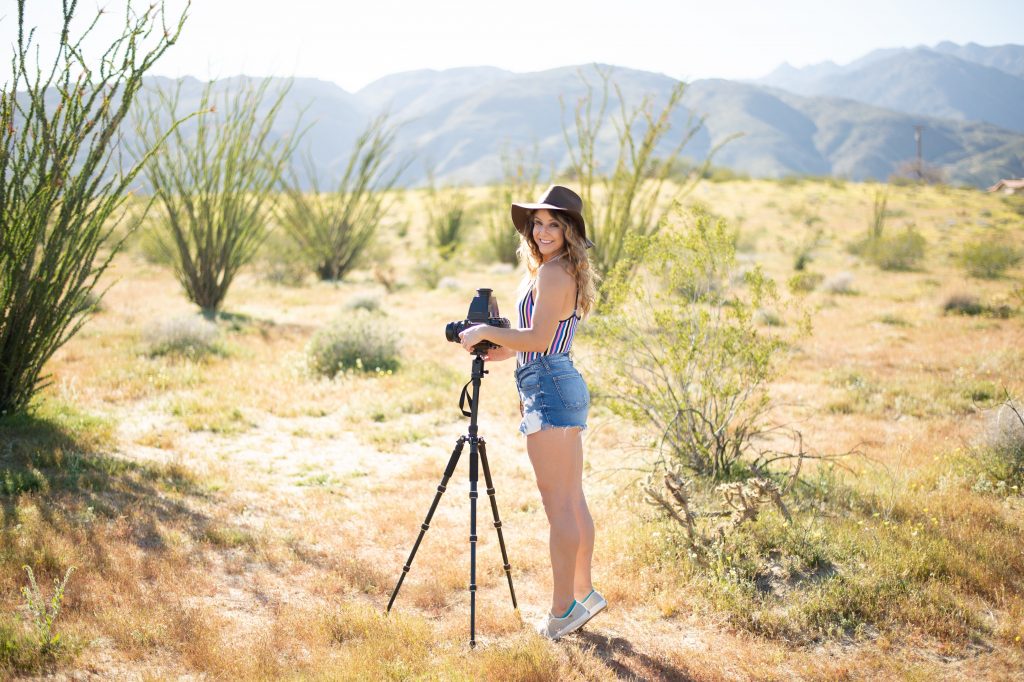 13. Finally, bring a tripod if you can
If you hate the idea of asking strangers to snap your family vacation photos (as much as you hate not being in them because you're on the other side of the camera), a tripod might be worth the investment. It's also worth it if your family vacation doubles as a family reunion with relatives and friends you don't get to see very often. Tripods are affordable, easy to use, and usually collapse easily, which makes them perfect for travel. Most come with remote controls so you can time your photos just right, too!
Now that you have 13 new ideas for family vacation photos, test them out on your next trip! And when you return, go through your snapshots and consider printing your best ones. It's no secret that displaying family photos can make a home instantly cozier and more welcoming. (In fact, there are even health benefits to it!) When you're ready to print, head over to Fracture to create tangible mementos of your cherished memories.
Fracture offers multiple sizes and shapes so that you can create custom layouts—available in single glass prints, a Photo Wall arrangement, or Storyboard—to display your unique moments. Plus, you'll receive all of the materials you need to hang them on your walls, with options for tabletop display stands.
We can't wait to see your prints in your home! Get started today.