You simply can't go wrong with great photo editing apps. With various tools and features, photo editing allows you to enhance what you've captured. From making colors more vibrant, to sharpening hazy elements, to adding filters that intensify your image, photo editing apps truly bring your snapshots to life.
With our picks for the best photo editing apps in 2022, you can do all of that and more. In this post, we break down these apps by software compatibility, pros and cons, and pricing. Read on to learn about photo editing apps that can perfect your photos.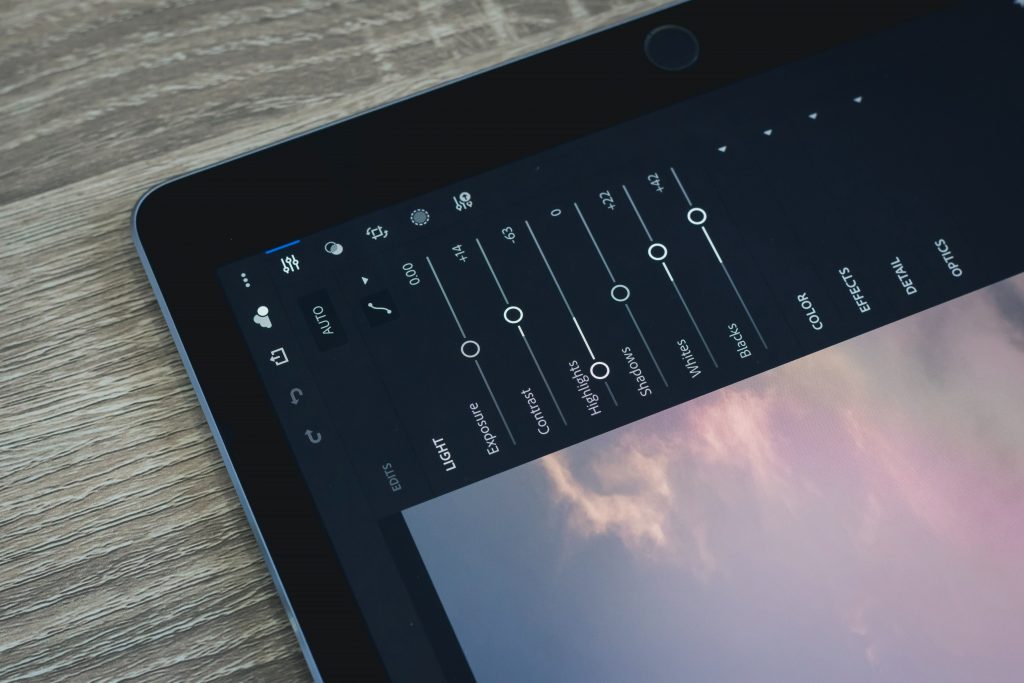 1. Adobe Lightroom
Best For: Precise fine-tuning of color and exposure
Adobe Lightroom, of course, is one of the go-to photo editing apps, especially for digital creators. People often view the Adobe Creative Suite as a complex toolbox strictly for photography and design professionals. However, once you learn the main editing features, Lightroom can be used by professionals and amateurs alike.
One reason users love Lightroom so much is the easy to use tools that can adjust the color, lighting, and depth of photos. With tools like "Select Subject" and "Select Sky", you can hone in on specific areas of a photo. (In fact, these include AI-powered masks to perfect imaging.) Lightroom also offers a number of presets you can use to further enhance the mood of your photos.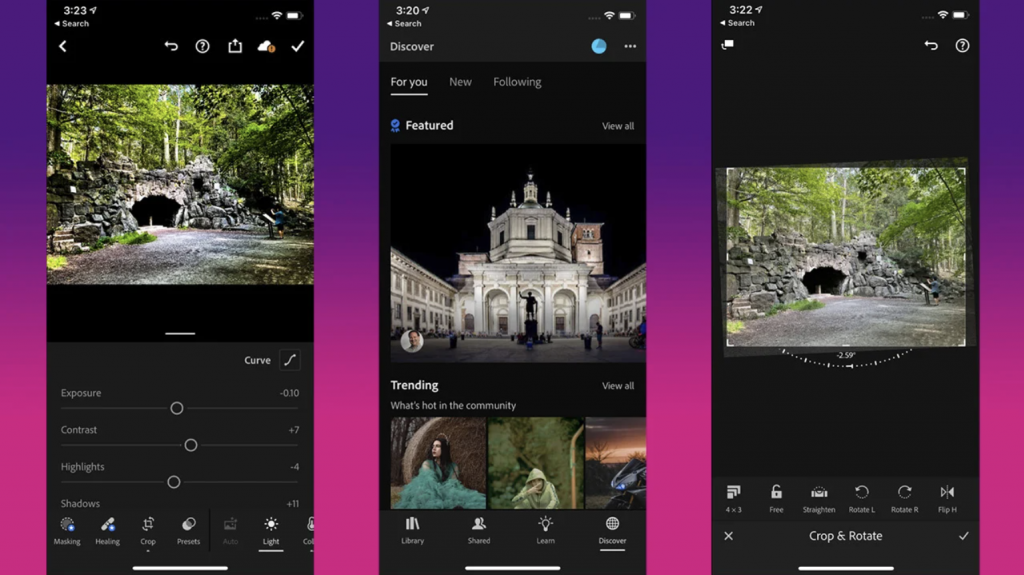 Software compatibility: PC, Mac, iOS, Android OS
Pros:
Organization with collections and galleries
Editing that preserves original file data
Adjustment brush, gradient, and radial adjustments allow for multiple effects on one mask
Easy to learn
Cons:
No layers available
Minimal graphic design elements (e.g. adding text)
Basic editing in comparison to Adobe Photoshop
Pricing: There are 3 separate plans, all of which offer a free 7-day trial to start. Some of these plans offer a discount for students. Click here to learn more about Lightroom pricing.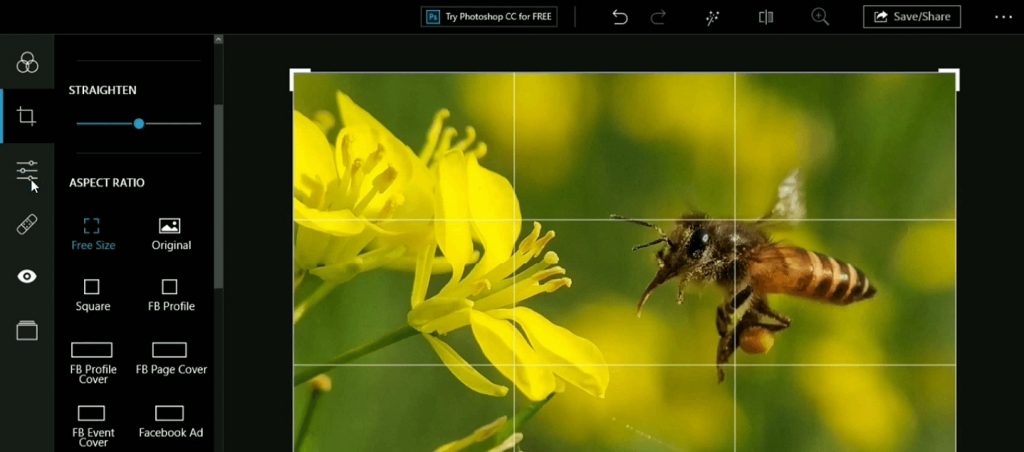 2. Adobe Photoshop Express
Best For: A simplified Photoshop experience
Another winner for photo editing apps from Adobe, Photoshop Express is the simplified version of Adobe's flagship Photoshop. Rather than photo enhancement and correction, Photoshop Express is typically used for blemish removal, text overlays, masks, and collages. Like Lightroom, Photoshop Express offers several filters to choose from to suit your photography style.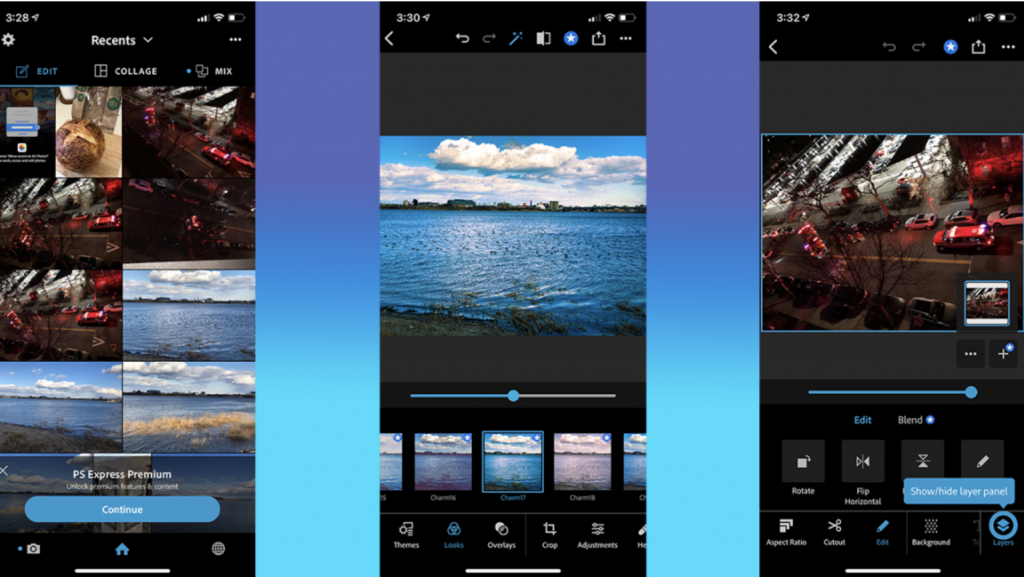 Software compatibility: iOS, Android OS, web
Pros:
Clear, navigable interface
Several photo editing and embellishment features
Good tools for social media graphics
Cons:
Many elevated features require an Adobe Creative Cloud subscription
Weak retouching options, according to reviews
Pricing: Photoshop Express is free to download. However, if you want a greater selection of features and tools, the paid plan is $2.99 per month or $34.99 per year.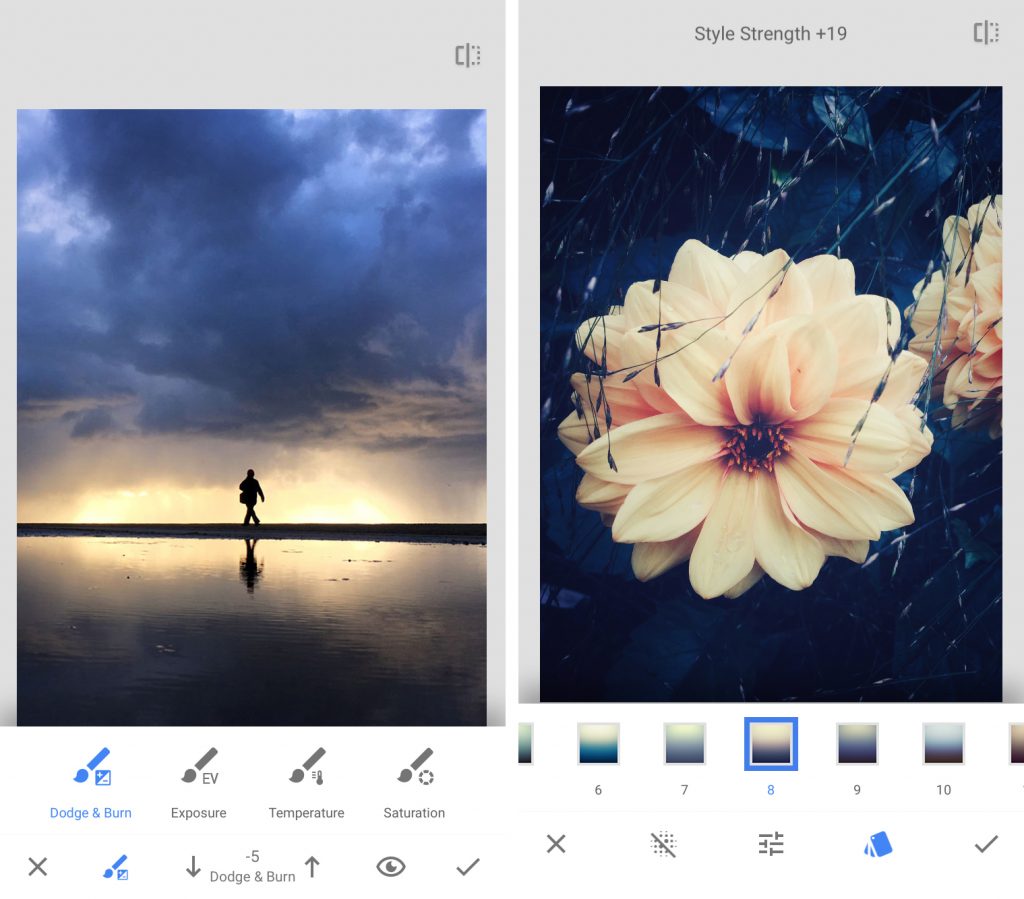 3. Snapseed
Best For: Everyday photo editing
This Google app is definitely worth the hype it gets. In April, Snapseed underwent a major makeover on both Android and iOS. The result: A 2.0 version with a new design and streamlined editing tools. For example, Snapseed traded in its Grunge filter and Tilt Shift effects for Spot Repair, Brush, Lens Blur, and zoom controls. It remains one of the most popular photo editing apps.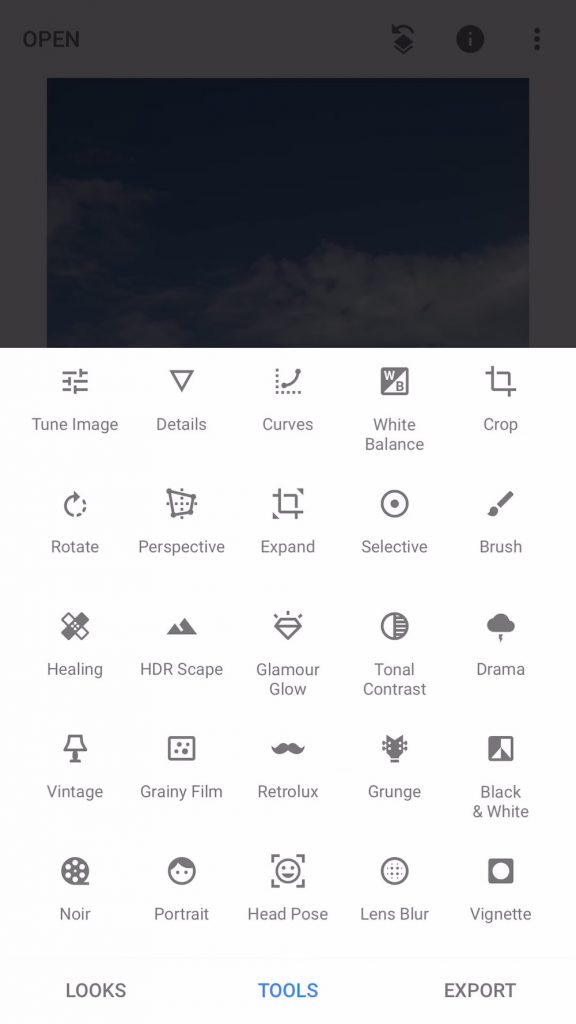 Software compatibility: iOS, Android OS
Pros:
Free to use and ad-free
Easy, gesture-based editing (simple finger swipes)
Loaded with professional-grade presets
Classic editing tools plus innovative new additions
Cons:
Though it's considered user-friendly, there may be a slight learning curve in the beginning
Requires vigilance about saving your work
Social network integration options aren't as clear as they could be
Pricing: Free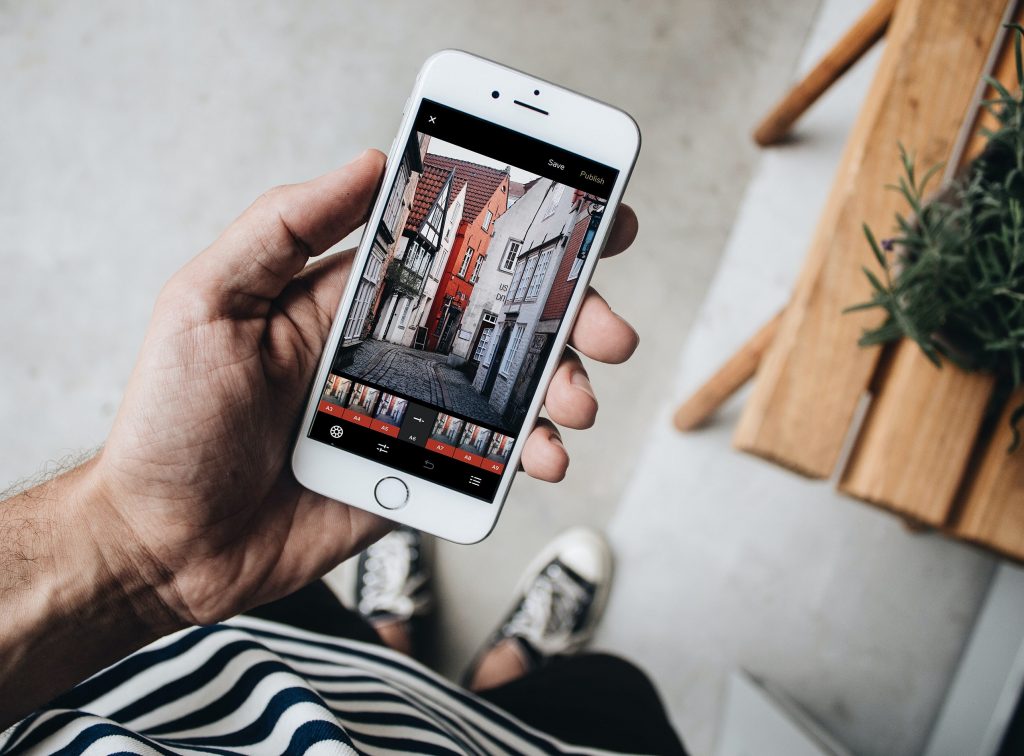 4. VSCO
Best For: Creating beautiful edits with elegant filters
VSCO is a longtime member of the photo editing apps family. The app first marketed itself to professional photographers, offering an array of advanced correction and editing functions. On top of that, VSCO also offers a community for photographers. However, the app became notorious for sparking the "VSCO girl" movement around mid-2019. Since then, digital creators and amateur photographers have jumped on the bandwagon, too.
As far as photo editing apps go, VSCO's interface is "modern and clear, but editing in it seems to take a backseat to the sharing social aspect," according to PC Mag. That being said, after editing photos, VSCO lets you share them to its own and other social networks. If you're a budding photographer, this can be a great way to gain exposure.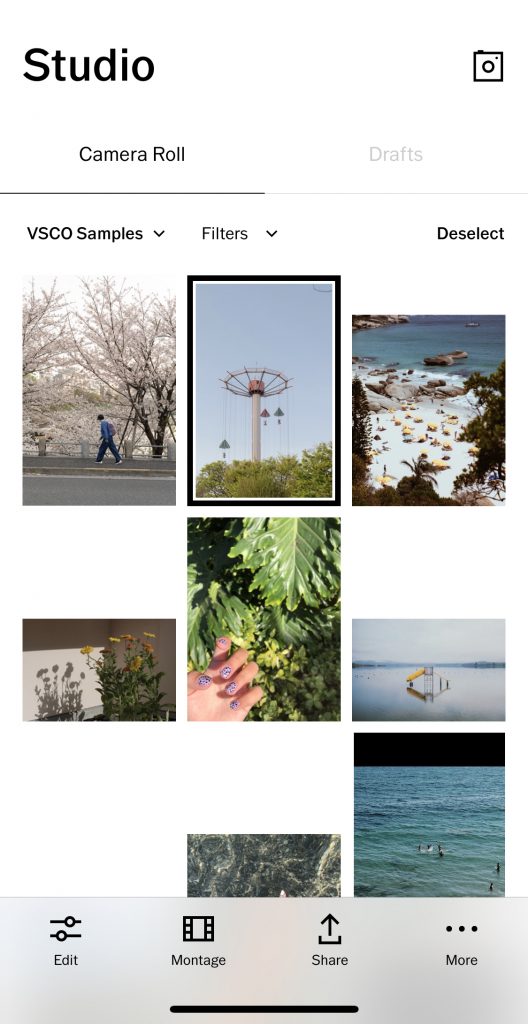 Software compatibility: iOS, Android OS
Pros:
Simple but aesthetic design
Users can share their pictures directly to social media, including Facebook, Twitter, Instagram
Users can share their photos to the in-app community Grid
The lack of like counts and comments staves off trolls and competition.
Cons:
Good number of tools and filters are behind the premium paywall
No web editing or desktop apps
Doesn't support the dark mode feature
Pricing:
Free
Premium for $19.99 per year with 7-day free trial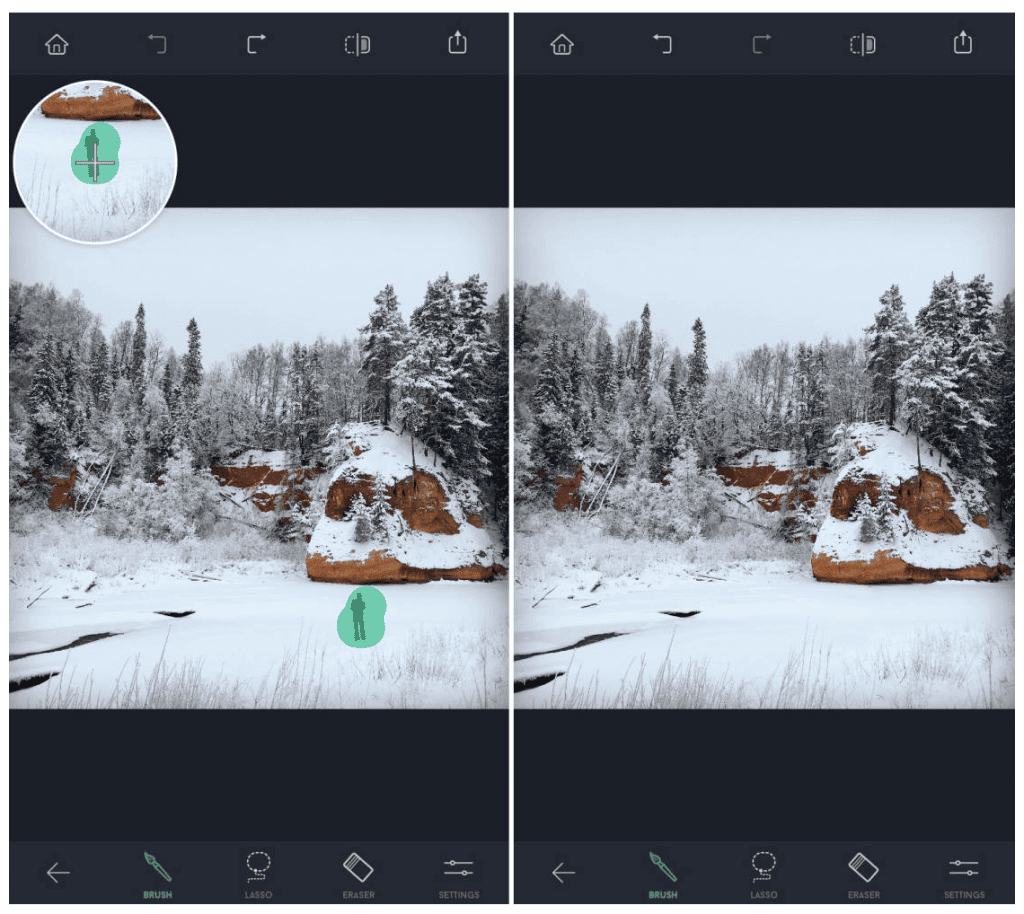 5. TouchRetouch
Best For: Removing unwanted objects from your photos
Many apps like Photoshop have a "remove" feature in their toolboxes. However, this is the sole purpose of TouchRetouch. And it's likely you won't find an easier app than TouchRetouch to remove unwanted objects from your photos. All you have to do is use your finger to highlight the object you want to remove. Then, TouchRetouch automatically replaces the highlighted object with pixels from the surrounding area.
There are other iterations of this functionality such as Blemish Remover, perfect for creating flawless portrait photos, and the Line Removal tool, which gets rid of stray electric cables or odd wall markings. Moreover, you can duplicate photo elements with the app's Clone tool.
Software compatibility: iOS, Android OS
Pros:
Video tutorial within the app to help you get started
Can use Lasso or Brush tool for selecting unwanted elements in photos
Social media integration available
Easy-to-use interface
Smart Image Background Recovery techniques
Cons:
Difficult to achieve desired result when background is more complicated
Does not have functions to correct lighting, image sharpness, or other common features of other photo editing apps; it's simply for removing unwanted objects
Pricing: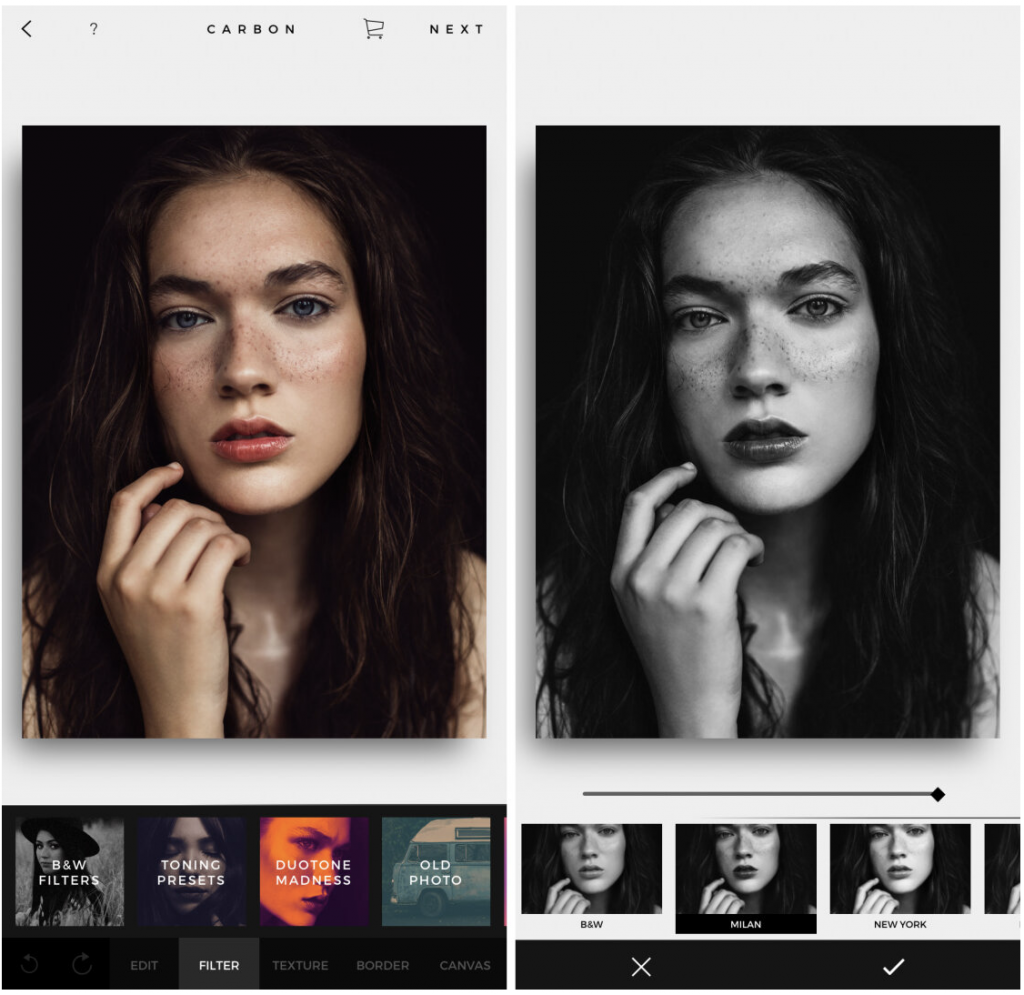 6. Carbon
Best For: Creating stunning black & white photos
While creating black and white photos is a capability many other photo editing apps have, Carbon takes it to the next level.
The app has 58 (yes, 58!) preset filters for various black and white effects to suit your unique taste. Carbon also has filters to create vintage effects—grain, grungy textures, and light leaks are among them. In addition to these presets, Carbon has a range of editing tools for fine-tuning color and exposure. You can even create an oil painting effect with the "Kuwahara" tool.
Software compatibility: iOS, Android OS
Pros:
Good organization of features
Wide variety of presets and editing options
Cons:
Few features in the basic version
Some functions are not clearly visible
Pricing:
Free to download
Premium for $19.99 per year with 3-day free trial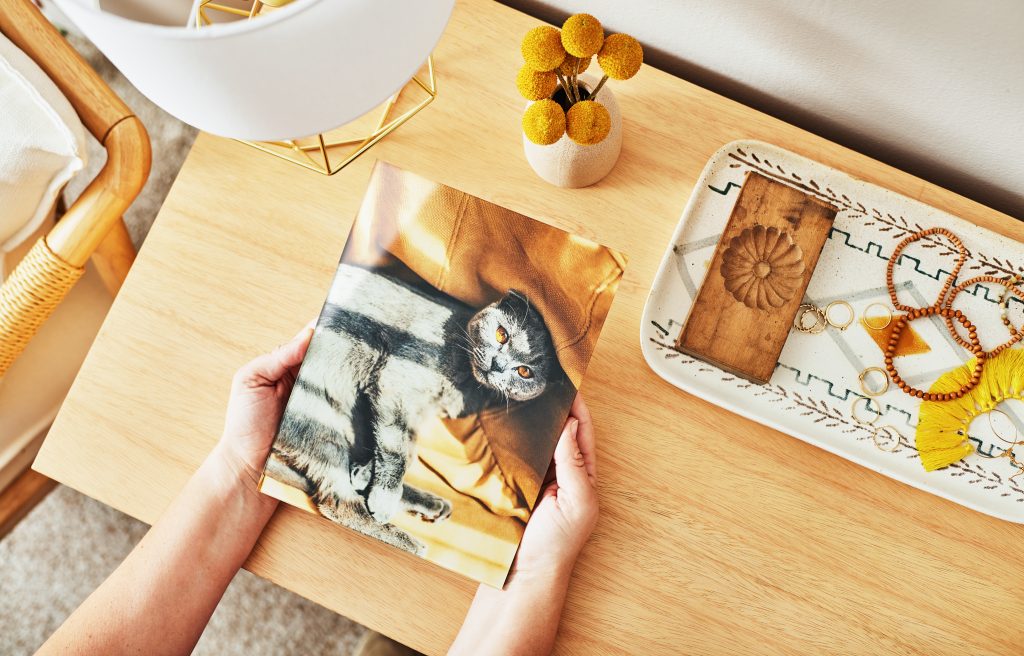 Whether you're a seasoned professional photographer or simply curious about the latest and greatest in the industry, these are our picks for the best photo editing apps of 2022.
We like to say that above all else, remember that a perfect photo is completely subjective. Often, the emotion and sentiment behind a blurry photo can mean more than a well-edited, perfectly-timed photo. It's all about what you feel works best. Take advantage of some of these photo editing apps' free trials and play around with their features. We're sure that however you enhance your photos, you'll be proud to print out and display on your walls.
When you're ready to print, consider Fracture your go-to for premier wall decor. We print your photos directly onto glass to create beautiful, frameless works of art. With a selection of sizes and shapes, you can create custom layouts—available in single glass prints, a Photo Wall arrangement, or Storyboard—to print your art on glass and display it in a style that's uniquely yours. In addition, you'll receive all of the materials you need to hang it on your walls, with options for tabletop display stands.
We can't wait to see your photos in your home. Get started now!