Rise Above Research reports that in 2022, 1.5 trillion photos will be taken worldwide. Of those photos, about 91% of them will be taken with a smartphone camera. (Talk about a cluttered camera roll!) Consider how many photos you take on a daily basis that sit hidden in your phone for days, months, and even years, until you forget about them. Many of our forgotten photos can be great additions to our home decor. In our minds, getting your photos off the phone and onto the wall is a no-brainer. So what stops people?
Often, it's questions like:
…Come to think of it, we haven't answered that one yet. So get ready for a deep-dive into the best ways to display your photos.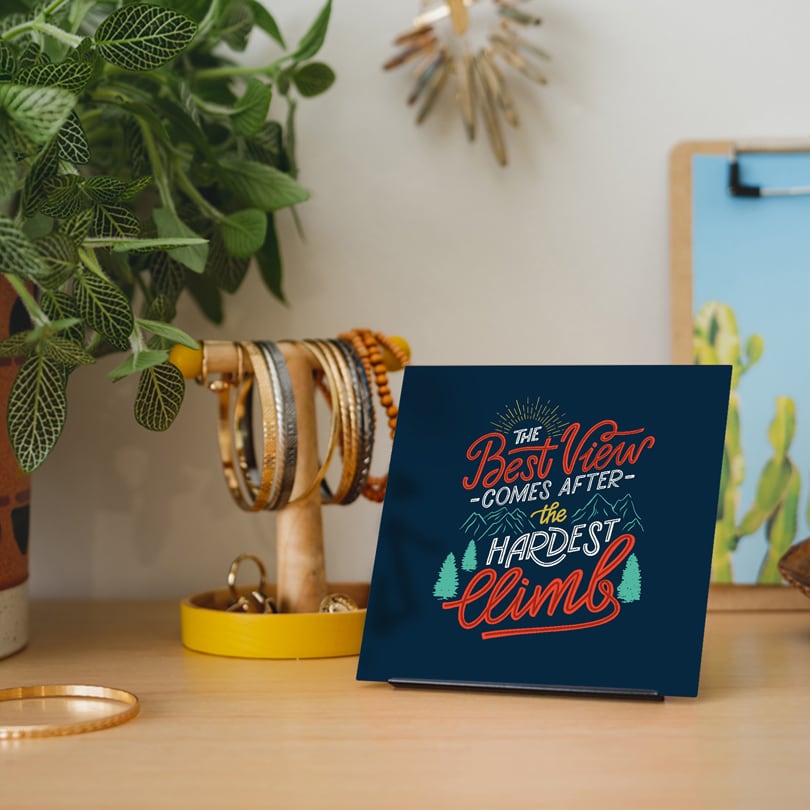 Glass print on a Print Stand
If you purchase a Small Square, Small Rectangle, or Medium Rectangle Fracture print, you have the option of using a Print Stand instead of hanging it on the wall. Our Print Stands are specially designed with powder-coated steel to ensure maximum sturdiness. Print Stands are perfect for a photo that you want to be the focal point on a desk, table, counter, shelf, or even a mantel. For example, you can display your favorite wedding photo on your nightstand to let a happy memory be the first thing you see when you wake up. Another option is to prop one of the prints from our Word Art Collection on a bookshelf or wall shelf. Similarly, you can place some inspiring words on your office desk for a motivation boost.
Click here for a step-by-step tutorial on how to stand your print up.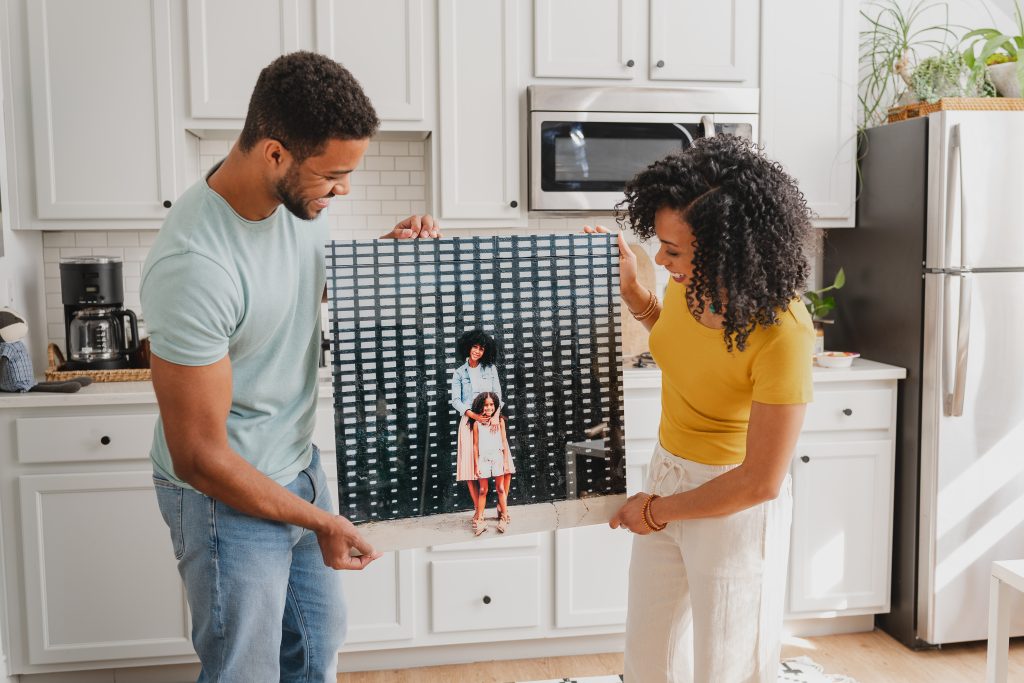 Hang a single glass print
As for hanging, you can do this with any size Fracture print, from Small to Extra Large. We include everything you need to mount your glass prints in the packaging (no outside tools necessary!) for hassle-free hanging.
If you have multiple photos you like, but they have separate themes (e.g. one is a photo of your furry friend, the other is a photo from your last family vacation), consider purchasing two glass prints and hanging them in different locations. To illustrate, you can display your vacation photo on the wall above the couch in your living room to create a relaxing, restful vibe. On the other hand, you can hang your pet photo on the wall above your pet's eating area or near a door (for when it's time for a walk!).
Our single glass prints are very versatile, and the possibilities are endless. It's up to you to decide what works best for your home decor needs.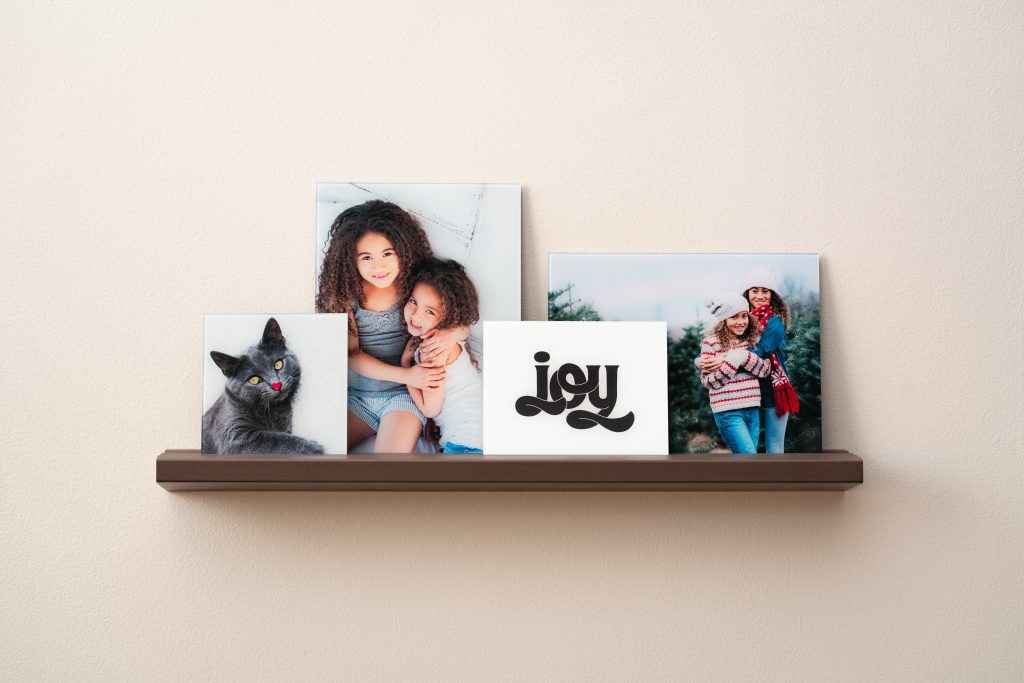 Display your photos with Storyboard
We like to say that every day, your story unfolds in a thousand tiny moments. The quiet moments, the moments of celebration, the moments that are so full of love that you feel like your heart will burst—each one layering upon the last to create the person that you are. Your story deserves to be told. Display what life looks like through your eyes in your home with Fracture Storyboard.
Made of solid wood and designed to securely display your glass prints, Storyboard's unique grooved surface allows you to easily slide, layer, and switch out your prints to tell the story that is uniquely yours. Storyboard is the perfect way to share the moments that center around a theme, such as holidays, children and family, or old photos restored. You can also use Storyboard to present a chronological sequence of events such as back to school photos or family reunions through the years.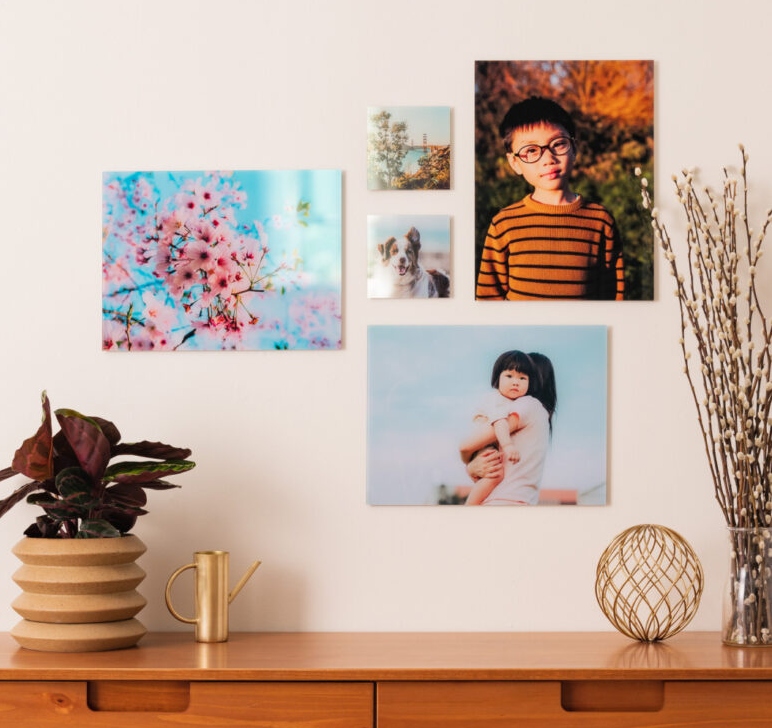 Photo Wall display
Fracture Photo Walls allow you to show off your favorite memories—without the hassle and stress of a traditional gallery wall. Each Fracture Photo Wall layout features between 3-6 prints, depending on the layout type. To aid you, Each Photo Wall comes with a paper template that shows you exactly where to place each screw, so you can ensure your prints will be perfectly spaced. It's never been easier to create a personalized statement wall for any space in your home.
Like Storyboard, Photo Walls can follow a theme as well. The difference here is the more visual element (think: vision board or photo collage). Vibrant photos with bold colors make for an excellent Photo Wall. In fact, if you're craving a statement wall in your home, a Photo Wall is the perfect way to capture anyone's attention. If you have eye-catching photos in your camera roll— such as the view from the top of a mountain hike, a portrait against a cityscape, or even wildlife or nature photography—display them in your Photo Wall.
Whether you hang your glass prints or prop them up on a Print Stand, or showcase your memories with Storyboard or Photo Walls, there's a Fracture that's perfect for you. Don't let your best photos remain hidden in your camera roll or the Cloud forever; it's time to show off your cherished memories. Display them with Fracture glass prints to personalize your home and make it uniquely you.