In today's world, we're all photographers.
Our smartphones rarely leave our side. The cameras on these smartphones — more powerful than professional cameras were a few decades ago — can capture a high-quality photo at a moment's notice.
You know what this means — the thousands of incredible moments you experience every day can be captured and documented with ease. The question then becomes: how should you display all these photos?
Gone are the days of impatiently waiting for your images to be developed, hoping that at least a few shots turned out well. Now, smartphones give anyone the ability to become a photographer, whether you're a 12-year-old prodigy or a proud pet parent.
Regardless of what you're passionate about taking pictures of, one thing that is a must is putting them on display. Your pictures are tangible ways to relive and share the moments you cherish most. And if a picture is worth a thousand words, just imagine the value a gallery wall has. Need help creating the perfect photo wall? Our creative gallery wall ideas are a great place to start. With beautiful gallery wall layouts, photo wall ideas, and more, we have everything you need to get started.
Why Create A Gallery Wall?
A gallery wall has the ability to completely transform a room. From displaying gorgeous landscapes to family portraits, weddings to vacations, coming up with eye-catching gallery wall ideas is a great way to showcase your favorite memories and experiences.
A well-designed gallery wall provides an intimate look into your world and helps keep clutter to a minimum. The subject matter and style of each photo wall may vary, but they all bring a sense of character and warmth to your home. With all of that in mind, there's nothing more perfect than a gallery wall to create a space that invites guests to come in and relax.
Gallery Wall Ideas
Here's the thing. Curating a photo wall from start to finish isn't hard — but it does take some planning. If you're not sure where to start or feel a little overwhelmed, know that you're not alone. Keep in mind that the hardest part is the planning. Once that's figured out, it all comes together pretty quickly. With the right steps, you'll have your very own gallery wall up and displayed in no time at all. Then all you'll need to do is sit back, relax, and enjoy your modern-day masterpiece.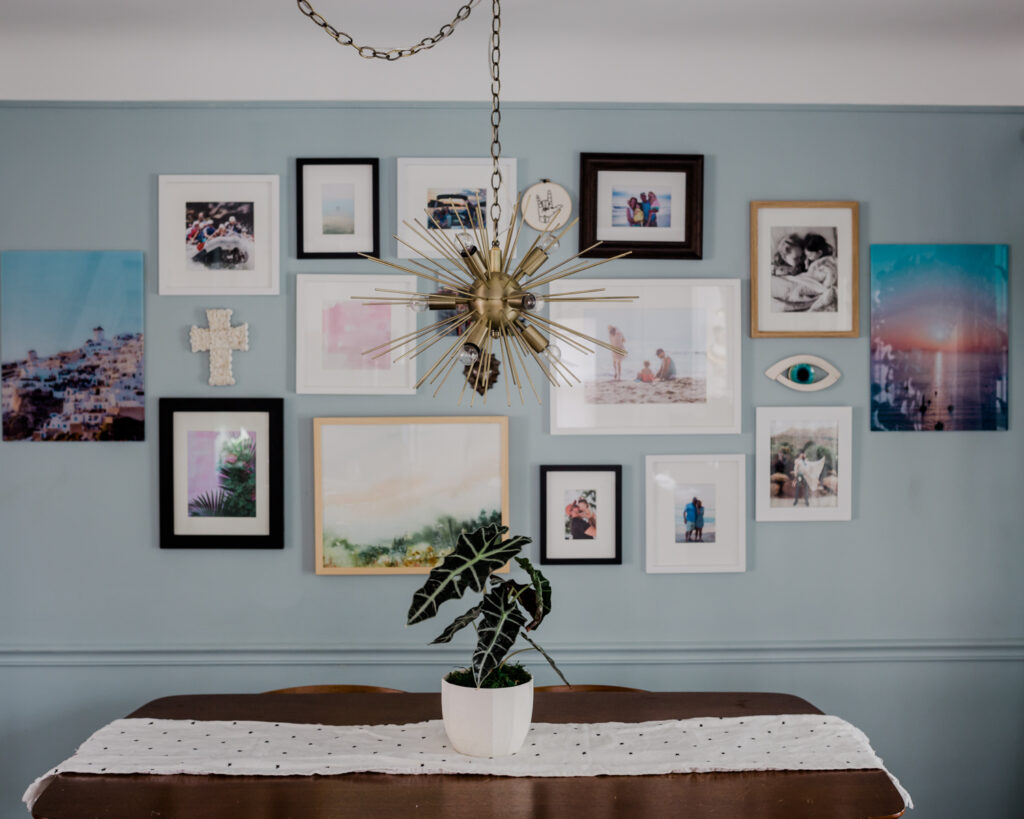 Define Your Gallery Wall Idea Or Aesthetic
Have you noticed that most Instagram grids are well-defined in terms of aesthetics and colors? Think of your photo wall ideas similarly. Visually speaking, having a common theme or aesthetic is pleasing to the eye and brings all the pieces together.
To start, identify the theme — that is, a recurring idea or feeling you'd like to evoke — that will be the basis of your photo wall . This mixture of photos and artwork could be as broad as all portrait photography or as specific as photos from your wedding day in your gallery wall layout.
After that, choose the aesthetic for your gallery wall idea: the underlying visual quality you'd like to portray in your photo wall, typically defined as color choices, pops of color, or a classic design element like minimalism.
For reference, here are some thematic and aesthetic gallery wall ideas for your gallery wall layout . Remember, these ideas can be mixed and matched or combined in any way that makes sense for your style and home.
Themed Gallery Wall Ideas
Family Photo Gallery Wall – Families are the most common subjects of photo walls. After all, there's no better place to show off our loved ones than the place where we feel most content, happy, and at ease — our homes.
Black and White Gallery Wall – A popular aesthetic and theme choice for a photo wall, and for good reason. Black and white photos are vintage, modern, and nostalgic all at once. Many poignant life events can be made more elegant with a black and white photo.
Nursery Gallery Wall – There's no better place to stretch your creative muscles than the walls of your child's first bedroom. From baby animals to inspirational quotes, nurseries are the ideal place to display images that will stay with your child forever. As they learn and grow, these images can take on new meaning. Pictures of family members and friends can help your baby to recognize and remember important people in their lives and make for a great gallery wall idea.
Timeline Gallery Wall – This tried-and-true classic photo wall idea works great in large spaces like stairways. Start with a photo of you and your partner while you were dating, then follow up with a favorite picture from your wedding day. The next photos could be of your firstborn child, and then your second and so on. In addition to these main images in your gallery wall layout,  intersperse smaller photos from other happy moments in your life: family vacations, your child's first trip to the zoo, or a photo of you with your grandparents when you were a child.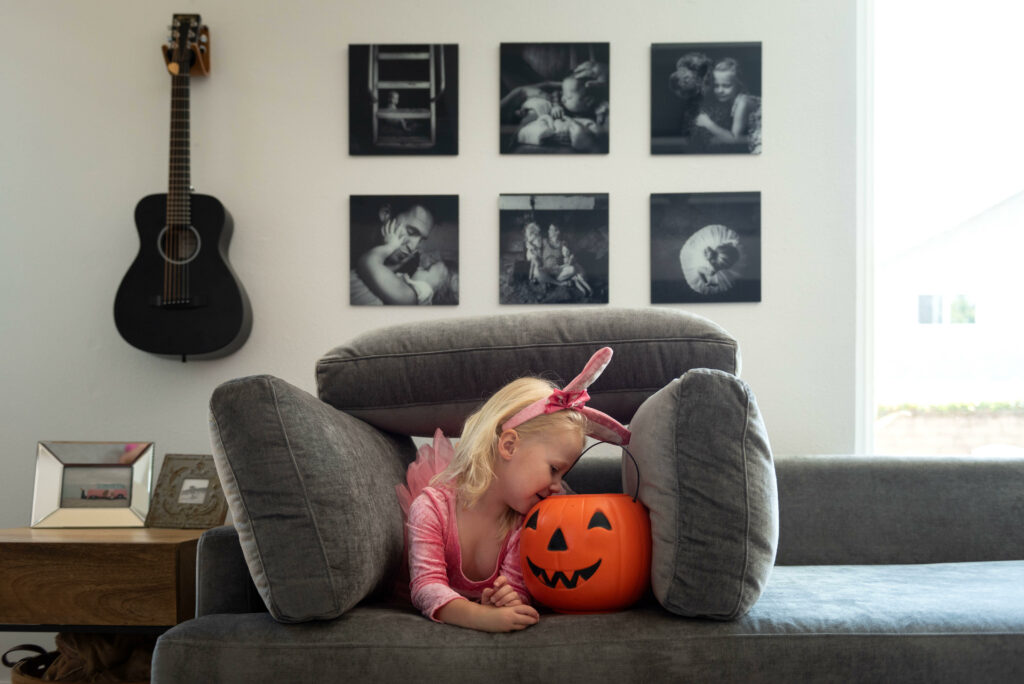 There is an endless variety of themes and aesthetics to choose from when looking at gallery wall ideas, but the main objective when creating a gallery wall layout is finding a photo wall that you resonate with. Choose a photo wall idea that you feel is a great representation and direction for your space. Figuring this out ahead of time will guide the rest of your gallery wall ideas and help you narrow down your photo choices, too.
Choose A Space & Layout for Your Photo Wall
There's nothing more intimidating than a blank canvas. To help, choosing a gallery wall layout is a great place to begin. In its simplest form, a photo wall is essentially a collection of images. Finding the perfect collection for your gallery wall idea is often led by the space on which it will be displayed.
Narrow spaces like those found in-between windows or pieces of large furniture lend themselves to a vertical gallery wall layout. A large, blank wall could be filled with prints that are a variety of shapes and sizes. Or, you could choose images of all similar sizes and shapes for a more aesthetically defined look when you're brainstorming gallery wall ideas.
If you have space on surfaces like your entryway table, one photo wall idea is to also create a makeshift gallery wall there. Another optional gallery wall idea is to use our Storyboard — a timeless way to tell your story through pictures and mementos.
Design For Your Space
As you think about your home, consider its layout and where you'd like to fill wall space with your gallery wall idea. Popular gallery wall locations include the following:
Stairway Gallery Wall – Stairways are a great place to curate, create, and hang your photo wall idea. The space you're able to work with is deceptively large. From the banister to the ceiling, you've got an entire wall to work with.
Kitchen Gallery Wall – If you're lucky enough to have a kitchen with open wall space, this is the perfect place to bring your gallery wall idea to life. The kitchen is often the central location and heart of the home. It is, after all, where all the food is. People will be in there all of the time and a gallery wall is just one way to make it feel more welcoming.
Dining Room Gallery Wall – Similar to the kitchen, dining rooms are a great place for your photo wall idea to come to fruition. As an ideal location to entertain or talk, having a gallery wall in the dining room is sure to be a great conversation starter. For this reason, thinking outside the box with this gallery wall idea can be helpful. Show off vacation photos from a variety of locations and with a wide group of friends and family so there's something there to pique the interest of every visitor.
Gallery Wall Above Your Couch – The space above a couch is often forgotten, but from a design perspective, it's a very promising area for displaying your  photo wall idea. Adding a gallery wall is the perfect way to make it a focal point for anyone who enters the room. If you have any large or bold prints to show off, add them to your gallery wall layout. This is the perfect place to do so!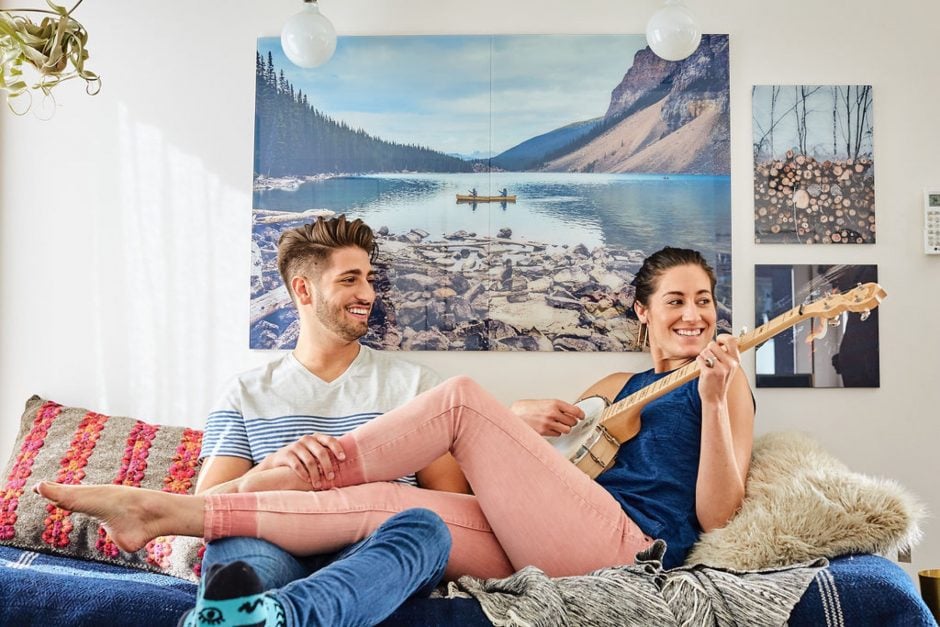 When it comes to choosing the layout for your gallery wall idea, it's helpful to determine which locations fit the theme and aesthetic you've chosen. After that has been finalized, move on to figuring out things like print shapes and sizes for your gallery wall layout. The biggest deciding factors here would be the quantity of your images and how well they fit together. Having all of this finalized will make bringing your gallery wall idea to life that much easier.
Pick & Print Your Photos
Once you've chosen your theme and decided on a space and gallery wall layout, it's time for our favorite part: choosing and printing the photos for your gallery wall idea . This is where the real fun and creativity begins.
Just as gallery walls are a collection of images, one suggestion is to actually compile all your photo options before printing to get a sense of whether or not your photo wall idea looks cohesive. If you have them housed on a computer, make a folder for your gallery wall and bring in all the options for consideration. Look at them all together, and think about whether they look good together and suit the theme or aesthetic you've chosen. Try to think about the feeling you'd like your gallery wall to bring into the room. Don't be afraid to be picky here: after all this work, your gallery wall idea deserves to be exactly what you've been imagining.
Keep It Interesting
One suggestion when selecting your photos for your photo wall idea is to keep a variety of styles in mind. This will help keep the visuals for your gallery wall idea entertaining. If you'll be displaying photos of your family to remind you of your loved ones, add in a few candid shots to the list of professional family photos. Along those lines, don't be afraid to hang a staged photo that didn't go as planned — while these photos may not be perfectly framed or everyone might not be smiling, these are the images that have personal stories and memories attached to them. And, who wouldn't smile at the youngest family members sticking their tongues out?
Any moment worth cherishing is fair game. And when you're determining how to print your photos, keep Fracture glass prints in mind. The timeless look of your photos as glass prints suits a wide variety of layouts and styles, and can elevate your gallery wall.
Properly Plan The Final Layout
Once your photos have been chosen, printed out, and framed, it's time to start setting up your gallery wall and bringing your photo wall idea to life.
Instead of just getting started and hoping for the best, start by creating a mockup of your gallery wall. You can do this using paper and painter's tape. Cut out the shapes of the frames. The sizing doesn't have to be perfect, but try to get it as accurate as you can. Once you have all the shapes cut out, tape them up in the arrangement you've been planning on.
This will help you figure out if your layout flows as you intended. And if it doesn't, it's easy to move and rearrange. If you don't like the way certain photos look next to each other, you can simply remove the tape and continue organizing until you're satisfied with the layout. After finalizing the design, take each piece of paper down one-by-one and hang the real photo in its place.
One last tip before you start hanging your photos: use painter's tape as a gauge between your photos. This is a simple, easy step that ensures consistent spacing between each photo.
Hang Your Photos
The last step is easy. You've already done the time-consuming tasks of choosing and printing your photos, then deciding on a layout and an arrangement. Now all that's left is to hang them on the wall. Once you're done, take a step back and admire your gorgeous new space. We're confident guests will notice the next time they walk into the room.
Gallery Wall Ideas — Time To Get Inspired!
Now that we've finished discussing how to plan, create, and hang a beautiful gallery wall of your own, it's time to let the inspiration start flowing. There's no shortage of visual references and ideas on whatever you're drawn toward.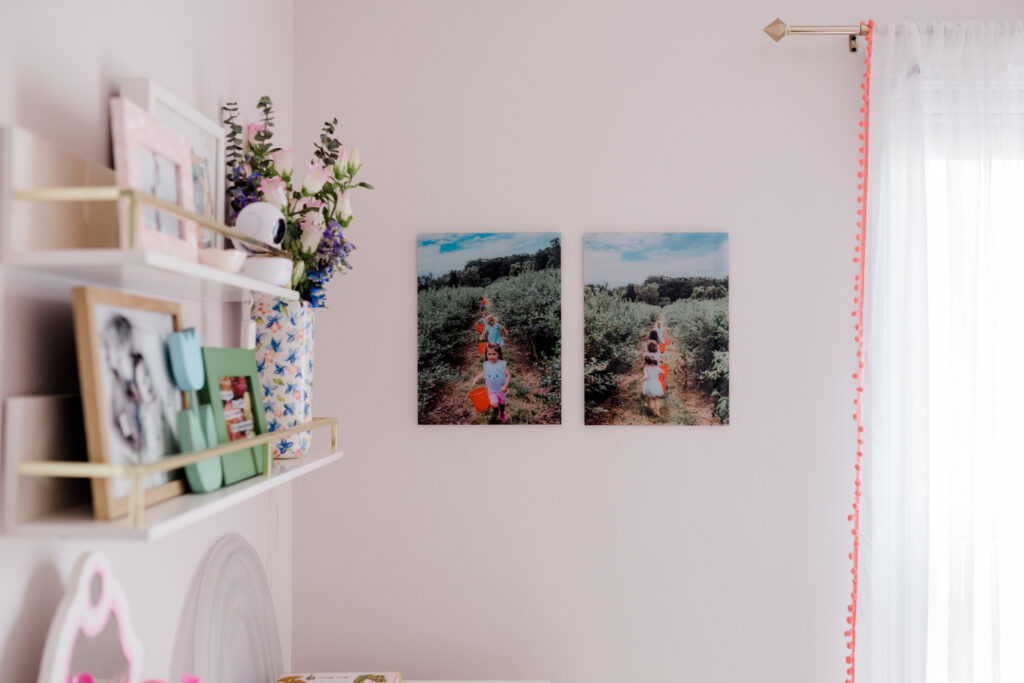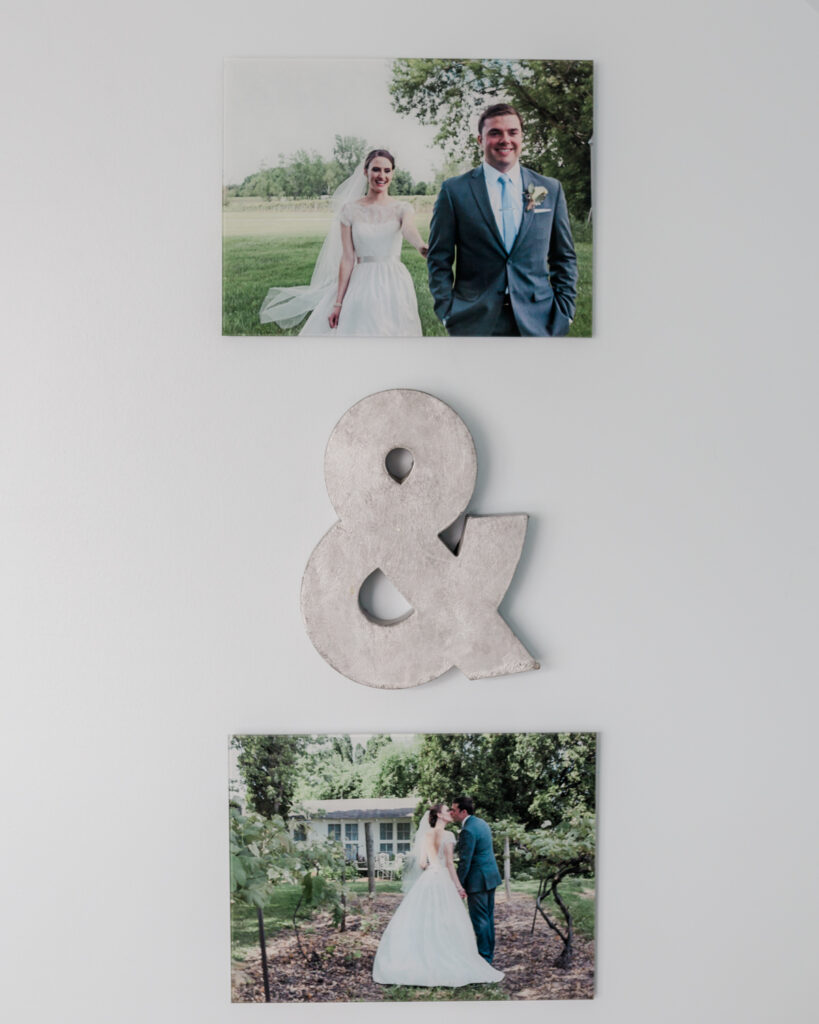 The Most Important Thing To Remember With A Gallery Wall
Before you get started on your exciting new project, remember that this is your space. You can make your gallery wall however you'd like. Ultimately, any tips or ideas are just guidelines that you can feel free to revise and change, or even ignore. What's most important is how your space, photos, and entire wall makes you feel. Keep this in mind, and it will help you answer any questions you may face.
As you begin to get started on this exciting project, remember that Fracture can help you bring your gallery wall to life. Our most important goal is helping you focus on moments that matter.
Time to get creating, and most importantly, have fun! We can't wait to see what you come up with — it's sure to be an amazing addition to your space.
---
Show us your gallery wall in the comments below, or check out some more gallery wall inspiration.