Spring is a season of change, and that includes decorating your home with lively and refreshing pieces to give it the look it needs to motivate you during the warmer months. There's a thrill that comes with transforming your space to match the seasons, especially when the season itself represents renewal and growth. While the idea of altering your home may seem daunting and stressful (no matter how many trends you try to hop on or videos you watch for inspiration) we're sharing 11 unique, simple, creative, and rejuvenating spring decor ideas you'll love trying in your space. And trust us—you and your place will love the results.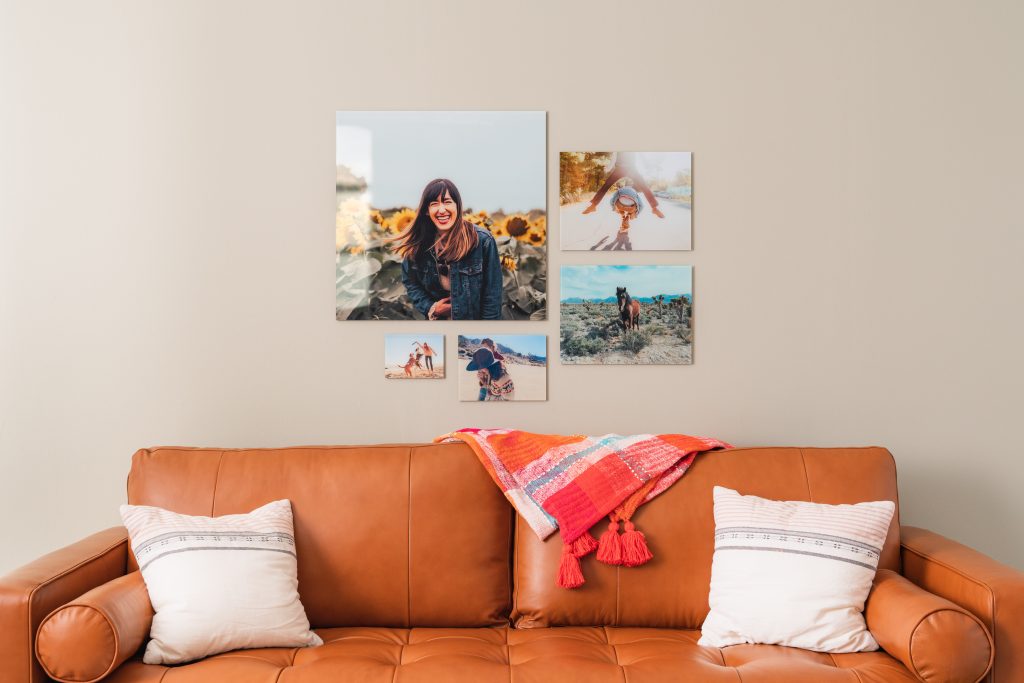 1. Photo gallery walls
First up on our list of spring decor ideas: Photo Walls are beautiful glass print gallery walls that add sentiment and style to any space. They're also a modish way of displaying the beautiful memories you and your family share, while covering up those empty wall spaces you needed to decorate. All you have to do is choose a layout, upload your photos, and we'll deliver your Photo Wall, ready to hang. It's never been easier to create a personalized statement wall for any space in your home.
If you have a gallery wall already, swap those old photos with newer ones, or take time every month to add a new photo or replace an older one. You can also add fresh, dry or synthetic florals to the walls to adorn around the frames for that classic spring feel.
2. Bring out the greenery
Fresh florals and plants are beautiful ways to spruce up your home. Studies have also shown that adding them to your area can help with creativity, while maximizing your productivity, energy, and mood throughout the day — not to mention they help rid the air of pollutants. Live greenery is one of the simpler spring decor ideas to brighten your overall decor, while adding pops of color to any neutral or dull tones. Think of them as the room's beauty enhancer. Unless you suffer from allergies that'll prevent you from keeping them in your space, they should bring a relaxed and personalized feel anywhere they're placed.
And while it may be tempting to buy every plant you see when you first start out, start off simple. Purchase a few easy-to-grow plants to upgrade your green thumb (you don't want them to die within the first week); take a walk through your local garden center to pick out ones that catch your eye. Match your plants to your room's design and the look you desire (you don't want them to be too much of a contrast to the space that they oddly stand out).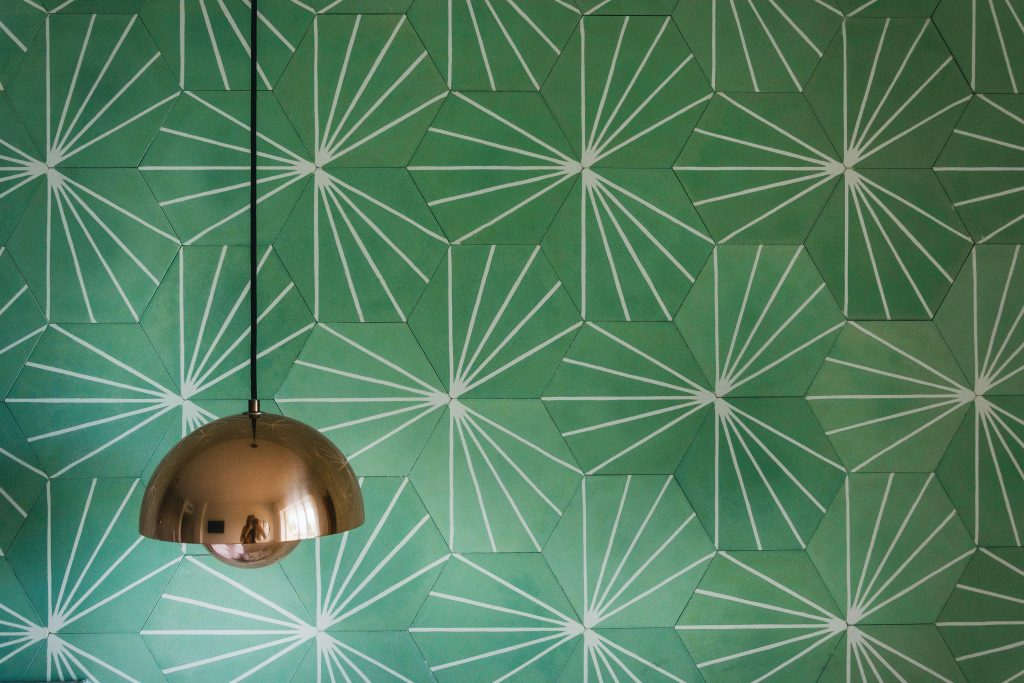 3. Bold and colorful wallpaper
It's not always easy to find the right wallpaper to match your desired look. Despite this, adding wallpaper to your room can brighten the style of the space. This is especially true when you match the colors and patterns of spring. This can mean finding designs with floral and nature-like prints (think red, vibrant greens, and bright yellows).
And don't be afraid to get creative with your look. If you're looking to decorate your home with a more formal feel, search for dramatic colors in large-scale patterns. For those interested in something more playful, polka dots make youthful designs. If you're worried about how the room will look in a full mural design, create a focal point. Find one empty part of the room that you'd like to accentuate. The right wallpaper will not only make that area stand out; it will attract the eyes of your guests, while helping you to stay true to the room's overall classic feel.
4. Just rug it out
When we think of spring, we think of fun patterns, textures, and colors—all elements you can add to a space with a rug. While you may underestimate the power rugs can bring into a space, they're an easy way to incorporate a refreshed feel to any room this season. Plus, there are so many designs to peruse when it comes to spring decor. From splashes of color with a Moroccan style and neutral tones for a calming space, to a joyful bohemian look and bold layered swirls or zig zag patterns, there's something for everyone.
Designs can even include multiple rugs—perfect for defining different areas in an open space. You may find that decorating small spaces with a rug is a great compliment. On the other hand, larger spaces such as the living or dining room may benefit more from rugs that are a bit wider. And if you're not sure which pattern to choose from the many you may find, keep it simple and pick a single color. (If you can't decide on a color, white blends in with almost every design and helps add energy to a room.)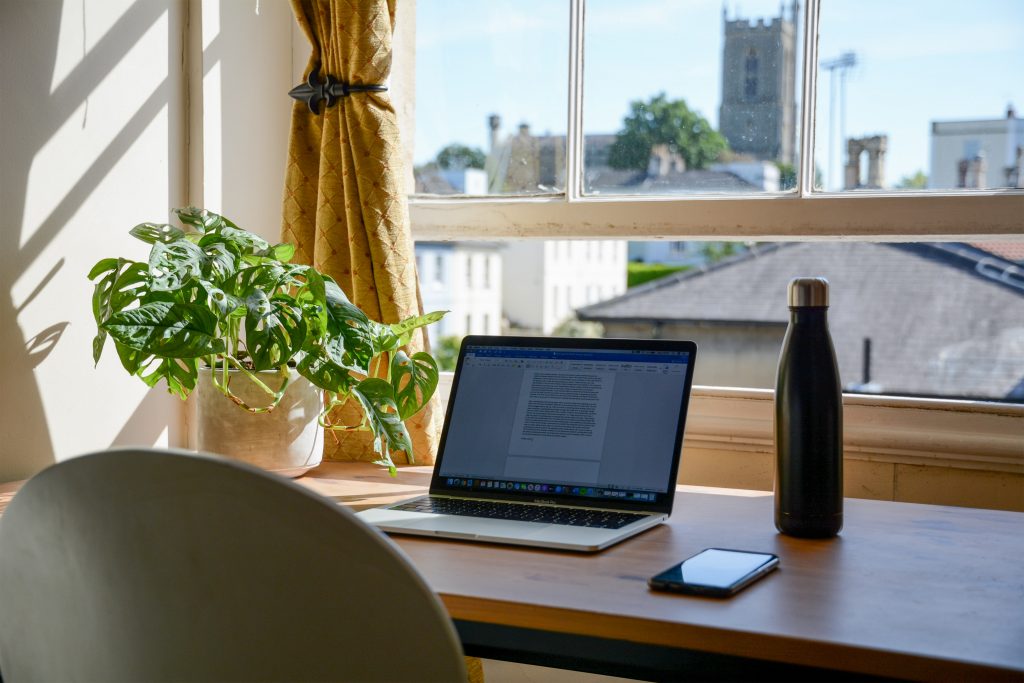 5. Refresh your workspace
One room that deserves a new look this season is your office area. Your office is where you spend most of your time diving into your daily (and at times stressful) tasks. This makes the room the ideal space to revamp with vibrant spring decor. Add vibrant greenery and switch out your regular wooden table with something a bit more eye-catching (such as a marble countertop). Don't forget to upgrade your old chair with something more colorful.
6. New dinnerware collection
You and your guests may be tired of the same dinnerware you've been using since last year. Spruce your cooking area up by swapping those wintry dishes with something more seasonal (pastel patterns, floral designs, and polka dots included). Rainbow-colored glassware is also a fun idea—and they're beautiful items to display in your cabinets.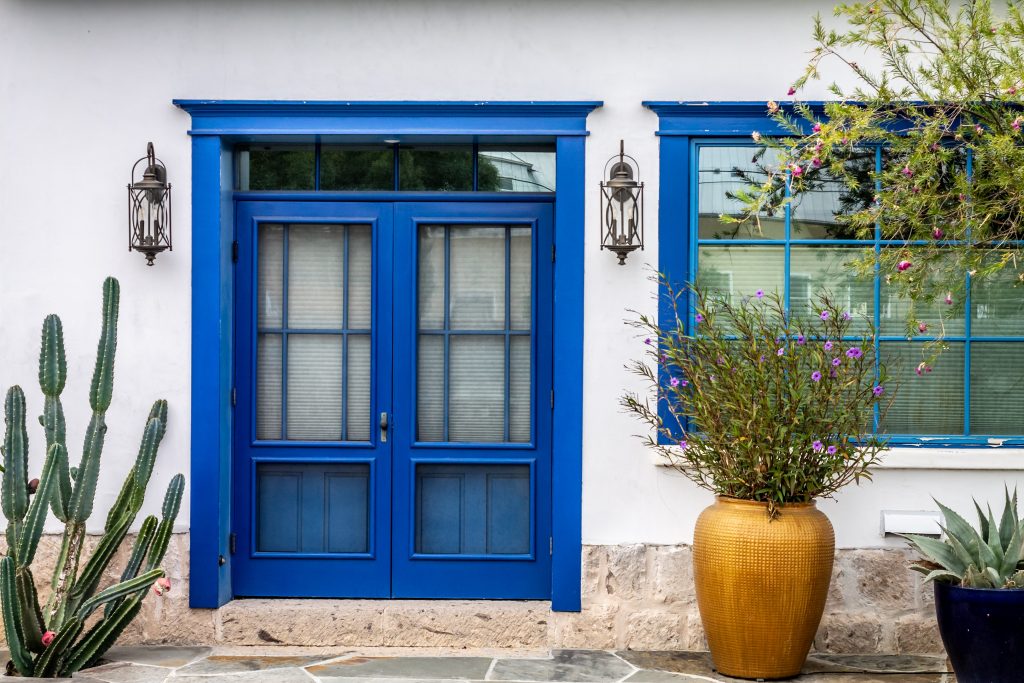 7. Decorate your front door
Your front door is one of the first things people notice before entering your home. While the inside is important, the outside should be just as eye-catching. For spring, find different ways to give your door a rejuvenated look. Paint it a different color. You can also try putting your crafting skills to the test with a DIY wreath or door decoration. Create a cozy seating area outside. Also, add lighting to both sides, or swap out the rusty and traditional hardware with something more unique.
8. Paint your stairs and floors
If you want to keep most of your look the same (with only a few subtle new spring decor touches) try painting your stairs. If your steps look dreary and worn down, paint them a different color. You can go bold or choose softer tones for a delicate refresh. But if you're looking to "go big" with paint, painting your floors is another great way to add a seasonal appeal (including your porch and mudroom). And for the adventurous decorator, paint your stairs in multiple warm or vivid shades for a rainbow look.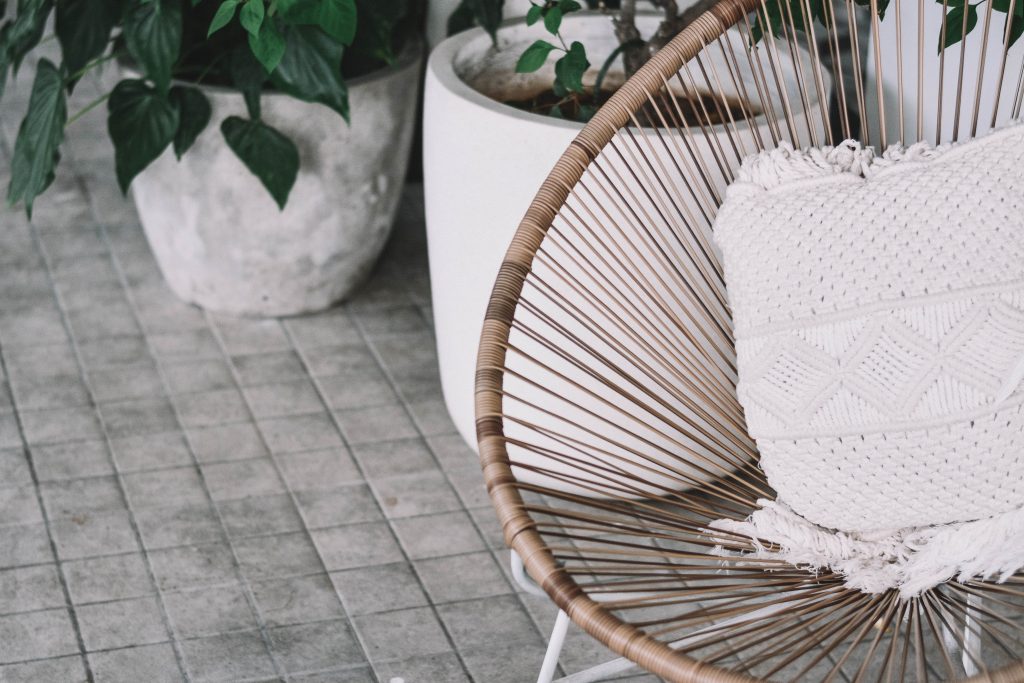 9. Sprinkle rattan pieces
Rattan decor is consistently trendy when it comes to interior design. It also has a spring feel that's undeniably distinct. If you're new to the material, rattan is a natural material derived from a vine-like palm plant. While it's commonly used to make furniture, baskets and other accessories for home, it's also flexible enough to be woven into different shapes and patterns. This makes it a nice spring decor addition to your home. Whether you include it on your furniture, tabletop accessories or lighting, it brings a tropical aesthetic that'll rejuvenate your space (traditional and boho-style decor included).
For rattan furniture, think rattan sofas and chairs—ideal for bringing a cozy texture to your living room. Rattan chairs in the bedroom can accentuate the space's natural elements. Finally, switching out your regular light fixtures with ones made of rattan can brighten up the room, while giving it a dramatic focal point.
10. Combine old with new
Thrifters will love this idea of decorating their modern home with vintage items. This creates a homey and eclectic look within your space. This doesn't mean you have to fully deck out your rooms with older items.You can start off with smaller and less noticeable features such as classic furniture and statement antiques. This can mean finding striking conversation pieces that will add a unique compliment to the space. Vintage woods can be paired with bright colors or light upholstery. Alternatively, classic details, such as carved table legs, can be paired with curvy shapes.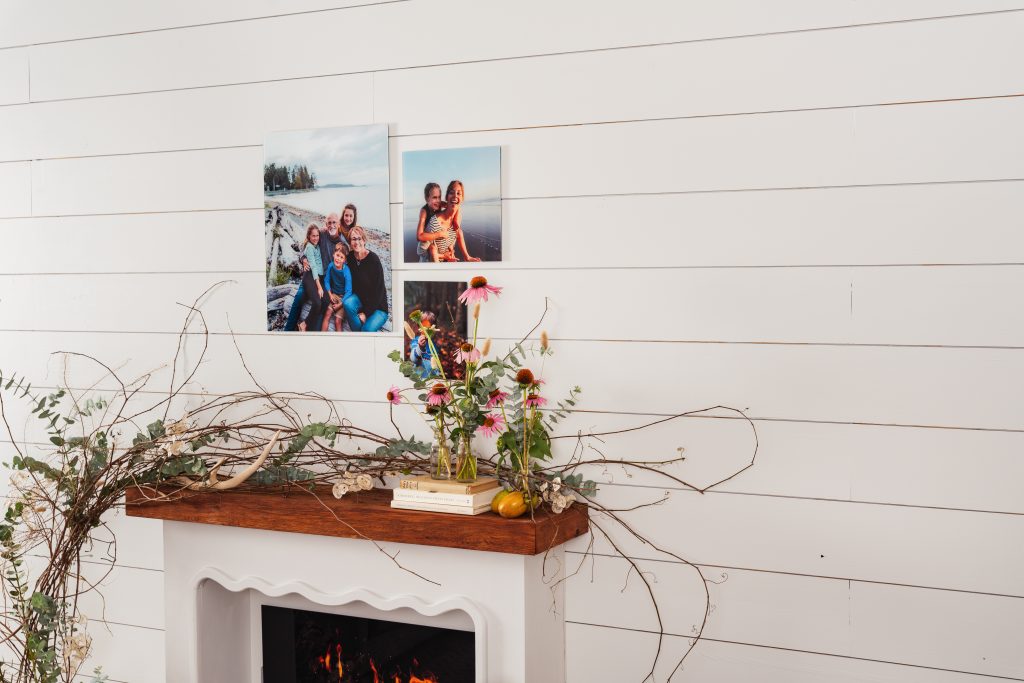 11. Cheerful mantel decorations
Easily transform your living room with simple spring mantel accents. Add a fresh feel with a green and white color combination. Place your favorite florals for a refreshing appeal. You can also create charm with a wreath, window, art pieces, or other focal points. This is even the perfect time to decorate the mantel in a festive flair with bright garlands, cake stands, and statue Easter bunnies being fun additions. And if your TV is usually hung over your mantel, cover it with art. DIY your own spring-like art cover or purchase a frame art TV for an overall artsy design.