Of all the home decor conundrums, photo placement sounds like the simplest task to tackle. But if you're even the slightest bit experienced in decorating, you probably know there's a science to displaying your photos. For instance, do post photos that match the overall color scheme. On the other hand, don't feel pressured to decorate every bit of empty wall space with pictures. Feel free to group photos by color, subject matter or a specific event. Do show off your photography skills! That perfect shot you worked hard to snap deserves its spot alongside store-bought prints or popular artwork.
If your goal is to incorporate more glass prints into your design scheme, the rules tend to get slightly more specific. For instance, we absolutely adore a reflective finish – except for an open, well-lit room. (Unless you want to wear sunglasses inside to properly view your photos, harsh lighting and reflective finish don't mesh well). And if you're tempted to place your photos in the bathroom, stick to displaying them in other rooms. That way, you don't run the risk of moisture damaging your precious glass prints. For decorators who require a bit of guidance, we've got you covered! Wondering which photos look best on glass and where in your house they'll fit most into your decorative theme? Check out this breakdown of how to decorate the rooms in your home with glass prints.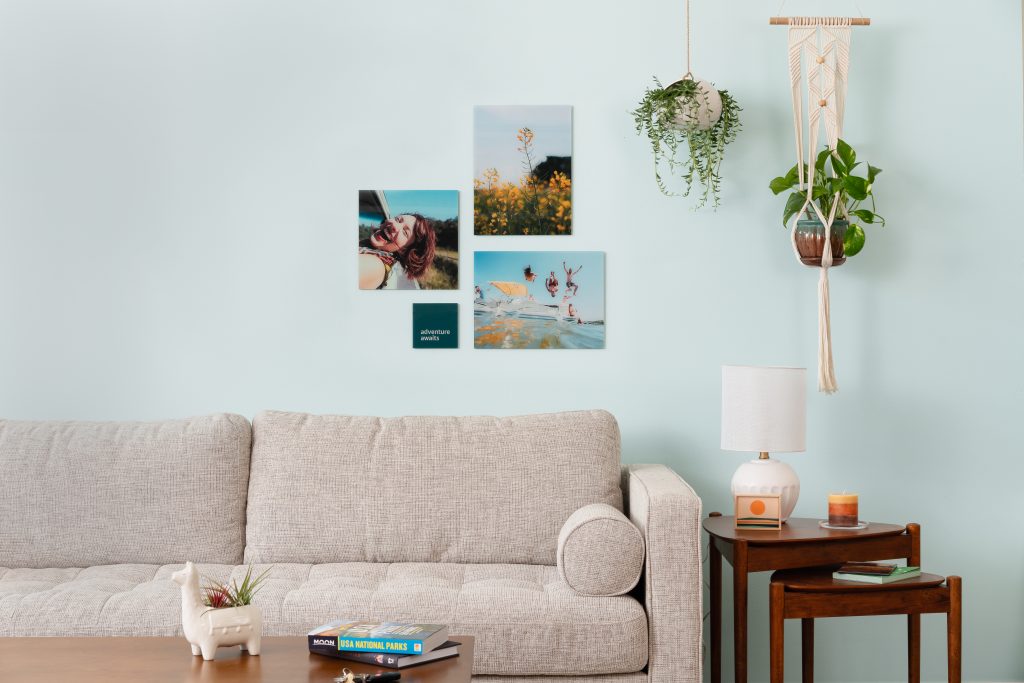 Living Room
The living room is by far the most multi-functional space in a home; it's where we go to hang out, unwind, and occasionally entertain guests. That said, when you decorate, it should be functional and reflective of your interior design style and your personality.
Specifically, your living room photos should help the space feel inviting, cohesive, and aesthetically pleasing. Because the area is traditionally dedicated to family gathering (and perhaps a bit of showing off), we recommend decorating with black and white photos. These emotive images help create a warm, blissful mood. This will surely make family and guests want to gravitate there and stay a while (but not too long, right?). We love the idea of hanging a black and white landscape of the ocean to induce relaxing, nostalgic vibes. Who doesn't love an image with a memorable back story?
Also, a gallery wall of your favorite family photos goes a long way for a space filled with love and intimacy. Feel free to get creative by mixing up the photography and finishes. Include color images, black and white photos, matte pics, close-up shots, pet photos, baby pictures, and even special occasion snapshots. On the other hand, curate a family tree-themed gallery wall with a matriarch or patriarch flanked by family photos. Decorate with a series of detailed vignette shots that tell a story about your personal style and the space. If you prefer to keep it simple, a family vacation print is a must-have in the living room! Keep your guests entertained with incredible vacation stories and accompanying photos.
Finally, art looks absolutely fantastic on glass. Hang images of your personal artwork or your favorite artists and instantly upgrade your living room decor from meh to marvelous.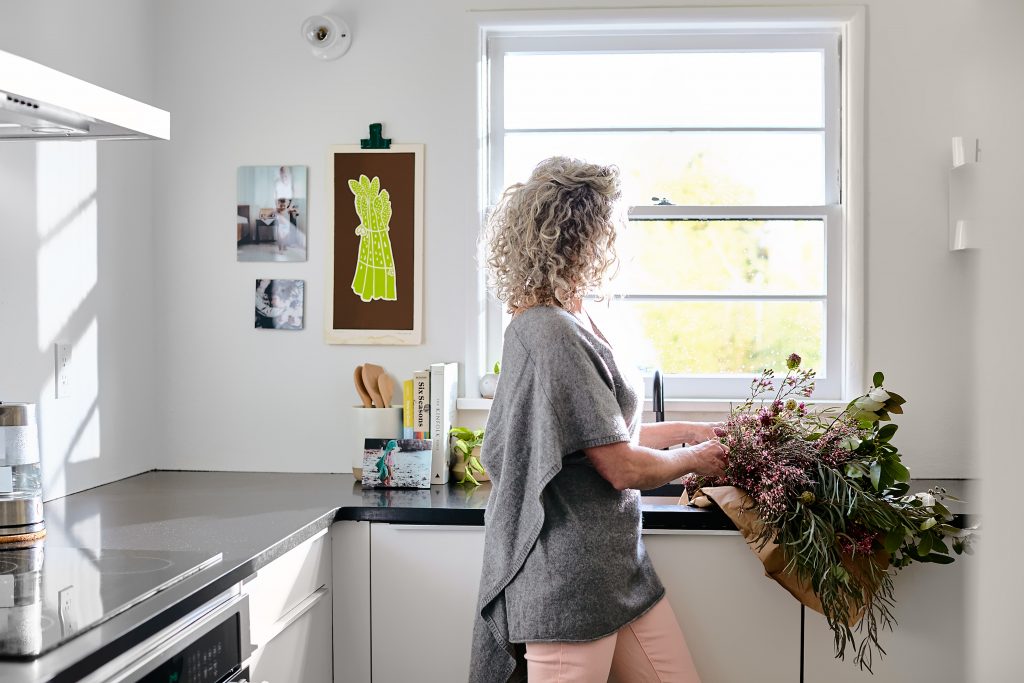 Kitchen
Since cabinetry consumes a ton of wall space in most kitchens, selecting the most suitable photos for this room requires a bit of extra creativity. But first, let's get the obvious option out of the way: Do display food pics in the kitchen. Imagine the visual impact of a highly saturated, close-up shot of vibrant fruits and veggies (anyone else drooling?). In addition to inducing hunger, these types of eye-catching images stand out easily; they're less likely to get overshadowed by more prominent design elements and shiny appliances. Give your kitchen a cozy, coffee shop vibe and decorate with a matte black-and-white print of a steaming mug of joe. Transfer your beloved herb wall art onto a matte glass print with a non-glare finish. This is ideal for brightly lit rooms like the kitchen.
But don't stop at food photography. Family photos will shine in this space as well, along with glass printed quotes and matte glass outdoorsy shots (think colorful flowers, brilliant sunsets) to bring in a natural feel. Consider displaying family recipe glass prints as well. Use open wall shelves to display these images. Sprinkle the photos in among other decorative and culinary items like tiny potted plants, glass containers, bowls, teapots, candles, and books for an eclectic, homey display.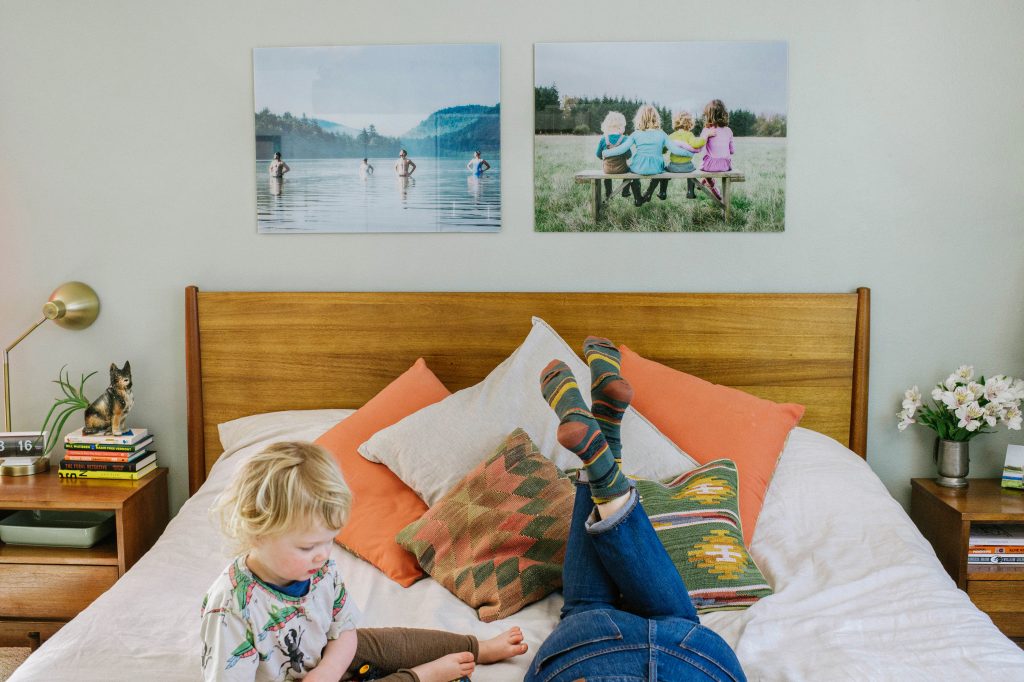 Bedroom
According to feng shui experts, it's essential to incorporate wall art and photos that are pleasant, relaxing, and feature colors that evoke similar feelings. Maximize on this tip by highlighting shades of blue, green, pastel purple, tranquil white, beige, and dusty pink. Like in the kitchen, choose any artwork or photos that don't compete with other decorative accents. Create cohesion with modern art prints, close-up plant imagery, and rich-hued landscapes.
Cover bare spaces like large walls with collage prints; include small portraits as a part of a vignette for your nightstand, wall shelves, or narrow wall space that borders pantry or backyard door thresholds. Artwork, nature photography, maternity photos, or newborn snapshots on glass all make beautiful accessories for the bedroom. Because the bedroom is your private sanctuary, decorate creatively. For example, maps, typography, quotes, and sentimental paintings all look great on glass and work well within the bedroom space. If you're feeling bold, hang a self-portrait on glass to put an undeniable personal stamp on your boudoir.
Interestingly enough, feng shui enthusiasts recommend avoiding water photos for bedroom decor. Similar to clutter, this imagery is said to disrupt the energy flow in the bedroom. If you subscribe to these decorative guidelines, consider saving your beachy, ocean, or fountain photos for another room.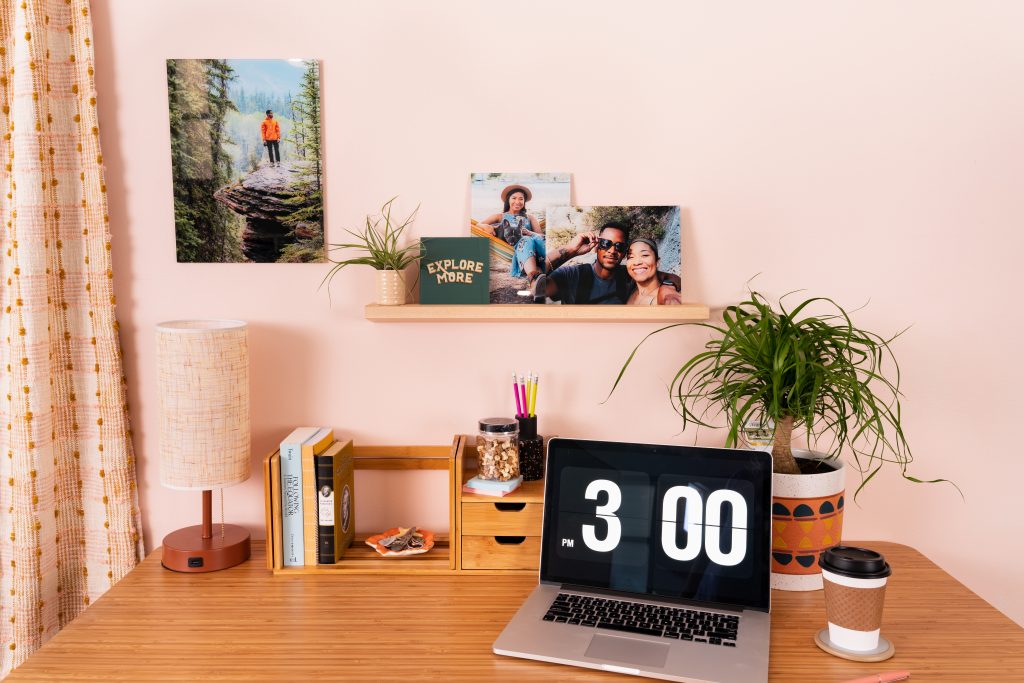 Office
Aside from routine decluttering, putting down an area rug, and choosing the right desk and chair, hanging photos generally ranks high among office decorating tips. Additionally, photos are great for increasing productivity. Think about it: Being surrounded by pictures you like ensures that you're sufficiently soothed. And this means you'll be comfortable enough to swiftly knock out a to-do list. Makes sense, right? 
Although you're in this room to work, it's totally fine if the imagery involves a bit of play. Consider hanging an action-packed pet photo (those ball-chasing ones are the best!). A matte glass printed snapshot shot of your kids horsing around and laughing personalizes your office space. Glimpsing at these spirited images throughout the day can alleviate some professional pressure while reminding you of your life outside of work.
Want to create a sophisticated feel in your office? Place an original print with reflective glass of an engagement or wedding photo near your desk lamp for an elegant touch. Another idea is to securely display motivational quotes on a Storyboard to keep yourself focused on deadlines and managing your inbox. Create a calm, unique working space and decorate with plenty of family vacation photos. Finally, matte or black-and-white shots of your most winning moments (think graduation images, award ceremonies, or finish line photos) to keep you motivated and on track for further success.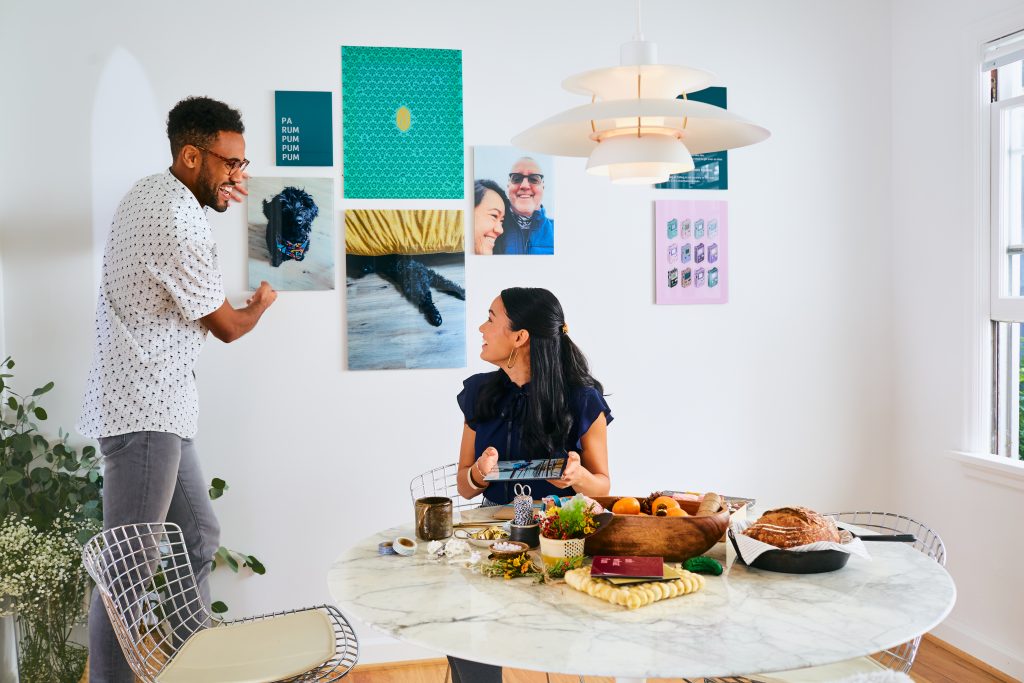 Dining Room
Somewhere between the lighting fixtures, large area rugs, greenery, and ornate wall mirrors in your dining area, create dedicated spaces for your photos. Artwork and paintings work exceptionally well in this space. If your dining room contains ambient lighting, consider original reflective glass finish. With low lighting, there's no worry about the shiny finish creating a glare. Additionally, this finish will add the depth and shine that framed photos offer.
Like the living room, the dining area is a social center. That said, thought-provoking abstract photography can work well (and make for interesting table talk). The dining area is less frequented than the living room, making it an ideal space to combine family heirlooms with a gallery wall display. If your dining area has an eating nook, spruce up the wall space with art prints or nature photos. To guarantee your dining room keeps guests entertained and engaged, consider a floor-to-ceiling gallery wall with personal photos and prints from your favorite artists. 
A dining room with abstract walls can benefit from photos of all types. Set the overall mood and frame the eye-catching backdrop; a simple nature shot, casual portrait photo, or complementary work will all help.
Overall, we recommend any photo arrangement that enhances the level of ease that we want to immerse ourselves in at home. Seriously, don't let that comfy couch do all the heavy lifting. Whether it's a breathtaking shot of the Northern Lights or a candid shot of your baby's first wobbly steps, there's a suitable Fracture photo option to elevate your imagery while enhancing your home environment. Spruce up your living room with a statement wall of photos. Also, stop guests in their tracks — decorate with a stunning single glass print in the kitchen.
No matter the choice, we can't wait to see your Fracture photos bring every room in your home to life!